Time to rejoice
It was time to celebrate for the Kandy rugby fans as Trinity took the Bradby Shield yet for another year with a 26-5 win over Royal in the second leg played at the Bogambara Stadium last Saturday.
With Royal playing in fits and starts, Trinity simply took control of the game in amazing fashion to drive home the truth that they were the better of the two contestants by a wide margin. Trinity also won the first leg of the Bradby 21-10 at the Royal Sports Complex and that game was a closer contest in spite of the score-line suggests of another fare.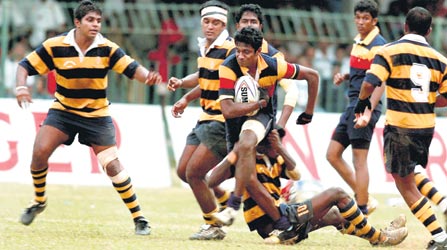 A Trinity player leaves the rest of the pack and off to another move - Pix Gemunu Wellage.
Glen Van Langenberg, Trinity rugby skipper in 1966, who was the chief guest have derived a lot of pleasure in handing over the Bradby Shield to Trinity as he himself led Trinity to victory over Royal in the Bradby Shield games way back in 1966.
As a reward the Trinity team will be embarking on a tour of Auckland which they left on Wednesday. This tour has been arranged by Trinity old boys with the assistance of Trinity's New Zealand coach Nigel Kroner.
Royal showed signs of making a match of it during the early stages. These attempts, however, fell on the way side when their center Dilshan Senanayake was injured and was carried out of the field. Royal had two golden opportunities of scoring and perhaps to take the lead in the match but Sandaruwan Gamage missed two easy penalties, which were within kicking range.
Trinity took control in gallant fashion when Kosala Tissera scored an unconverted try. With that try Trinity shot into a lead that the Royalists were never able to overtake.
A few minutes later Trinity rubbed salt into the Royal wound by scoring another try by Senaratne. Trinity led 14-0 at the breather.
On resumption Royal showed signs of putting up stiff resistance when Bilal Hassan scored a neat try. This cut Trinity's lead to 5-15.
A few minutes later Trinity scored a natty try through Kosala Tissera once again. The move for this try was set up by play maker Sean Wanigasekera. Trinity led 21-5 at this stage and they were right on top of the game with the Bradby sure of remaining at Trinity. Just to make sure that the win was no flash in the pan, Trinity scored again to take their tally to 26 and Royal 5.
Mr.Dilroy Fernando refereed.