Calypso Music at Galadari
Popular Calypso band Sanath and the Clan will be in action at Cafe 64 of the Galadari Hotel every Friday and Saturday Nights.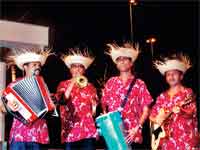 Sanath and the Clan
Cafe 64, famous for its BBQ Nights and Calypso music, is the popular venue for night gigs.
Different types of BBQ Nights on different days are the attraction of the place. Seafood BBQ Platter, Mixed BBQ Platter, Kids Menu are top names on the menu.