A kard for peace
By Marisa de Silva
"There is no such thing as a good war or a bad peace."
– Benjamin Franklin
In keeping with Franklin's words, Mailman Sri Lanka have taken it upon themselves to give Sri Lankans an avenue to voice their thoughts on how to regain peace and to convey these thoughts directly to the President himself.
The whole 'Peace postKard Campaign' kicked off when the director of Mailman Sri Lanka, Jason Firmin, realised that Mailman could create a forum for the common man to air their thoughts on how best peace could be brought about in Sri Lanka. Particularly, because there can be a lot of people wanting to get through to the President with their thoughts, but just not knowing how to. "Mailman does undertake socially responsible activities as well, and is not just a commercially-driven organisation. Thus, they designed a peace logo and started out their campaign in January this year.

Jason Firmin
Living in Sri Lanka with his wife and children, Jason said, "We love it here, but at the same time find it difficult to adapt to the constantly fluctuating security status prevalent in the country. Thus, I thought it might be interesting to get the people involved in pushing for a permanent solution. The postKards will act as a catalyst of sorts, to get people thinking about the current situation in the country," explained Jason.
This is how it works. These free Peace postKards have been distributed throughout 170 bars, clubs, restaurants and popular haunts in and around Colombo. Thus anyone can pick up one of these cards from the postKard racks, and follow the simple procedure thereafter. As the address of the presidential secretariat is already printed as a watermark on the Kard, all they need to do is to write their peace message on the Kard, stamp it and then post it.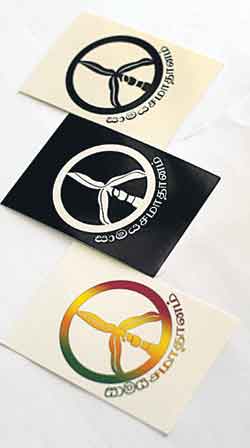 'Peace' Post Cards
Furthermore, Mailman has just launched their latest postKard last week, while at the same time introducing a brand new mode to get people's views on the need for peace. As of this week, the 'SMS for Peace' campaign will start up alongside the postKard campaign. This way, people can SMS their ideas on how they can make peace happen in Sri Lanka to 0777-362218, said Jason. Thereafter, Mailman will collect all the messages, enter them into a database, and at the end of the campaign a summary of all the responses will also be published in the papers, he said.
Initially, when the cards were first distributed in January, it received a very good response as staffers and patrons of numerous haunts around Colombo, started picking up these postKards at a rate! Even in terms of colour, the postKards evolved from interchanging black and white Kards, to Kards displaying a kaleidoscope of all the colours of the Sri Lankan flag. The main intent of this campaign is twofold. One is to enable the people to take up an active role in the whole peace process, and two, to prove that the people really want peace and actually care enough to suggest possible resolves to the current problem, elaborated Jason.
This is a perfect opportunity for the ordinary people of this country to take a stand and push for peace in this country, particularly since most people have become immune to the situation in our country, and have almost come to accept things for the way they are. It'll be a refreshing change if we all opt to take a little initiative, and try and make something happen, instead of just sitting around waiting for something to happen…