My father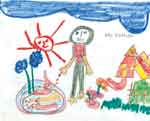 My father's name is Nimal. He loves me very much. Also he gives me toffees. He helps me in my studies. Whenever I am at my studies he comes and kisses me. I love my father very much. May God bless him.

---
If the clock was not invented

The clock is the machine that tells us the time. Suppose the clock wasn't invented, what will happen to the children and the elders? They will not be able to know the time. The children and the teachers won't come in time to the school. The others will not go for work at the proper time. Oh! What will happen to the television programmes? They will all be mixed up! One day, the space stories will be telecast in the morning and on the other day, it will be telecast at night.

I must be, I will be, and I shall be thankful because the clock was invented.
---
Avurudu Holidays
April holidays are always special. I like to perform all the Avurudu customs and most of all to open my presents.
The day before the new year, we visited our neighbours with sweetmeats and they too came to our place.
We got up early morning on the 14th of April and dresses up in new clothes. After that my mother lit the fire at the auspicious time while my father and I lit crackers.

At the next nakath time we ate milkrice and I worshipped my parents, offering betel leaves. My father gave me some money and my mother gave me a story book.
We visited my grandmother and aunties on Saturday and stayed at my uncle's estate bungalow that night. After that we went to see my grandparents in Bandarawela.
We also spent a day at Kataragama. I enjoyed playing on the beach at Kirinda. We left Bandarawela and went to my father's tea estate before coming to Kandy.
However, I managed to finish my holiday homework right on time. A very happy new year holiday came to an end and a busy school term started on April 26.
---
My class teacher
My class teacher's name is Mrs. D.S. Ponnamperuma. She is a very, very good teacher. She teaches us English and Health Science. She is very good in English. My class teacher is a very kind lady. She always teaches us good manners and to behave well. She likes to eat milk-rice, pineapple and very good in eating honey.
She always wears beautiful sarees. She lives in Kalutara. When she is there our class is very quiet like mice. She doesn't hit us. She scolds naughty children. She is always punctual. God bless my class teacher.
---
To darling Ammamma
Ammamma is nice and she makes rice
She has a dog and she prays to God.
You paint vases and
Wear glasses.
There are bugs and
You give lots of hugs
You have a pet fish
And you make a birthday wish.
From your loving Ramya
---
Stand up
Sometimes you fall
Sometimes you crawl
But then you should stand up
And you stand up tall.
Things go wrong
Problems occur
Then don't shed a tear
Just stand up, stand up strong.
Think you're the best
You can do anything
Make others feel small beside you
And puff up your chest.
Don't be weak
When bad things happen
Don't look back
Just keep climbing the peak.
Try, try and try
One day you will fly
When that day comes
We'll wave to you in the sky!
---
Reading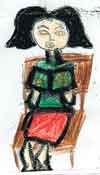 Reading is a good habit and an interesting hobby too. It is a useful way of spending leisure time. We can gain a lot of knowledge by reading. By reading books and newspapers we can learn about science, history and general knowledge.
It improves our language and spellings. By reading newspapers we learn about current events. Reading gives the highest kind of pleasure. A widely-read person has a large variety of facts, thoughts and general information.
Books are like good friends. Friends may sometimes leave us but not the knowledge we get from books. Reading completes a man.
---
They break
CRASH! Goes the glass dish,
The dog has eaten the fish!
BANG! Goes the flower pot,
Spilling water over the baby's cot.
The television, the radio and the stool,
And every single garden tool,
Have been broken beyond repair by Jake,
Making mother spoil the cake!
The bottles, glasses and make-up set,
The windows and the dining set,
Have been broken by naughty Hilda,
For she has started to break like Rhonda!
So much less noise! So little peace!
Never a moment of golden piece!
For they all seem to love to break
Everything in the house they break!
---
Rubbish
What is rubbish? Rubbish is what we throw away. Things that are no more of use to us.
Rubbish can be of different kinds - they can be kitchen refuge, old papers, old faded flowers, unwanted odd things and old books which we collect and later find them just rubbish.
Even though this rubbish is not useful to us when we throw them away, it can be of use to us as well as others by recycling. The rubbish that is recycled are, sweet wrappers, tin cans, food waste, garden waste and lots more.


The rubbish is dumped at a particular place marked out by the government. Some of the rubbish like metal objects, furniture, fabric and garden waste are recycled to be made use of in many other ways.
So you see, rubbish that is unwanted by us is used by others in different forms. So rubbish helps us in various ways after being recycled.
---
Scouts camp
I belong to the 39th Colombo Scout troop. We went camping on April 24, 2006. Our campsite was Dharmaraja College, Kandy. We got there by bus. The campsite was right on top of the hill and it was called "The Den."
We had lots of scouting activities. I was in the Squirrel Pack. Some days I was on duty in the kitchen and helped to cook our meals. We climbed the Hunnasgiriya Mountain and visited the Dalada Maligawa in Kandy. One day we made a trip to Mahiyanganaya and stayed over night. We went to Dambana and saw the Veddha Community. On our way back to Kandy we stopped at the Victoria Dam. We had our Campfire on the 5th night. My family came over from Colombo for the evening. Camping was really tough at times but it was also fun. I learnt a lot from this camp.
---
The person I like most
The person I like most is my grandfather. He is my father's father. He loves books. He knows many languages. He teaches me English. I study grammar and reading with him. He often tells me, "reading makes a full man." I read with him, Nehru's 'Glimpses of World History.' It is a big book. I don't know when I am going to finish that book.
It is not seldom that my grandfather takes me to the book shop and buys me books. I like him very much.
---
Vesak Festival
The Vesak Festival is celebrated in May. It is celebrated by Buddhists. We celebrate Vesak Full Moon Poya Day to commemorate the Birth, Enlightenment and the Passing Away of Lord Buddha.



We go to temples and observe sill on this very special day. We decorate our houses with flags, colourful lanterns and buckets. At night we go to see colourful pandols and visit dansals. We send Vesak Cards to our neighbours, friends and relations. Buddhists all around the world celebrate Vesak Day and it is a very enjoyable and happy day, especially for little children like us.