Dance teacher par excellence
Vishnusaram Owen de Abrew needs no introduction to the dancing public in Sri Lanka.

Owen de Abrew is still going strong on his dedicated approach to teaching of Ballroom dancing in the English style. He still continues teaching the young and the adult couples with great interest.

He is now going on his eighty fifth year and his birthday anniversary was celebrated recently.
Commencing his dancing career in the a fifties while working at Radio Ceylon , Owen was fortunate in winning a four-dance standard Ballroom Championship, soon after he tuned a dance teacher to promote Ballroom and Latin American dancing.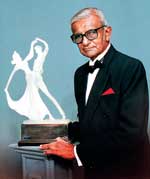 Owen de Abrew
Owen de Abrew School of Ballroom Dancing presented students for medal Examiations through the Ceylon Amarteur Dancing Association. He also trained students for Competition dancing and through his. efforts presented the first couple in Sri Lanka to compete at the World Dancing Championship held in the United States of America. They were Mr Dushmutha Kanagoda .& Miss Manoji Samararatne.

In 1989, De Abrew received an Award for his outstanding contribution to Ballroom Dancing in Sri Lanka, from the National Association of Teachers of Dancing, U.K.
His next move was to promote his son Ravi de Abrew to the teaching profession. Ravi was trained by Tony Fernandez, a British qualified dance teacher and in the year 2000 Ravi be came the Second Generation Ballroom and Latin Dance teacher in the island.

By the year 2004, Owen had gone the hard way to complete his fifty years of teaching dancing.
The Ballroom Dancers Federation Inter Lanka, felicitated him at the Galle Face Hotel on 1st August 2004. The trophy was presented by Ms Yvonne Saunders, fellow Examiner, BDFI U.K. on behalf of the BDPI Sri Lanka