Bouquets for every occasion
By Esther Williams
Custom made floral bouquets to co-ordi-nate with costumes or interiors for all those special occasions are Sandamali Talayaratne's speciality. Sprigs, on High Level Road, Gangodawila,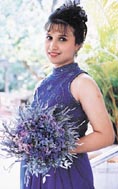 Nugegoda, has a wide range of designs in bouquets for offices, homes and memorable events like weddings. Coordinated sets for brides, bridesmaids and flower girls together with head-dresses and other decorations are their forte.

Sprigs Proprietor, Sandamali says that her distinctive designs are tailor-made to suit a variety of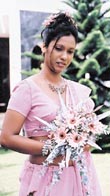 occasions. She enjoys trying out new ideas to cater to individual requirements or taste. "I like to give something new for every customer," she says. Sandamali has also had experience in making decorations for hotels and churches. Having had professional training in flower arranging she enjoys creating impressive looking arrangements. "What could be more satisfying than working with flowers; they add beauty to life," she smiles.
At a recent promotion jointly organized by Sprigs and Chalani Model Brides, some of her unique styles were displayed. Indian and Kandyan brides carried her creations of madonna lilies with orchids, and extravagant blue, pink and mauve bouquets.