Culinary delights from coast to coast
By Esther Williams
'Flavours of the Spice Coast' comes to you from Kerala's premier culinary expert, K. M. Mathew. This renowned Indian author has to her credit 20 cookbooks that have been considered best sellers in the culinary world. She is also acclaimed as the person who was single-handedly responsible for taking the flavours of Kerala's dim, smoke-filled kitchen to glamorous dining rooms across the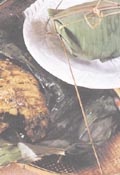 world.
The author hails from Kerala that has a rich cultural heritage dating back to 1st century AD, when Jews, Muslims, Christians, merchants and missionaries settled on the south west coast, adding their influence to the region's culture and cuisine. The vegetarian and non-vegetarian dishes that are presented in this book reflect this heritage of Kerala which is famous for its spices. Laced by forty-one rivers and a thousand canals, Kerala is one of India's popular tourist destinations, often termed as - God's own land.
Ms. Mathew's interest in cooking developed at an early age, as her father spent much of his free time concocting dishes with amazingly appetizing smells. Later, encouraged by her father-in-law and husband, she was persuaded to share her talent. Her first recipe was published in Malayala Manorama in 1953.
From Keralite street corner food like Trivandrum chicken to the more adventurous fish with mango and fish in a plantain leaf, the easy to follow recipe book has an exciting array of the very best cooking from the spice coast of India. The mouth-watering recipes have much appeal to the Sri Lankan palate as coconut milk is used in several dishes, as in Sri Lankan food. Similar food habits and dress can be attributed to the historical/geographical linkages between Sri Lanka and Kerala.
Ingredients mentioned in the book are commonly used spices and condiments, right off the shelf and not necessarily those found in speciality stores. Traditional produce of the coast like yam, manioc, banana, mango, coconut, fish and prawn have been combined in interesting and innovative ways in a wide range of dishes. Quite a number of food items of traditional Keralite fare are also prepared here in Sri Lanka, such as - appam (hoppers), idi appam (string hoppers), etc. perhaps with a slight variation in procedure or ingredients.
Recipes for meat, eggs, fish, vegetables, rice, pickles, desserts, snacks and popular breakfast dishes are simple and would suit every budget. The dishes she has invented are wholesome and nutritious, as she is of the firm conviction that nutritious food need not necessarily be rich and expensive. According to the Princess of Travancore, Aswathi Thirunal, Ms. Mathew has become a household name in the field, her recipes proving to be innovative and interesting.
Ms. Mathew happens to be much more than a celebrated food connoisseur. She is also promoter of art, social worker and founder Chief Editor of 'Vanitha', an Indian women's magazine that lays emphasis on the identity of the Malayalee or the Keralite woman. The magazine has also showcased women's aspirations and achievements. For this contribution towards journalism she has been acknowledged widely. She was also the recipient of the 'Rachel Thomas Award' for outstanding contribution to social and cultural causes in 1982.
Today, at 79, Ms. Mathew's family still finds her in the kitchen experimenting with new recipes. To add a touch of authentic Kerala to Sri Lankan food, 'Flavours of the Spice Coast, would be a useful investment.

---
Puffed rice in jaggery: Aval Vilayichathu
You will need:

1. 1/4 cup melted ghee
2. 1/2 cup coconut slivers
3. 1/2 cup sesame seeds
4. 1 cup roasted gram
5. 1 1/2 kg jaggery
6. 3 cups water
7. 4 coconuts, finely grated
8. 1/2 kg beaten rice
9. 2 tsp cardamom powder

Method: (to serve 10)

1. Heat ghee in a pan. Lightly fry coconut slivers, sesame seeds and roasted gram. Set aside.

2. Dissolve jaggery in 3 cups water. Heat over low flame to make 6 cups syrup. Strain.

3. Bring this syrup to boil in a heavy vessel. Add grated coconut and cook over a low flame, stirring constantly till one-thread consistency is reached.

4. Remove from fire. Cool slightly and add the beaten rice. Mix well. Add the fried ingredients along with cardamom powder.

5. Mix and cool. Store in a dry container.
---
Fish roasted in a plantain leaf
You will need:

1. 1 kg pomfret, or fish fillets
For the marinade:
1. 1 tsp pepper powder
2. 1/2 tsp turmeric powder
3. salt to taste
For the masala paste and gravy:
1. 2 tsp coriander powder
2. 1/2 tsp chilli powder
3. 1/2 tsp turmeric powder
4. 1/2 tsp pepper powder
5. 3 dsp refined vegetable oil
6. 1 cup button onions, sliced
7. 10 garlic cloves
8. 3 green chillies, slit
9. a few curry leaves
10. 1 tsp mustard seeds
11. 1 cup thick coconut milk
Method: (to serve 10)
1. Clean fish in salted water. If using whole fish, make gashes on both sides.

2. Rub the fish well with pepper powder, turmeric powder and salt. Marinate for 1 hour.

3. Grind the coriander, chilli, turmeric and pepper powders with a little water to make masala paste.

4. In a pan, heat 2 dsp oil and saute button onions, garlic, green chillies and curry leaves. Remove from the pan and keep aside.

5. Fry the fish lightly in the same oil and keep aside.

6. Add 1 dsp oil. Splutter mustard seeds. Add the masala paste and saute until the aroma seems right.

7. Add fish and coconut milk.

8. Add sauted button onions, garlic, green chillies and curry leaves. Simmer on a low heat until fish is coated with gravy.

9. Wrap each fish in a piece of plantain leaf or greased foil. Tie securely and bake at 350 degrees F for 20 minutes. Serve hot.

---
Trivandrum chicken:
You will need:

1. 1 kg chicken
2. 3 dsp chilli powder
3. 1" ginger, chopped
4. 10 garlic cloves
5. 10 button onions
6. 1 dsp aniseed
7. 2 dsp lime juice
8. 1/4 tsp food colouring
9. 4 dsp rice flour
10. 1/4 kg coconut oil

Method: (to serve 10)

1. Wash and clean the chicken. Cut into large pieces and make gashes in it.
2. Grind into a paste ingredients 2 to 6.
3. Add lime juice and colouring to the ground paste and rub chicken pieces with it.
4. Keep in a cool place for four hours
5. Sprinkle the rice flour over and fry the chicken pieces in hot coconut oil
6. The residue of the fried flour should be drained and sprinkled on the chicken pieces.
7. Serve hot.
---
Oil, water or diamonds?
Sri Lankan men would die of embarrassment rather than be seen in a lingerie shop. Right? Wrong.

Perhaps, it is the decorously tinted-glass façade of the boutique. Or maybe our perceptions of Lankan men are out of date, for a recently opened 'one-stop' shop for lingerie has seen many men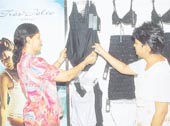 venturing boldly in to buy lacy bras and slinky nightgowns for their beloveds.
Air bras, oil bras, water bras and deliciously seductive creations of satin and lace. Comfort and intimate elegance. Yes, indeed, lingerie that most women would love to wear. And they're all part of a new range available to Lankan women.
Sitting unobtrusively on Green Path in Colombo 3 is Trés Jolie, the latest addition to Colombo's retail fashion market. Dealing exclusively in lingerie, the very French name is in fact, Perfect Fit, an Australian firm selling to markets in Europe, the US and America.
"When we thought of launching Trés Jolie to the local market, we went shopping ourselves and were shocked at the limited choice available here. It seems there were many other garments, but when it came to lingerie, the choice did not reflect the femininity of the women we met here. How are Sri Lankan women different to women anywhere else in the world? The only difference, as we see it, is the lack of choice afforded to them," says Trés Jolie's Sales and Marketing General Manager Ray Guy.
So Perfect Fit, which for some years had been sending their products straight off to international markets decided to test the waters here. And for Lankan women who hitherto had to wait for trips overseas to stock up on underwired bras and strapless basics, Trés Jolie, Guy feels, fills a big void in the market.
The name came from their Chairman's wife, who aptly thought it should reflect the beautiful creations they were trying to introduce. And Guy reckons that Lankan women are just as keen to put on Trés Jolie's elegant line of underwear as women anywhere else in the world.
Early indications would seem he's right. For since its discreet opening last December, Trés Jolie has had a steady stream of customers, not just women, but surprisingly, for seemingly strait-laced Lankan society, men as well. "We've had lots of men walking in and picking up gifts for their women," beams Guy, " and why not?"
The boutique's relaxed ambience, enhanced by an open-air café, hacienda style where customers can take a breather to sip a coffee and grab a sandwich too has proved popular. "Lots of women come in for a chat or quick lunch and then take the chance to do a little shopping as well."
Even to a disinterested onlooker, Trés Jolie's extensive range is intriguing. Bras come in many designs and colours, far removed from the conventional black, white and skin tones. 'Forget basic black and boring white,' the display seems to say, 'how about sea green, blue denim, wine red, royal purple, ivory, hot pink...?. The display goes on and on, confined not just to one area but extending to an upper floor as well.
The innovative nature of the creations too has many women captivated. The air and water bras, strange though they may sound, are designed to give comfort and the oil ones, a deliciously moisturised feel close to the skin. No, they don't feel sticky! Then there's the 'diamond' range, for 'little girls with big ideas'.
Tucked away upstairs is the 'Bridal Room' with lingerie lovely enough to captivate any dreamy bride. And to lead the couple into temptation, there's the 'Honeymoon Room' which stocks some naughty creations, straight out of movies and magazines, designed for fun and frolic.
Here too, the demand, caught them by surprise. "So many people told us that Sri Lankans wouldn't go for this kind of stuff, but we've emptied our racks twice since opening!" Guy smiles.
Much of Trés Jolie's range is turned out at their factory in Panadura and some sourced from the US and other countries as well. The Panadura factory with its 1,000 strong workforce manufacturing the very latest designs, gives local consumers an added advantage for they get some of the newest range, even before it reaches markets overseas. The company also has plans to take Trés Jolie to India before the end of this year.
'Unlike men who are only worried about how they look on the outside, women tend to dress completely from the inside,' comments Guy, pinpointing why a lingerie line is sure to attract the fairer sex. And by providing on extensive choice and a relaxed ambience, Trés Jolie plans to capitalise on this trait, with some exciting events to be unveiled in the near future.

---
Orthorexia: When the urge to 'eat right' goes wrong
By Andrew Quinn
All right, everybody, eat your vegetables. Now, eat ONLY vegetables that have just been picked—and then make sure you chew each mouthful at least 50 times.

Steven Bratman started out on a sensible diet. He ended up suffering from a newly defined disorder - "orthorexia nervosa", an unhealthy obsession with healthy eating.

Bratman, a doctor who specializes in alternative medicine, has single-handedly added a new page to the annals of America's obsession with food and diet. A 25-year veteran of the communal kitchens and vegetarian co-ops of America's natural food movement, Bratman is now campaigning against what he calls excessive dedication to increasingly strict diets that can leave the body starved of basic nutrition.

"I am not really presenting this as a medical issue, but I want people to reconsider what they are doing," Bratman said in an interview. "Most of America would do better by improving their diet, there's no doubt. However, in the realm of health food, there are lots of people who would do better by going the other way, by loosening up."

An extreme eater

Bratman—a graduate of the University of California, Davis medical school who coined the term "orthorexia nervosa" in a 1996 article—knows whereof he speaks. As a cook and organic farmer at a large commune in New York state in the 1970s, Bratman was a self-described "extreme eater" who found himself in a hotbed of new age food theories contested by people in opposing dietary camps. Meat was bad, that much was agreed. But beyond that lay a complex set of often contradictory pronouncements on what constituted "good food".

Chopped vegetables? Forget it—destroys their natural energy fields.

Honey? Poison, pure and simple.

Garlic and onions? Best avoided—unhealthy effect on the sex drive.

Amid a cacophony of competing menus, Bratman quickly forged his own dietary regime, eating only vegetables just plucked from the ground and chewing each mouthful 50 times. "After a year or so of this self-imposed regime, I felt light, clear headed, energetic, strong and self-righteous," Bratman wrote in an account of his experience. "I regarded the wretched, debauched souls around me downing their chocolate chip cookies and fries as mere animals reduced to satisfying gustatory lusts."

Bratman says that, like many orthorexics, he became increasingly inflexible about his dietary restrictions, urging others to follow his lead and punishing himself when he strayed to the cupboard of forbidden foods. "It is almost impossible to become orthorexic without believing in one dietary theory or another," he said. "They are pseudo-religious." Bratman says he ended up on the road to a full-fledged eating disorder, similar to anorexia or bulimia. He eventually dubbed it "orthorexia"—after the Greek for "correct appetite"—and in 2000 wrote a book entitled "Health Food Junkies: Overcoming the Obsession with Healthful Eating" published by Broadway Books in New York.

While orthorexia has not been officially recognized in treatment books on mental illness, the term has sparked Internet discussion threads and support groups, and been hailed by no less an authority than the Journal of the American Medical Association.

"I suspect that orthorexia is a far more common eating disorder than anorexia nervosa and bulimia," Dr. Adriane Fugh-Berman wrote in a JAMA review of Bratman's book, adding that he "makes an excellent case for the term orthorexia nervosa to enter the medical lexicon." Holly Hoff, a programme director at the National Eating Disorders Association, said that while orthorexia had not yet officially joined the ranks of established eating disorders, it was increasingly an area of concern. "The key issue in any eating disorder is when a person's attitude toward food, weight or exercise is significant enough to change how they live their lives," Hoff said. "If they are thinking about it for the majority of the day, then that is something to be concerned about."

What's eating these people?

Bratman's warning on the dangers of overzealous dieting comes amid a profusion of popular theories on the risks and benefits of various eating programmes. Old standards like macrobiotic diets, which typically encourage followers to consume locally grown, seasonal organic foods, now vie with a raft of diets that range from simple to simply dangerous. Fruitarians, for instance, insist on eating only raw fruit and seeds, which they deem "the highest moral level of nutrition," while "paleodiet" enthusiasts believe that modern humans should eat nothing but fruit, fish, nuts and lots of lean meat just as their hunter-gatherer ancestors did. One health diet is so strict it bans food entirely. The Breatharians say humans can exist purely on light—a claim that has been extensively debunked.

Bratman says most of these diets, if pursued rigorously, can lead to orthorexia—which, like many eating problems, can be much more about psychological control than about any specific food. But while obsessive compulsion plays a role in many orthorexia cases, it is not the only warning sign. Simple food allergies can lead some people to orthorexia as they cut out food group after food group in an effort to stay healthy, while self-esteem and "dietary identity" can also play a role.

"Some people need to belong," Bratman said. "They can say: 'I know I am a raw food vegetarian, so I know who I am."' Despite the growing popularity of the concept, there are currently few treatment options for orthorexics. Bratman says he got over his natural food obsession with the help of a Benedictine monk who helped him to see the joys of Chinese food and ice cream.

Also, "being able to laugh at yourself helps a lot," Bratman said. But he added that one of the chief warning signs of orthorexia - caring more about the "virtue" of a food than the pleasure you get from eating it - should not be ignored. "Eating for pleasure is part of human life," Bratman said. "Any move to give that up should be seen as a very dramatic and radical change."

(Reuters)