Touts roam Cultural Triangle
Touts hovering around the 'Sandakadapahana' in Anuradhapura are a nuisance to the large number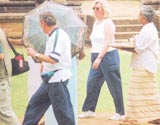 of tourists who visit the site and are also breaking rules by entering restricted areas.

The 'Sandakadapahana' situated within the Cultural Triangle is out of bounds for touts and traders. Despite warnings to refrain from conducting any form of business within the premises, touts and traders encroach into the area.

Their pestering is said to have a negative impact on tourists.

Heritage sites are protected by a fence and entry is restricted but touts ignore the rules and offer a deal for tourists to take pictures within the protected area. Touts charge anything between Rs. 500 and Rs. 1000 to discreetly allow tourists to take pictures inside the restricted area. Here a trader tries to sell souvenirs to tourists. Such traders earn around Rs. 2000-Rs. 3000 a day.

---
Focus on world terrorism
The 17th Interpol Asian Regional Conference will be inaugurated tomorrow by President Kumaratunga at the BMICH.

The theme of the conference is "International Terrorism", a subject of considerable interest and concern to all police forces and people in the world.

Interpol with a membership of 179 nations supports co-operation between police forces of all nations in fighting international crime, including drug trafficking and terrorism.

Every two years 47 Asian countries in Interpol come together to discuss common policing problems and ways of improving international police co-operation in the region.

The Chairman of the conference Deputy Inspector General of Police (CID) C I Ratnayake,will lead the discussion for three days.

Interior Minister John Amaratunga, DefenceMinister Tilak Marapana Foreign MinisterTyronne Fernando, ambassadors and several heads of Government departments will be present.

Delegates from South Asia, Central Asia, the South Pacific, West Asia and South East Asia will be present.

The conference is being hosted by the Sri Lanka Police.

---
Closing clinic doors to young docs?
Grade medical officers are agitated over alleged attempts by a few medical officers to bring the Kandy chest clinic under central government administration blocking opportunities to others entering the field.

The change of administration from provincial council to central government would mean that medical officers can remain in the same hospital without being transferred.

Some medical officers have expressed displeasure stating that the change may result in them having to remain in peripheral hospitals only.

Presently only the Welisara chest hospital and the Colombo chest clinic come under the central government. With government plans to bring in a 'closed service', medical officers would have to practice in their specialised field and cannot change from one speciality to another as is being done now. This would mean that the change in administration will give little opportunity to young medical officers of working in teaching hospitals if some doctors with vested interests opt to remain in the same hospital forever.

Some medical officers have alleged that a physician in the Kandy chest clinic who wished to remain in the hospital was trying to bring the system under central government administration.