Business unusual
Turning waste into profits
Coir dust, once a waste material seen piled up in huge mounds next to coconut fibre mills, is now a 'hot' export product much in demand as a growth medium in horticulture.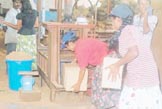 Coco peat blocks coming out of the compressor.
"The sale of coco peat now earns more money than coconut fibre for the miller," declared Sarath Wickr-emaratne, managing director of Green Agro Lanka (Pvt) Ltd, a coco peat manufacturer and exporter. "This has helped save fibre mills which were closing down because they were no longer profitable."
The company, started by him but now almost wholly owned by the Ceylinco Group, has its factory next to a fibre mill on the banks of a river in Nainamadama, Wennappuwa.
A kilo of sieved and dried coco peat fetches six rupees compared with almost half that for a kilo of mattress fibre.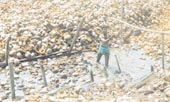 Raw coconut husks(called "matta") are first soaked for a few days in a soaking pit.
The main markets for horticultural coir, commonly known as 'kohu buth', are now in South Korea, Japan and the United States.
The demand for coir dust emerged in the early 1990s when it became sought after as a substitute for peat in horticulture following lobbying by environmentalists against peat mining in Ireland and Germany.
The environmental damage caused by surface mining of peat became a big issue. However, demand for peat for use in greenhouses is so high that total prohibition is not possible.

The traditional method of extracting various grades of fibre from the raw coconut husk is more than 100 years old. Two spiked wheels (called pettikuttama), spinning very fast and operated manually, are used to strip the husk. The long fibre remains in the hand while the short fibre and coir dust falls to the ground.
"Coco peat was found to be a suitable replacement," said Wickremaratne, who is also president of the Sri Lanka Coir and Allied Products Manufacturers' Association. "It is a biodegradable, natural, renewable resource, that is 100 percent organic."
Coir dust can hold almost eight times its own weight in water and as a mulch survives in soil longer than peat. It is first washed to reduce the salt content and then compressed into bricks for shipment. Coco peat bricks or bales expand up to 5-8 times in volume.
It is considered superior to peat but supplies are limited and do not even meet five percent of world demand for peat.
When coco peat exports began in the early 1990s, supplies of coir dust were freely available.
Years of accumulated waste piled up in mounds next to fibre mills were a familiar sight.
"Now the stockpiles are all gone," Wickremaratne said. "They have been shipped abroad. Now there's not enough material."
At the start, raw material for coco peat came free - from the coir dust stockpiles in the fibre mills. Later, as demand grew, it cost Rs. 2-4 per kilo.
Exporters like Wickremaratne now pay Rs. 6 per kilo. Some of the fibre mills that closed have now re-opened because coir dust sales have made them viable once again. Fibre has become a secondary product with mattress fibre going for around Rs. 3 a kilo.
The industry is assured of markets for coco peat if quality is maintained, Wickr-emaratne said. However, he warned that exports of poor quality coco peat could kill the trade.
The lucrative European market was lost because shipments of sub-standard products caused problems for consumers. "Once lost, markets are difficult to win back," Wickremaratne said. When he started coco peat exports to England in 1991-92, he recalled, he had earned $3,400 - 3,500 for a Forty-foot Equivalent Unit (FEU) container. Today exports to South Korea earn less than $3,000 per FEU. "We're competing with peat on price," he said, adding that producers of peat dropped their prices when faced with competition from horticultural coir.