Himalayan adventure
Along with Charith Hemasiri and Elmo Francis, Marlon Saldin makes it to Kala Pattar, the Black Mountain in the Himalayan range
Mt. Everest stood apart from all other peaks, not because of its height but rather because of its appearance! Looking dark and menacing against all the other snowy peaks, Mt. Everest had a very strong wind blowing across her, sending snow off the peak deep into Tibet!
Around this majestic mountain were Nuptse, Lhotse, Pumori, Cho Oyu, Makalu, Imja Tse, Barun, Mera and Ama Dablam! Most consider this view to be unequalled, for what we stared at in awe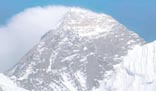 was the highest point on planet earth or simply, "The top of the world".
The three of us who stood staring spellbound, at perhaps nature's greatest wonder, were Sri Lankans making an adventurous pilgrimage. Our vantage point was Kala Pattar or the Black Mountain.
At this altitude of 5565M or 18,365Ft, the air contains less than half the oxygen at sea level. Fighting for breath, I take awhile to adjust to the altitude and wind. A quarter of my water bottle is frozen and the little droplets around my beard and jacket have frozen too!
Prevailing conditions have put an end to the mechanics of Charith and Elmo's cameras! Nevertheless we are pleased with our achievement, as with limited resources and know-how we had reached our peak!
It all began when Elmo Francis, an executive of Aitken Spence, stated that he was interested in climbing Imja Tse or Island peak! I discouraged him, as this required experience, professional equipment and expensive permits.
A few months later, he introduced me to Charith Hemasiri, an executive of Access International. Charith, I was told, held the climbing record for a Sri Lankan, being a member of his College Mountaineering Society. Together they were planning an expedition to the Mt. Everest base camp during the coming winter season.
Their plans became a reality when the Chairman of Sri Lanka Tourist Board Renton De Alwis took a keen interest in the proposed expedition. With the departure date nearing, I finally agreed to join them! As it was a last minute decision, it was a mad rush to beat the deadline!
Any trek above 3000M should be considered seriously, and likewise we were evaluating our options.
At this point, we were supported by many sponsors; Stafford Garments provided us with excellent Seasons outer wear, Austin Gloves with Active outer gloves, Sri Lankan Airlines with discounted air fares, while the Sri Lanka Tourist Board, Three Coins Brewery and Charith and Elmo's respective companies also sponsored the trip!
On the dawn of October 10, we left for Chennai, India and there boarded the train that would get us to Delhi and Gorakpur on the Nepali border. We had decided to use all available ground based routes that would give our systems time to adapt, to the ever-changing altitudes.
We reached Katmandu on a cold damp morning, some 10 days after leaving Sri Lanka. In the city we managed to order and purchase all the balance equipment that we needed. The Sri Lankan Embassy in Katmandu extended all possible assistance, with Ambassador Mrs. Pamela J. Deen and Counsellor Mr. Vijaya Padukkage going to the extent of providing us with a 24-hour call line, should there be any unforeseen incident.
The last bus to Jiri was our transport for the final stage of the journey. Being the last bus it had to accomodate everyone who stopped it, hence we found fresh air and leg space up on the roof! Arriving in Jiri by nightfall, we checked into a Lodge, an exercise that would become all too familiar in the coming three weeks!
Early into the trek the next morning, we were faced with a steep climb of around 1600M. This was a mere glimpse of what we were to expect, but my colleagues took to it like a pair of mountain goats! Stopping midway for lunch, we arrived in Sangba Danda for the night.
The next morning Elmo and Charith hired themselves a porter! An incredible youth called Pasang. Slim and short but always with a smile, he carried both their backpacks that weighed around 55 kg, on his head. Dressed in jeans, shirt and slippers he would outmarch, out-eat and out-drink us, while we tagged along complete in all-terrain garments, trekking boots and walking poles!
On day 4, we came across the biggest obstacle yet! The 3530M or 11,650 Ft, Lamjura pass. Wedged near the 7000M snow peaks of Numbur, helicopters fly at near touching distance over the pass.
We now had developed a good team spirit! Charith was responsible for the route, maps and time, Elmo kept accounts and was also the medical advisor, (something he always tended to forget) and I was in charge of the logistics! Good accomodation, food, prices, how to and what to do were my departments. Our daily routine was a military timetable!
We would be awake by 6.00 a.m., dress and pack, then wash and have breakfast that consisted of potato this or potato that, washed down by tea or coffee, settle accounts and leave at or before 7.00 a.m. Our lunch stop would between 11.30 and 2.00 p.m., and we would seek shelter for the night by 4 or 5 p.m. the latest, as around 5.30 p.m. dusk sets-in! At the Lodge you wash or bathe, provided there's hot water, change and sit around the stove, order dinner and by 7.30 p.m, sleep!
At Bupsa, we split into two groups as Charith and myself had to confirm our return flight by detouring to Lukla, the main airport in this region, while Elmo and Pasang left for Namche Bazaar.
Finalizing matters, we rejoined forces and ascended towards Gorak Shep, passing Tengboche, Periche, Dukla and Lobuche.
Between Periche and Lobuche we were subjected to a medical examination by volunteer doctors of the Himalayan Rescue Association or HRA.
Amongst all climbers on this day, we had the best readings, with Charith having 92/108 oxygen to heartbeat ratio while I had an 89/91 reading! The presence of HRA gave us some comfort, as most of the common symptoms we were experiencing could be AMS. AMS or Acute Mountain Sickness is deadly!
Seemingly negligible symptoms would multiply and leave a person helpless, far away from medication! In reality no climber takes the initial symptoms of cough, runny nose, fatigue and dizziness seriously as these are associated with the terrain! Also having come this far no one likes to turn back! Perhaps this was why 14 deaths were reported in the month of October, making it one of the worst months in recent years. Of the 14, nine died of AMS, while the balance five climbers perished in avalanches!
Almost every day a helicopter would arrive at Periche to evacuate a patient suffering from AMS, at a staggering price of US$2000.
Conscious of all these factors, we proceeded cautiously towards our objective. At the very end of the Khumbu icefall, lies a memorial grounds for all those climbers who never returned!
The bitter cold, for it was around minus 14 degrees, and the rocky, icy terrain were beginning to get the better of us! Charith and I had developed a limp, while Elmo in a momentary lapse of concentration had nearly seated himself down on a crevice!
A desperate shout got him away from it and upon inspection, we found it to be around 200 feet deep and one foot wide!
Without further incident, we arrived at Gorak Shep, the last in the line of lodges. After a very early dinner of our staple food Dhal Baath, that drops in quality but increases in price, on par with the altitude, we struggled into our sleeping bags fully attired! I have on a T-shirt, jersey, an outer jacket, trekking jeans, outer bottom, two pairs of socks, gloves and balaclava. The little opening that presents my eyes and nose would also soon be buried inside the sleeping bag!
Conditions here are terrible! As the Lodge is constructed of cheap wood, the freezing wind creeps through.
Added to my discomfort was the fact that I was sleeping up on the bunk beds! The dorm consists of two platforms, one lower and one upper and each person's boundary is his or her sleeping bag!
The temperature this night was minus 18, inside the lodge! Situated at almost 17,500 Ft, the thin air has half the oxygen, than at sea level.
At this altitude sleep does not come easily, and one tends to be awake throughout!
But despite all the difficulties we encountered we were fortunate; the weather, the people and the terrain were kind to us! Mindful of all these factors we woke the next morning to conclude, what had been a dream ascent!
For just ahead from where we uneasily slept was the Black Mountain, Kala Pattar. And so we climbed our peak!