A very tall cake
By Bryan Nicholas
950 lotus buds, 25,350 leaves, 7,000 jasmine buds and 4,500 ambul pera had to be hand made out of icing. The result - a majestic wedding cake rising 16.5 feet tall on the theme of the 'punkalam' reminiscent of royal weddings of yore. The cake was a creation of Jerome Corea, the talented pastry chef of the Fab for a wedding held recently.

Awards and accolades have not spoilt this young man who says his happiness is "making dreams come true for customers whether it be on the most important day in their lives or just a get-together with friends." Jerome studied at St. Benedict's College, Kotahena, and was aspiring to become an Accountant when a friend asked him to help out with a wedding. He was able to give full rein to his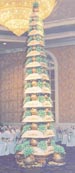 creative talents and from then on, there was no looking back.
He first worked in the confectionery section of the Hotel Taj Samudra in Colombo, before moving to the Triton Hotel at Ahungalla. From 1990, he has won many awards and accolades, including a Gold Medal for the presentation of a wedding cake structure atthe Hotel Samudra Culinary Salon held that year.
Jerome also participated at the Emirates Culinary Salon 1995, and won Gold Medals there too. Back home, he joined the Fab and in the competitions arena again won three gold medals at the Culinary Art 1999 conducted by the Chefs Guild of Sri Lanka for presenting a wedding cake structure; pleated desserts and petit fours or pralines, as well as other trophies. Seems the sky's the limit for this young man.

---
For a beautiful complexion
Combination complexions, which are very common, present some problems in skin care and selection of cosmetics. There is a much greater concentration of active oil glands on the mid-forehead, nose, and chin than on the cheeks and temples and in the eye area. The central oily area is known as the "T-zone".

The use of oily cosmetics makes the centre of the face too oily, while drying agents may irritate the sides of the face.

In addition, oiliness and dryness vary at different times of the year. The skin tends to be much drier during cold weather, when the humidity is lower. Even oily skin may become irritated or rough in the winter.

Proper care of combination skin requires a flexible skin-care regimen. Washing with a moderately drying soap two or three times a day will remove excess oil and decrease oiliness in the central area of your face. Excessive dryness on the sides of your cheeks and in the eye area may be relieved by a lubricating cream or lotion applied sparingly once or twice a day. Don't apply moisturizer to the oily areas, as this will simply exacerbate the oiliness. Between cleansings, a toner or astringent containing alcohol may be applied to the oily area.

You may have to experiment to find makeup that works. You will probably prefer makeup that is oil-free, water-based, or an oil-in-water emulsion rather than water-in-oil-based. You can apply a light, oil-in-water-based moisturizer to the dry areas prior to applying makeup. To determine whether makeup or moisturizer is oil-in-water, apply a few drops to the palm. If it disappears or dries quickly without leaving a shiny film, it is oil-in-water. If it doesn't seem to dry or does so with a shiny film, it is water-in-oil and best for dry skin. If you have to shake the product before use, it is probably water-based. If your cheeks are normal or dry, you can use cream blusher.

---
It's election time!
By Norm(an) De Plume
Walls may have ears as the saying goes, but there comes a season in which you'll notice that not only do they have ears, but eyes, noses and unusually expansive smiles as well. They've come alive with faces plastered on them! (that is to say, the old faces which were on them for the last couple of years have been covered with new ones). And with an inward groan we say to ourselves, 'it's election time again'.

It's not only the walls either. The vacant space between telephone and electricity poles have been filled with streamers of green, blue, red and other vivid hues. Speaking of vacant spaces....a beautiful analogy can be drawn here between them and the characteristics of certain persons involved in the whole process, but since I may be offending people in an era where offence is spelled 'a.c.c.i.d.e.n.t.', I'll leave it alone.

You are strolling around the city when you are suddenly startled into thinking King Kong has invaded Colombo, but to your relief you realize it is only a cut-out of gargantuan proportions. So provided your eyesight is good, there's no mistaking the fact that elections are around the corner.

The election season brings about great social revelations as well. Quite out of the blue, noble people filled with national pride, selflessness, honesty, responsibility and other admirable qualities come to the fore to lead us into the future. Such is their sense of duty, that they feel obliged to try and even 'bump' off people who, in their books, are presumably not honest, selfless etc. enough. I mean, you really feel good knowing that there is an abundance of such people in our little island! Not only do they have such admirable characteristics, they have very good skin as well. Well, to be honest, I am only guessing here, but aren't mud-baths supposed to do wonders for the skin?

- And the goats are well fed.

I've always wanted to vote. When I was a toddler, apparently I had been quite upset when my parents came back from voting because they had a fingernail painted (to signify they had voted) and I did not. So to appease me, my father used to paint my fingernail as well. And that for me was the whole purpose of voting. I've voted a couple of times now, and since then I've learnt it's not that simple.

The first vote was quite special. The expectations the night before.... What will it be it like to actually vote? Will there be a tense atmosphere at the polling station? Will my vote make a difference? Will my vote still be there for me by the time I get there? (unless of course, some kindly soul has decided to save me the trouble and voted on my behalf).

One must admit, the aftermath is quite fun as well. Waiting up all night to see the results come in and trying to figure out how badly rigged each electorate was, with Mr. Bean providing the occasional interludes. So, if people are disillusioned with the whole notion of elections, who can blame us?

Oh yes, the goats. No wonder they look well fed - they have so much propaganda material to nibble on. Wonder whether they suffer from indigestion?

Comments, criticism or suggestions?
Write in to: norman_deplume@hotmail.com