Tigers smuggle in fresh arms for renewed war
Sarath Munasinghe resigns from SLFP after requesting Deputy Defence Minister portfolio
Last Wednesday's dis solution of Parlia ment, in the wake of defections from the People's Alliance ranks, was the focal point of the nation's attention.
That brought to a climax the weeks and months of a festering political crisis where the Opposition parties campaigned to oust the PA Government. The shaky defence establishment, facing a stalemate with its own troops in the battlefront refraining from major offensives, and threats of an increasing build up for a renewed war by Tiger guerrillas, had its own share of the fallout.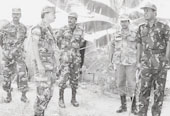 Maj. Gen.(retd.) Sarath Munasinghe on the front-lines of the Weli Oya jungles when he was commanding troops there.
It came with the resignation from the Sri Lanka Freedom Party (SLFP) of retired Major General Sarath Munasinghe, until last Tuesday, the Deputy Speaker of Parliament. He also quit as PA Organiser for Polgahawela.
Unlike other PA politicians, Maj. Gen. (retd.) Munasinghe, was one who was launched into Sri Lanka's political firmament by none other than President Chandrika Bandaranaike Kumaratunga. That was after her then Media Advisor and film idol, Sanath Gunatilleke, who regularly visited battle areas of the north, found a friend in Maj. Gen. Munasinghe and exposed him to PA politics. He was soon to become confidantes of several politicians including one of the PA's front line leaders today, Minister Mangala Samaraweera.
A one time Military Intelligence Officer, Maj. Gen. (retd.) Munasinghe served as Brigade Commander / Divisional Commander in operational areas in the north and east. He came into the limelight during stints as Military Spokesman, both during the previous United National Party government and the People's Alliance. He retired, prematurely at the age of 52 years after serving as Security Forces Commander, Jaffna.
President Kumaratunga nominated him as the PA's candidate for Polgahawela (Kurunegala district) for last October's parliamentary general election. After a 33 day long campaign, he won the seat. President Kumaratunga who was busy formulating her Cabinet after the polls had agreed to Anura Bandaranaike, her brother, being named the Speaker. She was now pondering over who should be the Deputy. One PA Parliamentarian suggested Maj. Gen. (retd.) Munasinghe. With his Army experience he would be tough enough to help Mr. Bandaranaike control the House, he said.
With just a 33 day long political career, Maj. Gen. (retd.) Munasinghe was thrust into the office of Deputy Speaker. In terms of Sri Lanka's Constitution, he was only one step away from the number four slot in the nation's political hierarchy. In the event of a vacancy in the office of President, it would be the Prime Minister who would succeed that office. If he was unable to act, or become President, it was the Speaker.
Little wonder President Kumaratunga was both angered and disappointed, over the unexpected resignation of a one time soldier, whom she had not only personally launched into politics but also placed high on the ladder as against many PA politicians who had counted years of service but did not earn even a portfolio. The sequence of events leading to the resignation itself was cause for her dismay.
Since the Opposition rallied to move a vote of no confidence on the Government in July this year, UNP circles have been speaking of a possible cross over by Maj. Gen. (retd.) Munasinghe. Though he denied he would do so, he admitted to his close friends that there were several overtures from the UNP with offers to make him Deputy Minister of Defence if it forms a government.
It is in this backdrop that Maj. Gen. (retd.) Munasinghe had a surprise visitor to his Polgahawela residence on October 2 - a Poya Day. Opposition and UNP leader Ranil Wickremesinghe accompanied by businessman Mallick Samarawickrema, who were returning to Colombo from a stay at a resort in Kandalama, were to be guests at lunch spending nearly four hours there. Naturally the subject of discussion centered around the prevailing political situation.
Even before Mr. Wickremesinghe and his businessman friend reached Colombo that day, news had spread among PA circles that Maj. Gen. (retd.) Munasinghe, had concluded a 'cross over deal' with the UNP. Concerned by these reports, he telephoned President Kumaratunga at the Janadhipathi Mandiraya in Colombo that Friday evening to explain matters. The latter immediately granted an appointment for Maj. Gen. (retd.) Munasinghe to meet her at the President's House in Kandy on Sunday night (October 7) since she was there for the special Tooth Relic exposition at the Sri Dalada Maligawa.
However, the appointment was later re-scheduled and the meeting took place instead at the Janadhipathi Mandiraya. Over dinner, President Kumaratunga spoke to Maj. Gen. (retd.) Munasinghe, for over three hours. It is during these discussions that the reasons that may have prompted the former Deputy Speaker to quit surfaced.
The Sunday Times learnt that Maj. Gen. (retd.) Munasinghe explained to President Kumaratunga there was no particular political significance over Mr. Wickremesinghe's visit. With a lengthy explanation of the luncheon meeting over, Maj. Gen. (retd.) Munasinghe is learnt to have made a request that President Kumaratunga appoint him Deputy Minister of Defence - a post which under the PA Government has been held by General Anuruddha Ratwatte in the past seven years.
The request meant Maj. Gen. (retd.) Munasinghe wanted to be in charge of the country's defence establishment and consequently the ongoing war effort. The fact that he made the request boldly to President Kumaratunga made clear he wanted General Ratwatte replaced by him.
The Sunday Times learnt President Kumaratunga, faced with a political crisis on her hand with some of her Parliamentarians wanting to defect to the Opposition, did not reject Maj. Gen. (retd.) Munasinghe's request outright. She is said to have explained that most of the high ranking officers now at the leadership level of the three services were persons who were senior to him. Hence, that would make it difficult for him to officiate. She had offered to make him a Cabinet minister and asked him to work with patience since she could consider his wishes in the near future. The meeting had ended on a cordial note.
Two days later, on Tuesday (October 9) a Cabinet meeting was followed by a meeting of the Government Parliamentary Group. There was frenzied activity at the Janadipathi Mandiraya after eight MPs, including three former Cabinet Ministers, had crossed over from PA to Opposition ranks. They were discussing what the PA's move should be. Soon it was decided that Parliament should be dissolved.
During a meeting of the Government Parliamentary Group that endorsed the decision to dissolve, Maj. Gen. (retd.) Munasinghe was to be an unexpected speaker. He seized the opportunity to scotch what he called rumours that he would be crossing over to the Opposition. Making it clear he would not join the United National Party, he also showered praise on President Kumaratunga to whom he was "deeply grateful" for all what she had done. One participant said Maj. Gen. (retd.) Munasinghe was heard to remark that neither he nor his dog would leave the People's Alliance. There was a strong round of applause as he finished his speech. At least two Cabinet Ministers shook his hand for making things clear. It was followed by a baila session where he was one of the main singers. When it came to parting time, there were encouraging words from President Kumaratunga too. When Maj. Gen. (retd.) Munasinghe said in soft tones that he may not want to contest elections again, she was to re-assure him that the matter could be discussed later.
Just two days later, President Kumaratunga, literally froze when she had Maj. Gen. (retd.) Munasinghe's letter of resignation. It was delivered to her last Friday afternoon. "She couldn't believe it because he had repeatedly assured he was not going to cross over," an official at the Presidential Secretariat, who did not wish to be identified told The Sunday Times.
Maj. Gen. (retd.) Munasinghe was not available for comment yesterday. However, a close aide countered the argument. He said "it is true he has resigned from the party and from being the PA Organiser for Polgahawela. But he has not crossed over." Asked why President Kumaratunga was not informed, particularly in view of earlier assurances, the aide said " an official of the Presidential Secretariat (his name was revealed) was contacted to obtain an appointment. However, he had replied it would not be possible to arrange a meeting for the next three days. Hence, the resignation letter was sent."
This is what the letter said:
"11 Attidiya Road,
Kawdana,
Dehiwala
12. 10. 2001
Her Excellency Chandrika Bandaranaike Kumaratunga President of Sri Lanka & The Leader of the People's Alliance and S.L.F.P.
Your Excellency,
I hereby submit my resignation as the PA Organiser for Polgahawela and as a member of the Sri Lanka Freedom Party.
I take this opportunity to thank you for all the support I received from you during my tenure as the Deputy Speaker and a Member of Parliament.
The decision to resign from the Party was made after much deliberation and I will explain the reasons in detail at the first given opportunity.
Please accept my resignation.
Thanking you,
Yours faithfully
Sgd:
Major General Sarath Munasinghe
c.c. Hon. Maithripala Sirisena
General Secretary, S.L.F.P. S.L.F.P. Headquarters
Darley Road
Colombo 10
Yesterday, the Ministry of Defence withdrew three Army commandos, eight soldiers for escort duty and a vehicle assigned for Maj. Gen. (retd.) Munasinghe's security. His close aide said the commandos had been assigned to the former Deputy Speaker since he had been a target for Tiger guerrillas for a long time. "They had nothing to do with his politics. Therefore not only him but his entire family face a serious security risk," he said.
Despite claims that Maj. Gen. (retd.) Munasinghe would not cross over, there was widespread speculation this week that he would appear on a UNP platform in the next few days. It may be a press conference or a TV interview, one source said. He is also likely to contest Polgahawela on the UNP ticket, the source added. Adding to the speculation were reports that he has been assured of the post of Deputy Minister of Defence in a future UNP Government. However, one high ranking UNP source said, their leader, Ranil Wickremesinghe, as a matter of policy will not assure anyone in writing or otherwise of any specific portfolios. "He has only agreed in principle to accommodate some of those who crossed over recently to a future Cabinet. That is all," the source said.
These events came in the backdrop of some important developments on the security front this week. Main among them was an incident in the north eastern high seas off Mullaitivu last Friday. It raised concerns at the Joint Operations Headquarters (JOH). Chief of Defence Staff, General R. de S. Daluwatte, summoned Lt. Gen. Lionel Balagalle, (Army Commander), Air Marshal Jayalath Weerakkody (Air Force Commander) and Rear Admiral Mohan Wijewickrema (acting Navy Commander) to launch immediate counter measures following reports that six Sea Tiger boats including patrol craft and those meant to move logistics were setting out to sea from the shores of Mullaitivu.
Suspicions arose that a long awaited shipment of weapons was about to be unloaded in the international waters off Mullaitivu. "Operation Varuna Kirana," the Naval blockade located in the area to prevent Tiger guerrilla logistics moves, was ordered to go into action. The boats stopped some nine miles off the shore when they spotted Navy vessels. In turn, the Navy vessels remained at their location since getting closer would have meant fire from the enemy boats. Sri Lanka Air Force jets were scrambled into the sky. One Sea Tiger boat was destroyed and another was damaged. A senior Navy official claimed ten guerrillas were killed and five names had already been revealed through guerrilla radio intercepts. There is still no word from the guerrillas over the incident.
Now comes the most disturbing report of the incident. The Sunday Times learnt from authoritative defence sources that the Tiger guerrillas had succeeded in smuggling in a consignment of weapons. The six boats, it is learnt, had been a deceptive move whilst the guerrillas had unloaded the shipment somewhere off the coast of Batticaloa. The authorities are yet to confirm what the smuggled consignment contained or from where it was brought by the guerrillas.
Friday's developments were also to anger President Kumaratunga who wondered why the Sri Lanka Navy, despite investment of billions of rupees by the Government to obtain larger vessels, were unable to meet Tiger guerrilla threats at sea. She called for a report within half an hour on what was the fate of the two Fast Missile Vessels (FMVs) purchased by the Sri Lanka Navy from Israel. Acting Navy Commander, Rear Admiral Mohan Wijewickrema, directed the Director General of Naval Operations (DGNO), Rear Admiral Vasantha Karannagoda, to immediately prepare the report. It was rushed to the Presidential Secretariat on Friday afternoon.
It seemed ironic, if not relevant, that President Kumaratunga had chosen to call for a report within 30 minutes on one of the most controversial purchases made by the Navy when it was under the command of Vice Admiral Cecil Tissera.
At National Security Council meetings presided over by President Kumaratunga, he had successfully campaigned for the purchase of the FMVs on the grounds that they would be useful for deep sea operations.
In the Situation Report of on January 2, 2000, headlined "FISHY BOAT DEAL AMID NEW YEAR WAR FIRE," I reported how an Israeli businessman operating from Singapore, known to wield strong clout with influential politicians and those in the defence establishment successfully put through a deal on December 27, 1999. It involved over 26 million US dollars or Rs 1846 million for the procurement of these two outdated Fast Missile Vessels.
One of these vessels was the INS (Israeli Naval Ship) Komemuit (manufactured in 1980) and INS Moledet (manufactured in 1979). Both vessels were over 20 years old. They were re-named SLNS Suranimala and SLNS Nandimitra respectively. Although there were offers from other suppliers to sell new vessels at a lower or competitive prices, the Sri Lanka Navy paid over US 26 million (Rs. 1846 million) for these vessels, 20 years old and refurbished.
Just 24 hours after The Sunday Times Situation Report was out, the Competent Authority who was responsible for the censorship prevailing then, issued a written warning to the Editor that our newspaper had violated the censorship by making references to the purchase of the two Fast Missile Vessels. I was also warned by the Competent Authority for this "serious violation" and asked not to repeat it. Quite clearly, those responsible for this evidently corrupt multi million rupee deal had powerful clout to have the Competent Authority deliver a warning so the truth will remain hidden forever. The truth was that the 20 year old vessels with archaic systems on board made these two vessels malfunction regularly with systems breaking down.
Now this truth has been further laid bare after President Kumaratunga sought a report within half an hour. The "SLNS Suranimala" is no longer operational and remains idle. The "SLNS Nandimitra," which was out at sea for 21 days is back at the Navy Base at Rangala in the Colombo Port for routine maintenance. Whenever "SLNS Nandimitra" ran into operational problems, spares from "SLNS Suranimala" were ripped off to repair it and keep it afloat. Hence, the Navy, in effect had purchased two old ships at a cost of over US dollars 26 million and was now ripping off parts from one to to keep the other afloat.
Now, this is a deal which some very powerful and influential persons did not want publicised. Was it because they were beneficiaries of fat commissions ? Like all other controversial military procurements shrouded in secrecy, the mystery of the FMV deal would not have come into focus. But President Kumaratunga had asked for a report within half an hour and the revelation, to say the least, has been damning. Until now, no major deals shrouded with allegations of bribery and corruption have been probed. Not a single person involved in such corrupt activity has been identified. If it had been done, not one has been indicted so far for plundering public wealth and placing the lives of the troops fighting a bloody separatist war in jeopardy.
Like those corrupt not being dealt with, even those responsible for major incidents are yet to receive punishment, once again raising questions of accountability. This is particularly so with the July 24 Black Tiger attacks on the Sri Lanka Air Force Base and the adjoining Bandaranaike International Airport at Katunayake. An Air Force Court of Inquiry that probed the attacks has handed over their report to their Commander, Air Marshal Jayalath Weerakkody, over a month ago.
With nearly three months after the attack, the report is said to be gathering dust somewhere in the Ministry of Defence. Though it is not correct, this has given rise to fears in some Government quarters that no action may follow after all and the incident will be a forgotten chapter. Some have even made representations to President Kumaratunga about sensitive aspects of the incident including the urgent need to ensure accountability.
This is whilst another Air Force establishment, this time a detachment at Velverikulam in the Trincomalee district (near Morawewa on the Anuradhapura - Trincomalee Road) came under attack in the early hours of Wednesday. An estimated 60 to 70 guerrillas carried out a two pronged attack after exploding minefields. Four airmen were killed on the spot. Seven more were injured. Others withdrew from their positions that night only to return the next morning. The guerrillas cut off re-inforcements arriving in the area and engaged them.
Among the weaponry the SLAF lost as a result of airmen deserting their posts were two 12.7 anti aircraft guns (used at the detachment for ground attack roles), three General Purpose Machine Guns (GPMGs), three Light Machine Guns (LMGs), 60 mm mortars and a mortar gun.
Air Commodore Laksen Salgado, Director Operations and Wing Commander Mohan Soysa, Staff Officer, Ground Operations visited the 30 strong detachment to make an on the spot study of the incident. This is the first major attack by Tiger guerrillas on an Air Force target since the attack on the main airbase at Katunayake.
In marked contrast to the Court of Inquiry which probed the airbase attack, all made up of Air Force officers, Air Marshal Weerakkody appointed a tri services team to probe the Velverikulam attack. It is headed by Group Captain Kolitha Gunatilleke and comprises a representative each from the Army and the Navy.
The Velverikulam attack also made it clear that Tiger guerrillas would continue their attacks on military targets and will not be deterred by the actions of the US backed international coalition's crack down on terrorism.
This week, Major General Sisira Wijesuriya, Security Forces Commander, Jaffna, strengthened security measures in the peninsula after reports of hectic guerrilla activity in the Pooneryn area. Security forces believe the guerrillas were planning to seize a chunk of territory across the lagoon from Pooneryn by capturing parts of Thanankilappu. There were also fears of attacks on Mandaitivu and Nagar Kovil areas too.
Whether these are guerrilla deceptions to launch a mass scale attack in the east is not being ruled out. More so, with this week's attack on the SLAF detachment further confirmed the fact that the guerrillas remained focused on the east. Concern about these attacks have heightened particularly after confirmation that the guerrillas had succeeded in bringing in more military hardware. Hence, stepped up precautions appear to pre occupy the security establishment.
But, as one Defence Ministry official remarked, the billion dollar question remains how prepared troops are to repel surprise guerrilla attacks. The question has become uppermost in the wake of what happened at Velverikulam.
"Some camps do not get over-run not because the precautions are tight. Its because the guerrillas do not attack them," says one wag, somewhat mischievously.
His comments are based on the claim that there is no regular supervision from the top over precautionary measures. As guerrillas prepare for a fresh show down, the weeks ahead of the guerrilla "Heroes Day" will show whether this is true.