America awake
Tuesday morning's attack on the World Trade Center and the Pentagon in the USA has been described as the worst terrorist attack in history. For us Sri Lankans, who have faced such horror, destruction and sorrow many times in recent years, the horrific images on TV have been a grim reminder of the suffering terrorism wreaks. Following Tuesday's doomsday scenes, The Sunday Times asked people in Colombo how they reacted to the tragedy.
By Shelani de Silva and Nilika de Silva
"It was like a movie," said Malintha, an O/L student of Royal College, Colombo, "to see those immense buildings crumbling down." Added his friend Varuna, "The attack will definitely change the attitude of the American public who perhaps thought that such a tragedy or terrorist threat would never be felt by their country."
"While we are sorry for the loss of life, it is a good lesson for the US since they showed little sympathy to poorer countries threatened by terrorism," commented a third student, Rakman.
Rajitha Attanayake, a second year student at the Arts Faculty of the Colombo University said he found it difficult to believe that a country which boasts of having the most sophisticated military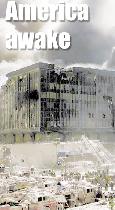 equipment was not able to detect the threat.
"For the people, this will definitely be a shock, but it is a good lesson for countries which encourage and are sympathetic towards terror groups," he said. "The time has come for super powers to realise the gravity of the terrorist problem."
"This should be an eye opener for all countries to unite and fight terrorism," Udaya Kumara, a security officer attached to a private bank said. He added that he was sorry for the victims. "We know what it is. We have seen so many innocent people killed, their families suffering. But the USA as a world power has been responsible for many attacks."
Housewife and mother of two, Mrs. P. Selvaraja of Kollupitiya said she was saddened by the destruction. "I was reading the Bible all the time, praying for those people. I was praying to God to bring about peace," she said.
Director of a Travel Firm M. Wazir, said his sympathies were with the American people but at the same time it was a good lesson for America because they interfere in the affairs of other countries.
Mr. Wazir added that as a Sri Lankan, he was upset that after the recent LTTE attack on the airport which had a crippling effect on the economy, powerful countries like the US had shown little sympathy towards us.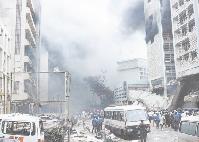 The Central Bank bomb blast in 1996
Nineteen-year-old Dilhani who sells dried flowers down Duplication Road, Colombo, found the entire attack, horrifying: Especially the mass destruction of human life.
"People will have different views since it happened in America, but my view is that whoever it may be, no one deserves to be in this position. The authorities should act fast and bring the culprits to justice." She added that she felt Sri Lankans would sympathise especially since we have suffered similar attacks.
Lal Upali, a three-wheeler driver and father of three from Piliyanadala was shocked that such an attack could happen in America. "A country with so much security, such a powerful country. They have machines which can identify even a harmless item a person is carrying. We as a very small country are so much more vulnerable to terrorist attack," he said. "We can only rely on the strength and skills of our officers.'
"I was on duty, in fact I was checking a vehicle when I heard it on the radio. My first thought was of the civilians, because we too try to look after the civilians," said Police Constable S. Kithsiri, at a checkpoint in Kollupitiya.
"I guess we are kind of immune to such attacks, but when it happens to a country like the States, the whole world is baffled. I think this also makes other countries vulnerable," he said.
A group of mechanics working in a Colombo garage expressed the view that finally it is the common man who suffers, when such attacks occur.
" Everyone's first reaction would be sympathy towards the civilians, but unlike when it happens to Sri Lanka, where we not only have to bear the loss of human lives but also the effect on the economy, for them it will most probably be only the human loss because they have money to come up once again," they said.
American tourist, F. Julien, 50, said when he first heard the news, he thought it was a dream. "Then when I realised what had happened I felt low. I felt ill. This is unprecedented, it has never happened before."
"There is a Sinhala saying, 'If one nurtures venomous serpents they will at some point in time destroy those who nurtured them.' It is something of that nature that has taken place here," said a grocery manager in Maharagama J. Gamage. " I hope this will rouse the powerful countries to unite so that people of all countries can live in equality with equal rights and equal access to security."
Pilot Romesh Mendis said what took place was unthinkable. "Terrorism is a cancer in this world. All countries have to join together to eradicate this menace, because countries and governments have contributed to this."
Dancing teacher Mangalika Pathirana, a mother of two from Kiribathgoda, felt shocked such an attack could have happened in America. "We are living today, but we cannot be sure of tomorrow," she said.
"We do not condone this attack, for wherever it is, it's human lives. But by an attack like this taking place in such a powerful country, they would have understood what terrorism is. How much we have suffered due to terrorism.
"If they understand that suffering, I think they will become more interested in eradicating worldwide terrorism. I hope it will contribute to building a worldwide force against terrorism. And if terrorism is eradicated it will be good for everyone," said M.G. Dharmadasa, 65, of Pita Kotte, a father of two who works as a clerk.
"This is an unusual situation," comme-nted Fi-re Brigade C-hief Officer, J. Kanna-ngara. "Though they would have pr-e-plann-ed for such ev-entualities, the problem of a second airplane crashing into the second World Trade Center tower caused difficulties for rescue workers. In such a situation it's very hard to implement set procedures. But many lessons may have been learnt which may be useful for other emergency services in the world."
A fire fighter for 11 years, W.M.S.K. Wijesinghe from Kurunegala, said that he was saddened to see the carnage. "We too have faced explosions and terrorist attacks, but this was unprecedented. What struck me was the dedication of the firemen and rescue teams. Their mission is always to save others.
And without even considering the dangers of a second attack, they went in immediately to begin rescue work, thereby sacrificing their lives."