Book Review
Courageous exposure of all the hurts, joys and achievements
Olga's Story "Teardrops Make a Rainbow". Reviewed by Anne Abayasekara
Many years ago, a small part of Olga's story appeared in women's weekly magazine. It told of her heartbreak on finding that her third son was drug-dependent and of her struggle to wean him off drugs. Her full identity was not revealed then. Now having reached her 80th birthday in August this year, Olga has written the full story of her life in the form of a personal memoir. Here is complete self-disclosure, revealing not only her full identity, but all the hurts and pains, the mistakes and failures, as well as the joys, achievements and triumphs that go into making a full life - in this case one that spans eight decades.
The book is dedicated "to every husband and wife who has been loving but in pain, in an unhappy, destructive marriage". Olga goes on to add that she has "pieced together the anecdotes of my life. Some have been joyful, some bitter, at times eventful, other times trivial. It has been like weaving a thread of recollection through unceasing waves of change caught in a violent and stormy sea". It isn't a coherent autobiography and is rather sketchy in parts, but everything of significance is reported with honesty. She makes no excuses, attaches no blame, but writes of events and of people as they affected her. I would say she has put together the various episodes - rather than "anecdotes" - of her life, and they make fascinating reading because the writer has been courageous enough to reveal her private life to the public gaze.
Olga Perera (nee Wanigatunga) was born to ease and comfort, surrounded by all the material advantages that went with belonging to a "Walauwa" in those feudal and colonial times. Along with the privileges she enjoyed, however, went also heavy restrictions that threw an irksome, if protective hedge round a girl-child of that class. Olga was a spirited girl and her father was a Mudaliyar with rigid ideas concerning his status and the proper upbringing of a daughter of the house. Although she had to submit to his tyrannical rule as a child, personality clashes were bound to occur as she became a young adult.
Among the happier sections of her book are those relating to her schooldays as a boarder at Methodist College, Colombo. "This period was the happiest part of my life. The friendships made at this time have been to me sincerity and loyalty up to now" she writes. It was in the nature of things that Olga would ultimately defy her autocratic parent. A young vet, Leslie Rupasinghe, whom she met by chance when visiting a friend's house with her step-sister, was attracted to her at first sight.
They got married in 1942, when Olga was 21, but did not live happily ever after. Living in a rented house on a limited budget and travelling by bus was a lifestyle to which Olga was not accustomed, but she adapted herself to the huge change and tried to be a good wife. Her first-born son, Kumar, came in 1943. The break-up was inevitable. Although he was as shattered by the divorce as he had initially been by the marriage, her father offered a home to Olga and the two boys - a second son, Ajit, had been born two years after Kumar. Olga writes, "I did not accept the offer as I wanted to be independent and take responsibility for my actions".
So began another chapter in her life, as a single parent and a working woman. Olga joined Air Ceylon as an Air Hostess and has some amusing stories to relate about incidents in the air in those early days. Her father was ailing and sold the Hikkaduwa house and took up residence in another big house he bought by the sea, this time at Dehiwela. Here, Olga was a frequent visitor and she looked after him tenderly during bouts of illness. They made their peace with each other and the natural love of father and daughter established itself. Her mother had died several years earlier.
At Olga's request, she was transferred to ground duties so that she could spend more time with her two boys. As Senior Ground Hostess at the Ratmalana Airport, she came to know a respected colleague, Langston, who showed an interest in her and in the boys. They married and despite the constant turbulence of this relationship, it held for 37 years. They had a son, Pravin in 1956 and a few years later, the whole family - Langston, Olga, Pravin and daughter Sonali - moved to America. Langston got a job as Manager of a big travel firm. Olga found very rewarding work as Assistant to the Director of a private school for small fry and stayed for 12 years. She attended College and obtained the necessary qualifications to teach, and eventually to be a Director herself.
They decided to return to Sri Lanka and Olga looked forward to a more tranquil existence but her son's addiction to heroin was to be the most devastating experience of Olga's storm-tossed life. "We were not aware of the lying, the stealing and the craftiness of the addict. Then began a round of self-imposed isolation, medical attention, rehabilitation centres, drug-free for a while, and back to drugs. Along with it, came the shame, the gossip, and despair of not knowing what to do".
It took a long time for Olga to make up her mind finally to end her second marriage.
So, she lives today in a rural setting, a far cry from the material comforts of childhood and youth and the Western influences to which she was accustomed, identifying instead with a Sinhala-speaking congregation and finding a niche for service to her fellows there. Her prayers for her son have been wonderfully answered. He has given up drugs and has joined a church, along with his wife.
Olga had a long and painful journey before she found the haven of God's love and acceptance. The message she leaves with the reader is that He can bring us through pain and problems to a place of healing and peace, if we but let him. God can make a rainbow out of our teardrops.
---
Not just for 'Ambalangodayans'
Student Days (1) by Buddhika Kurukularatne. Reviewed by Aubrey KuruppuIt was said of Shake- speare's plays that they "were not of an age but for all time". Likewise, this writer's maiden effort could be deemed to be not for 'Ambalangodayans' only, but for everyone.
The special feeling that the writer has for Dharmasoka shines through his work. For this was not only the place where he "really belonged," but also the place where he met his 'Waterloo".
The "school-by-the-sea" is by no means forgotten. "It is because of my Thomian upbringing that I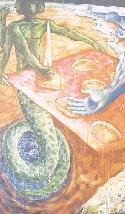 can walk with kings and still be a representative of the masses."
The references to the late Dudley Senanayake are charmingly anecdotal. They bring out the "largeness" of the man and his ability to stomach criticism from a precocious yet, at times obnoxious schoolboy. As for Dudley's prophecy, it was not fulfilled to the letter, even thirty four years later!
'Student Days' will live in the memory as a nostalgic relation of all the seminal experiences that contributed to the making of a lawyer, orator, politician, philanthropist and now, a writer. It must be said that this multi-faceted personality exudes joie de vivre from his every pore.
Like "Tom Brown's School Days', the writer's book attempts to recapture the vivid and recurrent images that characterised his early experiences at school. He dwells on favourite (and not so favourite) names, faces, places and events. His description of one of his early and numerous class teachers ("She was as black as night, Huge as a hippapotamus, And as ugly as an octopus") comes off as a mischievously funny crack and not a cruel account.
The special merit of this book lies in its combination of simplicity, candid honesty and self-deprecating humour. In this regard, his immensely humorous account of the viva voce, prior to admission to Dharmasoka stands out.
The writer's discomfiture and acute embarrassment in the presence of the Brown Sahibs (the Kalu Suddhas) at S. Thomas is all too evident. To him, it was a case of the fittest surviving and he gave as good as he got later on. These little incidents epitomize the fearless fighter for justice that he later became. Initially branded a 'Godaya' he now emerges as an outstanding personality.
The humour in the book is in a light, comic vein bordering on flippancy. The language used is simple and evocative. All this is most apt for a narrative that is essentially nostalgic and light hearted. The direct tone and the natural style are in keeping with the writer's theme and intent.
---
Symbolical expressions
By Sonali Siriwardena
It is not often that one hears of modern artistry in areas of conflict.
But on the rare occasion when one does discover an artist surviving, even thriving in a seemingly arid environment, his work commands both respect and reflection. This is true of T. Sanaathanan.
I speak of a quiet young man with a strong artistic identity, which he expresses not so much in words but rather on canvas and paper.
Born in Jaffna to a middle class Jaffna Hindu family, Sanaathanan grew up surrounded by traditional art and culture. But a renaissance in Jaffna in the 1980s changed all that. "The movement of change in the 80s saw a shift in terms of art and form, which helped to move away from the traditional forms of literature, drama and painting. It made us explore new mediums of art," says Sanaathanan.
That was the beginning of an artist, who, having first worked with canvas, acrylic and charcoal, now experiments freely with mixed media such as glass and paper.
However this transition to modern art did not happen overnight. "I travelled to India to study art in 1993. The exposure I gained there, changed my whole view of art. It was then that I began to see art as a way of life with no walls or preconceived ideas."
Equipped with a Master's Degree from the University of Delhi, Sanaathanan is now a lecturer of Theatrical Descriptive Art at the Jaffna University. "Teaching art is like painting -it is all inspiration, which is equally important," he says.
And what of his own work? "I try to paint my day to day experiences as a Tamil; as a Sri Lankan. It is a medium for me to express my personal views and build my own myths and history. My body of work...is the body of my psychological self."
His calm voice takes on a softer tone when talking of his hometown. "Jaffna is always home to me. It's a unique city, a mixture of Indian, colonial and Sri Lankan influences. Different people interpret Jaffna people in different ways, but in my work I try to translate this intricate relationship with the unspoken side of life," he says.
But he agrees that Jaffna is not what it used to be. "A country and a home is made up of its people, but in Jaffna that equation is lost because most residents are refugees...strangers in one place."
"You can say I am from Jaffna, but what does this mean? People categorise each other into different shades and boxes but in essence they are the same-it's a collage, a mixture. My aim is to translate this essence into a concrete metaphysical and symbolic expression with the use of Christian and Hindu mythology, allegory and images."
His current exhibition, to be held this month at the Paradise Road Gallery, is a surrealistic collection depicting a dreamy world. 'Real but not real' was his exact description to the works, which were done during his stay in Delhi. The exhibition is the latest of a series of showings in both Sri Lanka and abroad including countries such as France and India.