Blackout timetable
Following is the power cut schedule which will be effective for the next three days. According to the CEB at the end of three days the schedule will be reconisdered or renewed. Readers are advised to identify which group they belong to by following the chart of the areas given below.
Sunday Monday Tuesday
Group A 12.00 mn - 4.30 am 4.30 am - 7.30 am 4.30 am - 7.30 am
6.30 pm - 10.30 pm 8.30 pm - 12.00 mn 5.30 pm - 8.30 pm
Group B 4.30 am -7.30 am 4.30 am - 7.30 am 12.00 mn - 4.30 am
8.30 pm - 12.00 mn 5.00 pm - 8.30 pm 6.30 pm - 10.30 pm
Group C 4.30 am -7.30 am 12.00 mn - 4.30 am 4.30 am - 7.30 am
5.00 pm - 8.30 pm 6.30 pm - 10.30 pm 8.30 pm - 12.00 mn
Group A
Colombo 1- Banku Mw, Lotus Rd, Janadipathi Mw, Chatham St.WTC Building, BoC Building, Central Bank Duck Street, Bristal Street, Hemas Building CTO Building.
Colombo 2- Galle Rd upto Rotuna Garden, Slave island, Union place, Nawam Mw, Makan Marker Mw, Kew Rd, Justice Akbar Mw and connected by roadS, Lake House.
Colombo 3- Duplication Rd, between Kolupitya lane and Bagatale Rd and connceted by Rd, Galle Road between Kolupitya junction and Bagathale Rd.
Colombo 4 - Duplication Rd., between Bullers Rd, junction and Dickman's Rd., and connected by road, Bambalapitya Flats, Galle Road
Colombo 5 - Thimbirigasyaya Rd. and Jawatta Rd.
Colombo 6- Peterson Lane, W.A. de Silva Mw.,
Colombo 7 - Reid Av., Keppetipola Mw., Bauddhaloka Mw., Torrington Av., Green Path Marcus Fernando Mw., Wijerama Rd., Horton Place, Gregorys Rd., Ward Place, Rosmead Place, Barnes Rd and connected by roads Kynsey Rd.,Dharmapala Mw, Red Cross Junction up to Town Hall,
Colombo 8 - Ananda Rajakaruna Mw., Borella Cross Rd., Wanathamulla, Lady Ridgeway Hospital, Borella Junction, Punchi Borella Maradana Road.
Colombo 9 - Dematagoda, Baseline Rd, , Kent Rd, Maligawatte Rd, Stace Rd
Colombo 10 - Deans Rd, Norris Canal Rd, Maradana, Mcallum Rd, Sangaraja Mw, Panchikawatte Road.
Colombo 11 - Pettah
Colombo 13 - Colombo harbour, Kotahena, Jampettah St.,
Colombo 15 - Mutuwal, Mattakkuliya, Sri Wickrema Mw., Furgusion Rd.
Out of Colombo city
Agalawatta, Ambatale, Badalgama, Badureliya, Kosgama, Kolonnawa, Kotadeniya, Maggoana, Mathugama, Nawagampura, Negombo, Nugegoda (partly), Central, North Central, Western (South) and North Western
Group B
Colombo 1 - Chattam St., Lotus Rd, Hilton, Galadari, Colombo Harbour, P&O Terminal, Presidential Secretariate.
Colombo 2 - Sir Chittampalam A. Gardiner Mw., D.R. Wijewardene Mw, Vauxhall Street, Hyde Park Corner, Union Place, Airforce HQ, CEB HQ.
Colombo 3 - Duplication Rd, up to Kollupitiya Lane and connected by roads St. Anthonys Mw.
Colombo 4 - Bamabalapitiya
Colombo 5 - Chithra Lane, Kirula Rd, Fife Rd., Park Rd, Narahenpita, Havelock Rd between Dickmons Rd, junction and Maya Rd, and connected by road. Amarasekera Mw. Dickmon Rd, Wijeya Kumaratunga Mw, Robert gunawardene Mw., Seibel Avenue, D.M. Kolambage Mw.
Colombo 6 - Wellawatte, Galle Road from Savoy Theatre up to Wellawatte Bridge connected by roads.
Colombo 7 - Torrington Avenue, Independence Square, Sri Lanka Rupavahini, SLBC, Malalasekera Mw. and Maitland Place, BCCSL , SSC Foundation Institute, Jawatte Road, Irrigation Department, Marcus Fernando Mw, Town Hall and around.
Colombo 8 - Bullers Rd, Cotta Rd, Castle St, Castle St. Hospital, D.S. Senanayake Mw, Weluwana Rd.
Colombo 9 - Dematagoda, Katawelamulla Rd, Sri Dharma Mw,
Colombo 10 - Sri Saddharma Mw, Maligawatte, Jumma Masjid Rd, Panchikawatte, Darley Rd, Maradana
Colombo 12 - Dam Street, Prince Street, St. Sebastian Street, Sirimavo Bandaranaike Mw,
Colombo 11 - Olcott Mw, Superior Courts Complex, Quarry Rd, Centre Road, Messenger Street,
Colombo 13 - Cyril C Perera Mw, Sugathdasa Indoor Stadium, Upali NS.
Colombo 14 - Aluth Mw, Grandpass Rd, Kettarama stadium Lever
Out of Colombo city
Awissawella, Battaramulla, Boralesgamauwa, Danowita, Ethulkotte, Hanwella, Hokandara, Homagama, Ingiriya, Kahathuduwa, Kosgama, Kottawa, Labugama, Lunawa, Maharagama, Meegoda, Mirigama, Nittambuwa, Nawinna, Part of Nugegoda, Padukka, Pasyala, Welikada, Piliyandala, Rajagiriya, Seethawaka, Sri Jayawardenepura.,Western (South), North Western, Sabaragamuwa, Southern, North Central , Uva & Eastern
Group C (Out of Colombo city)
Mirissawatta, Moratuwa, Mulleriyawa, Peliyagoda, Panadura, Piliyandala, Pugoda, Ragama, Ratmalana, Seeduwa, Udugamapola, Weyangoda, Wadduwa, Wattala, Weliweriya, Yakkala, Kadawatha, Kalapaluwawa, Kandana, Katubedda, Katunayaka, Kelaniya, Kibulapitiya, Krindiwela, Kirillawala, Kotugoda, Lunawa, Mahara, Malabe, Mawaramandiya, Minuwangoda, Althugama, Angoda, Angulana, Attitidya, Athurugriya, Belummahara, Bandaragama, Beruwala, Biyagama, Bulathsinhala, Dehiwala, Dekatana, Delgoda, Divulapitiya, Dompe, Ekala, Gampaha, Ganemulla, Horape, Ja-ela, Western (North), Western (South), Sabaragamuwa & Southern
---
Colours of terrorism
From Neville de Silva in London
British Prime Minister Tony Blair's pledge to parliament on Friday that his government will fight international terrorism, was treated with scepticism in some Asian circles here.
Many Asians find Blair's attitude hypocritical. His anger and concern is only when the victims of terrorism are white Caucasians, if not always Britons. Black, brown and other victims of terrorism, however evoke the same kind of nonchalance as British public institutions reserve for non-whites.
The Blair administration made a commitment to fight international terrorism when it introduced the Terrorism Act 2000 in July last year. The Act was made operative early this year and 21 organisations considered terrorist groups were outlawed in February.
Among them was the LTTE .
Under this anti-terrorist Act the outlawed organisations cannot function here and anybody claiming to be a member of such an organisation and speaking on its behalf was committing an offence under the law.
However several Sri Lankans and other Asians have pointed out that Anton Balasingham, variously described as the LTTE theoretician, dialogue, spokesman and chief negotiator continues to make public statements to the media despite the fact that his organisation is banned in the UK.
Recently the LTTE attacked the Katunayake air force base and the civilian airport endangering the lives of several British citizens who were then at the airport awaiting flights.
The threat to British lives and property by an armed group using violence is an offence under this Act even if committed abroad. Even after this threat to British lives Anton Balasingham gives interviews to the media here and is quoted as the London-based spokesman even by the BBC over which the British Foreign and Commonwealth Office has some jurisdiction on policy matters.
Referring to the Sri Lanka government's recent pact with the JVP, the BBC said on September 11: "Speaking in London, the chief rebel negotiator, Anton Balasingham said there was no point in entering into a peace process with the government if there could be no discussion of proposals for political change to resolve the Tamil question".
Mr. Balasingham's numerous other public utterances since the British ban on the LTTE is considered in militant Tamil circles here as blatant "spitting in the face of the British government and that spineless government in Colombo".
Asked how a proscribed organisation which the British government has said is a threat to its security, can function so brazenly in the very country that banned it, both British officialdom and the Sri Lanka High Commission in London ducked the issue. I sent off a series of questions to the International Press Service of the Foreign Office.
Among them were:
How is it that a member of an organisation banned as a terrorist group can so publicly speak to the media and function as a leader of that organisation.
How is it that the British government has not acted against him while at the same time avowing publicly to fight terrorism
Is the British government unaware of Mr. Balasingham's activities.
Or is it that all this talk of fighting terrorism mere hypocrisy
I was politely referred to another section of the Foreign Office where the official heed and hawed and gave the usual line about not being able to disclose what is discussed with the Sri Lanka High Commission and that he has to follow the official line and still more diplomatic claptrap. He asked me to contact the Home Office which dealt with the anti-terrorism law.
The Home Office press section was trying to dodge the whole issue anyway and said the implementation of the law was in the hands of the Metropolitan Police. The Press Office of the Met, popularly known as Scotland Yard, had not even heard of the LTTE
"Some of my colleagues have worked hear 15 years and they have not heard of such an organisation and neither have I", said Nikki Price of the press office.
She wanted to know whether anybody had committed a crime in which case it should be reported. It seemed the Metropolitan Police would only move its institutional racist self only if somebody reported a crime, as though the public was paid to do its duty.
I also addressed some questions to the Sri Lanka High Commission among which were whether it had brought to the notice of the British government that Balasingham was functioning as before, and if not, why not. If it had done so what was the response of London. Also had it informed Colombo that Balasingham was functioning publicly
A High Commission official contacted me saying that the High Commissioner wished to speak to me on this matter and I should contact him. I tried his office and residence several times from 1.30 in the afternoon to 8pm to get his response to a question which is becoming increasingly embarrassing for Sri Lanka and Sri Lankans. He proved to be more elusive than I expected.
"Must be like the Scarlet Pimpernal", said a prominent member of a Sri Lankan Association in London. Or perhaps like Prabhakaran.
---
Rahma on wings of tragedy
By Tania Fernando
While America tries to rise from the ashes and rubble of Tuesday's tragedy, across the seas, a grieving Sri Lankan family in Colombo attempts to grapple with the reality of losing a loved one.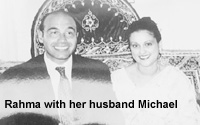 Rahma Salie, a 28-year old Sri Lankan who was living in Boston, was among those who were in the fatal American Airlines flight 11 that crashed into the World Trade Centre. She was with her Greek husband Michael Theodoridis heading to Los Angeles for a friend's wedding.
Her cousin Faiq Salie said Rahma usually informed her brother Afkham of her movements, however, on this occasion she chose not to tell him, probably thinking he would scold her for traveling while she was seven months pregnant.
"She was very friendly and down to earth, though she was holding a top job in the US", Faiq said, adding that she was the live wire of the family. "Her trademark smile was what everyone remembers of her," he said.
Her brother Afkham Salie, who is the only family member living in Colombo said, although Rahma lived in the US, she was proud of being Sri Lankan. "She visited Sri Lanka every six months and she was last here in February this year," he said.
"Rahma who was born in Japan schooled there too and was fluent in Japanese. Even at her job as an IT Executive, she handled the Japanese clients, and their presentations."
He said his sister met her husband to be Michael, in University at Boston and married him in August 1998. "She was seven months pregnant at the time of her death and was looking forward to motherhood," he said.
"No one knew she was on that flight. She had called my aunty just half hour before boarding the flight and that was how we knew", Afkham said.
Rahma had attended Wesley College, one of the top Universities which was attended by the likes of Hilary Clinton.
Sometimes life does deal people unfair blows. While Rahma was just about to give life to another, fate decided otherwise, and has left her family with memories and heartbreak of this tragedy along with many thousands of Americans still trying to face the devastation that hit them on that fateful Tuesday morning.
---
Children summit rocked
The United Nations Special Session where scores of world leaders were expected to attend a summit on children has been put off in the aftermath of the New York holocaust, UN sources said.
The special session scheduled for Sept. 19-21 was to be attended by President Chandrika Kumaratunga and a large delegation including children from Sri Lanka.
The special session, a follow-up to the world summit held in 1990, was to chart the course for the promotion of child rights during the next decade. According to a government report Sri Lanka, has achieved seven of the 13 goals set at the 1990 summit.
These include immunization, increased access to sanitation, increased access to basic education, elimination of neonatal tetanus, low morbidity and mortality in measles. The UN headquarters in New York was also evacuated after the 110 story twin towers of the world trade centre came down with an impact similar to an earth quake. Several other sky scrapers in the vicinity are now reported to be on the verge of collapsing.
---
Remembering JR
A series of events to commemorate the 95th birth anniversary of late President J.R. Jayewardene will be held at the J.R. Jayewardene Centre Auditorium tomorrow at 4.30 p.m.
The programme includes the presentation of the third and fourth biography translations by W.J.M. Lokubandara. The biographies were written by K.M de Silva and Prof. Howard Wriggins. A commemoration speech by Dr. Karunasena Kodituwakku and a film on the services of Mr. Jayewardene will be part of the programme.
---
UNP alleges attacks on meetings
By Shane Seneviratne
Several UNP supporters including women were injured yesterday when their pocket meetings in Nawalapitiya was attacked by thugs, party organisers said.
Two women and five men were injured in the attacks, reported to have taken place at Ovala and Kudahentenna, with chairs and tables being broken, they said.
The attacks were carried out by gangs, including a PA politician, who arrived in double cabs and pajeros. There had also been police officers in uniform among them, UNP organiser Gemunu Abeysundera alleged.
Last morning 58 pocket meetings were held covering 137 villages, in the Nawalapitiya electorate under a program co-ordinated by UNP Nawalapitiya organiser Basil Wilson Harley. The UNP had proposed that 700 meetings to cover the entire Central Province.