Bridal glow
By Yvonne Gulamhusein
The fashion event of the year, 'The Bride' presented by Ramani Fernando and Michael Wijesuriya, two leading names in the bridal beauty business saw brides, brides and more brides, emerging radiant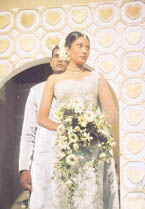 on the Hilton ramp last Monday.

Cathedral-like gold and white arched doorways, decorated with scores of electric candles, white rose-buds and greenery created a romantic backdrop for the picturebook brides who dazzled the audience that night. Over sixty bridal creations were on show with bridegrooms, bridesmaids and endearing little maids completing the retinue.

Starting with the Kandyan bride in a cloud of gold, the fantasy aspect followed with the woodland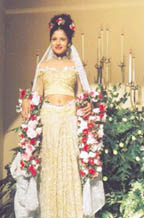 brides, and ethnic brides with their grooms sporting bold safari animal prints. Unusual themes like wedding by the pool, in the park and on the beach allowed full rein to the designers' creativity.
A distinct feature of the show was the blending of colour. Said one appreciative member of the audience, "Who would ever want to settle for a white wedding after seeing this?" Certainly, The Bride offered much food for thought for wedding planners and prospective brides.
Ramani and Michael were assisted by three experts in the floral field, Lucien de Silva, Mary Jayaratne and Janaki de Soysa of Flowers of Summer who provided the beautiful head-dresses, bouquets and floral accessories. The menswear was from Vodi while the jewellery was provided by Lalitha Jewellers and the fabrics by Fashion Fabrics.
Pix by Anuruddha Medawattegedera

---
Techno Page - By Harendra Alwis
Compatible combination
Is Windows XP more stable and dependable than its predecessors?
Take these factors and more into consideration before you upgrade. On one hand, the increased stability and the new interface are both compelling reasons to upgrade. On the other hand, there are many reasons to sit back and wait until the dust settles. This article, should help you assess your upgrade decision by taking a look at some of the key considerations.
The stability factor
One of the main reasons for upgrading to Windows XP is to get a more stable operating system. If you're a Windows 95, 98, or Me user, you've probably encountered your share of unexplainable lockups and crashes. You may have considered abandoning Windows 95, 98, or Me for Windows 2000 Professional, to take advantage of its more stable operating system. However, chances are that a number of factors prevented you from making that jump. For example, Windows 2000 has strict hardware and software compatibility rules. In addition, it's packed with complex industrial strength security and networking features that can make it difficult for the average computer user to manage.
Well, the new Windows XP Home Edition is a blend of the best of the Windows 95, 98, Me and 2000 platforms. It takes the wide range of hardware and software compatibility from Windows 95, 98, and Me, as well as the ease of use features. It also adds the stability found in Windows 2000 operating system kernel, but removes the complexity. The end result is a very stable platform designed specifically for the needs and capabilities of the average home user
The dependability factor
Along the same lines as the stability factor is the dependability factor. Of course, being built on the same operating system kernel as Windows 2000 goes a long way in making Windows XP a more attractive operating system than Windows 98 or Me, but there's more.
Even with a better operating system, other things can contribute to stability problems - most notably, third party device drivers. To circumvent these problems, Microsoft has instituted a driver-signing program, whereby drivers created for and adhering to the Windows XP standards will be digitally signed. Any driver not signed will cause Windows XP to display a warning message alerting you to that fact that continuing with the driver installation can cause problems. As such, if you only install device drivers that are created for Windows XP and are digitally signed, you can rest assured that the operating system will be able to perform optimally without interference.
Another nice feature now found in Windows XP is System Restore, which allows you to roll back your operating system to a previous state when it was working perfectly. If anything ever does go wrong, you can at least undo whatever is causing the problem. You can then get right back to work.
The registration factor
Another thing in Windows XP that you should take into consideration is the registration factor. In an attempt to make piracy more difficult, Microsoft has instituted a new registration policy called Microsoft Product Activation, which will only allow you to install Windows XP on one system at a time. Under this new policy, you must use the CD Key code that comes with the software to install the operating system. You'll then have 30 days in which to contact Microsoft, either via the Internet or by telephone, and activate the software.
When you do, you won't have to give Microsoft any personal information, just your CD Key code. Microsoft will assign you an activation code, which you'll then enter in the appropriate text box in the Microsoft Product Activation wizard. If you don't activate the software within the 30-day period, you won't be able to boot Windows XP past a dialog box that prompts you to enter activation code.
When you enter the activation code, it supposedly analyzes your system's specific hardware configuration, generates some hardware ID code based on this information, and then associates the activation code with this hardware ID code. If for some reason you have to reinstall Windows XP on the same system, you'll be able to use the same activation code.
However, if you purchase an additional system and want to install Windows XP on your new system instead, you'll need to reactivate the software. While Microsoft says it's possible to install it on another machine, it's unclear how exactly this will work under its licence agreement. Consumers should refer to the terms of their licence agreement to determine whether or not it is legal to transfer a licence to another computer. But in those cases where it is allowed, the product must first be removed from the previous computer. Users may be required to complete the activation on the new computer by placing a call to the Microsoft Activation Center. The details are still a bit hazy, but you can be sure that Microsoft will figure them out before the release.
If you only have one PC and rarely reinstall the operating system, this really won't be a problem. However, if you have multiple PCs in your home, you won't be able to buy one copy of Windows XP and install it on all the PCs in your home. Instead, you'll need to buy one copy for each system.
While this may sound harsh, it's actually been a part of the Microsoft End-User Licence Agreement for years. The only difference is that now Microsoft has developed a physical way to enforce what the paper licence has said all along.
The upgrade factor
If you're seriously thinking about upgrading to Windows XP when it becomes available, then you have to look at the upgrade factor. The first piece here is the system requirements and the second is whether your current operating system will support the upgrade.
At this point in time, Microsoft is recommending at least a 300 MHz Pentium processor, 128MB of RAM and a 2GB hard disk to run Windows XP. If you have a system at this level or above, then you should be set for system requirements. Of course, in addition to these base requirements, you'll want to have a decent sound card and a video card with at least 8MB of VRAM.
If your system is at this level or below, chances are that you're thinking about purchasing a new system. If so, you might want to wait until computer manufacturers will be selling systems with the Windows XP operating system preinstalled. That way, you'll not only get the new operating system, but you'll get a computer built with hardware designed to take advantage of all that Windows XP has to offer.
Now, if you do decide to get a new computer with Windows XP installed on it, you'll be able to take advantage of another new feature called the Files and Settings Transfer Wizard. This new feature will allow you to easily migrate documents and settings from your old computer to your new one via floppy disks or a network connection. For example, the wizard will migrate settings and files from Internet Explorer, Outlook Express, Outlook, Dial-Up Networking, Favorites, and more. You'll still have to reinstall your applications, but then that's usually the easy part of migrating from one computer to another.
If your system is ready for Windows XP, you can choose to install the new operating system from scratch or upgrade over top of your existing operating system though this is not quite advisable. If you choose the Windows XP Home Edition, you can upgrade over every previous version of consumer Windows except Windows 95.
Keep in mind that if you're running Windows 2000 Professional on your home system, you won't be able to use the Windows XP Home Edition upgrade package to upgrade over top of Windows 2000 Professional. However, you can install Windows XP Home Edition on another partition on the same system or you can use the Files and Settings Transfer Wizard to backup your settings, reformat your hard disk, and then install Windows XP Home Edition from scratch.
(source znet)
Techno Page,
Mirror Magazine,
C/o Sunday Times.
No. 8, Hunupitiya Cross Road,
Colombo 2.
Email: technopage_k@yahoo.com