Soaring prices hit consumers
By Faraza Farook
Struggling to overcome the bulky surcharge imposed on all imports and exports traders have already jacked up prices of essential consumer goods.
Business sources said while new shipments were still to come prices had already gone up. They said traders had decided to increase the prices of goods in hand to pay for their next consignment.
Some traders said most imported products ranging from spices to spare parts had gone up in prices to pay the hefty surcharge. They said prices of essential commodities would further go up when the new shipments arrived.
Old Moor Street Traders Association president P. Sundaram said the prices of many dry foods had gone up by Rs. 2 or more. He said consumers would get another shock with a further increase in prices with the next shipment.
"The next increase might be heavier as the surcharge, the customs duty and other levies would decide the prices. The present increase is made only on a rough calculation," Mr. Sundaram said. He said some traders had opted to increase the prices in two stages. This was being done to cushion the blow on the consumer. "Instead of increasing the price of a product by Rs. 4 at once, they will first increase it by Rs. 2 and then by another Rs. 2 when the new stocks arrive," Mr. Sundaram said.
He said the current crisis in the trade had shown a drastic drop in sales even in fast moving products. "People who used to buy 500 grams are now purchasing only 250 grams," he said.
Some leading traders said the shipping crisis had resulted in ships bypassing Colombo and compelling importers to seek other options to get their goods. They said this would result in the payment of increased transport costs.
Mr. Sundaram said even local products were likely to go up in prices because of the spiralling cost of living. He said the prices of goods sold at supermarkets would be beyond the reach of the average consumer.
The Sunday Times learns that some traders are hoarding flour stocks hoping the price of a kilogram will go up Rs. 5. However, some traders fear this will lead to a lesser demand for flour.
Consumer Electronics and Domestic Appliances Association (CEDAA) president and Hayleys managing director Sujeewa Devaraja said an increase in electrical goods would result in a drop in the sales.
Mr. Devaraja said the CEDAA had been lobbying to bring down the 40% duty slapped on electrical appliances. He said the surchage would cripple the already tumbling business. "Soon people will consider a television set or a refrigerator as non-essential items," he said.
He said Hayleys was still assessing the impact of a price increase and had asked its suppliers to withhold future shipments.
Another electrical goods trader said the prices would go up by Rs. 100 - Rs. 300 depending on the total cost involved.
Meanwhile, the Food and Marketing Development Ministry has announced that milk product prices will come down shortly when the government lifts the taxes.
However, some milk product importers said they were not aware of any such concessions.
---
They bring honour to Lanka
(From L – R): Dr. Gihan Wickremanayake, Sachintha Karunaratne, Pramila Ariyaratne (Bronze medallist), Harshana Dantanarayana (Silver medallist), Nayana Somaratna (Gold medallist) and Sifaan Zavahir.
The Sri Lankan team that participated in the International Olympiad in Informatics 2001 (IOI 2001) in Tampere, Finland have brought pride to the country winning three medals – a gold, silver and bronze.
The national team comprising six members participated in the Olympiad from July 14 – 20 where 272 participants from 72 countries took part. This year's success has brought the overall medal tally of local teams to IOI competitions since 1992 to a total of two gold, three silver and seven bronze medals.
The team was led by Dr. Gihan Wickremanayake (team leader) of the University of Colombo and Sifaan Zavahir (deputy team leader) of the University of Moratuwa.
The National Science Foundation and the President's Fund provided sponsorship while the Instiute of Computer Technology (ICT) of the Colombo University and the Open University provided the resources for training.
---
'Holy Shroud' at Dehiwala
A documentary film on the hallowed " Holy Shroud of Turin" will be screened at the parish hall of St. Mary's Church, Dehiwala today at 10.15 a.m. This will be followed by a talk by Rev. Fr. Louis-Marie Navaratne who plays a key role in propagating awareness of the Shroud in which the body of Jesus Christ was wrapped before the Resurrection.
---
Opposition plans another July 19
Major pro-democracy demonstration on Thursday
By Dilrukshi Handunnetti
In a sequel to the July 19th protest, the Alliance for Democracy will hold another demonstration on Thursday, demanding the immediate reconvening of parliament and the cancellation of the referendum.
UNP Assistant leader Gamini Atukorale. prime mover behind the alliance, said they would continue to mobilise people in this manner for protest against what they saw as undemocratic practices.
Demonstrators coming from the south will assemble at the Thunmulla junction and others at Borella and Maradana.
Opposition UNP leader Ranil Wickrem-esinghe told The Sunday Times yesterday they would press on with their campaign for the resignation of the government and the President. Meanwhile, Colombo's DIG Gerard Ignatious said permission had been sought only for a meeting and not for a demonstration or a procession, all of which were banned under the Referendum Act.
---
Jeyaraj's Wanni visit clouded in mystery
By Chandani Kirinde
The meeting between Minister Jeyaraj Fernandopulle and some members of the LTTE last Monday while on a visit to the Madhu church has become the subject of controversy with varying accounts of what took place there.
A statement issued by the minister soon after his return to Colombo said that he had "an opportunity to exchange views with a regional LTTE leader in the Wanni area on Monday", a claim soon refuted by the LTTE.
In a statement to the TamilNet web site, the LTTE's chief negotiator Anton Balasingham said there was no such meeting and that Mr. Fernandopulle only met their border guards who provided him with security after he entered territory under their control for the purpose of visiting the Madhu shrine.
This was followed up by yet another statement from Minister Fernandopulle in which he said that the purpose of his visit was not to meet any LTTE leaders but to visit the shrine at Madhu.
The minister's second statement came on the heels of the state media giving prominence to the LTTE statement quoting from the TamilNet web site, extracts from which are normally used by it to attack opposition politicians and their alleged links with the LTTE. Meanwhile, Bishop of Mannar Rt. Rev Rayappu Joseph who was present when the minister toured the LTTE held areas said that there were no suitable representatives of the LTTE in the area for the minister to have talks with and those present were some cadres engaged in security work.
He said the minister had come to get the blessings of the Church and had come there " as a Christian and not as a politician."
According to one of the journalists who accompanied the minister on the trip, Mr. Fernandopulle had kept plans for his visit to Madhu a secret and had not informed even the President prior to his visit . Mr. Fernandopulle had decided to visit the Madhu church after assuming duties as the Minister of Christian Religious Affairs.
---
Not a drop of water, only tears
By Nilika de Silva
All day they trek the barren waste without the taste water and with no harvest to depend on hundreds of thousands of villagers are carrying the burden of their worst ever drought alone.
"We just eat whatever we can to survive, but we have no future," said Dayawathi, a mother of three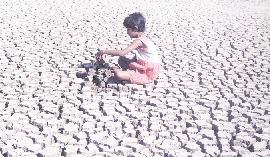 who has lived in these parts for 23 years. "We are just dying day by day.
The government seems to be doing little or nothing to save us. We feel alone in our battle against the elephant menace and now the devastating drought," she lamented.
Dayawathi was one of many we met beside the Wedi wewa which had almost run dry. A small well nearby is visited by people from four or five neighbouring villages in this poor and marginalised Hambantota district.
Weerawilaara farmer, Munasinghe Arachchige Dharmapala is just one of thousands battered by the drought. A father of seven Dharmapala says this drought has been the worst, because he has watched four seasons go by with little or no rain.
"The trees have lost their leaves, except for the Siyambala, Palu and Kohomba ," Dharmapala said as his children ran about providing straw for the cows to eat and drew water from the depths of the well.
"We lost four harvests at a stretch, life is terribly hard," said T.A. Karunawathi (72). "All we received from the government was 50 kilos of rice," she added.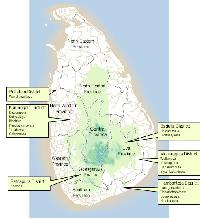 Click image for a larger view
Another villager, Sisily Hamy said the menfolk were walking long distances in search of jobs to keep the 'dhara lipa' burning.
A regular sight was groups of people bathing at roadside taps making the most of the few hours when pipeborne water was made available to them.
Taking straw and water to the animals had become the work of family members especially the young, who also helped with transporting water to their homes, on barrels tied to bicycles.
Lunugamvehera's Assistant Divisional Secretary, P.H. Ananda said this area was the hardest hit and some 7,000 families were known to be in deep trouble.
"The last time these farmers earned money on their crops was in 1998," Mr. Ananda said.
For chena cultivation which is the main form of cultivation in this area, rain at the right time is essential. From May to September farmers cut down and burn their chenas in preparation for the rains which come around mid October. In 1999 and 2000 these rains didn't come, and the small tanks ran dry, he said.
The Lunugamvehera Tank which provides water for about 4,880 hectares of paddy land is so shallow that even fish cant survive in it.
Those who used to go to adjoining villages and work the fields for hire do not even have that opportunity now.
Bowsers distribute water to Weheragala, Guhana, Maththala and Palle Maththala areas which have no access to drinking water .
Farmers Association Secretary, G. Abeysekera, farming in these parts since 1973, pointed to the, Weerawilaara Siyambalagaswewa which had run completely dry with cracks appearing across the parched earth and said "Never before has this tank run dry, usually there is at least some water left for the animals to drink and for the fish."
The members of the Farmers Association comprising 66 chena farmers are desperate, Mr. Abeysekera said. "The rains have gone down drastically over the years, and this year we have got only 1/5 of what we got last year. To find water we some times have to go as deep as 54 feet in a well.
"If the drought persists for two to three months more, the people will face starvation," he said.
"For many people the only meal for the day is boiled pawpaw while those who are a little more fortunate could buy some biscuits also from the boutique," K.K. Premasiri, of Lunugamvehera said.
In terms of a solution the farmers of Lunugamvehera believe they could no longer continue to depend only on their tank network though it had seen them through for centuries. Now they believe there is a need for the diversion of the Menik Ganga or Kalu Ganga to save to revive their only livelihood.
---
Fiddling with statistics as 7 districts burn
With an estimated half a million people hit by the drought in seven districts of the South and other areas, the government machinery appears to be far from heated up with the Social Services department in Colombo awaiting details from the District Secretaries and district secretaries awaiting details from the divisional secretaries.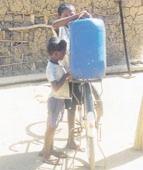 Taking water home on bicycles
The Hambantota district has been the worst affected and parts of other districts including Moneragala, Ratnapura, Badulla, Kurunegala and Puttalam have also been hit.
In some of the areas through personal political intervention, affected families have been able to obtain relief, but thousands of less fortunate families are still left high and dry.
In the Hambantota area, villagers said families of more than two children were given 50 kilos of rice, while smaller families were given 25 kilos for the month.They also got a relief allowance of Rs. 400 and in return a member of the family was called upon to do four days of community service every week.
According to Hambantota Govt. Agent Ananda Amaratunga about 55,000 families are affected by the drought and the worst hit areas are Lunugamvehera, Hambantota, Tissamaharama and Sooriyawewa.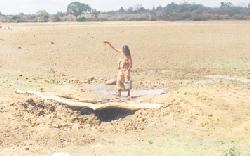 The dried up Vediwewa
So far only 21,000 families have received rice on a special appeal made by Minister Mahinda Rajapakse to the President. More rice is to come from the Food Dept. and CWE costing the Treasury Rs. 65 million according to Mr. Amaratunga.
An official of the Sri Lanka Red Cross Society said an assessment by them had shown that the drought in Hambantota was the worst in half a century.
According to an official the Social Services Department standard policy is to provide relief only if two consecutive crops during the two seasons - Yala and Maha are affected. This would mean that farmers have to wait for more than eight months until authorities decide whether they are eligible to receive relief.
Social Services Deputy Director, A.N.D. Hettiarachchi said they were considering a relief package similar to the one given to displaced people in the north-east. He said the government would need an estimated Rs. 130 million a month for drought relief.
According to the Moneragala District Secretary, P.G. Amarakoon about 70 per cent of the people in the district had been affected. He said they were expecting full details by next week. The Ratnapura District Secretary said they were still assessing the situation.
Baddula's additional district secretary Newton Perera said they too were awaiting more details with initial reports indicating that Haldummulla and Ridimaliyadda were worst affected. As badly affected as Hambantota is the Kurunegala district where about 25,000 families are said to be in dire straits.
District Secretary T.Ratnayake said Katugampola, Kuliyapitiya, Bingiriya, Panduwasnuwara and Galgamuwa were reported to be badly hit. But they too were still assessing the situation.
The same response came from Puttalam district officials also.