Regenesis
Chapter one
A story set in three time zones
by M.T.L. Ebell
The Near Future
The survivors con- verged on the waterhole drawn by their thirst, oppressed by the humidity and lack of light. They viewed it with desire and trepidation; could it be water? After so much time from the end of all they had known and depended upon. After every tree and building and vehicle had vanished from sight; obliterated by the rubble and ash that covered everything. Was it water? Would it be safe to drink, even to touch? They drew closer. Strangers. Twelve. Until they had drawn close to this spot each had thought they were alone. The scent, the seeming freshness, the lure of the water had brought them together.
The sudden appearance of a thirteenth person startled all. Was he an apparition? Would the water disappear - mirage-like - as he appeared?
Unknowingly, they drew closer one to another.
"Come," he said, "it is water. Drink."
Each survivor heard and understood. The man had made no signs. Yet each heard clearly, not in their own tongue but in some tongue. Each instantly understood.
"Come, it is water, drink."
"Who are you?" asked the eldest man. They all, except the newcomer looked old and beaten, almost sexless, dehydrated. "How do you look as you do?"
"I am so you may have knowledge," the stranger replied. "Without me you will not survive much longer. There is nothing to sustain you on this earth as you see it now. Without you, there is no future for the world.
"What can we do?" another spoke. 'What do we have? Shouldn't we look for some warmth and shelter and wait for death?"
"You have a powerful force, a mighty weapon," the stranger said. "You possess the power of your mind. Come, drink. Let us sit round this water joining hands. "We have to focus, concentrate. This earth must heal, vegetation must grow rivers must flow again."
"Is this all to happen overnight?" one spoke unable to keep some disbelief out of his voice. The stranger smiled. "This will happen, but who knows how long we will need? We must unite and channel our energy. You will all turn into vessels through which the force travels. You will not change, the earth will. You may all 'wake', though you will not really be sleeping, at different times. Know this; when you all wake together, then will the earth be ready once more to sustain you. Then you must go out and start new life, spreading the message and the knowledge which you will then know you know. You will influence, thereafter, every mind and intelligence you encounter. You will have no limits, no barriers. All this, in turn, you will pass on." Almost mesmerised, they reached for one another's hands. They sat. They settled themselves. Concentrating, focusing, knowing.
The Past:
Woman walked alone. Man rested, deep in thought. Woman was free. She enjoyed her life, her being. She exulted in the beauty of her surroundings and in the company of the creatures who shared them with her and with man.
Man, too, loved the other creatures but Woman felt closer to them. She played with them and wished she could be one with them, the tiny, the timid furred creatures, the mammoth, the giant lizards. She enjoyed sharing thought, too. More than man did. Man liked tongue sounds but Woman preferred the mind waves. She visualised her thoughts, they shone suspended in the air between her and those she communicated with. Shall we play? Shall I warm you, little one? to a small creature shivering after an unexpected dip into water.
Let us walk.
Let us eat.
The cooler part of the day was a happy time. At this time the Father came to them and they felt unutterable bliss. His love enveloped them; they felt they could do no wrong and feared no evil.
The Distant Future
There is a traitor in our midst
The thought hung suspended in the air over the heads of the twelve assembled, as loud and forceful as the spoken word. Mahon reacted.
Define traitor -
The Old One raised his head. One who works against our common goals of gaining and diseminating knowledge, thereby jeopardising our thrust towards worlds as yet undiscovered and therefore ignorant
Is it traitorous to consider if perhaps ours is the only way?
It is traitorous to put unproven theories into practice without clearance from the Assembly
Mahon's countenance underwent a change. A quiver of what once would have been called a smile passed over it. He spoke in words. "So, I took the young ones out of their sessions for a while. Is that a crime?"
"So, you admit it?" Ben spoke, out of turn he realised, as he was silenced by TOI.
"That was never in doubt. We all know what Mahon did. What we want to know is why."
Mahom switched back into thought. He shot his challenge in a series of questions so rapid that none had time to reply.
Is it a crime for a young one to experience nature?
Must they never see the real world?
Never hear a real sound?
Must they be only because they think? Cannot some exist because they feel?
Is it a crime for children to play?
PLAY
More than half the assembly gasped that out in thought but Mahon had departed, fading out leaving them to focus on the problem in their midst.
contd...

---
Travails of train travel
Norm(an) De Plume
Having shared my two cents (which isn't even what it used to be, due to inflation) about the road experience, I though that the Train experience probably deserves a mention as well. My earliest memories of travelling by train consist of my baby brother (as he was then) biting and kicking my father, refusing to get on the 'Kolomba Duwana Yakada Yaka'. I've done a lot of train trips since then and together with the help of some friends we've developed several simple rules of thumb about train travel.

N.B. The main focus of the study was Inter-city trains.

1. If you're a guy, the odds are that an old man will occupy the seat next to you.

2. He will battle you continuously for the armrest.

3. The aforesaid old man will most likely be prone to giving his tootsies a little air - i.e. take off his socks and shoes.

3a. But don't worry, if there is a toilet upwind of you, there are great odds that it will create the ambience of an entire network of sewers, thus cancelling out the fragrance of toasted cheese wafting from the chap next to you.

3b. The smellier the toilet, the greater the likelihood that its door won't close, thus enhancing the effective range of its smell.

4. Putting your head out of the window is a calculated risk. Remember that people suffering from colds and large amounts of snot may be travelling in front of you. Unfortunately, we were not able to get a female perspective of the topic, which we fervently hope is a better experience than ours.

Personally, I seem to have angered the gods of train ticket bookings - in several years of train travel I have never had a young lady sit next to me, not ever.

Train travel, it seems, is jinxed for some people. A friend of mine, named the Road-Runner for other reasons but quite fitting in this perspective as well, has a lot of trouble with trains. If she buys a ticket, the clerk goofs up and issues the seat to at least one other person. On rare occasions, where she gets a seat, the train usually breaks down and gets delayed by several hours.

Others have immeasurable faith in the train system. So much so that they will even travel to exams in it. One particular friend didn't make it in time - but due to no fault of the train. As he arrived at the Fort Railway station, he had felt the urge to relieve himself. All the toilets in the station were occupied, so he had no choice but to get back on the train and use a toilet in it. " I was not quite finished when the train started moving" he says, "So I grabbed my pants and jumped off to realise that my admission card was left behind in the toilet." After a brief and futile pursuit, he had gone to the office and inquired where the train was headed. After being directed to the Maradana station and from there to the Dematagoda running shed and being confronted with an array of trains, he says "it was only then that I realised how similar trains looked". Luckily, he had found his admission card in about the third train he had searched, but alas, it was not enough to make it to the exam on time.

Well, this particular 'train' of thought has reached its final destination.

Toot Toot!

---
Fine portrayal of Shakespeare
Dr. Rolly Salgado reviews the recent Inter-School Shakespeare drama competition
It is life giving to see young people doing Shakespeare here so well. The Schools Shakespeare competition threw up two brilliant productions taken as a whole. I refer to the Girls' Romeo & Juliet and one Boys' Macbeth. We seem to be doing better than Shakespeare's own companies, getting not only boys to do women's roles but girls to do men's roles.
From the finals at the BMICH (July 15, 2001) I picked out quite a few outstanding performances - the two Lady Macbeths created by St. Joseph's and Royal; Joseph's Macbeth and Porter; the Romeo, Lord Capulet and Mercutio of Musaeus, Olivia from Bishops, not to mention the Witches from Royal. Yet what impressed me a lot was NOT how the star roles were shining in isolation as in Bishop's Twelfth Night, but in company as in the other three productions, especially I think in the Musaeus' - talents spread over a whole production providing such vital, filling illuminations as no judging eye and ear should fail to priorieze. Musaeus' Romeo & Juliet characterized and choreographed a plethora of supporting characters in firm detail, projecting the richest variety of scenes in the whole competition.
If I had any doubts about the ability of boys to tackle the mature role of Lady Macbeth, they were totally dispelled by the exceptional Lady Macbeth turned out by St. Joseph's - in close trail by Royal's Lady Macbeth. That was a treat the audience immediately responded to, as they did to the 'difficult', passionate love-making of Romeo & Juliet - (both girls). 'Naturalness' was never a problem here!
Hence I am glad that at least the children (if not entirely their teachers of speech and judges of speech) are leaving behind the archaic notion that Shakespeare drama as well as English Theatre here is just an 'exercise in pretty English speech'. This 'ingrained' as habit used to stifle Sri Lankan English Theatre and youthful talent over long long years. What was so exciting about our recent Shakespeare, particulaly the three standout productions - Musaeus' Rome & Juliet, Joseph's Macbeth, and Royal's Macbeth too was that Shakespearean acting was thought of as a process in which your whole person-body, voice, etc., is engaged in interplay. If youth learn to go by this criterion, Shakespeare would be a stayer in Sri Lanka, not something going on by rote.
The judges remarked how they did mark down actors for the way the verse was spoken. Oh my God! That is very patronizing. If these young actors could set up and deliver the verse as a part of their total realized expressive energies, what more do you expect? They seemed to be in advance of 'judicial thinking'! Another remark made (I draw out implications here) was that Shakespeare's verse / words would 'stand alone'. God forbid if this means 'lipping out diction'. If Shakespeare's verse/word is deemed 'sufficient' it would have to be as against the over-kill of technology and cinematic gimmickry.
There were, of course, overdoing of various kinds by these young theatre enthusiasts - to wit the stereotyped comic drunk (Belch) and static flats in Twelfth Night; over-mimed gestures in Romeo & Juliet and repetitious stylization in Macbeth. The over-kill of horror film cliches larded by St. Joseph's in their otherwise handsome production, was more than distracting. It was misleading. I understand the judges last year had the courage to warn the participants against technological over-kill, not this time!
Imagination and invention did not fail the better producer, however (and St. Joseph's was at the big top) I liked the way Musaeus' got Romeo to drop his dagger at the moment of parting with Juliet - a superb telling premonitory touch in a cleverly gathered - together - piece where violence and vitality and brilliance, intimations of death and burgeoning love and romance jostle one another. I also appreciated the way Royal brought out the witches for a final cameo, suddenly revealing the crowned Macbeth from behind the wings of their sleeves, shutting him off only to reveal Lady Macbeth instead?
All credit to St. Joseph's, Royal and Musaeus' for the imaginative effort made to break up, enlarge vary and redistribute, stage space. This shows a fine understanding of the limitations of our proscenium arch stages as against the multi-faceted Elizabethan stage. Great going indeed!
(The writer has a PhD in Theatre and performing Arts from the University of Wisconsin, Madison.)
---
Poetic achievement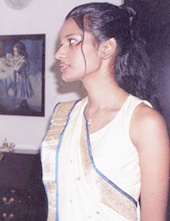 Marisa Wikramanayake of Asian International School has published a book of poetry titled "Dreaming in Reality."

Having only recently completed her London Advanced Level Examinations, she has her poetry featured in the English Literary Association's publication 'Channels.' Her work has also been published in two of the International Poetry League's anthologies. Her writing can also be found online at her own literature websites. She is a regular contributor to many literature sites, one of which she is the editress.

"Her writing is eclectic just as she is. She finds her many muses, inspirations and ideas in mythology, legends, fantasy, nature and of course in her own imagination," says one opinion.

---
A room of my own
When pop superstar Sting wants to relax at home in a room of his own, he has to stop and think for a minute.

That's because he has a staggering 41 rooms to choose from in his sprawling 16th century manor house near England's historic Stonehenge.

But his favourite is undoubtedly the awesome baronial sitting room, where he lays back on a plush sofa in front of a huge open fireplace surrounded by antique wooden furniture, posh Persian carpets and eye-catching candelabras.

At 49, Sting is still at the top of his game after two decades as an international chart-topper. Although he has a nearly non-stop touring schedule, he always relishes returning to his stone-built Tudor-style mansion, which sits on 60 acres of Wiltshire countryside 90 miles from London.

Father-of-six Sting and wife Trudie Styler fell in love with the $6 million estate.

"We got it for a song," he laughs. Lake House's picturesque English garden, with its 350-year-old copper beech tree, convinced the couple that this was where they wanted to live - and eventually be buried. The mansion is furnished with a mixture of Elizabethan and Gothic Revival antiques and patrolled by a friendly assortment of dogs and cats.

Another of Sting's favourite places in the mansion is "The Captain's Room'', named after an eccentric seafaring former owner. The former schoolteacher loves relaxing on an oversize chair beside a desk strewn with books and jazz and classical CDs.

The superstar singer has other special spots at Lake House. One is the spacious country kitchen, and another is the state-of-the-art recording studio that he built in a converted stable.

Once-restless Sting revealed a new found tranquillity after giving a visitor a tour of his estate. "Walking around here the other day, the skies were overcast when suddenly the clouds opened and this big rainbow arched over the house," he recalls. "It was so beautiful I almost cried.... it seemed to be there just for me."