Contents
---
Grahan: story of rape
"Grahan" tells the story of Parvati Shastri (Paro), a poor middle class girl with high values and rich in Indian culture. Parvati is the daughter of Shastri Ji, a retired classical music teacher and she herself teaches classical dance to school children to make ends meet. One evening, while returning home from one of her performances, Parvati is abducted and brutally raped by Sanjay Acharya, the son of the Chief Minister.

Parvati is kept a prisoner by Sanjay's goons until her wounds have healed so as to erase all traces of evidence. When she is finally released and thrown on the roads, she is rescued by a passerby who happens to be a journalist.

An FIR is lodged against Sanjay and the Chief Minister is informed of his son's act. The CM, a man of high morals and immaculate track record warns his son that if the charges against him are proven, he, his own father would not stand by him. To avoid exposure, Sanjay hatches a diabolical plot to assassinate his own father and thus try to cover up the incident. The CM is assassinated and his daughter Sunita is compelled to accept the nomination of her father's party to the post of CM. However, justice does take its course and Sanjay is arrested on charges of rape. Sunita and everyone close to her can obviously never dream for a moment that her own brother could be guilty of such a crime.

She and all her advisors believe that it is a move of the opposition to discredit their family name.

On Swarnavahini at 9.30 p.m. on Thursday, June 19.

---
Damini has a journalistic touch
A new series of the popular Sinhala Teledrama series "Damini" gets underway at 8.00 p.m. on Fridays on Sirasa TV starting from 13th July. "Damini" is the story of an energetic investigative journalist who, as the new series starts, has been kidnapped by an unknown gang, possibly, those who have been affected by her various exposes. The lead role in "Damini" is played by Yashoda Wimaladarma who is joined by Mandhira Bedi of "Shanthi and "Pragathi" fame as a foreign journalist investigating Damini's disappearance. Mandhira was recently in Sri Lanka for the shooting.

Damini is a Sirasa TV production and has completed 420 episodes. The new series starts from episode 421.

On Fridays at 8.00 p.m. on Sirasa TV

---
Listen to Destiny's Child's Survivor
By Sanath Weerasuriya

'Survivor', the latest release from 'Destiny's Child' is this week's album on 'Original Music Competition' with M-entertainment , TV Times and Sony Music.
Their name is synonymous with classy, sassy, hip-hop-infused R&B. It's been shouted by countless fans across the globe and announced as winners of a host of honours from the Grammys to the NAACP Image Awards. It's also a prominent fixture on Billboard's most high-profile charts. Their name, of course, is Destiny's Child. And with the release of third album Survivor, Beyonc Knowles, Kelly Rowland and Michelle Williams - the positive, empowered and talented women who make up one of the world's best-selling-ever female groups - rise to the next level of their incredible career.
Survivor truly represents a new dimension for Destiny's Child. For although you know their upbeat, sophisticated sound from their previous two albums and hit singles (which have sold more than 15 million copies worldwide) you have yet to hear such diversity, such depth. "There's everything from jazz to reggae, gospel to opera influences," says Beyonc, who co-wrote and co-produced virtually all of Survivor's songs. "There are still harmonies, but each one of us sings lead, which adds so much to the sound."
From the sweet, mellifluous beauty of ballads like "Brown Eyes" and "Dangerously in Love" to such take-no-prisoners power jams as the first single/title track ("Survivor") and the #l single "Independent Women Part l" - which first rose to hit status on the Charlie's Angels soundtrack - and it's equally saucy sequel, "Part II," Destiny's Child have created a spectacular sonic palette. Dance-floor anthems like the spicy, island-flavoured "Sexy Daddy" and the old-school disco-funk of the rump-shakin' "Bootylicious" balance and a cappella gospel medley and the trio's sensitive, soaring cover of "Emotion" (a 1978 disco hit for Samantha Sang written by Barry Gibb and Robin Gibb of the Bee Gees), a unique showcase for their various vocal gifts.
From the sweet to the spunky, the ferocious to the funky, Destiny's Child have created an eclectic collection that manages to hit every note with their own unique, special style. "It takes you through a musical journey that makes you feel sexy and strong and good about yourself," Beyonc says. "It makes you feel like a Survivor."
This album is available now on Compact Disc and Cassette at M- entertainment
But still you can win five original albums of Survivor by answering the simple question on the coupon on this Sunday TV Times & Entertainment magazine.
To enter this contest, all you have to do is to answer the question on the coupon and send it to the address given below.
The address is "Listen to Original Music Contest-No. 51, C/o Maharaja Entertainments (Pvt.) Ltd., 330, T.B.Jayah Mawatha, Colombo. 10.
Tel: + 941672425-8, Fax + 941699070. E Mail: me @ lgo.lk
All the entries must be originals from the Sunday TV Times and no photocopies or faxes will be entertained.
All correct entries will be drawn by a panel of judges. The entries should reach the above address by July 24, the latest.
The decision of the judges will be final and the names of the winners will be announced in The Sunday TV Times accordingly.
Here are the winners of Contest Number. 47.
The winners of two Sony Original CDs are Nalaka Mendis of Tudella and Jayashanker of Colombo 02. The two audio winners are W.R.V. Imesha Harshani of Akuressa and A.S. Chiang of Dehiwela.
The 10% off gift vouchers go to Janana R. Yapa of Navinna, Dilesh Perera of Badulla, G.H. Rosairo of Nugegoda, Joanne Fernando of Dehiwela, Shannon Gomez of Batharamulla and Shiras Misban of Beruwela.
The Poster winners are Shanika Dissanayake of Kandy, Chandana Adikari of Nugegoda, W. Prasanna of Colombo 06, W.D.T. De Silva of Borelasgamuwa and Gaston Clogstoun of Moratuwa.

---
Kapila is a Kool Captain
By Sanath Weerasuriya

"DJ Captain Kool" is the stage name for this talented DJ, who has just returned from India after a couple of stints there.
Kapila Peiris or else DJ, Capt. Kool was in Chennai last month spinning his discs at the popular discotheque 'Sparks'.
Kapila became the first Sri Lankan DJ to perform in Bangalore at this specialised 'Sri Lankan Nites' at 'Sparks'.
Kapila who runs his own mobile DJ company called 'Quad City Entertainers', is the regular feature at CH&FC Club and Capri Club, Kollupitiya on Fridays.
Kapila started his DJing in 1995 at home after leaving school. He was with 'Outburst Entertainers' for two years from 1996.
"I performed at the Mount Lavinia Hotel's Pool Terrace with Manilal & Aquarius at the year 2000 Millennium Dance. It was a good experience for me," Kapila said.
His good performance has paid dividends him being called to perform at the New Year Dinner Dance at Mount Lavinia Hotel last December.
"I am the the first Sri Lankan DJ to perform in Bangalore," Kapila said.
A product of St. Sebastian's College, Moratuwa, Kapila will be in action at the grand open air New Year celebration in Bangalore at the 'Bangalore Club' Dance on December 31 this year.

---
Top artistes on show at "MUSACK 2001"
'Musack 2001 a musical extravaganza with top singers in the local showbiz scene, will be held at the BMICH on August 4.

"MUSACK 01" is being organized to cater mainly to the musical yearnings of this niche market. The musical extravaganza will feature past and present local artistes of fame, dishing out 'Top of the Pops' from the sixties and seventies in English and Sinhala to a target audience of 1,500.

The music for 'MUSACK 01' will be provided by 'Sohan & the X' periment's and 'Rajive & the Clan'. The show will feature Maxie Rozairo, Noeline Honter, Marizelle Gunethill-eke, Corrine Almeida, Nimal Jayamanne, Errol & Marie Fernando and Nirosha Virajini.

This is organised by the Colombo branch of the OBA of St. Anthony's College, Kandy targeting the age group 40-60 category. The songs lined up include among others hits of Tom Jones, Englebert, Elvis, Beatles, Cliff Richards, C.T. Fernando, Wijaya Kumaratunga, Neville Fernando and Rukmani Devi.

Dayan Candappa will compere the show.

The proceeds from the sale of tickets will go to the "Achieve & Museum" project of the College that will celebrate 150 years in the year 2004.

---
'Kulawamiya' relates a story of nobility
"Kulawamiya" (Noble Woman) portrays the noble and courageous qualities possessed by a daughter of an aristocratic family is telecast every Monday at 8.30 pm on Rupavahini.

Amaralatha Wanigathunge wportrayed by Wasanthi Chathurani is the only daughter in a leading family in the village. Children of a much respected Vedha Mahathtaya (village doctor) she has two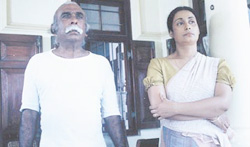 brothers, one serving as a police officer and the other a bank clerk.
Amaralatha herself is a teacher married to an ambitious lawyer, Hector played by Lucky Dias.
While Amaralatha continues her simple village life, Hector sets his eyes firmly on the ladder of fame and social status through this marriage. The child born to them is mentally retarded and the couple try their best to get him cured. Fighting an impossible task Hector disheartened tries to turn away from the mother and the helpless child. The troubles deepen when he starts an affair with a female lawyer who is equally ambitions. The troublesome wedded life ends when Hector walks out on Amara unable to cope up with child's condition and financial issues in the family.
Amara deeply hurt but equally determined to cure her child, takes every step to see that her child becomes independent and useful.
As the story continues 'Kulawamiya' brings out the tough qualities in the courageous mother who comes to be admired even by the husband who went his own way. The story based on a script by popular writer and novelist Sumithra Rahubadde, is directed by Premakumara Siriwardena and is produced by Janka Siriwardena.
The long list in the cast has talented, veterans and also youngsters in Wasanthi Chathurani, Lucky Dias, Indrajith Navinna, Hemasiri Liyanage, Chandra Kaluarachchi, Janak Premalal and Ama Wijesekara.

---
Herbert was a man of many parts
By Susitha R. Fernando
July 6, would have been an eventful day for Herbert Ranjith Peiris. It was on this day that the film he did after a 23-years lay off was to be shown for the first time. But cruel death snatched him away from our midst minutes before the film was screened.

Starting his career as an advertising artist in a firm managed by the late Esmond Wickremasinghe he branched out into the music field by forming the group 'Sakyans' with Milton Mallawarachchi and a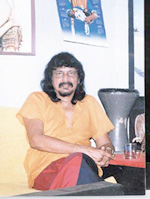 few others.
In 1974 he assisted in the film "Sanakeliya" the cast of which included veterans like Gamini Fonseka, Malani Fonseka and Vijaya Kumaratunga. The film was a box office hit of that year.
He became an extraordinary film maker in Sinhala cinema by making films like "Era Soysa" and "Silva" which kept the audience engrossed in what was happening on the screen.
Herbert next began to direct films of an entirely different genre. The "Ektam Ge" directed by him was not only highly acclaimed film in the Sinhala cinema history but was also a landmark directoral venture in his film making journey.
Despite being a director on the silver screen he was successful on the mini screen too. Acclaimed telefilms like "Hiruta Muwawen" which was popularly known as "Idiappa Gedara Kathawa" , "Hiru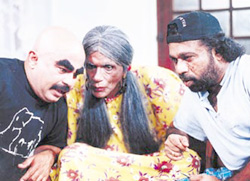 Sandu Hamuwe" and "Lokanthaya" were notable efforts at direction for the television by this talented artiste.
Apart from being a director he was an allround artiste. His talents spread to many other fields as a singer, player, music director, song writer, make-up artist, costume designer, stage setting and screen play writer.
While Herbert introduced himself as a screen play writer for the film "Uthumaneni" he also had written the screen play for the film "Poronduwa" soon to be released.
Joining with well known drama producer Dayananda Gunawa-rdena he directed the music in the legendary stage play "Nari Bena".
Being a clever pianist, Herbert Ranjith Peiris is credited with being the inventor of popular "Peduru Party" concept.
Despite all these outstanding qualities he never hesitated to express himself on any subject whenever he wanted.
On an one occasion in an interview given to a Sinhala newspaper he said the letter he hated most was "P". When the reporter questioned as to what and why it was, he had said he disliked 'Politicians', 'Police', 'Proctors' and 'Priests'.
However Herbert Ranjith Peiris excelled in many areas as an artiste that one could hardly do during the short life span of sixty two years.

---
First cartoon show
First cartoon show "Ahasin Wetunu Kumaraya" produced in Sri Lanka will be telecast every Thursday at 5.45 pm on Rupavahini.

Based on a story by Hingulwala Dissanayake the cartoon show is directed by Palitha Luxman De Silva.

Dharmasri Munasinghe, Hilerian Perera, Bathiya Sumanasekara and Niduka Rekani have lent their voices to the cartoon characters .

Harsha Makalande handles the music while production executive is Chandana Fernando.

"Cartoon House" the pioneer in cartoon maker and Ceylon Biscuits Limited have been involved in the venture.

---
Nimal's band has no superiors
"Nimal & The Equals, the four-member band is the latest addition to the local music scene.

Though the band is just few months old, they are already performing in one of the new places in Colombo.

'Time & Place' in Kollupitiya, the newest restaurant and pool parlour, is the venue for Nimal and his band every Friday.

Nimal Jayamanne, who became a household name in 1988 with his mega hit "Ranpotathelambuwa", started singing as a western singer in the early 70's. Though he is recognised as a baila singer since 1988, he has not changed his passion for Western Music.

"Nimal & The Equals" was formed in February this year with four members.

The line-up comprises of Roshan Dias (Keyboards), Trevin Senn (Guitar), Sharmalee de Silva (Vocals) and Nimal himself. Trevin Senn left the band at the end of April to travel to Maldives and was replaced by veteran guitarist Lucian de Andrews.

The band has been performing at Bentota Beach Hotel on Saturday from the day they teamed up.

"Nimal & The Equals" play only oldies (Music from the 60s and 70s) and Nimal specialised on. Songs of Tom Jones, Engelbert Humperdink and A bit of Elvis, Bony M, Pussycats etc.

"I have implicit faith in my band members. Even though there are only two instrumentalists, they do a real good job accompanying Sharmalee and me," Nimal said.

"Nimal & The Equals" play every song live and do not believe in sequenced music at present. Sharmalee uses a few backing tracks but is gradually getting rid of them", he added.

"Time & Place" too is just getting to bloom Nimal said, "The venue and the band are both relatively new and we thought this was the ideal place for us. Besides 'Time & Place' is a very romantic, cosy little joint where people can dine, wine and dance".

'Nimal & The Equals' will be expanded to a six piece outfit in August with the inclusion of a drummer and a bass guitarist.

"Once when that happens the band will be ready to take on any major event. Right now we are like one family and the two newcomers will have to fit into the family. That is more important than being an outstanding musician," Nimal said.

---
'Summerset' back again
'Summerset', one time popular choice for most of the dances, is back in action after a brief absence.

'Summerset ' has been entertaining the Sri Lankan audiences for the last twenty years.

Whilst entertaining audiences here and abroad they are best remembered for their performances at the "Supper Club" of the Lanka Oberoi and the "California Grill" at the Galadari Hotel.

They are currently playing at "The Mix" of the Taj Hotel on Saturdays and gearing up for a hectic season, which will include many prestigious dances as well.

'Summerset' comprises of experienced musicians led by Douglas Ernst on keyboard and vocals, Eswarald de Mel on bass and vocals M. Reza on drums, Upali Fernando on guitar and vocals and Roshan Fernando on percussion and vocals.

'Summerset' is a versatile band and our repertoire ranges from sixties to nineties as well as current hits and 'jazz too' said Eswarald.

'We also play Sri Lankan Music with a bit of baila to add variety', he added.

---
Golden Mile is new in concept
By Sanath Weerasuriya

Mount Lavinia beach is world famous for its charm, but for a long time it was lost without a descent place to have a good meal on beach. But 'Golden Mile', the latest addition to Mount Lavinia beach, which is popularly known as 'the golden mile', has filled that vacuum.
'Golden Mile', a Log Station, is the newest concept of a seaside Restaurant on the Beach of Mount Lavinia. It is new, yet in style, it is old, for the building predominantly wood, inspired, harking back to the Log Cabin era now only a distant memory.
'Golden Mile' restaurant is a unique place of its own. Indeed the beaches have come alive, breaking the monotony of the sand and the sea, with this elegant two storeyed structure like an oasis in the desert.
Though the 'Golden Mile' is a beach restaurant, it has five star kitchen facilities. 'Our main idea is to serve the best sea food dishes in town and we have managed to meet our goal in very short time' said the proprietor Vasantha Jayasuriya.
'Golden Mile' is geared to serve its customers in exclusive fine dining style at the upper floor of the restaurant, which can accommodate up to 120 pax. Also the ground floor is capable of handling up to 130 pax in party style.
'We have few weddings since our inception in late May. Down floor is for normal parties, functions, weddings and conferences. But we are very selective in hiring the place, because it should not be disturb our regular clients' Wasantha said.
Talk of food - The cuisine is par excellence. The a-la -carte menu is wide and ranges from a club sandwich to delightful Ocean fresh seafood delicacies - to blend with the environment
'If you do not favour seafood, you can opt for succulent Sirloin Steak or Cordon Blue fare. All this and much, much more prepared by experienced top class Chefs'Vasantha said.
Something exceptional has been achieved to complete the bar. For it has twenty two types of tropical rain forest timber which is indeed a work of art, it captures ones imagination. It will also entice the imbibers to rally round it to cheer and boost their spirits - in style.
The cellar stocked with vintage wines will please the most fastidious - to toast - to celebrate - to pamper oneself. To host friends without the hassle - here's the answer.
'You can stroll on the beach with the wind on your face. If it's Barbeque you angle for, out on the beach, with live music even that is possible. Bonfires anyone? The weather must be fine of course' added Vasantha.
A Watch Tower by day transformed to a tower of love by night. A bonus for true love. It's a nook, once you climb it. Up there you can weave love's dreams, and hopes, sip Champagne and capture romantic moments over dinner. 'This is one of the exclusive features of our restaurant. Only two people can climb up and be treated as VVIP. This was specially created for lovers and honeymooners' Vasantha explained of his new concept.
'We have live music during the weekend' he said. Aqua sports for the daring - those who wish to flirt with the waves of the ocean, skim and glide in gay abandon. Capture that sense of freedom, the exhilaration Golden Mile has the equipment.