World News
Muslim separatists hail peace deal with Philippines
(Reuters) - Muslim separatist rebels on Saturday hailed a landmark ceasefire signed with the Philippines government, saying it would kick-start desperately needed economic development in the war-ravaged south.

The accord, signed in Libya late Friday, would strengthen "the peace process," said Eid Kabalu, the spokesman for the Moro Islamic Liberation Front (MILF) which has been waging a 23-year armed rebellion seeking an independent Islamic state.

Kabalu said the deal, signed in the Libyan capital of Tripoli, would lead to the "introduction of economic development in Mindanao," the impoverished Muslim southern third of predominantly Roman Catholic Philippines.

The MILF however has not given up its demand for independence, Kabalu noted stressing that no "political issues were tackled during the talks."

The deal was brokered over two days under the supervision of Seif al-Islam, who heads a Libyan charity foundation. It will allow hundreds of thousands of families displaced by the rebellion to return to their homes without fear of getting caught in crossfire.

A copy of the accord released by the presidential palace here said that representatives of the 56-member Organization of Islamic Conference (OIC), of which Libya is an influential member, will "observe and monitor the implementation" of the agreement.

Protection of evacuees will be paramount to any rehabilitation efforts, and development projects in conflict areas are to be managed by the MILF, except when public funds are involved, the agreement said."

The parties shall safely return evacuees to their place of origin, provide all necessary financial and technical assistance to start a new life," the document said, adding they would also be "awarded reparations" for properties damaged in the fighting.

Kabalu stressed that even before the signing of the deal, the MILF and the government were observing a unilateral ceasefire covering conflict-areas in Mindanao."

With the coming of the agreement now, the peace process would be strengthened with the OIC representatives to monitor," Kabalu said in a television interview."

---
Sheikh Hasina completes first full term in office
Prime Minister Sheikh Hasina Wajed Saturday completed her full five-year term of office, becoming the first Bangladeshi leader to do so.

The day also coincided with the 52nd founding anniversary of her party, the Awami League.

Sheikh Hasina, who was to kick off a three-day "People's Festival" later in the day, warned in a national address on Friday night against any "conspiracy" to foil the forthcoming general elections.

She is the first leader in the country's 30-year-history to complete a full term. The tenures of all other leaders have been cut short by political upheavals.

President Shahabuddin Ahmed, in a statement to mark the event, said the course of democracy was disrupted through "illegal means," but free elections in 1991 and 1996 were the manifestation of the people's "earnest desire for democratic rule."

He said he wished for the success of the next polls for the sake of democracy.

Parliament will be automatically dissolved on July 12, when the premier will hand over power to a neutral caretaker government which has to organise elections by October.

Dhaka's streets on Saturday were decorated with coloured flags and banners sporting the Awami League's election symbol of a boat.

Newspapers, including the mass circulation Daily Jugantor, outlined the major successes and failures of the outgoing government.

It said successes included a landmark treaty with India to share the water of the river Ganges, ending two decades of tribal insurgency with a peace pact and achieving a surplus in food supplies. But the failures included crime and electricity problems.

The leader of the main opposition Bangladesh Nationalist Party (BNP), Khaleda Zia, said Friday: "People want relief from the Awami League's misrule."

The BNP has led a four-party opposition alliance to try to oust Sheikh Hasina. In recent days the two top women politicians have been lashing out at each other, although newspaper commentators have appealed for them to restrain their comments.

Zia's press advisor, Reazuddin Ahmed, told AFP Saturday that the completion of full term by Sheikh Hasina is "good for democracy, but no individual should take the credit.""

It is a continuation of the process that started in 1991 when the BNP came to power...that term ended just two months ahead of schedule," he said.

Zia's tenure was cut short due a mass campaign by Sheikh Hasina, who was then the leader of the opposition, demanding a constitutional amendment to hold elections under neutral caretaker government.

On fears that there may be violence in the run up to the polls Ahmed said: "It is too early to predict, but I do not foresee any widespead major violence as both sides are equally strong.""

If the caretaker government can play a strong and assertive role it will help in containing violence as well as in holding free elections," he said. Ahmed said the opposition wanted elections to be held on schedule to ensure the democratic process continued.

---
Indian train crash kills 54
KADALUNDI, India, (Reuters) - Indian rescue teams worked through the night to cut through the mangled wreckage of a passenger train that derailed on an aged bridge, killing 54 people as passenger coaches crashed onto a riverbank below.

At least 200 people were injured, half of them seriously, police said. Some 100 passengers had been rescued.

Six coaches of the Mangalore-Chennai Mail train derailed and fell from the bridge in the southern state of Kerala on Friday. One car landed in the shallow Kadalundi River and others lay smashed on its banks besides the girders of a new bridge being constructed to replace the old one.

Railway officials said the old bridge was built during British colonial rule, which ended more than half a century ago.

The accident occurred at about 5:00 p.m. (1130 GMT) about 15 km (9 miles) south of the port town of Calicut.

"They have not drowned. They have died because of the impact or shock," a senior police official told Reuters on Saturday.

Police said only a few more bodies were likely to be found trapped in the coaches.

Authorities used portable generators and the headlights of police jeeps to light the area. Some 500 onlookers stood watching the crews work during the night.

More than 15 metres (50 feet) of the 150-metre-long (500-foot-long) bridge had crumbled. Railway officials said it would take at least two days to restore the track.

Local people said the accident occurred during low tide, which kept the crashed coaches from submerging. District authorities called a team of naval divers to assist in case the water level rose.

A railway official said preliminary investigation indicated a missing girder on the bridge might have caused the accident.

Officials had earlier feared a much higher toll as initial reports said three coaches with about 300 people were submerged in the Kadalundi.

The accident was the second of its kind in Kerala. At least 105 people were killed when four coaches of the Island Express plunged into a lake near Quilon in 1988.

Two years ago, at least 285 people died and 300 were injured in a head-on collision between two speeding trains in Gaisal in the eastern state of West Bengal.

That accident, one of India's worst train crashes, provoked a storm of criticism of the management of India's railways.

Indian Railways suffers some 300 accidents a year, about two-thirds of which are blamed on staff negligence. Experts say a surge in traffic and the slow pace of modernisation have made the 107,000-km (66,800-mile) network more vulnerable.

Indian Railways has defended its record, saying the accident rate fell to 0.57 per million km travelled in 1996/97 from 5.5 at the start of the 1960s.

---
Experts say poverty no obstacle to AIDS treatment
UNITED NATIONS, (Reuters) - Health and U.N. officials said on Friday they have evidence the latest AIDS treatments can work in impoverished villages, contradicting statements by large drug companies that even free anti-retroviral drugs would not help where medical support is lacking.

"Anti-retroviral therapy for poor countries is not a dream any longer. It's an emerging reality," said Peter Piot, executive director of UNAIDS.

Piot spoke ahead of a major U.N. conference at which officials will discuss global funding to buy medicines for poor countries including the anti-retroviral drugs that can add years to the lives of HIV-infected people. The conference is set to open on Monday.

A small clinic in rural Haiti has shown obstacles can be overcome, said Joia Mukherjee, clinical director for a Harvard Medical School project that runs the program.

With no job opportunities, people in the area live off subsistence farming, and have no electricity or running water. The clinic has a generator that "sometimes" provides electricity, she said.

Still, patients walk up to seven hours to the clinic and wait overnight to receive aid. Seventy people have been treated with anti-retroviral therapy, and all have seen their health improve, Mukherjee said.

"Our patients have gained weight, gone back to their farming, gone back to being able to take care of their children ... It's more or less a miracle," Mukherjee said.

On a larger scale, Brazil has provided a dramatic example of how drug treatment can slow the spread of AIDS. A decade ago, world agencies projected 1.2 million Brazilians would be infected with HIV. Today, the number is 600,000.

The key has been early intervention with local production of generic medicines provided to patients at no charge and doctor training for simple clinics, said Paulo Teixeira, coordinator of Brazil's AIDS program, which provides free treatment to anyone infected.

---
Texas mom killed kids one by one
HOUSTON, (Reuters) - The husband of a Texas mother who admitted killing their five children visited her in jail on Friday for the first time since she reportedly drowned them in a bathtub one by one and chased down her terrified eldest son to finish the job.

Andrea Yates, 36, started her day giving short, barely audible answers as she stood with crossed arms before State District Judge Belinda Hill. The judge granted her indigent status and a court-appointed attorney to defend her against a charge of capital murder.

By day's end, the former registered nurse who admitted killing her children had a private attorney and a jailhouse visit from the victims' father _ her husband Russell _ and her relatives.

Russell Yates, who was not in court during his wife's appearance, arrived along with several relatives and attorney George Parnham after planning for the burial of his children next Wednesday.

"The family standing behind me is very supportive of Andrea, and this includes the father of these children and the husband of their mother," Parnham said after the visit, gesturing to Russell Yates and the other relatives. "They are unified in seeing her through this."

She faces a single capital murder charge that could bring her the death penalty. Prosecutors have not yet said whether they would seek that punishment.

A computer engineer with NASA's space shuttle program, Yates said on Thursday he loved his wife and would continue to support her because it was the "psychotic side effects with her depression that led her to do this."

Andrea Yates had been taking drugs including the anti-psychotic Haldol to combat postpartum depression, a 1999 bout of which led her to attempt suicide, Russell Yates said. Postpartum depression in its most severe form can include violent psychosis, doctors said.

Parnham deflected questions about whether he would pursue an insanity defense.

"I want the service for these children to take place before any pronouncements, announcements or discussions take place relative to a defense or her current status," he said.

A report in Friday's Houston Chronicle said Yates drowned her youngest children one by one in a bathtub, then chased her oldest son, 7-year-old Noah, through the house and dragged him to the bathroom after he figured out what she was doing.

A later report in The Dallas Morning News online edition on Friday quoted an unidentified police official as saying Yates had thought about killing the children for several months.

"She essentially said she had realized that she was a 'bad mother' and she felt that the children were disabled _ that they were not developing normally," the official told the newspaper. "She told us that she had thought about doing this for several months."

The Chronicle report, citing a police official who listened to Yates' taped statement to investigators, said the mother and former registered nurse recounted the events in a "zombie-like fashion."

---
Wahid warns opponents to cool off
MOJOKERTO, Indonesia (Reuters) - A combative Indonesian President Abdurrahman Wahid, just weeks away from possible impeachment, on Saturday told his opponents to back off warning that the constitution, and God, were on his side.

The top legislative assembly is due to hold a special session from August 1 to discuss possible impeachment and force him to account for his turbulent 20-month rule which has seen Indonesia fall deeper into a crisis which began in 1997.

"I will not give any accountability at the special session," the Muslim cleric told supporters after attending a religious ceremony in Mojokerto in his political heartland of East Java.

Wahid aides have been frantically lobbying the main political groups _ nearly all of which want him out of office _ to try block any move to impeach him.

He is trying to keep four issues off the agenda in the special session _ the relationship between the executive, legislative and judicial branches of government; his accountability report; his performance in the job; the relationship between the president and vice president. These could either be used to reduce his power or remove it altogether, something only the top assembly has the authority to do.

"If there are any that refuse to sign the declaration (not to raise those four issues), then I have no other choice but to uphold the constitution," Wahid said.

That could include calling a snap election and declaring a state of emergency which could allow the arrest of opponents.

"The constitution cannot be taken for granted because it can dissolve Indonesia ... I am not afraid because God is with me."

The increasingly bitter debate threatens to split the country, with Wahid appearing isolated from much of the political establishment.

The military _ which has made little secret of its preference for his estranged Vice President Megawati Sukarnoputri _ and the police have both rejected previous attempts by Wahid to impose a state of emergency.

---
Six countries blacklisted in money laundering net
(AFP): The inter-government Financial Action Task Force (FATF) said its list of money laundering havens would now include six new members: Egypt, Guatamala, Hungary, Indonesia, Myanmar and Nigeria.

Three countries already on the list, Russia, the Philippines and the tiny Pacific island of Nauru, had also taken insufficient steps to fight the recycling of illicit gains, said an annual FATF report.

That judgement received a cool reception in Russia, which with the two others now faces the threat of sanctions that would make it an outcast in the business world.

Russian Finance Minister Alexi Kurdrin called said it sent an "unpleasant signal."

But he said Moscow would "consider creating a body that would specialise in the fight against the legalisation of illegally-gained income," adding that a decision to this effect would probably be taken by President Vladimir Putin.

Russia held an anti-money laundering conference this month, after which Interior Minister Boris Gryzlov voiced hope it would be removed from the blacklist altogether during the FATF meeting.

Four others countries _ the Bahamas, Caymans, Liechtenstein and Panama _ were judged to have taken sufficient action to close money laundering loopholes and were taken off the list.

The revised list, drawn up during a meeting of FATF members in Paris, names 17 countries and territories.

The new members of the list of non-cooperative countries and territories were cited for various failings, including lack of proper legislation or supervision.

Myanmar "lacks a basic set of anti-money laundering provisions," the task force report said. In Indonesia, "money laundering is not presently a criminal offence".

The task force called for surveillance to be stepped up against Russia, the Philippines and Nauru, deemed to have made "inadequate progress" to fight money laundering.

Russia faced many obstacles in combating money laundering but the biggest was a lack of legislation, it said. Russia lacked comprehensive customer identification requirements and a system to report suspicious deals.

The task force threatened to bring in stringent measures to identify clients from the three countries and to launch tough scrutiny of their banks' applications to opening overseas bank branches

Normal businesses may also be warned that deals with those countries could involve money laundering, it said.

Counter measures would be begin in September to give the trio time to rectify the problems, said the task force."

The FATF looks forward to adequate progress being made by Nauru, the Philippines and Russia so that the coming into force of the counter measures can be avoided," it said.

The task force sought to put the focus on the four countries that were removed from the list."

We see that this initiative has triggered significant improvements in anti-money laundering systems throughout the world," said FATF president Joe Maria Roldan.

Liechtenstein, for example, had sharply increased anti-money laundering investigations and introduced a raft of legislation.

---
India's IT companies seek to bridge 'digital divide'
NEW DELHI, Saturday (AFP) - Education online and cyclone warnings for farmers at the click of a mouse are just some of the features touted by Media Lab Asia _ one of India's most ambitious IT projects being launched this weekend.

Set up in collaboration with Massachusetts Insititute of Technology Media Laboratory of the United States, the 1.02 billion dollar non-profit project is aimed at meeting India's "grand challenges in learning, health and enterprise."

Initial funding for the project will come from the government after which industry will be involved in a big way.

On Sunday, a formal signing ceremony will be held in Bombay between MIT and the government of India, setting in motion a 10-year process which will see the coming up of Media Lab Asia (MLA) in Bombay and scores of "regional labs" across the country."

Media Lab Asia will be the nodal point of state-of-the-art technology for use by the common man," said S. Ramakrishnan, a senior officer in the Indian IT ministry and one of the driving forces behind the project."

It is going to be social engineering of a kind _ to make IT available to the masses. Once it is ignited, it will be a raging fire," Ramakrishnan told AFP in an interview.

In a country of one billion people speaking close to 850 languages, where nearly 700 million have little access to technology of any kind and three million villages have no telephones, India's IT sector faces a daunting task."

It is precisely here that MLA will play a pivotal role," Ramakrishnan said."

When we were conceiving this project, the main question in front of us was, is India ending up as just a software provider to the world? Why this skewed development which is causing a digitial divide in the country? The realisation that India has missed the hardware bus was the main force behind the project."

Revenue from India's software industry has grown by 55 percent by March 2001 to a handsome 6.2 billion dollars but it is in the area of low-cost technology and innovations that the country is grappling for funds and expertise.

Technology innovations for economic and community development will be the mantra for the MLA project, which eventually aims at laying down the parameters of e-governance in India.

Immediate challenges before the MLA will be in "education, health and economic development for the common people," said a paper prepared for Sunday's signing ceremony.

Some of the projects outlined in the paper include developing new sensors and wireless technology to help locate survivors during disasters and detect contaminated water to avoid the outbreak of epidemics.

In the education sector, the MLA aims to launch online community newspapers for children.

In health, the Lab will begin the concept of "digital health," developing low-cost "position-aware telemedicine appliances" and sensors which will enable simple diagnosis, environmental analysis and collection of data for probable epidemics.

In the agriculture sector, which involves nearly 70 percent of India's total population, MLA will help develop "digital financial services" whereby a farmer in a remote village can seek a bank loan online apart from other e-commerce activities.

Rural connectivity, which is abysmally low in India, will gain considerably from MLA. "Through inovative technologies and applications, all of India could be connected through the Internet," the paper said.

Land records would be computerised, data on land usage made readily available for farmers to decide which crops to grow in a particular season, together with data on weather patterns.

New gadgets which will "speak to the people in their own language" are also being envisaged through the MLA to help spread literacy in the country.

Low-cost computers which will reduce the cost of computing from "dollars to pennies" and "small-scale facilities for rapid prototyping of mechanical and electronic functions" will be made available to rural enterpreneurs especially in the small industries sector."

The role of MLA is to facilitate invention, refinement and deployment of innovations that benefit the masses," the paper said. "

MLA is not a bricks and mortar initiative. Rather, MLA is intended to be a distributed organisation that will work with industry, NGOs, government, and most importantly ordinary people, to bring these innovations to every village in India."

---
Titanic explorer looks for Noah's ark
Ballard, who found the wreck of the Titanic in 1985, has made two exploratory trips to the area, during which he and his team found ancient shells and a freshwater shoreline 550ft below the murky surface.
THE explorer who found the wreck of the Titanic is to mount an expedition this summer in search of proof that the Black Sea was created by an enormous flood that may have been the inspiration for the biblical story of Noah's ark.
Robert Ballard, an American oceanographer, will investigate claims that rising sea levels caused by the passing of the last ice age pressed a natural dam to burst about 7,000 years ago, submerging 19,000 square miles of inhabited land around a huge freshwater lake.
Ballard is convinced he will find evidence to show that the Black Sea is what was left after a flood so immense that it gave rise to the legend of Noah.
A wall of water from the swollen Sea of Marmara is believed to have been broken through what is now the Bosporus valley with 200 times the force of the Niagara falls.
Professor Petko Dimitrov, head of the Department of Oceanography at the Bulgarian Academy of Science, who is working with the Americans, said there had been suggestions for more than 20 years that the flood had wiped out human settlements, although the deluge was more likely to have lasted for 40 years than 40 days.
Dimitrov believes people fleeing their drowned homes spread the stories of a flood that became the basis not only of the story of Noah, but of similar accounts in other cultures.
Ballard, who found the wreck of the Titanic in 1985, has made two exploratory trips to the area, during which he and his team found ancient shells and a freshwater shoreline 550ft below the murky surface.
They also came across signs of buildings under 311ft of water, some 12 miles off the Turkish Black Sea coast near the convergence of two submerged ancient river beds.
Ballard believes the finds, including beams, fragments of walls, stone tools and a rubbish dump, prove habitation in an area where water levels rose catastrophically.
"It is beyond our wildest imagination," he said. "I don't think there's any doubt that people were down there when the water came in. What we want to know is: who were they?"
Ballard's team, based aboard the Bulgarian research ship, Akademik, will use state-of-the-art technology such as the Argus, a robotic submersible equipped with three pivoting underwater video cameras, lights, an electronic still camera, thrusters and a scanning sonar system that make man-made structures stand out.
The Argus is attached by another cable to a remotely operated vehicle known as Little Hercules, which has a broadcast-quality underwater video camera and an underwater lighting system.
Ballard believes the almost complete lack of oxygen in the Black Sea will facilitate the expedition's work. "It's really a giant bathtub full of salt water that has gone stagnant," he said.
"The absence of oxygen means there are no wood-boring organisms, meaning much of what is down there will be intact."
His search was inspired by Noah's Flood, a 1998 book by Dr William Ryan and Dr Walter Pitman, marine geologists from Columbia University, that posited a link between the flood and the Black Sea.
Ryan has hailed Ballard's findings as vindication of his work.
"This is amazing," he declared after the underwater Black Sea settlement was found. "It's going to rewrite the history of ancient civilisations, because it shows the biblical flood took place and that the ancient shores were occupied by humans. This is a stunning confirmation of our thesis."
- The Sunday Times (UK)

---
Fizzy fruits designed to tempt
BRITISH supermarkets are studying a technique to carbonate fruit and market it to children as sparkling oranges, pineapples and pears.

It follows a scientific breakthrough that allows natural fruit to be filled with carbon dioxide, making its flesh fizz like a bottle of carbonated drink. The fizziness is also said to enhance the flavour, making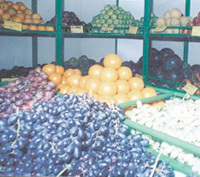 oranges and other fruit taste stronger and sweeter.
Supermarkets see it as a money-spinner; they hope it will make it easier to sell fruit and even some vegetables to children who are notoriously reluctant to eat fresh foods.
A spokesman for Asda, the British supermarket chain now controlled by Wal-Mart, said it was taking a close look at fizzy fruit. "It is in its early stages, but it sounds like fun, especially if it encourages children to eat more fresh fruit."
Fizzy fruit was invented by Dr Galen Kaufman, an American researcher in Galveston, Texas, who works on the behaviour of gases. He found that, under certain conditions of temperature and pressure, carbon dioxide can diffuse into almost any fruit - with the exception of bananas, which explode.
A series of consumer tests carried out at American supermarkets showed that youngsters' attitude to fruit completely changed when they knew it was fizzy - and many adults with an aversion to fresh food would also eat it.
For supermarkets, fizzy fruit could be a welcome antidote to the disaster suffered by Sunny Delight, the orange-flavoured drink aimed at children. Its sales soared after it was marketed as a health drink, and then plunged when it emerged that chemicals used to colour it could turn children yellow, a phenomenon now known as Sunny Delight syndrome.
Kaufman said fruit was best if carbonated shortly before consumption, otherwise the gas could diffuse out again, although his firm FizzyFruit was working on wrappers that could retain the gas for days.
He added: "Most carbonated fruit tastes great - grapes become a bit like champagne and oranges and other fruit gets much tastier - but I have to admit the tomatoes are a bit strange."
The link to Asda comes from Wal-Mart, its parent company, which is in talks with Kaufman over marketing the product once trials are complete.
The idea of carbonating fruit to appeal to children is, however, a dubious one, according to food psychologists. Dr Troy Cooper, an Open University psychologist specialising in food, said the technique was effectively turning fruit into packaging for a fizzy drink.
"Research shows that if you take a melon and fill it with fizzy drinks it will not actually persuade children to eat more real fruit. So children might eat this fruit and, if they retain their healthy properties, that is good - but it is unlikely to make them eat ordinary fruit."
– The Sunday Times