Limp Bizkit blasts in at No.6
Limp Bizkit steps into the chart at No: 6 with 'My Way'. If you thought the song was a cover of Ole Blue Eyes- Frank Sinatra's classic - forget it. In typical rock nap fashion young Limp Bizkit blasts something of his own which puts it on the lines of a Red Hot Chilli Peppers track.

Jimmy Page, former guitarist of the rock band Led Zeppelin has been elected to lead a "guitar government" in a poll. Total Guitar magazine published the questionnaire to which its readers across the UK responded by voting for the best guitarist in their (readers) region. Those coming on top in each region were deemed elected to form the "guitarist government". The person polling the most votes in total by any region - elected to be head or Prime Minister of the "guitar government".

Jimmy Page won a landslide in the Greater London area ahead of Brian May of Queen and Pete Townsend of The Who.

The other guitarist elected to the make believe assembly were Eric Clapton - Southeast, Matte Bellamy of Muse - Southwest, Johnny Marr of The Smiths/Electronic and later The Healers, Hank Marvin of the Shadows - Northeast, Slash- West Midlands, Alvin Lee of Ten Years After - East Midlands, Steve Rotheray of Marillion - York shire & Humberside, Dave Gilmour of Pink Floyd - East Anglia, Angus Young of AC/DC - Scotland, James Dean Bradfield of Mania, Street Preachers- Wales and Gary Moore - Northern Ireland. The special interest poll coincided with the recently concluded general election in the UK.

As Shaggy extended his reign over the UK singles chart for a third consecutive week with the song 'Angel', it has also given the Jamaican star the opportunity of making his longest stay at the No: 1 position so far.

The late Tupac Shakur continues to amaze us with the number of posthumous hit songs. 2 Pac's current release 'Until The End Of Time', debuted in the UK chart at No: 4. Since the rapper died over three years ago the posthumous releases seem to be growing. It appears 2 Pac could very soon have the most number of UK Top 20 hit songs after death overtaking those notched up by the late king of rock'n' roll - Elvis Presley.

The Welsh band Stereophonics has relesed a huge single called 'Have A Nice Day'. The song which debuted at No: 5 this week is a follow-up to the release 'Mr. Writer'. The current single is a radio friendly commercial track - a feel good song. The song is weak on lyrics with a repetition of the song title 'Have A Nice Day' over and over again. If one were to see the video it would be the models who would be the main attraction. You can be sure in six years time you could pick up 'Have A Nice Day' on one of radio networks catering to music of yesteryear.

R W6 and hip hop artists have recorded an album as a tribute to Phil Collins. The album called 'Urban Renewal' has dished out its first single 'Another Day In Paradise'. The artistes performing the Collins track are Brandy and her brother Ray J. Last week the song checked into the chart at No:5 but fell two places to No:7 this week. It's a great way for Brandy's brother Ray J to be introduced into the scene. Yet their voices do not come out strong on 'Another Day In Paradise' with the music instead taking a more dominant role.

Shades of Britney Spears and Abba is what one would hear on the new Steps double single release 'Here And Now/You'll Be Sorry'.

Last week the song debuted in the chart at No: 4 but dropped sharply to No: 13 this week. The disco, material is taken from the Steps' album 'Steptacul.

A tragedy accident occurred at the mansion of ex-Motley Crue drummer Tommy Lee on Saturday 16th June. The four year-old son of TV producer James Veres and Ursula Karven was drowned in the swimming pool. The child named Daniel was attending Lee's Son Brandon Thomas' fifth birthday party. As the emergency services were called, it was too late to resuscitate the boy. LA Sheriff's department said the victim was found floating face down in the shallow end.

Lisa Stansfield's attempt to regain a position in the competitive music scene proved to be a disaster as her single 'Let's Call It Love' debuted in the chart at No: 48.

The single is a forerunner to her new album 'Face Up' due for release on June 25th.

---
Champagne if you Can Can
By Randi Goonetilleke
For all lovers of music, especially the music of the musicals, 'A Champagne Toast- to the Musicals of Yesteryear' which goes on the boards at the Lionel Wendt Theatre on June 29, 30 and July 1 is a show guaranteed to thrill.

Theatre personality Jith Pieris, director and the producer says the show is also a tribute to leading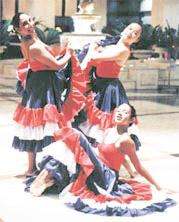 musicians of the recent past, who will always have a special place in our hearts.
The show will get off to a grand start with pianist Beverley Rodrigo performing the orchestral introduction. This will be followed by one of the highlights of the show - the Can Can, the famous French dance performed by the dancers of the Deanna School of Dance.
The origins of the Can Can date back to the mid-1840s. Developed from the polka, the Can Can can be danced by a soloist or chorus, with the dancer or dancers kicking their legs high in the air, as high as they possibly can. By the 1890s, the Can Can costume had evolved into almost an uniform- black stockings with garters, frilly petticoats and colourful drawers. Celebrated as the most popular dance in Paris in that era, it was adopted by professional dancers and has become a symbol of France.
Songs of the Century, the next segment of the show sees soloist Channell Fernando with well-loved numbers like, "Some where over the rainbow". More talent is to follow in the form of Srimanthaka Senanayake, Sri and Michelle, violinist Hasini Halpe, Eshantha de Andrado, Anushan and others.
Special performances for A Champagne Toast will be by Noeline Honter, The Revelations and
Anjalie Gunaratne.

---
A fatal accident
By Ruhanie Perera and Rochelle Jansen
Life is short. Acci- dents happen. But we will never understand why this talented young man was cruelly snatched away at just twenty one - to be buried on his mother's birthday.

Surendran (Suren) Thiruchelvam was a guy like any his age. Full of dreams, plans and an unquenchable thirst for life. Suren loved life. And lived each day to its fullest. He had a ready smile at all times and never wanted to be a burden to anyone. He was an honest, hard worker who did his best at any given task - be it at school, at home or at work as a marketing executive of MTV. He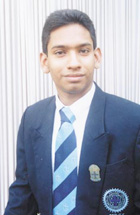 earned the respect of peers and superiors.
He didn't smoke or drink but he liked to 'eye' beautiful damsels like any guy his age.
"Suren was a keen student of Wesley College, with great leadership qualities, and talents in singing and drama," said a teacher of his fondly remembering this young lad. "He respected his teachers and never forgot them."
Suren had a vision in life. He wanted to be a priest. And not wanting to be a burden to anyone, especially not to his widowed mother, he wanted to be financially stable before embarking on his journey in the ministry.
He had, only recently, successfully completed a business management exam. And had enrolled for further studies.
Yet today, of what use has all that studying and all those plans been to Suren?
He drowned.
It was an accident.
His family last remember, a happy carefree Suren, playing with his little niece whom he adored, spreading a little sunshine into the lives of others: and later asking his mother to wake him up in the morning because he had to leave early….
Mrs. Thiruchelvam's last conversation with her son was over the phone, "be careful" she begged him. She received a typical reply of youth: "Why are you getting scared? Nothing will happen. I'll come home carefully."
What a twisted prank fate played on them all.
Or was it fate? There are too many grey patches in the picture.
Inspector U. L. A. Namasinghe of the Theldeniya Police Station in charge of the investigation said, "A group of six friends, including Surendran Tiruchelvam, left Colombo on June 16 around 11 a.m. to attend a colleague's wedding held at the Earl's Regency Hotel, Kandy.
"On reaching Kandy in the afternoon the group checked into Digana Village, a holiday resort, to have lunch and later on get ready for the wedding. With the swimming pool on the premises they decided to go for a swim as well.
"Lunch was served near the pool and after that some of them ordered drinks. Suren however, did not have any.
"Having finished lunch and a swim the friends left the pool, but Suren and another friend stayed on and went back into the pool.
"Suren, who couldn't swim stayed on in the shallow end while his friend went diving in the deep end.
"After a while his friend noticed that Suren was missing, and began looking for him. It was some time later that he, together with the pool attendent found Suren.
"How exactly he drowned, or what exactly happened at that point, we will never know," said Inspector Namasinghe. Suren's body was found at the point where there is a drop in the levels of depth in the pool. Suren was taken to the Kandy hospital where his death was confirmed. The verdict at the inquest was - accidental death by drowning.
Accident it may have been, but this is one that need not have happened.
Suren's death leaves us with many unanswered questions.
How did he drown in a pool? What if he knew to swim?
What if a trained lifeguard had been present, would he still be alive today?
What if CPR (Cardiopulmonary Resuscitation) had been administered as soon as he was found, would that have saved him?
We will never know.
What of the other questions that can be raised when one thinks of having a good time?
Do we always take into account the dangers involved?
"It's shocking, he was laughing and joking all the time, I can't believe he's no more," uttered a grief-stricken friend.
Six friends went.
Five came back.

---
Train to save lives
"A life saver is not the narrow definition of a person dragging another out of the water, as many seem to think," says Mr. Asoka Jayasinghe, Past President of The Life Saving Association of Sri Lanka. "People tend to associate a life saver with water but in reality a life saver is trained to save lives in any situation, even in the case of a snake bite."

The Life Saving Association conducts training programmes for life guards, based on an Australian programme. An instructor trains a squad of six and depending on how fast they pick up they can even finish the course within two to three months. The course also includes an exhaustive theory segment covering lectures and concludes with exams on a range of subjects.

A person can qualify at different levels, the highest being the bronze medal. There is also a still water bronze medal for those who do not need to go into rough seas.

On the subject for the need of life savers in hotels Mr. Jayasinghe says, "I believe it's always better for hotels to either go in for trained life savers or train their staff. There have been hotels that have approached us to train their people which we have done. There are also instances when we have approached hotels suggesting carrying out a training programme for them."

In his opinion, it is always better that they have trained people competent in swimming and first aid, which are the most important requirements of a life saver (maybe a still water bronze medal). The other requirement is that the lifeguard be constantly vigilant because in a case of drowning the victim's life depends on how fast he is spotted. And then on how soon CPR is administered.