Contents
---
'Fantastic Females -3'
By Sanath Weerasuriya
After the gap of three long weeks, 'Original Music Competition' with M-entertainment and Sony Music will resume this week.The third album of the 'Fantastic Females' series is the album of this week's'Original Music Competition'.
"Fantastic Females 3" is the latest compilations on the Fantastic Females range from Sony Music. This release is available now on Compact Disc and Cassette.
"Fantastic Females 3" features sporting sixteen original hits of the best female superstars in the music world today.
It comprises Britney Spears - Born to make you happy, Melanie C.- Never be the same again, Mandy Moore - Walk me home, Lene Marlin - Sitting down here, Anggun - Still reminds me, Olive - I'm not in love, Chantal Kreviazuk - Before you and Sinead O'Connor - No man's woman on side.
The side B comprises Macy Grey - Still, Gabrielle - Sunshine, Anastacia - I'm outta love, Destinys Child - Jumpin Jumpin, Kandi - Don't think I'm not, Lara Fabian - I will Always Love You, Shania Twain - You've got a way and Bic Runga - Drive.
Look for "Fantastic Females 3" at M-Entertainments dealer outlets and grab an original copy for yourself.
But still you can win five Original albums of "Fantastic Females -3" by answering the simple question on the coupon on Sunday TV Times & Entertainment magazine.
To enter this contest, all you have to do is to answer the question on the coupon and send it to the address given below.
The address is "Listen to Original Music Contest, No. 48, C/o Maharaja Entertainments (Pvt.) Ltd., 330, T.B.Jayah Mawatha, Colombo. 10.
Tel: + 941672425-8, Fax + 941699070. E Mail: me @ lgo.lk
All the entries must be originals from the Sunday TV Times and no photocopies or faxes will be entertained.
All correct entries will be drawn by a panel of judges. The entries should reach the above address by June 26, the latest.
The decision of the judges will be final and the names of the winners will be announced in The Sunday TV Times accordingly.
Here are the winners of contest no. 44. The winners of two Sony Original CDs are Sanjeewa Jayasuriya of Kohuwela and Dirk Van Dort of Colombo 7. The two audio winners are Mrs. L. Radhakrishnan of Punduloya and Sunethra De Croos of Negombo.
The 10% off gift vouchers go to Shaminaz Ossman of Wellampitiya, Yohan Ferreira of Kelaniya, Neleisha Weerasinghe of Ragama, Sarath Wijayawardena of Ratnapura, Rozonne Nanayakkara of Maharagama and Petula Wijesinghe of Moratuwa.
The Poster winners are S.A. Ravinda Dissanayake of Gampaha, T. Wazir Junoos of Kolonnawa, Rabin Marais of Colombo 5, Chamila Nilushie Hewage of Biyagama and Dayan Navaratne of Narammala.
---
'Heat' on Bradby Ball at Le Kandyan
'The Bradby Ball 2001', the dance featuring the band 'Heat' will be on at Le Kandyan Hotel on June 23.
This rugby season, the most entertaining live band "Heat" is set to play at Le Kandyan in Kandy at the Banquet Hall from 9.30 p.m. onward for the "Trinity Royal Bradby 1st League".
After scrumming at the ground, Trinitians and Royalists will have a swinging, rucking blast at Le Kandyan with super group "Heat" together with Yes FM DJ's and Master of Sound who provide Hi-Tech lightings and sounds for the popular shows.
Addition to this, there will be a Fashion Show by Lanka's top Models - Tania, Ero, Wasana and Sharon which is sponsored by Design Club, Kandy. The management says, there are lots of weekend vouchers and other gift vouchers to be won for many competitions and games which will be organized by Le Kandyan and Yes FM crew.
Le Kandyan had organized the Bradby Show for the last 3 years and this is going to be the fourth consecutive year. Since Bradby is one of the biggest parties in Kandy, there will be a huge rugby fans for this year too.
---
Tom Jones Experience at Galadari
Living legend Tom Jones is hip again, he's sexier than ever, powering through the charts with one hit after another.
Jacques Renay plays the part of Tom Jones. Not only does he look and sound like him, but he was born in the same place as Tom Jones in Wales.
Galadari Hotel presents a live performance of 'Tom Jones' from Australia with three dancers on June 24, 2001 at the Centre Lobby.
Having a huge amount of live experience under his belt only strengthens his performance. Jacques Renay is no stranger to the stage, having performed on the Midday show Hey Hey it's Saturday and the John mangos show. He has also had the pleasure of performing for the Queen no less than three times, as well as appearing live in concert with Charles Aznavour, the Inkspots, Jack Jones, al Martino, Roy Orbison and the late Great Louis Armstrong and Billy Eckstine not to mention the man himself, Tom Jones!
A huge 11-piece band backs The Australian Tom Jones Experience, consisting of a four-piece Brass Section, a four-piece Rhythm Section and a three-piece Backing Vocals, all choreographed and costumed. This is a dynamic high energy show, taking on a journey starting from Tom's earlier hits, right through to his hits in the 90's. Tickets will be available at the Hospitality desk of the Galadari Hotel and are inclusive of an extensive 5 course dinner. Table reservations only.
---
'Carey Millennium Night'
'Carey Millennium Night 2001', a grand musical show, organised by the OBA of Carey College will be held on June 22 at the Vihar-amahadevi Open Air theatre.
This show will feature 'Sunflower', the popular band with Corrine, Priyantha Fernando, Athula & Samitha, Nihal Nelson, Sangeeth Wijesuriya and Susil Fernando. The show will be compered by Hemasiri Halpita.
The Old Boys Union of Carey College has decided to organize this show for the third time in order to raise funds to upgrade the facilities and material for the junior library of the college.
---
Tale of a headman, a treasure, two murders
"Oru Bendi Siyambalawa" is the story of a headman of old days lording over a set of poor people, who are helpless.
The teleplay pictures how tragedy is caused to people when they play with false beliefs, while some behave oddly and face awkward social circumstances.
The headman, 'Denagama Arachchi' rules over the village surrounded by the thick forest and its people destitute and poor. Living in his Walawwa with his wife "Denagama Hamine" and two servants "Kotiya", a deaf man and "Balaya", an idiotic type the main aim of the headman is to get a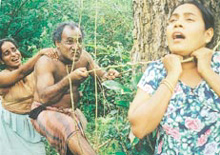 treasure the details of which he finds in an old scroll.
According to his wichdoctor, 'Maha Kapurala' a virgin, born at an auspicious time has to be offered to get this treasure.
However the headman was able to find his offer for the treasure with the help of 'Binduwa' who brings earthenware to the village and it was an ugly "Yaki", who was later brought to the Walawwa as a servant. But Yaki works very hard for the Walawwa and his employer.
Meanwhile 'Sirinimal', son of the headman returns to the village after finishing his higher education.
'Samel' who runs a small boutique lives with his wife 'Sundarawathi' and daughter 'Sandhalatha'. He is not well disposed forwards the headman. Despite the enmity between parents 'Sirinimal' starts a secret love affair with the daughter of his father's foe.
However the headman secretly kills 'Binduwa' who helps to find an offer for the treasure thinking that he would be a threat to him.
Though a public secret he manages to cover up the murder by bribing the policemen who come to the village to investigate the incident.
One day 'Samel' after a drink reveals clues at a public place on the murder saying the headman had a hand in the murder. But on the other hand the wife of Samel suspects that her husband is also involved in the murder. Samel too becomes helpless with his wife's suspicion. So both husband and wife make up their mind to meet the police officer to clear this false suspicion. Seeing Samel's wife, 'Sundarawathi' who is a beauty the police officer finds a way to start an illicit affair with her. However Sundarawathi obeys the police officer in order to free her husband from the false suspicion. Disrupting the family harmony with the affair, Samel kills the police officer when he comes to know it.
'Oru Bendi Siyambalawa' has in its cast Gamini Hettiarachchi, Nilanthi Wijesinghe, Milinda Perera, Gayana Sudharshani and Priyantha Wijekoon.
The script is written and directed by Mayadunne Bandara. The teledrama is produced by Sunil Ratnayake for the Teleview Private Limited. The teledrama was edited by Dhammika Priyalal while Gamini Susantha directed the camera.
---
Mandira on third visit to Sri Lanka
By Susitha R. Fernando
In a wide ranging interview to the TV Times, Mandira Bedi popularly known as "Shanthi" in the soap opera of the same name on small screen, and "Pragathi", which furthered her place in the small screen, this beautiful Indian actress who arrived in Colombo recently to take part in the shooting of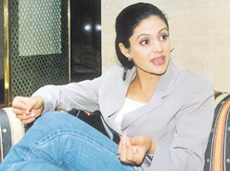 the locally directed teledrama, "Damini" which is her first foreign tele drama, was forthright and candid in her replies. This was her third visit to Sri Lanka.
Q: This is your third visit to Sri Lanka. What is the your impression about the country and about the offer?
A: I have been closely associated with this country. I love it and its people. I also feel very much at home and whenever I get a chance to come here, I think it as a great opportunity. When I was chosen to do a role in a Sri Lankan production I felt I was honoured like and I feel happy as people can relate to me. I worked out my schedule and dates because I wanted to be a part of this.
Q: What do you think about the Sri Lankan TV viewers?
A: Sri Lankans are lot like Indians. The cultures and the background of the both the audiences are very very similar and we are both Asian races and also we are more alike than any other South East Asian country. That's why Sri Lankans take interest in Indian teledramas like they do. And I am also glad that I have a good audience. India is full of actors and I know that people in India know me but here everybody knows me, which is very nice.
Q: You are being constantly portrayed as crusader of women. Does that affect your popularity in a bad way?
A: I think it is nice to play positive roles. As actors we have a responsibility to send out right signals and right messages to people. I think I am lucky that I'm chosen to play roles like this which are so positive. And I know that roles that I play are a little way beyond reality, but when it comes to teleplays people do not always expect you to reflect their day to day real life situations. That's why the roles that are shown on TV little larger than life. Who wants to see things like home? You want to see something more exciting. In that sense I am not an exception.
And there are two different things, the way society is and the way society should be. We are trying to show the latter so that the people can aspire towards that.
Q: What do you think about the 'Asian woman'? And they are among the most discriminated sector which is dominated by males. What have you got to say about this?
A: As Asian women we have got our own uniqueness. Being in the countries of Third World we are backward in technology but we have got so many other things like rich culture and hospitality and so many other unique qualities rooted to Asian region which we have to protect.
And it is very unfortunate that our society is very male dominated. This is what is in the teleplays like Shanthi and Pragathi we portrayed. The characters in these are ideals. There are only few people like that in the society but there should be women who are more strong. This could be one reason why people are attracted to the characters like Shanthi and Pragathi. They want to relate to them and be like them.
Q: How about you with regard to this?
A: In my case my husband is extremely supportive. In our marriage there is complete quality in every way. We are of the same level. The life of the spouses who do not support each other would be difficult to live. In addition he is also one of the leading inspirations in my life.
Q: What is the role you have been assigned to play and was it a difficult one?
A: I am playing as a representative of the International Press Forum who comes here for an special assignment. There I play the role of "Nayomi", a Sri Lankan born girl who has lived all her life abroad and comes here for the assignment. At the beginning I found it diffult to handle the language despite being given the whole script in Hindi. But I soon got used to it. And I really like the role I am offered and the crew here was very supportive.
Q: During the shooting will you be shuttling between Sri Lanka and Bombay, or will you finish the shooting of your role at one go?
A: The first shooting is scheduled for ten days. And I would cover my parts in fifty episodes of the teleplay. After that I will be returning to my country. I don't know how the next trip would be.
Q: What do you do in your leisure hours?
A: I was born as a Sikh but apart from that now I am practicing Buddhism as well. So in between shooting when ever I get a break I make it a point to say my Buddhist prayers as well. This helps me to concentrate on my work properly.
And also I love the beach and as soon as I finish my work I hope to go to the beach at Galle one of my favourite places.
Q: Did you ever dream of being a TV star?
A: No, not at all. But it just happened. It is being in the right place at the right time. First I wanted to do a steady job in a place like bank. I followed a course in media and I was doing my apprenticeship somewhere else and there I was called for a screen test about which I did not bother or care but I was chosen to play "Shanthi".
Q: What would be your next move?
A: I want to get involved in directing, either movies or teledramas. That is a future hope. And I also want to raise a family and make it a success.
---
'Hangimuththan' from Sriyani
Sriyani Amerasena's latest directorial venture for the small screen is to begin work this month.
Initial shooting for the teledrama "Hangimuththan" will be in Galle and most of the cast comprises children.
The teleplay depicts how children suffer due to the carelessness and prejudices of the adults in todays society.
The principal roles are played by two popular stars Robin Fernando and Sonia Disa.
Saranapala Jayasuriya, Indrajith Navinna, Milinda Perera and Samanthi Lanerolle are the others included in the cast.
Sriyani Amerasena's first direction for the TV was "Magi", which revolves around a middle aged fishmonger who earns her daily living by selling fish at a market in the south. While assisting in script writing and production she played the leading role as 'Magi' in her first effort.