Contents
---
'Desmond Live in Concert With Gypsies'
By Sanath Weerasuriya
After a lapse of nearly two decades, entertainer Desmond de Silva will be back on the bandstand with the Gypsies to rock the almost dead music scene in Colombo.
"Desmond Live in Concert With Gypsies" will come alive at the BMICH on June 3.
The concert is organised by Torana Music and sponsored by Three Coins and Coke. The media sponsors are TV Times, Daily Mirror, EFM and Swarnavahini.
This event will be in line with the celebration of the 25th Anniversary of Torana Music.
"Desmond Live in Concert will feature Anushan's Latin American Dance Troupe and Budawatta's dance group to add more glamour to the show. Corrine and Ronnie Leitch will be performing as guest artistes.
Master of Ceremonies will be Dr. Vijaya Corea.
According to Sarath Kotelawela, the Managing Director of Torana Music, the proceedes will be channelled to the Maharagama Cancer Hospital.
"Desmond Live in Concert With Gypsies" is going be the biggest concert of the year and I'm sure the audience will remember it for a long time", he said.
Desmond, who is in London at the moment will be in town early next week.His latest CD "Komali Pane" by Torana too will be launched simultaneously with this Concert.
"Komali Pane" is the fifth Desmond de Silva production of Torana and it features eight brand new songs with eight of his popular hits.
---
'Diya Sewaneli': A crime story
The death of a 12-month old child under mysterious circumstances forms the plot for the latest teledama "Diya Sewaneli" telecast at prime time every Friday on Rupavahini.
The teledrama is directed by popular films and teleplay director Mohammed Niyaz. He has written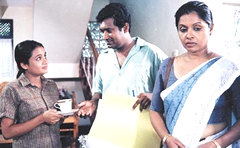 the script based on a true story. It is produced by Rohani Weerasinghe.
The teleplay begins with Mandira (Rohani Weerasinghe) being produced before court suspected of killing a 12-month old child Imasha Nayani. However she is found guilty of the crime and sentenced to death. Everybody including her husband accuses her. Nalin (Palitha Silva) even goes to the extent of helping the child's mother Nirdha who also was a close family friend.
Nirdha comes to work under Nalin in his company and soon she wins the hearts of both Nalin and his wife Mandira. They invite her to live in their house and after some time she becomes a family member.
But Nalin's wife suspects her of having an affair with Nalin and she arranges her marriage to Sumal. Soon after Nirdha married Sumal the couple had to separate as he leaves the country in search of a job. Nirdha comes back to live with Nalin's family and gives birth to a child. But one unfortunate day, Nirdha leaves the child with Nalin and Mandira for an outing and finds the child dead on her return.
Everybody suspects Mandira to be responsible for the child's death.
The suspicion goes to Mandira as she believes of an affair between her husband and Nirdha. She also thinks the child's father was her husband. But the story takes an unexpected turn when other factors point to the real murderer.
The principal roles are played by Palitha Silva, Sasanthi Jayasekara, Rohani Weerasinghe, Roshan Pilapitiya, Nilanthi Munasinghe and Priyantha Wijekoon.
---
'Sanda Nethi Lova' tackles rebirth
By Susitha R. Fernando
"Sanda Nethi Lova" (World Without Moon) is telecast every Monday, Wednesday and Friday at 8.30 pm on Sirasa TV.
The cast comprises Suminda Sirisena, Hycinth Wijeratne, Praveen Virajani Wickrema-nayake,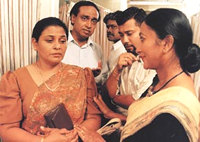 Ramani Fonseka and Richard Weerakkody.
'Sanda Nethi Lova' deals with a theme that is not common. The subject of the film borders on rebirth.
Kumari Iddamalgoda the only girl in her family suffers from a mental disorder making her to behave like a violent lunatic for 4 to 5 days every month. Her first attack occurred on a rainy day while she was in school and the mental condition became intense once she attained puberty. Every attempt fails to diagnose her sickness. Even psychiatry becomes helples. On some days Kumari behaves so dangerously making it necessary for her to be chained to the bed. Experiencing weird dreams and memories of a peculiar nature the situation becomes unnatural. One other feature of her sickness was her violent reaction to the touch by a male.
Sandun who is an executive meets her one day and turns to be lovers later. Though curious about Kumari's unnatural behaviour he is prevented from inquiring it from her. Despite her parents objections to their marriage Kumari discloses everything to the boy. Worried though about her condition, Sandun however decides to marry her with the common understanding that they would sleep separately. After the marriage Sandun takes the bride to his ancestral house an old Walawwa. Though Sandun's father who is abroad does not attend the wedding Kumari experiences fear, shock and familiarity when she sees his photograph.
Firstly doctors discard the idea that her sickness could be connected with rebirth. But Sandun who is determined to cure his wife finds a doctor known to him to treat his wife The doctor manages to elicit vital information about her past birth by hypnotising Kumari. He concludes that her sickness is connected with some fatal incident in her previous birth. The doctor is of the opinion that her sickness could be cured if she becomes pregnant. Hearing this, one day when there was nobody at home Sandun decides to approach her even without her consent by tying her to the bed. This happens on a rainy day when there was thunder and lightning and that too after Kumari had fallen asleep. But she become more violent than on any other day and even breaks the ropes when Sandun comes to her. Her reaction following the incident, reveals a strange story that took place in the walawwa long ago and it confirms that this has a connection to Kumari's sickness.
Who would be responsible for her sickness? Who was Kumari in her previous birth?
Music is directed by Premasiri Khemadasa.
---
"Pissu Puso" : Local version of 'Crazy Boys'
"Pissu Pooso" is the first film of the series of crazy films directed by Sunil Soma Peiris. The film will be followed by "Pissu Double" which is to be released on the same circuit.
The film is woven around twin boys of identical features brought up in two different worlds and become completely opposite characters.
The two brothers are separated a few days after their birth. "Duggy" becomes a thief while "Prem" brought up abroad to a wealthy family and leads a luxurious life. But with the return of Prem causes a series of confusion and misunderstandings due to the identical features. At times even their girl friends and their parents mixed each other and in these situations the two brothers who did not know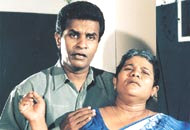 anything about each other and they become utterly helpless. Meanwhile an enemy who was brought before law by their father, a long-standing police officer plans to get revenge.
Meeting on an unexpected situation the brothers get together in a mission to rescue their father.
The cast include Bandu Samarasena, Dilani Abeywardena, Freddie Silva, Rex Kodippili and Ravindra Yasas. To the script and direction of Sunil Soma Peiris and Sudesh Peiris, 'Pissu Pooso' is produced by Sunil T. Fernando.
---
One Number system for Pizza Hut
Pizza Hut, one of the popular pizza shops in Colombo, has introduced a on-line 'one number system' for its all outlets for for phone in orders recently.
Dial a Pizza from just one number, whether it be from Rajagiriya, Union Place, Dehiwela or Havelock Town. This quality superior sofware service has been brought to all Pizza lovers, by Pizza Hut, and this is the first on-line phone in system in the South Asia.
"All Pizza Hut customers can now place their home/office delivery orders by calling up just one number - 729729 regardless of their location," said K.R.T. Bandara, the Area Manager Keells Restaurants at the press conference last week.
This telephone system which is unique to Pizza Hut in Sri Lanka, is used by Pizza Hut International, and was installed locally at a cost of Rs. 3 million.
Known as the 3 C system, this specialized software was brought down from Canada by Pizza Hut International in order that the local operation may be streamlined, thus offering customers maximum convenience and the fastest delivery.
"The convenience to our customers is unmatched," said Managing Director Keells Restaurants Sumithra Gunesekere, who went on to say that any Pizza thus ordered would be delivered to the customers office or residence within 30 minutes."
Pizza Hut's one number phone system can be availed by customers in the total Pizza Hut delivery area and they are assured of the fastest delivery with the least possible hassle.
Future plans include expanding delivery services to Wattala, Panadura, and Moratuwa, Bandaranaike Airport at Katunayake as well as Negombo.
---
Kebabs & Rotis at Oberoi
Savour the mouth-watering combination of Kebabs and Rotis at Lanka Oberoi's Indian Restaurant from May 25 to June 3 in the form of a dinner buffet.
Celebrity Indian Chef Kishore Reddy offers a succulent array of Kebabs made of meat, poultry, fish, vegetables and an endless variety of rotis, naan, paratha, chapatti, kulcha and much more.... complimented by an array of crispy salads, spicy curries and ever so sweet desserts.
---
Serendib Leisure excels
At the recently concluded Regional Bartenders Competition, the Serendib Leisure Hotels bartenders swept to contention in all their events that they participated.
Priyantha Atukorale of Club Hotel Dolphin was placed 1st in the Negombo region, Christian Pasan Kumara of Hotel Serendib was placed 1st in the down south region and Kingsley Bandara of Hotel Sigiriya was placed 1st in the Cultural Triangle region.
In addition to these, J.B.W. Nimal of Hotel Reefcomber was placed 3rd in the down south region and Suresh Gunarathne of Hotel Sigiriya was placed 3rd in the Cultural Triangle region.
'Serendib Leisure has been consistently performing well in this competition and much of this credit should go to the Group Training Manager, Nishantha Manawadu and the Food and Beverage Managers at the respective hotels, who have worked tirelessly to train and develop the individuals concerned' said Srilal Miththapala , the CEO of the Serendib Leisure group.
The annual Mari Brizard Bartenders Competition is organised by the Ceylon School Graduates Association in association with the Tourist Hotels Association and the Ceylon Hotel School, and all these regional winners will be competing for the grand finals at the Taj Samudra tonight (May 27).