Wilson's wonder
By Hiranthi Fernando
Under a cadjan shelter, a gigantic Vesak lantern glows brilliantly, its 350 little lanterns in three tiers casting a reddish glow through a network of intricate apertures.
What is special about this Vesak lantern is that it is made entirely of terracotta. Standing 26 feet tall and 75 feet wide the lantern at Biyagama, is the handiwork of Wilson Wijesinghe, a maker of clay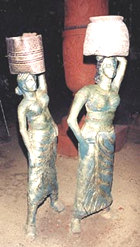 utensils and ornaments.
The son of P. Hendrick, a reputed potter from Mollagoda in Kegalle, Wilson is an experienced hand. After four years training at Heywood College he worked for 14 years at the Ceramics Corporation. This is the fifth year he has constructed such a huge Vesak lantern in clay.
Last year his effort qualified for the Guiness Book of Records as the largest clay lantern in the world, Wilson said. This time Wilson began work on the lantern which cost between Rs 7-8 lakhs in December with his two sons and two of their friends helping. He was able to cover his cost by exhibiting the lantern to hundreds of viewers during the recent Vesak period. "I just covered the cost but I did not want to make a profit on it," he said.
Wilson's efforts do not stop at the grand lantern. He has also made a clay model depicting the Gatikara story around the lantern. Having found a book on the subject with much difficulty, Wilson explained that the story relates how The Buddha was born a Brahmin named Gatikara, a maker of clay utensils, in a previous birth, during the period of the Kassapa Buddha. One day, when Ananda Himi and the Buddha were making their way to a dana (almsgiving) in the village they had to pass the house of a potter. Seeing The Buddha smiling to himself Ananda Himi asked him why he was smiling. He replied that in another birth he had been a potter named Gatikara and that was why he smiled when he saw the potter.
The clay figures depict the blind parents of Gatikara and Gatikara taking his clay utensils for sale on a pingo. It also shows how Gatikara helped the Kassapa Buddha with alms.
Wilson is now busy redesigning the lantern for Poson. He has had an invitation to reproduce the lantern in Japan, taking the clay from Sri Lanka.