Contents
---
Aerosmith continues with rock sound
By Sanath Weerasuriya

The popular band Aerosmith is the star of this week's'Original Music Competition'.
In the new century too, same old Aerosmith, same five guys, same iron-boned riffs and crack-the-sky choruses continues on the band's thirteenth studio album, Just Push Play.
By now, after thirty years of big rock, hard drugs, wasted fortunes and seesaw chart rides, singer Steven Tyler, guitarists Joe Perry and Brad Whitford, bassist Tom Hamilton and drummer Joey Kramer should either be dead or babbling incoherently. Instead, Aerosmith are our most treasured and reliable warrior clowns, the original Ol' Dirty Bastards. They don't carry on with the dignity of old blues buddhas - Aerosmith just plain carry on.
Tyler, in particular, is an ageless marvel,is fifty three years old . His barn-dog yap can still turn blithering nonsense like "Just Push Play"
Yet for all of their contagious denial of late middle age, Aerosmith have not made a Great Album - a platter equal to their original pirate-rock mettle and jubilant stage manner - in a very long time, since Rocks in 1976. Pump came close. That 1989 hit was as good as hard rock's song-doctor era ever got - the band's raw meat meticulously charred and sugared to AOR taste by producer Bruce Fairbairn (Bon Jovi's Slippery When Wet and melody repairmen Jim Vallance and Desmond Child.
Just Push Play is another near-killer for different reasons. For one thing, it is a work of largely native snazz, the first-ever Aerosmith album to be produced by Tyler and Perry (albeit in collaboration with co-writers Mark Hudson and Marti Frederiksen). For another, it is the least self-consciously commercial record Aerosmith have made since their Eighties return from Smacked-Out City. When .Just Push Play shakes and snorts, it does so with an honest cheer.
There are actually two Aerosmiths. One is the garage-soul squad that ripped out of New England in the early Seventies like a supercharged child of Nuggets and James Brown's Live at the Apollo. Combine the Yardbirds' "I Ain't Got You" with Brown's "Mother Popcorn" (as the group really did in a 1973 Boston radio broadcast preserved on Live! Bootleg), and you have "Walk This Way."
The other Aerosmith actually invented the power ballad. Written by Tyler, "Dream On" - first released in 1973, a hit two years later - is still as good, and believable, as young-rock-god self-pity gets. That cannot be said for more recent ham. Aerosmith's version of Diane Warren's Armageddon-soundtrack weeper "I Don't Want to Miss a Thing" might have been Number One for four weeks in 1998, but it was still King Kong corn.
Look for 'Just Push Play' at M-Entertainments dealer outlets and grab an original copy for yourself.
But still you can win five Original albums of 'Just Push Play' by answering the simple question on the 'Sony Music / TV Times coupon'.
To enter this contest, all you have to do is to answer the question on the coupon and send it to the address given below.
The address is "Listen to Original Music Contest, No. 47, C/o Maharaja Entertainments (Pvt.) Ltd., 330, T.B.Jayah Mawatha, Colombo. 10.
Tel: + 941672425-8, Fax + 941699070. E Mail: me @ lgo.lk
All the entries must be originals from the TV Times and no photocopies or faxes will be entertained.
All correct entries will be drawn by a panel of judges. The entries should reach the above address by May 29, the latest.
The decision of the judges will be final and the names of the winners will be announced in The Sunday TV Times accordingly.
Here are the winners of contest no. 43. The winners of two Sony Original CDs are Deandra Rose Gomes of Dehiwela and Janaki Chandrasekera of Kuliyapitiya The two audio winners are Kevin C. Reimers of Wattala and Gunoja Manule Jayaweera of Nugegoda.
The 10% off gift vouchers go to Thilina Jayatilleke of Rajagiriya, Ramzia Ozeer of Dehiwela, D.A. Dahanayake of Matara, Mahesh Goonatillake of Kandy, R. K. Asiri Udayakumara of Matara and M.D.Sandunthi Priyadharshani of Kandana.
The Poster winners are Rajiv Anthonis of Colombo-06, M.R. Khan of Katugastota, Pradeep P. of Colombo-06, Fathima Nuzra Jhafir of Badulla and Christina Clogstoun of Moratuwa.

---
Kalang: odd yet brilliant actor
By Susitha R. Fernando
Amarasiri Kalansuriya has earned the rare reputation of being called an extraordinary artiste. Many remember him for his award winning roles but wonders why he makes it a point to pop in and out of the cinema at the most irregular intervals.

After several years of absence from the silver screen he has teamed up with Rodney Vidanapathirana to do his latest film "Shilpa Denumena".

In one of the rare occasions of meeting the press Kalansuriya said his real life story was different from what one would come across on the screen. This gifted artiste Kalansuriya popularly known among his friends and fans as "Kalang" has played some unusual roles in real life. Though an award winning actor, in real life he has been a door-to -door-salesman, tailor, and a businessman. As all these roles were inadequate to express his personality he has served in the Army to quench his thirst for adventure.

Kalansurya who has acted in 54 films made his entry into the world of films with Vijaya Kumaratunga. The two were chosen to play roles in "Hanthane Kathawa" out of more than two hundred applicants by directors Vijaya Dharmasri and Sugathapala Senarath Yapa. From here on he never looked back. Kalang was awarded the best actor award in 1974 for his second screen attempt for Dharmasiri Pathiraja's "Ahas Gawwa".

"Though we started together, Vijaya got deeper and deeper into it and became popular while I moved away from the cinema," told Kalang of his retreat from cinema. While his colleague made a big name as an actor Kalansuriya had to play a serious role in the real life forgetting the glitter and glamour of the silver screen.

Faced with financial difficulties he had to fend for his three brothers after the demise of both parents.

He had to work for meagre salaries at different places. But he said "hard life was nothing new to me".

At the tender age of seventeen he became a casual labourer receiving Rs. 1.75 per day. His life as a labourer did not last long. One day he quarreled with one of the 'Mudalalies' he worked for and Kalansuriya decided not to work under any one. After working for several years, he managed to save Rs. 300 which for him was a treasure. With this he started a small business. That was to sell clothes in Kegalle and Peradeniya. Thus Kalansuriya moved into the tailoring business and was lucky to own two tailor shops. This gave him an opportunity for making uniforms for the army. He said apart from this his customers included various big names in politics and other fields and added that late Lalith Athulathmudali always sought his services.

Having reached economic stability after years of hardship, his second foray into the cinema was on an invitation made by film maker H. D. Premaratne in 1978 to play a role in his film "Apeksha".This was followed by another film "Parithyagaya" for which role he was adjudged the best actor and won several awards including OCIC and Sarasavi. Kalang though not a quarrelsome actor and calm by nature has never hastened to fight against injustice anywhere at any time.

Recalling one such incident this courageous man said, "It was the time when "Pody Vijey" film was released and big cutouts were exhibited around the towns. I had to appear before court over a inland revenue problem and when the case was called the judge put off the case telling "Are you the man in the big banners,". The judge's words were too much to bear and Kalang did not fail to reply "Your honour you may be a big man but you must watch your words,". This resulted in him being punished for contempt of court and released on the following day.

When questioned as to whether he had any reason for choosing the roles he said, "Though I was not in the habit of being choosy I always loved to play the roles that could talk to the human heart".

Drawing a distinction between the life of an artiste and a businessman Kalansuriya said "Wealth always adds troubles to life. It destroys peace of mind and the more you earn the more troublesome the life becomes". At the end of my short chat with Kalang, what really appealed to me most about this unusual man was his modesty and humble personality, which at times make one forget the fact that he is an award winning actor on the silver screen and a businessman who is making his way to the top.

---
Cinesith: informative issue
"Cinesith", the quarterly Sinhala film journal being published by the Asian Film Centre has brought out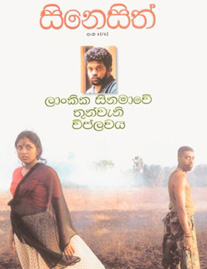 its latest issue.

In it is an article on the internationally acclaimed film "Me Mage Sandai" (This is My Moon) together with an interview with its director Ashoka Handagama extensively dealing with his views on film making.

In addition, Prasanna Vithanage's acclaimed film "Purahanda Kaluwara" and Dharmasena Pathiraja's "Soldadu Unnahe" (Soldier) has been compared and contrasted in depth and a review on the award winning film "Saroja" too has been included.

'Cinesith' includes an article on the building a colour processing lab by the government.

The foreign scene in cinema is tackled in this issue of Cinesith by including a well written copy on the Iranian film industry.

---
Reader's Corner
Rude postponement at SJC
Mrs. Silva Mattegoda writes…
It was a very unfortunate situation when hundreds of people were left unreasonably upset when the long awaited 'Marians at Joes with Bathiya & Santhush' show was postponed. And the worst part was that it was only known when everybody - that includes students of the college, their parents, friends and families reached the College gate.
Myself, my husband and our 2 1/2-year-old son, who very excitedly came to see his favourites - Bathiya & Santhush, came to the school gates and saw the sign - 'Musical Show postponed, sorry for the inconvenience'. I'm still having a time of it trying to make my son understand that the show was postponed. I think this was a very very unreasonable situation to all as non seemed to have expected a thing like this.
I presume the reason would have been the curfew imposed on the previous day (4th May 2001) as the show was scheduled on 5th May 2001. But even if there was a curfew imposed or to be imposed it would have been announced in time.
My view is that at least the organizers - The Teachers Guild of the College should have made arrangements for announcement of the postponement through the media via news - which everybody was paying attention due to the situation in the country. I think it is not an apology, but an explanation that the organisers owe the audience who were badly turned down.
All I know is that my son was deprived of his one joy, just like so many others and we too are disappointed about the incident and we will be so until we are able to make it to the show as soon as possible or find an explanation to give our 2 1/2 years old.

---
Ban advertising meat based products on TV
Tudor H. Wickremasinghe, of Colombo 9 Writes…
Most meat advertisements appearing on TV, screened by some of the so-called 'Top-Ten' firms are utterly misleading.
Meat and sausages are certainly not the ultimate in foods.
It is the country's No. 1 Killer when it comes to heart diseases.
Sportsmen and cricketers who consume these could die young, which is a loss to the country.
It was President Premadasa who once put a stop to these meaningless advertising - not with the idea of having a healthy nation, but to prevent the poor from seeing and envying what the foolish rich are eating!
It is time the country listed a code of conduct and rules according to the needs of the country. In keeping with the culture of this land meat mongers must keep to certain limits.

---
Narayan writes last page
Renowned Indian novelist R.K. Narayan died in hospital at the age of 95 on May 13. He died of cardio-vascular problems" although he was under heavy sedation he was conscious to the end," family sources said.

Narayan was admitted to a private hospital in the southern city of Madras on April 27 and his condition deteriorated. He was on a ventilator and had been semi-conscious over the past week.

Rasipuram Krishnaswamyi Aiyar Naranayanaswamy, who later shortened his name to R.K.Narayan, was one of the foremost Indians writing in English. His first novel, "Swami and Friends" (1935),was a literary landmark in India and won praise internationally. The Royal Society of Literature honoured Narayan with the prestigious A.C. Benson award in 1980. He is an honorary member of the American Academy and Institute of Arts and Letters.

Most of his works, noted for their gentle crony and humour as well as earthy evocation of day-to-day life in India, were set in the fictional town of Malgudi. Among his most famous short stories is A Horse and Two Goats, featuring a bizarre dialogue between an American visitor and an impoverished old villager who speaks no English beyond yes and no. The late British writer Graham Greene was a close friend of Narayan, whose most recent work was the 1993 collection "Salt and Sawdust: Stories and Table Talk".

Narayan wrote 34 novels, including "The Guide", which was made into a film, "Bachelor of Arts", "The Man Eater of Malgudi", "The Financial Expert", and "Malgudi Days". His works, which are sometimes compared to those of American writer William Faulkner, were widely translated and he won a number of literary awards in India and abroad.

---
'Golden Dragon' face changes
A pioneer in Szechuan and Cantonese cuisine, the Golden Dragon at the Hotel Taj Samudra has served a wide generation of guests in Sri Lanka and all over the world. Renowned for its authentic culinary art and style the Golden Dragon after 15 years of existence, has gone in for a complete face lift.

In its new look, the entire restaurant fully designed by the famous Leo Designers of Singapore have created a master-piece to reflect China... a land of mystery, legend, lore and culture.

The restaurant is in contemporary design with a great new look and ambiance. The accent is more on the experience of the meal with a selection of wines

The Golden Dragon too have embraced tradition and history, and is reflected in the logo. With a depiction of a phoenix and a dragon, the logo symbolises double happiness, which is exactly what is promised at the restaurant.

After an exhaustive and intense search, in the new team are two dynamic and experienced individuals who would be the master chefs of this culinary experience. Chef Peng and Chef Zon from mainland China have a wide and varied repertoire in Szechuan and Cantonese cuisine. They are all set to give the Colombo diners an experience of a lifetime and eagerly waiting for your arrival at the Golden Dragon.

Some of the delicacies that these two wizards have created are the all new cold appetizers which is relatively alien to Chinese cuisine. Savour spicy shredded beef with black pepper or boiled savoury duck flavoured with anise pepper.

The celebrated barbecued Peking duck served in traditional style is another specialty with cripsy beef fillet a new entrant.