What it's really like to be an 'only' child
Spoilt, selfish and demanding is the impression we have of only children. But are we wrong? Laila Nasry and Ruhanie Perera find out what it is to be a 'single' Dulika (18)

I'm happy that I'm an only child. Never having had siblings, I've never missed them. There's no one to bug me, fight with me or pry into my business. And I like it that way.

Maybe I'm a little selfish or headstrong. Since I've always had undivided attention, I demand and get things. I believe in getting my own way. But people haven't openly accused me of being spoilt or selfish, save a few of my close friends whose opinion I'm not too worried about.

Even if people did classify me as a 'horrible' only child, it doesn't matter much to me. I'm comfortable with myself and have never considered the fact that being an only child is an advantage or disadvantage. Before this I'd never really thought about it. In a sense I am a bit of an introvert and some of my friends have accused me of being anti-social. It's just that I can't handle too many people at once. It's not that I dislike them, I like them in very small doses. There are times though when I prefer animals to people!
Marion (21)

Being an only child gave me privacy. I used to have loads of private moments and was able to do my own thing. Having no siblings meant not having to set an example to anybody. But it's not easy when you are all your parents have got and all their hopes and dreams are pinned on you. Then there is a lot of pressure because I have to prove myself. The good thing, however, is that there are no comparisons.

I used to miss having a brother or a sister when I was lonely or troubled. There was no one to share my problems with. Of course, I was lucky to an extent I guess, because I always had cousins who helped me deal with them.

I don't remember being stereotyped as spoilt or self-centered. But I think I was kind of bossy and could get my own way with family and friends if I wanted to. My parents never indulged me other than with love. They always got me to do my own stuff.

Contrary to the theory of only children being mature because they are more in adult company I was quite the opposite. Ever the baby, I demand to be fed by my parents and sometimes even do so now. I was also the only grandchild on my father's side so there was a lot of love and petting. But the reaction from teachers was always sympathetic. When they kept saying, "Aiyo you have no one", I wanted a sibling, but not anymore. I'm o.k. the way I am.
Jehani (28)

Being an only child has definitely been good because I have been given a lot of opportunities. Since I come from a middle class family, I feel that my parents were able to give of their best to me not only when it came to time and attention, but also resources, because I am an only child.

Naturally, all attention was focused on me, but I know I wasn't spoilt. In fact I think my parents were very careful not to spoil me, so there was a lot of discipline in my life. I also had an added advantage since I was sent to the school hostel and grew up with lots of other children.

Sometimes the reaction I get when people find out that I'm an only child is annoying. They tend to cast you into the role of a 'spoilt brat', which is irritating when you know you are different. Now I've come to the point where it doesn't affect me anymore. There was a time though, like during job interviews, when the fact that I was an only child did have a bearing. Sometimes people had this impression that only children are irresponsible and can't handle situations because things are done for them. They feel that an only child can't relate to the 'caring/sharing' principle and as a result don't make good team players. Those are some details that matter when you go in for a job.

However, those were just first impressions people had. Once they got to know me they thought differently. I've even had people telling me that I'm a 'different sort of only child'.

Where my family is concerned, my parents keep telling me that someday I will be on my own. They pressure me to get married quickly. They also say that when they are old I'd have the burden of having to look after them. I don't really consider it a burden. True, I will be on my own but it will be a joy to do something for two people who have given their very best to me.
The counsellor says: "Often only children grow up with a distinct 'crown prince/princess' feeling, but with proper parenting methods they turn out just fine. A lot depends on the parents' handling of the situation," says Counsellor Priya Kodippily. Many only children are rather selfish, because parents concentrate all their attention on them. In such cases parents are too permissive, supplying their children with everything, irrespective of whether it is in their best interests or not. Parental attention concentrated on one child can also bring about undue pressure on the child. The only child is sometimes expected to live up to very high expectations, or live out his/her parent's unfulfilled ambitions. Thus, emotionally they have a great burden to bear. The only child is thought to be a lonely child. But if the child is a vibrant personality, it can make them imaginative individuals, due to the fact that they have to conjure up playmates and create their own entertainment, she says. Many parents decide to have one child for purely economic reasons. Although they may be justified, parents need to understand that they will naturally have lots more time with their child and that it's a question of using this time properly. "Remember that there must always be discipline and parents must control their tendency to over compensate. Teach your child to share and encourage him/her to think about others. Don't be possessive or over protective. Let them grow up independently, making their own decisions and so grow up to be responsible adults," is Ms. Kodippily's advice. A misconception where only children are concerned is that they grow up fast. "They don't, they just imitate the adults around them but emotionally they are immature. Treat your children as children. Be friendly with them, but don't try to be a friend to your child. Your child doesn't need another friend - he needs a parent."
---
The mystery deepens at the Wendt
By Ruhanie Perera
'Three blind mice, three blind mice,
See how they run, see how they run,
They all ran after the farmer's wife...'
Who would have thought that this childhood nursery rhyme could be interpreted so grotesquely that it becomes the theme for a series of murders? But, in Agatha Christie's 'The Mousetrap', when the 'farmer's wife' is found dead with a note by the body saying 'this is the first' and a notebook is found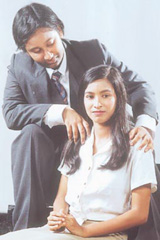 with the first line of the nursery rhyme printed on it, it is obvious a very sick mind is at work. And that two more murders are to follow. The only way to prevent them would be to clear up details from the past and trace their connection with present circumstances.
The police have just one lead, an address in the notebook. A lead that takes a police officer to Monkswell Manor with the hope of preventing more murders.
At Monkswell Manor, which has been opened out as a guesthouse, Giles and Mollie Ralston are putting the last minute details in order. Before long their first guests arrive. Each with their individual idiosyncrasies is far from the ideal guest. There's Christopher Wren, a rather eccentric student of architecture, Ms. Casewell, a very peculiar woman ('that is if she is a woman' runs a line in the script), Major Metcalf, a retired General of the British Army and Mrs. Boyle, who is perhaps the worst of them all.
Old and rather crabby, she starts complaining from the minute she walks in, making a nuisance of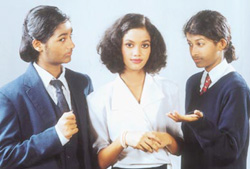 herself and quite successfully getting on everyone's nerves.
Two more 'guests' find their way to the manor. Mr. Paravacini, who having got caught in the bad weather was in need of a place to stay and Sergeant Trotter who despite the bad weather skis over to investigate. Eight people, more or less trapped at Monkswell Manor by the bad weather, wondering which one of them is the murderer or which one of them will be the next victim. The stage is set for 'The Mousetrap'.
Directed by Indu Dharmasena and presented by the students of Visakha Vidyalaya, an adaptation of the original 'Mousetrap' script will be performed at the Lionel Wendt on May 25, 26 and 27. The 16-member cast which sees two sets of actors perform on alternate days comprises Dinusha Chandratilleke, Chaturika Bandara, Thanuri Ellawala, Charya Wickremasinghe, Shamali Jayatunga, Dulanthi Tudawe, Kamilka Malwatte, Kaushali Britto, Dilumini Pieris, Vindya Wijeweera, Denushika Karunatilleke, Maneka Britto, Mudathari Seneviratne, Sashikala Wijesiriwardene, Dinithi Gonsalkorale and Keshani Gunawardene.
Says Kamilka, who plays the part of Christopher Wren, "Having gone through the 'mystery' phase we've all read Agatha Christie and were a little over-awed at the fact that we were to attempt one of her more famous plays. Although at the beginning it was rather scary, I think it's finally coming together now." Used to lighter musicals and one-act plays, the girls are finding out the challenges of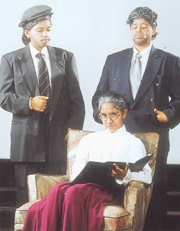 handling a full-length play. The primary challenge being that they have to sustain such intense characters for a long time. "Every character is strange. In short, on stage, we're a rather neurotic, somewhat psychotic group. And it's these unique characteristics that we have to bring out," says Kamilka. "In addition to that each character is hiding something so that they all come out looking suspicious and these intricacies need to be worked out without bringing in the undercurrents."
Says Charya, who plays Mrs. Boyle, "It has been hard. Getting into character takes a lot of understanding. But, by reading the script and figuring out my character from what the other characters feel about me with Indu's direction is getting easier. I need to concentrate on voice projection and the 'oldness' of my character."
One of the younger ones in a cast that has students of different ages with drama as their common link, Charya says that the whole experience has been fun. "There have been some tough times, but when we finally get one little detail (even if it's minute) right it feels so good. All this working together makes our cast feel very much like a family."
Having got the script from Indu with the last and most important pages where the whole play is resolved missing, the girls were forced to read and re-read the play and figure things out for themselves.
"The more we read the play, we realised how amazingly clever Agatha Christie was to work little details into the dialogue."
"If we sustain our characters and bring out the subtleties and nuances that Agatha Christie has so cleverly written into the play, then we'll have a very confused audience. That's what any actor in a play of this nature would want!" the exuberant actors add.

---
Country of contrasts and unity
Ruth Sutton tells of her impressions of Sri Lanka

Stealthily and gradu ally, like a warm, damp blanket on a military mission, it crept up on me. "The heat will hit you immediately," they had all said, as I departed one small island nation (cold, grey, infested with foot and mouth disease and election soundbites) for another.....Sri Lanka.

But the Colombo weather was far more subtle than that. Taking in the scene of organised chaos at the Bandaranaike International Airport, I had been lulled into a false sense of immunity. But with a cunning pincer movement, the heat suddenly overwhelmed me, and I surrendered to the soporific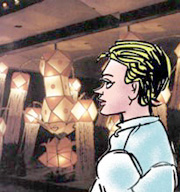 intensity of the humid air.
The raucous sounds of car horns infused my first impressions of this country and these ubiquitous "instruments" have provided the soundtrack throughout my stay. They seem to exert an influence and enjoy a use beyond the utilitarian. More than merely a warning of danger, Colombo's car horns are an exultant announcement of "Here I am!"
I arrived in the middle of the Test series, amid a sea of sunburned and not too sober English fans, and gradually started to find my way through the complexities of the Colombo transport system. Just as I was starting to become quite proud of my trishaw bargaining methods, the match in Kandy concluded, and my newly acquired skills became redundant in the face of capitalism. As the Barmy Army descended on Colombo, trishaw drivers took one look at my still very pale skin, and doubled any asking price.
A country of contrasts co-existing in a melting pot of cultures, environments, influences and traditions is the overriding image I have of Sri Lanka.
From the high tech modernity of the night clubs in Colombo, to the simple thatched structures of a turtle hatchery in Hikkaduwa; from the splendid isolation of Sigiriya to the noisy bustle of Pettah; from the ancient beauty of Dambulla to the heavy machinery of the port. My enduring impressions reflect a country rich in diversity, yet despite the obvious divisive elements, one with a unified identity.
Items of architectural beauty, historical significance and religious observation dwell side by side with the mobile phone-wielding, junk food-eating modern world. The landscape and climates are likewise full of intricacies and extremes. Barren, sun scorched deserts, where greenery struggles to thrive, and lush vibrant forests, abundant in plant and animal life and where morning dew speckles the rich red soil: all vital components of the same island.
These opposing elements could generate a disjointed picture of Sri Lanka to the visitor, but rather than competing for pre-eminence and jarring with each other, the contrasting images gel to form an air of completeness and self-sufficiency.
Inextricably intertwined, these threads of Sri Lankan life have resulted in some unforgettable and slightly surreal experiences. A cow incongruously ambling past Pizza Hut or an elephant walking through a city would herald astonishment in a European city. Yet it was my reactions of surprise to these events in Colombo that captured the curious stares. A herd of water buffalo trotting by a foundation- laying ceremony (complete with top level military guests, international dignitaries and a tangled forest of cameras, cables and microphones), is another memorable anomaly. Likewise, seeing policemen holding rifles, in full uniform, but barefooted at the Temple of the Tooth.
May Day in the UK has traditionally been marked with the singing of spring songs, pagan celebrations and maypole dancing. However, this has been recently overtaken by the more contemporary "traditions" of drinking all night, jumping off bridges into freezing rivers, and anarchic protests. It was, therefore, quite a delight to find that Poya days and May Day here are dignified with respectful celebrations in the spirit of which they were originally intended, without being marred by the irreverent advances of commercialism or an alternative agenda.
The red attired motorcyclists carrying flags, a marching band, large portraits of Socialist heroes and lines of red shirted workers were a glorious display of solidarity and pride. The May Day "festivities" I had left behind were, by stark contrast, noted only for their mindless violence.
New Year and Vesak also proved to be unique occasions that could not have been experienced anywhere else in the world. Even if one could reproduce or transport the colourful pandals, dioramas, lanterns and ceremonies, the atmosphere cannot be replicated. It is the strong sense of community and co-operation that will remain etched in my memory. Shopkeepers, businessmen, clergy, children and trendy youths rushing about with an air of anticipation; putting aside differences of attitude, age, and fashion to get the Vesak lanterns and decorations in place. Whatever the differences, the spectacular lights produced a sense of peace and an allied whole.
In travelling half way around the world, while I am intrigued by the new experiences all around me, I am continually struck by the negative aspects of human nature that seem to be universal.
Through researching Sri Lankan history and politics, reading the papers and watching the news, it becomes clear that the unpleasant side of humanity is depressingly recognisable wherever one goes. The language of ethnic, territorial and religious conflict echoes the familiar. Rather than being frightened by reports of rioting, intolerance, a curfew and an escalation of hostilities, I found myself upset by the "normality" of it, having experienced similar problems in Kenya, Pakistan and Northern Ireland.
To a first time visitor, Sri Lanka is a unique, yet not solitary island. It has the distinctive character of a country secure in a diverse heritage and multi-faceted present, despite the obvious hurdles in the path of islandwide peace. I get the impression of a country that has successfully incorporated and assimilated a wide range of cultures and ideas to form an individual identity, rather than dispersing into a bewildering jumble of contradictions.