Mail @ ease

Email is fast becoming 'THE' method of communication and even people who meet each other everyday seem to 'keep in touch' by email (better known as forwarding junk). The age where an email account would cost us a day's income is very much a part of what we call "recorded human history", and everybody and anybody seems to be 'virtually' @yahoo.com or @hotmail.com (in the literal sense of the word). Signing up for a free email account is quite simple and despite popular myths, they are as good (if not better) than the ones that we have to pay for.
Among the many Internet sites which offer free email accounts, some of the popular ones seem to be hotmail.com, yahoo.com, lycos.com and email.com. Most of them have practical problems that some of us do not know how to overcome. One of the reasons that limit the email usage of most of us who have email accounts with these sites is the fact that we have to log-on to the Internet (and stay there) to read our mail spending more than our day's income on the Internet bill. Microsoft, cunningly have come up with a solution by making it possible for those with hotmail.com accounts to configure Outlook Express to download their email and make it available offline too without any hassle at all, but what about the others?
Well the fact is, there is a solution to this problem but we need to understand a few basics before we can approach it. Having an email account means that we can send and receive emails, right? If we go a 'bit' deeper into the matter, this is how it is made possible. We receive email, through or rather into a special kind of server in the Internet and the most common types of these servers are the 'POP3' and 'IMAP' types. Likewise to send emails we need to have another kind of server, the common type of which is called 'SMTP' servers.
The point is, if we know the 'addresses' of our 'POP3, IMAP' or 'SMTP' servers, we will be able to configure Outlook Express, Microsoft Outlook, Eudora or any such program to download all our email and make them available to us when we are offline. The 'catch' though is that there is no way that we can guess what our POP3, IMAP or SMTP servers are, and the only legitimate way to find out is by referring the site or by asking the webmaster or member services. A notable fact about this is that these programs can delete all the email messages in the server after downloading them, thus clearing the 6MB or 10MB of free server space that we get. Then we also have the option of typing in all our email messages offline (any number of them) and in one transaction, send and receive our emails in a matter of one or two minutes.
Most of the sites do not give the addresses of their POP3, IMAP or SMTP servers in the site itself and some others are governed by copyright laws that make it illegal for me to publish them here. There are no such problems with yahoo.com, so I will take the liberty to demonstrate how you can configure Microsoft Outlook (my favourite) to manage an email account with yahoo.com as an example of what you have to do. Basically the same applies to other email managers as well and if you know what your POP3, IMAP or SMTP servers are, it should be quite a simple task to configure your email manager to work with your email service provider be it SLT, Yahoo or whatever.
All yahoo.com accounts have a POP3 server for incoming mail and a SMTP server for outgoing mail. Once you have Microsoft Outlook running, choose 'Accounts' from the 'Tools' menu. Then in the 'Internet Accounts' dialog box, choose Add>mail. Then in the "Internet Connection Wizard" you will be asked to give a display name. When you send emails, the recipients will see this display name as your name in their 'Sender' column. Then you will be asked to enter your email address which in this case would be ......@yahoo.com. Now comes the moment of glory, as you will be asked to specify your POP3 and SMTP servers. The POP3 server for Yahoo mail is "pop.mail.yahoo.com" and the SMTP server is "smtp.mail.yahoo.com".
Once you are done with that, you will proceed to enter your user name and password, but make sure to keep the "Log on using secure password authentication (SPA)" box unchecked and if you have any doubts about security keep the "Remember Password" box also unchecked. Then you will be asked about the way you connect to the Internet and the name of the connection, after which you are done and ready to torment all your friends with loads of emails.
You have the option of having multiple email accounts and with the rules wizard you'll find in the tools menu, you will be able to organise your email to a great degree where you can specify different folders for each sender and so on. All you have to do is hit the Send/Receive button and you will have the world of electronic mail quite literally at your fingertips. Happy mailing to all.

---
Virtual world
Last week we discussed what avatars could hold for us in the future. Does it interest you to imagine a time when we could work from home? You could attend a distant conference or an important meeting in a realistic 3D environment without having to suffer ourselves through heavy traffic or long flights possibly with a degree of interaction that makes the experience quite real. Here are some other websites you could visit that are very much headed in that direction.

www.worlds.com
www.cybertown.com
www.habbohotel.com
www.ananova.com
www.glasgowrecords.com
www.glasgowrecords.com
www.digimask.com

Worlds.com is a cyber community of millions of avatars that move around, chat and interact in a 3D environment. To take part in the activities you'll need to download the 'worlds player' on to your computer. Cybertown is a virtual community set in 2089 and after you have chosen your avatar, you can live a virtual life, have a job, have a house that other avatars can visit, buy and sell things and even own a pet! They don't end there and you can have 'virtual' life that is complete with visits to night clubs, going shopping and gambling. In order to interact in cyber town, as well as many other 3 environments in the Internet, you need the Blaxxun Contact plug-in. This is not compatible with Macs though but work well with Internet Explorer, Netscape 4 or higher and most versions of Windows.

Habbohotel is a rather small scale web community who meet at this five-star hotel which includes bars and private rooms which you can even create for yourself. Ananova is a virtual news reader in the Internet but you may need to have a higher bandwidth to get any news updates. Taking virtual reality to new levels is digimask.com. By sending in just two photos of your face and side profile, the programme can create a 3D image of your head, which can be displayed in real-time 3D, animated to speak and show emotion. This life-like representation of yourself can talk to anyone you send it to.

---
Backstreet Boys to split?
If you are a fan of the Back- street Boys you would wish this bit of news was not true.

According to a report published in The News Of The World last week, the Backstreet Boys are set to split up at the end of their current world tour.

The band comprising AJ, Nick, Howie D, Brian and Kevin have been around for eight years.

It has been a huge success for more than half that time and want to leave the scene when it is at the top. The "Boys" now young men are expected to release a greatest hits album early next year and that would be the end of the Backstreet Boys' story. The quintet have no plans to record as a band again. The Boys, however, could opt for a reunion tour - something on the lines of New Edition, Jackson 5 and the Eagles' reunions.

News of the impending break up was leaked by an insider as each member of the group is said to be worth over $ 141 million. It could also be a forerunner to the careers some of the Boys intend to pursue on their own. Reports suggest AJ will be touring as Johnny No Name, while Brian is going for a solo career and Nick will manage a band.

The Backstreet Boys' current album 'Black And Blue' has sold over eight million copies worldwide but there is speculation the hype connected with the group is fading as the album now sits on the bargain counters of many record shops.

Billie Piper the 18-year-old popstar married 34-year-old Chris Evans. Dee Jay and owner of Virgin Radio (UK) on May 6. The wedding was held in secret in Las Vegas. The couple had said they were planning to get married soon but kept everyone guessing about the date and place. Reports suggest the cost of the nuptials was £285 only while the couple are now worth over £15 million.

Billie was one of the youngest females to debut at the top of the UK singles chart aged 15 in July 1998 with the song 'Because We Want To'. She was still at school in Swindon at the time. Ginger- haired and colourful Evans was on the verge of buying Virgin Radio.

Geri Halliwell's 'It's Raining Men', holds on to the UK singles crown for a second week. The song is very popular as it is featured on the soundtrack of the movie "The Bridget Jones Diary".

Geri has been been making personal appearances with radio airplay helping sales of the single to retain its hold on the No: 1 position. With over 200,000 copies sold 'It's Raining Men' - the cover of the Weather Girls has been certified with a Silver Disc by the BPI.

Meanwhile, the ex-Spice Girl decided to endorse Prime Minister Tony Blair's bid for another term by supporting Labour's election campaign. Geri appears in a TV advertisement for the Labour Party featuring the Lighthouse Family hit of 1996 'Lifted'.

The former No: 1 song 'Don't Stop Movin' by S Club 7 which remains at the No:2 position for a second week has sold over 400,000 copies and been certified with a Gold Disc.

At the No:7 position is Gabrielle's 'Out Of Reach' also featured on the movie soundtrack "The Bridget Jones Diary." It has been certified with a Silver Disc.

The other singles with Silver Disc status in the Top 20 are 'Survivor' a former No:1 by Destiny's Child, 'Lovin' Each Day' by Ronan Keating (which sounds like the New Radicals 'You Get What You Want'), 'Butterfly' by Crazy Town and Emma Bunton's 'What Took You So Long'.

The song 'Clint Eastwood', by Gorillaz and 'Teenage Dirtbag' by Wheatus have received Gold Discs while 'It Wasn't Me' by Shaggy and 'Whole Again' by Atomic Kitten have Platinum Discs to their credit.

Michael Stipe the front man of REM has revealed he is gay, in an interview published in the Time magazine. He said he has been in a gay relationship for three years.

Though his partner isn't a celebrity, Stipe described him as an "amazing man".

---
Songbirds
By Laila Nasry
The noisy audience at Circle of Life falls into silence as the hall reverberates to the powerful singing of two ladies perched on bar stools.

"It was just a week before the concert that we chose what to sing, and that too took us a good two days," says 23-year-old Dillain. "We had only one proper practice before the show," adds her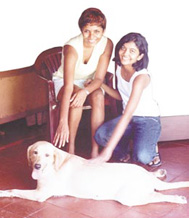 younger sister Dillai.
For sister-duo Dillain and Dillai Joseph, singing is in their blood. "Our mother used to sing a lot," says Dillain, "and as kids we used to sing with her." Their mother was part of a '70s band called the Winslow Six, which did a couple of concerts and gigs and the young ones too got on stage at an early age. "My sister and I were her backup singers," Dillain recalls. "Ammi used to have a few original songs. She'd put the tape on and say this is your part and this is Nangi's and we used to sing."
But taking part in concerts was no big deal. "Nobody in school knew and we didn't talk about it because it really didn't matter that much," they said.
Dillain and Dillai both prefer folk, rock and jazz to pop that is spewed out on a mass scale today. Though their tastes in music are similar their strengths in singing are different. "She's a soprano and has a very powerful voice," says Dillai of her sister. "Dillai is good at harmonising. And that's not just a few lines. She can harmonise anything from beginning to end," Dillain is quick to add, both in obvious pride of each other's abilities. "Dillai harmonised to our fish-monger's tune of 'malu malu....' one day, and spying on him we saw him standing opposite our house looking all confused," Dillain laughs. Singing is a hobby to them, just another fun thing to do. After their mum stopped her music it was a case of singing in school for the girls. "At CIS we used to take the assembly and sing a bit at it." They were a perfect team. Dillain's ability to play the guitar and Dillai the piano by ear, helped. Afterwards their singing led them to a few gigs at the Cricket Club Cafe and the JAIC Hilton. "We performed there two or three times."
Currently they are doing 'something' for TNL.
Both don't see an ultimate career in singing. Right now they are busy with their studies, Dillain doing a degree in business management at ITS and Dillai hoping to become a graphic designer, doing CIM at Synergy.
Dillain who has also sung alone on a number of occasions including the Millennium Concert and the Showboat Karaoke Championships where she was placed first runner-up, is setting up her own band.
"I'm not a soprano singer. I don't have a powerful voice. For me it's all about harmonising, overlapping," says Dillai who loves unplugged stuff and composing music. She has two originals to her credit. "She has promised to compose a song for me to sing," Dillain adds with a grin.