---
A colourful experience
By Ruhanie Perera
Kids of all ages and sizes strolled up and down the sidewalk outside Colombo's Vihara Maha Devi Park. The slight drizzle didn't bother them as they concentrated hard, heads bent and foreheads creased. In their colourful attire, quite unconsciously, they themselves made a perfect picture, with the greenery of the park providing a lush backdrop to the blend of colours they provided.

It was a day for all the aspiring young Picassos, Van Goghs and Keyts when the long awaited 'Colour for Hungary' art competition, sponsored by the Hungarian Consulate, Reeves, Sri Lankan Airlines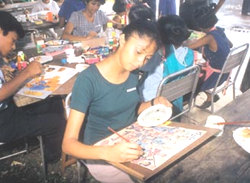 and the Funday Times, finally took place last Sunday.
This competition aimed at giving children interested in art a chance to explore their creativity in a medium of their choice, be it water colours, crayons or even pen and pencil drawings; and through that to develop their talent and individual style of expression. The organisers' hoped to also make the younger children aware of Hungary, for they anticipated that the little ones would be interested in knowing more about the country when its name appeared on the title of the competition.
The 105 finalists present that day were chosen from 1450 candidates and were divided into three categories. There was the 4-8 year group, 9-14 year group and the 15-18 year group. Five themes were given for the participants to choose from, so that everyone there could find a theme suited to their style and capability. The themes were 'Temples and ancient cities', 'Coastline', 'Festivals in Sri Lanka', 'Wildlife in Sri Lanka' and 'Sri Lankan traditions'. At the end of the five hour period stipulated to complete all paintings, lively scenes of people participating in traditional avurudhu festivities, peaceful sunsets, calm seas, scenes depicting people engaged in worship and prayer and scenes from the jungle began piling up and were then displayed for the judges.
Six-year-old Isuruni Kumarnayake, one of the winners in her age group, was putting in the finishing touches on her painting. "I love art," she said with a big smile and added that she was just following in the footsteps of her older sisters and brother. The Kumarnayakes - Thilini (17), Saumya (15), Ruwan (13) and Isuruni - were an artistic family indeed, all four becoming finalists in their age groups.
It was when they started drawing on the walls at home that their mother sent them for art lessons, little realising they would come this far. Added to many other competitions the four have won, both Saumya and Isuruni were chosen for the Shankar art competition 2000 in Delhi, where Saumya won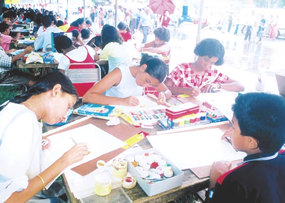 the Jawaharlal Nehru Gold Medal and Isuruni won the Silver.
Yet another participant 16-year-old Dayakshi Abeyratne (a student at Hillwood College, Kandy) spoke of how she first got involved in art. "I remember when I was in Year 1, I used to cry saying I didn't want to study because I only wanted to draw," she smiled.
Drawing 'Sri Lankan Festivals' for the competition, she was just completing her painting of 'Avurudhu' using a technique that comprised a series of tiny dabs of paint that she has developed over the years. "I've won many competitions using this technique. I was told that this was called 'collage technique', but I didn't know about all that when I started. I just started drawing like this by chance and liked it so much I've stuck with it."
One of the judges Noeline Fernando, herself an artist of repute was very impressed with the work she had seen. According to her the wealth of talent she observed that day was remarkable. So much so she felt that more camps, if not competitions should be organised for these young artists because she felt that they had responded so well to the encouragement they had received. "Their individual styles and techniques are so diverse. Seeing them is an education even for me," she said.
---
Music ablaze
By Rochelle Jansen
Twins, cousins, friends. Quite a combination one would think. And rightly so. For this unusual combination are unique individuals with a common goal and passion. A passion for music. And a goal to make music that is different.

The most 'different' aspect of their ensemble is their endeavour to present both gospel and secular music. To date they've got about nine originals of both gospel and secular compositions. They make it a point to start each practice with a prayer and present at least one gospel song when performing. The members are a fun loving bunch of young guys and say they owe their initiation to music to the Christian upbringing they've had and the music that surrounded them. Now, don't get me wrong, their music is not boring 'goody goody' stuff. Experimenting with every type of music with the exception of hard rock has given both their gospel and secular music a new spark.

'Blaze' as they call themselves, originally started out with just two members - Rukshan and Bertram (Berty). Rukshan, a live wire of the group composed a song in 1997 and together with Berty's rich, haunting voice and the help and guidance of Dilup Gabadamudalige, a track was made. That was the beginning of 'Blaze'. Dilup's contribution by way of guidance and the imparting of a few tricks of the trade was invaluable in giving them a firm foundation. And with his encouragement and backing they performed at a Christmas programme aired over Rupavahini with an original gospel composition by Rukshan in 1998. In fact they affirm that the reason they are a band is because of Dilup.

The year 2000 however saw 'Blaze' going places. Noteworthy was TNL's 'On Stage' competition - where they made it to the finals. For the first time 'Blaze' ventured into new territory ľas a live band. And although the line-up changed a couple of times 'Blaze' expanded to its present membership of nine.

They still do tracks though. But now they have Suresh De Silva to help them out in that department. Suresh has also provided them with several opportunities to perform, even with big names like Dalreen Suby.

The line-up now comprises Rukshan Lokuge, Bertram Charles, Gayan Fernando, Suranjith, Shantha Deva Perera, Viranjan Perera, Eranjan Perera, Rasitha Ferdinando and Roshanka Peiris. Another interesting fact about the group is that it is also a web of music groups. (No, they're not spiders!). When 'Blaze' expanded into a live band the members who joined already belonged to different groups and still do!

Shantha Deva, Viranjan and Eranjan are part of a Christian music group. Shantha Deva, Viranjan, Eranjan and Rasitha have been singing together since the age of six at family weddings and family functions, the four of them being cousins. (Incidentally Viranjan, Eranjan and Rasitha's fathers too were in the band that called themselves La Bambas).

Viranjan and Eranjan, yes they're the twins, have dreams of producing a CD of original Sinhala compositions (mostly love songs) and thereby making their mark in the music industry_ the first twins to do so.

Rukshan plans to explore other opportunities of working with other artistes and Berty too is working on his music apart from the group.

Roshanka the main keyboardist in 'Blaze' has his ATCL in music and was among the six finalaists of the 'Young Musician' of the Year competition in 1998. He plans to participate in the British Federation of Music competition this May.

So does this 'web' affect their commitment to 'Blaze'? Not in the least. They are all committed to making 'Blaze' a blazing success.

Their ensemble is also well equipped with four song writers (Rukshan, Berty, Gayan and Suranjith), guitarists, keyboardists, percussionists, a drummer( Shantha Deva) and of course, they can all sing.

As for future plans, they plan on producing a CD by December and ultimately a concert if all goes well.

Well they've certainly got talent and they've certainly got the enthusiasm, and they make music that makes them and the listener happy. With a little more time and perseverance, they are bound to stamp their identity in the local music scene.

---
Sampling wonder
By Ranidu Lankage
Anything's possible. It is, in terms of sound. Thanks to one of the latest phenomenons in music technology by the name of "sampling", musicians today have access to any sound they need, from anywhere in the world. This means there would be no boundaries in the production of music anymore. For instance, a producer in America could have a brilliant piece of tabla playing from India in a production of his without even knowing who played that particular piece or better yet, without even knowing the shape of a tabla!

The electronic device that makes all of this possible is known as a sampling synthesizer (or "sampler"). It actually has no internally generated sounds at all. Instead it uses external sound sources - like acoustic instruments, the sounds of nature or the human voice to perform sampling.

"Sampling is duplicating a sound, storing it digitally and using it later," said Mr.Ossie Nugera, well known audio engineer who has his own recording studio-Q audio. Sampling, Mr. Nugera says, could be regarded as taking a digital photograph of a sound. Says Mr.Shane Pillai, the chief audio engineer at Take One studio, Colombo, "The most advantageous factor in a sampler is that you can record a certain sound and use it in multiple ways later."

Sampling as you might have guessed by now is a digital technology. It does not use conventional tapes or any other recording devices. Instead the external sound is analyzed by a microprocessor, chopped up into tiny pieces and stored in the sampler's memory as a huge array of numbers. Once the sound has been recorded or "sampled", it can be mapped over the keyboard and used exactly as the internal waveforms of the traditional synthesizers. This means you could record any sound you want (e.g.: - your voice) into a sampler and play it back using a keyboard.

Also by varying pitch and using things like effects on your samples (this is what you recorded on the sampler in this case your voice) you can create whole new sounds which are different from the original sound you recorded. This makes the musical promise of a sample multiply immensely. For instance you can make your voice sound like that of a chipmunk's by modulating it to a higher pitch or make it sound like a robot's by adding an effect.

Going into the history of samplers, I found that as recently as fifteen years ago, samplers were bulky pieces of equipment which used extremely advanced technology and the few sampling instruments available at that time (like the famous Fairlight CMI) had price tags similar to Ferraris. Also operating these awesome work stations needed a substantial amount of training. But with time samplers have evolved and become much more user friendly instruments which cost substantially lesser that what it was back then. Making them a common necessity in studios around the world.

In Sri Lanka too samplers have been in use for quite some time. Mr. Nugara started using a Roland S330 as early as 1986 while Mr. Pillai has also been using samplers for some time now and uses the very popular Akai S3000 XL at present. As for manufacturers of sampling instruments the most popular at the moment remains to be Akai with brands such as Roland, E-mu and Korg following.

Another interesting development in the sampling world has been the introduction of software samplers. These are computer programs which emulate the work of a hardware sampler. The Giga sampler by Nemesys and Samplecell are the front runners in the software sampler market today. Both audio engineers I interviewed said that software samplers were much more user friendly and often had more features to them than the hardware ones but they also admitted that problems do arise when it comes to using them at live performances due to the hassle in transporting computers.

Now we come to the raw materials of sampling, that is the samples. Samples could be acquired in many ways. Hiring a session artiste and recording live samples of what you want is by far the best way. But this might be off budget for many artistes around the world. So we come to the second and most popular alternative, buying third party sample CDs. This has become a lucrative business worldwide with CDs including a wide array of samples from African tribal vocals to Latin drum loops to Techno Synthesizer riffs being up for sale at music shops and on the internet worldwide. Another simple way to acquire Samples is to download them directly from the Internet from various free and pay sites.

So the next time you hear a rap song with Indian vocals or techno with tablas you will know how the sounds got there in the first place.