All you should know about carrots Food and fitness
Ever wondered if you've been eating wrong? Whether all those potatoes have been the cause of your weight gain or why your skin's so spotty, despite a regular intake of vegetables? In our new weekly series on 'Food and Fitness', consultant dietician Noor Iqbal, offers insights on many common foods.Ms Iqbal, consultant dietician/nutritionist at the Nawaloka Hospital will also answer your food queries. Please send your questions to: 'Food and Fitness', C/o The Sunday Times, No. 8, Hunupitiya Cross Rd, Colombo 2.
By Chris Fernando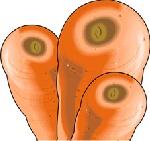 Carrots belong to a family of vegetables that has about 2500 members including the common parsley. There are also various types of carrots.

Carrots are an excellent source of beta-carotene, which is believed to help prevent the onset of cancer. The body converts this beta-carotene into Vitamin A. Carrot is one of the best sources for this vitamin. It also contains calcium, potassium and other trace elements.
How to buy carrots
You must always look for firm, smooth carrots that have no cracks, bruises, soft spots or knobs. Avoid the flabby ones and those with damaged or decaying stems. A deep orange colour indicates that the carrot is sweet. Those with green areas on the crown are sun burnt, but this does not in any way affect their quality.
Ideal consumption
One pound of carrots serves three to four people and is equivalent to three cups of grated carrot. You can eat it as often as you like, either raw or cooked. It is ideal if you can eat carrots at least three times a week. You can also eat it any time of the day, for breakfast, lunch or dinner.
How to use carrots
*You can eat it raw in the form of sticks or shredded. This is excellent as a snack or in salads and appetisers.

*Carrots can also be cooked. When shredded, the vegetable will cook in five minutes, when sliced, it takes ten minutes and the whole carrot will take 15 - 20 minutes to cook.

*Carrots add sweetness and flavour to soups and stews.

*It is better to steam rather than boil if you want to retain its nutrients.

*Carrots can also be juiced into a beverage.

*Carrots should never be peeled, because most of the nutrients are in the peels. In order to clean, you must simply scrub off any dirt with a vegetable brush, remove ends and rootlets and wash well.
How to store carrots
Raw carrots should be refrigerated in tightly sealed plastic bags. Long term storage and exposure to ultra violet light can destroy carotenoids.
Why you should eat carrots...
*Research has linked low beta-carotene levels in the blood to increased risk of some cancers. Vitamin A is necessary for healthy vision as well as for the maintenance of the mucous membranes.

*Just one carrot a day is enough to improve night blindness, the inability to adjust to dim lighting or darkness.

*Pureed carrots are good for babies with diarrhoea as they provide essential nutrients and natural sugars.

Health hazards due to over-consumption

*Don't drink too much carrot juice. Your skin may turn orange.

Who shouldn't eat them?

Patients with renal failure whose potassium levels are high should avoid eating carrots.

Maintaining the vitamin levels in your body

Many nutrients work together to maintain good health. Vitamin A needs B complex, C, D, E and minerals to be fully functional in the body. Substances that limit the availability to the body include coffee, alcohol, laxatives and an excess of iron.

Nutritive value of carrots
Carrot (1cup) Raw (grated) Cooked (from raw) Cooked (from frozen)

Grams 110 156 146
Water% 88 87 90
Calories 45 70 55
Protein (gms) 1 2 2
Carbohydrates(gms) 11 16 12
Calcium (mg) 30 48 41
Phosphorous (mg) 48 47 38
Iron (mg) 0.6 1.0 0.7
Potassium (mg) 355 354 231
Vitamin A (IU) 30.940 38.300 25.850