Getting 'veggie' friendly
By Laila Nasry
Suddenly, people are thinking twice about eating meat. Those who blithely savoured their beef steaks and 'mus curry' are having doubts. While the scare over diseased meat prompted by the sudden emergence of Foot and Mouth and Mad Cow disease is one reason for this reluctance, another is a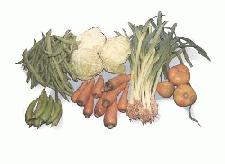 growing awareness of animal rights.

More and more people are becoming 'vegetarians by conscience'; turning towards vegetarianism because of what they see as the cruelty inherent in consuming animal flesh.

And vegetarians today are determined to take their stand in a commercialised society that tends to ignore their needs. Slowly but surely, their strong beliefs of healthy living and non-cruelty to animals are filtering into society. But it's an uphill task. For today's commercialised world tends to cater solely to non-vegetarians.

"Various aspects of food ignore the vegetarian," says Ms. Penny Jayawardene of the Poorna Health Care Trust, an organisation set up to promote vegetarianism and healthy living. She cites the use of gelatin in desserts and rennet in cheese as examples of how foods that on the surface would seem 'safe' for vegetarians, could in fact, be 'tainted'. "When we go to the supermarket we have to scan the ingredients column in most products to check whether they're purely vegetarian in content."

If vegetarians should be on guard while shopping, they must also be watchful while eating out. A scrumptious chocolate mousse or marshmallow pudding may seem very innocent and tempting but beware! It could contain gelatin or egg white. Moreover at most restaurants, vegetarians are rarely given the choice of a purely vegetarian menu.

Even simple household items like the ubiquitous soaps contain animal fat.

Ms. Jayawardene believes that such a situation is a result of the consumer demand created by non-vegetarians. "The supplier just meets the demand. The cruelty lies in their demand. However insignificant it may be, it still makes a difference," Mrs. Jayawardene says.

She suggests two ways to remedy the situation. Creating greater awareness and as vegetarians having their demands met.

"We have to make our presence felt," she stresses. The Poorna Health Care Trust is already canvassing for separate counters displaying vegetarian-friendly items at local supermarkets and purely vegetarian menus at restaurants. They are also actively campaigning against the use of children in promotional activities involving non-veg. items.

Ironically, for a country that has a majority of Buddhists in its population and which is steeped in the Dhamma, vegetarians are few. Ms. Jayawardene feels the situation needs to be remedied. "We are deviating from our heritage and culture," she says. Greater awareness stems from creating such awareness within the family and the community.

Today April 8, the Poorna Health Care Trust together with The Centre for Healthy Living of the Dharmavijaya Foundation- which is involved at the grassroot level in promoting such activity- will hold a food fiesta. Their aim is to promote the vegetarian cause in keeping with the approaching Avurudu festivity.

The food fiesta is an attempt at educating the vegetarian whilst catering to his/her needs. Among the highlights of the day's events are a cookery demonstration conducted by Mrs. Mallika Joseph on how to prepare tasty vegetarian dishes, followed by the launch of a cookbook of vegetarian recipes. There will be stalls selling purely vegetarian items from vegetables and fruits to soap, cheese, ice cream etc.

Films in Sinhala and English featuring health and environmental topics will be screened throughout the day with literature on health topics and vegetarian diets available for sale.

At noon, special lunch packets and lamprais in true vegetarian style will be on sale together with vegetarian fast food including burgers and Chinese rolls. Dinner dishes will also be on sale. The food fiesta will be held at the Dharmavijaya Foundation at 380/7 Sarana Road off Bauddhaloka Mawatha, Colombo 7, from 9 a.m. to 8 p.m.
Respecting life
"Vegetarianism is not just relieving one's stomach of being a graveyard of animal cries," says Jashu Shah, the President of the Asian Vegetarian Union and Secretary of The Vegetarian Society of India. He was in Sri Lanka on a promotional tour for the Asian Vegetarian Congress to be held in Goa from October 14-20.

Taking vegetarianism beyond a world of consumerism, he stressed the importance of non-violence of thought as much as non-violence of action. Talking of reverence for life, he emphasized the concept of non-cruelty between not just mankind and animals but within mankind itself. "Why do we have wars in the world?" he questions. "Because people don't have enough respect for life. Vegetarianism is life. Eating only vegetarian food is the starting point of respecting life."

---
Cancer busters
By Dr. D.P. Atukorale
People who fol- low vegetarian or near vegetarian diets have the lowest rates of cancer in the world. There is evidence to show that vegetarian diets protect against breast cancer:

i. Vegetarians have lower levels of blood estrogens- hormones that raise the risk of breast cancer (B.K. Armstrong et al 1990).

ii. Vegetarians begin menstruation somewhat later than average and there is a longer time between periods. Dietary fat shortens the menstrual cycle while fibre increases it. (Cassidy et al 1990).

Colon cancer

Diet is more strongly linked to colon cancer than to any other type of cancer and vegetarians are less liable to get this disease. (Journal of National Cancer Institute, Vol. 30:1983).

In vegetarians, unlike in meat eaters, colon cells are much less active (The more the colon cells divide, the greater the risk of cancer). Secondary bile acids which are carcinogenic are more in omnivores compared to vegetarians.

Oesophagus and stomach

Although tobacco and alcohol intake are major risk factors for oesophageal cancer, a low intake of vitamin A and C are also associated with increased risk of this cancer. Lack of consumption of fruits and vegetables has been linked to cancer of the oral cavity. Vegetarians have higher blood levels of betacarotene which is thought to protect against cancer. Polyphenols prevent cancer of the oesophagus and the stomach and non vegetarian diets contain powerful carcinogens such as nitrosamines. Vitamin C found in fruit juices inhibit these carcinogens.

Prostate

Among men in the, USA prostate cancer is the second most common malignancy but this cancer is not common among Seventh Day Adventist men as compared to general population, suggesting that vegetarianism is the protective factor (American Journal of Clinical Nutrition, 1994). High fibre intake decreases the risk of prostate cancer and high fat intake raises that risk (Cancer, Vol. 58, 1986).