Home is not where the heart is
Home is where when you go they have to take you in, wrote the American poet Robert Frost.

I have a Sri Lanka passport and so the immigration authorities in Colombo cannot stop me from entering. That is if the declarations of the United Nations mean anything to our officials who, like our politicians, are fast becoming a law unto themselves.

The United Nations states that every person has a right to return to his country. What happens thereafter is not exactly the concern of the world body.

I am a permanent resident of Hong Kong where I lived and worked for 10 years. And when I enter or leave Hong Kong, as I did last month I don't have to show my passport, just my Hong Kong identity card.

For nearly two years now I've been living in the UK. And here the immigration officers at Heathrow know who you are, what your profession is and sundry details before they can even pick up your passport, as they proved when I returned. All very impressive and intended to make a point of course.

In the last month I travelled in and out of all three places. Robert Frost is only partly right. Home is more than where they let you in. Home is also where you are welcome, where you are comfortable and where you feel you belong, even though you might have been away for some years.

In that sense I feel least at home in the UK. It is not just the weather and the general British demeanour that goes with it.

It is all about how disappointing Britain has been from the wonderland it has been portrayed to be. Everything from public transport to the national health system, the banking services, education and what have you are outdated and cannot stand the strain of modern society.

As the Irish poet Yeats wrote some 80 years ago, "things fall apart, the centre cannot hold and mere anarchy is loosed upon the world".

The first day I returned to work-a Monday- signal failures and other disruptions made the normal 45 minutes or so trip, a tortuous journey into the unknown. It was like that most of the week making one wonder how the British ever ran an empire. Well, they had the advantage of the wealth and genius of colonised people.

The contrast was greater for I had just returned from Hong Kong where the sleek Hong Kong underground called the Mass Transit Railway(MTR) was even more efficient than I had previously known it to be. While I have waited 40 minutes for a London tube on many occasions and have, as a rule been ejected from one or more trains a day because the British cannot even make up their minds whether a train should go forward or backward, in Hong Kong the longest I waited was 50 seconds. Usually it was 11-20 seconds for a train.

It is this super efficiency of Hong Kong, everything from the civil service to the service sector, that makes one long for life in Hong Kong.

When I arrived at Hong Kong's sleek new airport a Sri Lankan friend I had known for many years was there holding a placard "Welcome home". Nothing had prepared me for this and indeed I felt I had returned home.

Home is where one is not only welcome, but also happy and comfortable.Sri Lanka is home but can one be happy in a society where political chicanery, corruption at every level, thuggery, intimidation and lawlessness have become endemic.

Can one be happy in a home where political power and influence count more than honesty and principles and the ordinary citizen must pay the price? Perhaps political freedom is circumscribed in Hong Kong, but it is a society which offers a "level playing field" instead of the commission-grabbing influence wielders in Colombo. Hong Kong remains a remarkably corruption-free society.

It was doubly nice not only to return to such an atmosphere but also be warmly welcomed at the many places I returned to including my former office in Kowloon Bay.

One of the first places I returned to was the basement bar and restaurant "Some Place Else", at the Sheraton Hotel and Towers in Nathan Road. In former days I would spend three to four nights there listening to the lilting music of that Sri Lankan couple Priyanthi and Raj.

Home is also where people have not forgotten you. The table that used to be reserved for me was again there for me at Some Place Else. Some of the old hands greeted me like a long lost friend.

Life in Hong Kong is not complete without the usual raucous Sri Lankan parties held in apartments that are not like Colombo homes but are more than homely

It was one hectic week that started with a Sunday lunch with some Sri Lankan girls working for Cathay Pacific, other friends and a former maid of ours turning up with home cooked delicacies including cadju curry to supplement the ambul thiyal, fried dried fish and seeni sambol I had taken along.

Then it was dinner with some newspaper friends.

Yes, my heart might be in Sri Lanka, but Hong Kong I consider home.

---
The battle goes on for political Eves
The few women in local politics say much more could be done in their constituencies, if there were more of them in these councils.
By Feizal Samath
After a decade in public life in Sri Lanka, T. D. Gunawathie wants to quit in frus- tration.

For over a year, Gunawathie, the only woman in the 20-member municipal council of Sri Jayewardenapura, the country's administrative capital, has been trying in vain to ensure justice for her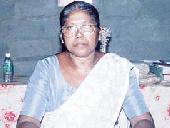 constituents.
But the local mayor, she alleges, is not taking her seriously ''because I am a woman'', and is going ahead with the plan to build a road cutting across land belonging to them.
Gunawathie has tried hard to ensure that proper procedures are followed in the acquisition of land for the road.
The councillor, who belongs to the PA, was close to tears at a council meeting held in March- ironically on International Women's Day - when she clashed with the mayor over the issue.
''My constituents are pleading that either their land not be taken or proper compensation be paid and I just can't get the mayor to be reasonable on this issue,'' she said.
''The PA government doesn't live up to its call that more women should take to politics. It's just lip service,'' she complained. Gunawathie has been however persuaded by family and friends to stick on in politics.
However, Umma Thabiya Abdeen, a woman opposition councillor at the Dehiwela-Mount Lavinia Municipal Council, finds public life meaningful.
Though in the opposition, she says she has been able to ''bring about some change'', such as the improvement of a children's playground in the area. She says she has found support among councillors from all political parties.
Abdeen, a mother of five grown-up children, was encouraged by her husband to enter politics.
She says the UNP recognised her abilities and put her up as one of its candidates during the council elections.
''My entry as a municipal councillor should act as a catalyst to women, especially Muslim women, who come from conservative backgrounds,'' says Abdeen.
The contrasting experiences of these women show that while politics is still largely a male preserve in Sri Lanka, a start has been made toward giving women a greater say in public life.
A survey of 18 women councillors in the country found 13 respondents of the view that they had brought about changes for the better in their local government institutions.
The findings of the survey are included in a country report on the state of women in urban local government in Sri Lanka, prepared for the upcoming Asia-Pacific Summit of Women Mayors and Councillors.
The summit, organised by the Bangkok-based United Nations Economic and Social Commission for Asia and the Pacific (ESCAP), will be held in Thailand in mid-2001.
Several of the women councillors felt they had been able to make their administrations more efficient, resulting in better services to the people.
The women politicians also expressed the need to educate both men and women to encourage more women to enter public life.
''They considered it necessary to conduct programmes aimed at...males to make them aware of the dual role of women in society and of the need for women to enter the field of politics,'' the report noted.
According to Sunila Abeyasekera, a U.N. human rights award winner and director of INFORM, a local human rights NGO, Sri Lankan men do not want to give women a chance in public life.
Only eight women were elected to the 225-member parliament in last year's national election.
The situation in local bodies is even worse — women made up just 3.4 percent of representatives elected to municipal councils four years ago.
The country report for the Asia-Pacific mayors' and councillors' summit noted that most Sri Lankan women councillors are also mothers and have to manage households, ''leaving little or no time to participate in political activity.''
''This is a clear manifestation of the nature of the role customarily assigned to women by society at large and also the outcome of unequal division of work in the household,'' it observed.
Four of the women councillors quizzed by the survey said there was social disapproval of women entering politics. They also said that women were ''dissuaded by their elders from participating in political activity.''
However, quite a few of those who have made it to office, are optimistic. ''There are a lot of things women can do for women while in elected positions,'' says Thilaka Herath, a member of the Nuwara Eliya Municipal Council.
Ms. Herath, mayor of the council between the years 1991 and 1997 — one of only three Sri Lankan women to serve as mayor — says she found working with men easy.
''Men gave us their cooperation. I did not have any problems but a lot more could be done if there are more women in politics,'' she said.
Women's groups in the country were pinning hopes on local government polls scheduled for May, which have since been postponed indefinitely. There were plans to persuade parties to announce quotas for women candidates in the elections.
''Women's groups were hoping to raise the issue of quotas through a women's manifesto but alas the elections were postponed,'' says Kumudini Samuel of the Women and Media Collective, a women's rights advocacy group.
Political parties are still not keen to include women's issues in their election promises, complains senior women's rights advocate, Kumari Jayawardene who, through the Social Scientists Association presented a women's manifesto at the last general elections.
Women's rights leader Ms. Abeyasekera of INFORM, said that the dominant view in political parties is that politics is not the place for women.
Sri Lanka was lagging behind India, Nepal and Pakistan in reforming electoral laws to enable more women to contest local council polls, she said.
''When it comes to voting, women are guided by the men and family. They don't take independent decisions on whom to vote for and political parties are aware of this,'' she says.