Simply 'wowing' stuff

The hills were brought alive with arresting displays from the Dave O'Higgins Jazz Quintet writes Eranda Jayawickrema
One of the most outstanding young jazz musicians to have emerged in the last decade or so, Dave O'Higgins' name has been frequently mentioned along with that of Joshua Redman as two of jazz music's future stars. Thus, it was with a great sense of expectation that this writer appeared at the Mahaveli Reach Hotel on March 29th to see the Dave O'Higgins Jazz Quintet in action.
It was not disappointing; for while the performance was a bit too funk-oriented for one's liking (like the vast majority of jazz enthusiasts in this country who acquired their taste for jazz during its golden period 30 years ago, I am bemused by some of the music to which the term 'jazz' has been applied), a strong all round performance by the band, capped by arresting displays from O'Higgins, drummer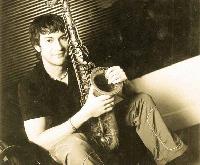 Winston Clifford and guitarist Mike Outram , made for a most satisfying evening.
The band revved up with an original tune- the title was not made clear- which was in a traditional style that most in the audience would have appreciated. This was followed up with Jungle Boss (Modern Exposure), a darker, more intense piece. Its driving, repeated riffs, coupled with odd, watery keyboards, gave a modern feel to this piece, although one felt that the sound was more 'jazzy' rather than 'jazz' itself (perhaps I am still not used to the electronic that has been incorporated into jazz). 'Round And Round In Circles' had a soft beginning, but O'Higgins soon rectified this with a yearning performance on soprano sax, and Jim Watson's keyboards were more suited to this piece. 'Grinders' Monkey', the title track of their last CD, rounded off the first half of their performance. An exuberant number, it had a strong, upbeat beginning and featured some strong guitar work from Outram, as well as a drum solo from Clifford - his first.
Following a 15 minute interval, the audience was treated to 'Decision Time', the first track on 'Grinders' Monkey'. An out-and-out funk track, the sound was a throwback to the 70s with clean, solid and strong work from Clifford, Watson and bassist Sam Burgess forming a showcase for an extended solo from O'Higgins, which was then followed by some deft work by Outram, backed up strongly by Watson's keyboards. This was 'wowing' stuff, although somewhat commercial in texture.
Next came 'Loony Tune', a piece dedicated 'to music lovers everywhere'. An odd dedication, since this was probably the weakest tune of the evening, with a forgettable melody and perfunctory playing. However, the next piece, the Rodgers & Hammerstein standard 'It Might As Well be Spring' (from their only original film musical, 'State Fair') represented the high point of the evening. This was quiet, cool jazz, strongly melodic and featured some lovely work from O'Higgins, as well some 70s-flavour keyboards from Waston and a bass solo from Burgess.
The band concluded with another strong funk track, Big Shake Up- introduced as 'New Orleans meets Funk'. This was another driving track with loud guitar, fast sax and an extended guitar/keyboards/drums sequence which became progressively wilder and unfortunately approached self-indulgence. However, it at least ended the concert on a charged note and reminded the audience of their considerable abilities as musicians.
Their music would have ideally suited an open-air format, as the hotel and the British Council had originally planned, but Kandy's first substantial shower in three months meant a hurried shifting of proceedings indoors and a 50-minute delay. The cramped seating arrangements which resulted meant that the audience was much too close to the staging area, and sometimes precluded a proper appreciation of the quintet's music.
As well as they played, the strong funk element in their work left one worried at how jazz has been gradually subsumed into a 'jazz-funk' category. While being a neither-here-nor-there categorization, this term reflects how pure forms of music are being compromised by being employed to synthesize 'new', bloated styles in an increasingly uninspired, sterile music world. The recent Neo-Traditionalist backlash- led by another young musician, Wynton Marsalis- to the fusion, funk and electronic jazz styles which permeated jazz from the 70s onwards is an accurate indication of the fear that the classic roots of jazz may soon be forgotten in the constant commercial-driven assimilation of other forms and styles.
But one digresses. The British Council should be commended for allowing us backwater enthusiasts the opportunity of seeing one of modern jazz's bright prospects in action.