Kopi kaalé
By Chamintha Thilakarathna.
'Rappo Klappo!!', 'Ole!' And in a more comprehensible language, 'amazing' and 'just great' was how customers at KoffeePot in Kandy described the newest attraction in town. And what exactly are they talking about? The latest, hottest and first Internet cafe opened recently in the hill capital.
Walk along Dalada Veediya towards the Maligawa and Koffee Pot next to Bake House on your left, has 16 terminals and a tempting array of food to help digest the Net. The place is unmistakable.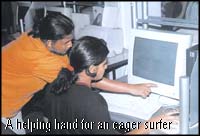 All over the well designed interior are pictures of historical events such as the 'ali kullappuwa' during the Dalada perahera in the 1960s, and pictures of significant places in Kandy many years ago. Packed with both the young and the old, Koffeepot not only offers the cheapest Internet surfing facility in the area but is also the newest hangout among the young.
But why Koffeepot? 'K' for Kandy and 'KoffeePot' for a quick snack and a cup of coffee while you untangle your nerves after a couple of hours on the net And trust me, the freshly ground local coffee there tastes heavenly.
"Actually our idea was to provide cheap, fast access to the Internet for young and old in Kandy and its environs. We have four guides who assist anyone in need of help and we conduct free introductory classes on e-mail and Internet on request," said Managing Director of KoffeePot, Mr. Nadija Weeraratne.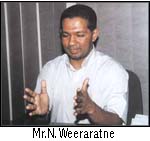 A minute on the Net will cost you Rs.4 and e-mail services for a month cost Rs 200 through their leased line. For how many hours? For as long as you want. Meaning? Unlimited hours, of course. All you have to do is to register at the counter and you will be given a password and a mailbox for all your correspondences. The mailboxes cannot be accessed without the password giving you absolute privacy.
Most often, we find ourselves stuck on the Net waiting for the web page to appear, while the bill keeps ticking. At KoffeePot you can expect nothing less than 'Internet at the click of a mouse'. The 128 kbps line gives speedy access to the Internet.
However, they are careful about exploitation. "We use a filter system to avoid customers getting hooked onto unauthorized sites," said Mr.Weeraratne.
There is a common chat room where notes, messages or issues that you may want to openly discuss can be left on for friends and family. A Sinhala chat room is also available as well as music to suite your taste.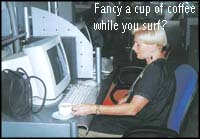 Open everyday from 8 a.m. -8 p.m. with the exception of Fridays when they are open till 9 p.m., KoffeePot has attracted a variety of people from students to professionals to internet hackers.
Some of their customers arrive to check on the stock market overseas, to send course work to foreign universities, to find out the latest in news and entertainment, just to sip some coffee or just to meet friends and send some mail.
For 18-year-old Santhimam studying at Digana, KoffeePot is where she meets her web junkies and sometimes hangs out with friends.
Mr. S. Karunaratne (51) from Lake Round spends four days a week at KoffeePot enjoying a drink while he updates himself on the latest trade situations.
For Palitha Liyanage (25) from Kadugannawa, " the place offers a chance to keep up with technology and to browse the Net."
Twenty-four-year-old Danush Kumar from Dalada Veediya who does not want to tax his father's phone bill trying to surf the Net said that KoffeePot helps him get over the 'cost' problem.
" I must mention that the staff is so efficient, friendly and very patient. I make a lot of mistakes and they always help me voluntarily and very kindly," said a teacher at British Council Kandy, Ava Billings.
Apart from being fast, friendly and efficient, everyone agrees that one gets the best coffee possible at KoffeePot.