---
Yukky, yukky not so yummy
By Chandani Kirinde and Tania Fernando
Some of Sri Lanka's leading hotels which advertise succulent gastronomical delights are said to have sold contaminated food and have not even followed basic standards of hygiene, an investigation by The Sunday Times has revealed.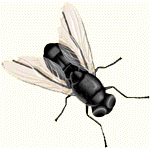 Among them, a hotel well known in the hospitality industry in Colombo, allegedly had in its freezer a packet of sausages with an expiry date of 1999. This came to light when Public Health Inspectors of the Colombo Municipal Council conducted surprise checks in January this year. Hotel authorities were unable to explain how the sausages came to be in the freezer. Nor were they able to say whether other packets of old sausages had been served to customers.
The huge freezers which held the packet of old sausages and other uncooked meat, also held cooked food items in uncovered containers. A CMC official said the fans inside the freezer could easily blow Microbes from the uncooked to the cooked food, thus contaminating them. More shocking, the freezers had not been periodically de-frosted and this had led to the accumulation of fungus.
The kitchen floor of the same hotel was muddy. Stale pastries and rotten onions lay on one side while fresh meat was kept close to a drain before being taken for cooking, he said.
Besides the Municipal Health Authorities, officials of the Ceylon Tourist Board also carried out an inspection of the same hotel. The result was a strongly worded letter from the Tourist Board dated January 31, 2001, which said the conditions in a section of the kitchen area was "like a pig sty". The Board has threatened not to renew its license which comes up for renewal next month.
CMC health officials have also issued a warning and given two months time to improve conditions in another hotel in the city.
A tube well in the hotel premises, from which water was constantly used to wash kitchen utensils, was found to be contaminated. Hotel authorities insisted that the tube well water was being used only for washing purposes and that treated water was being served to their customers for drinking.
The same hotel was the centre of allegations over food poisoning, when at least 40 guests, including the bride suffered diarrhoea and vomiting few hours after the wedding celebrations.
Fifteen people who attended the wedding had to be warded in hospital, family members said. (See bottom story on this page)
The Sunday Times learns that the two hotels in question have not received any star class classification from the Ceylon Tourist Board, but the hotels in question say they enjoy four star status.
The hotel facing the allegation with regard to food poisoning claims the star classification had been given to it by its head office, while the other says when they compare their hotel with others they could claim they were four star standard.
However, an official of the Ceylon Tourist Board said star classification had not been given to these hotels due to a technical shortcoming.
Meanwhile, Dr. Pradeep Kariyawasam, CMC Chief Medical Officer of Health told The Sunday Times that his department was prosecuting the hotel which possessed old sausages. He said the second hotel in question has been warned and checks would be carried out to ensure they improved conditions. (see extracts from interview with Dr. Kariyawasam in this page)
In an earlier instance, when the Edirisinghe's chose a premier hotel for their wedding reception, in 1999, they were unaware that most of the guests would be sick and have to be hospitalised after the reception.
The five-star wedding turned out to be a disaster when the bride had fainted and more than 50 guests had fallen ill after the wedding. The hotel had reimbursed the couple on their hospital bill.
While food poisoning is a common problem starting from the wayside "bath-kade" to the star class hotel, the main problem seems to be with regard to storage. The CMC has advised all hotels to ensure cleanliness and rectify their shortcomings.
The other shortcomings were mainly due to negligence such as failure to keep waste bins covered and the kitchen staff not being properly attired with head wear, gloves etc. The same cutting boards were being used to cut both meats and vegetable which was a high risk factor in food contamination.
Colombo Mayor Omar Kamil said warning letters had been sent out to a number of hotels after an initial survey. "After the first warning if they continue to breach the law, we will take legal action against them", he said.
He further added that they were serious in their quest to clean up the hotels and offer customers a better deal.
The Sunday Times investigation further revealed that the Tourist Board appeared to be trying to protect the interest of the hotels to maintain the flagging industry and felt the CMC should concentrate more on the "bath kades" rather than star class hotels.
Officials from both government institutions were pointing fingers at each other for bribe taking, even though the Tourist Board does not issue licenses prior to the CMC's license.
Given the growing number of eating houses, and the soaring cost of living, hotels are under pressure to churn out profits, which might even be at the cost of the vulnerable customer. Most customers visit star class hotels paying substantial prices, with the expectation of a very high standard of service. Some end up sometimes in hospital having to pay an additional bill for hospitalization. The general public who are faced with problems with regard to food poisoning could contact the CMC on 696594/691922.
---
Sick over food: How and why
Dr. Uditha Herath, a general physician talking on the ill-effects of food poisoning said the effect depended on the type of food that had caused the poisoning.
If a food item is used after its life span, bacteria would accumulate on it. Even when food items are kept open and flies gather on them, it is possible to get cholera, salmonella poisoning and amoeba bacteria which could result in cholera and amoebiasis.
"It is possible for food poisoning to be fatal, particularly when children and the elderly are affected, Dr. Herath said.
He stressed on the importance of cleanliness of the kitchen staff, as it was possible for bacteria to get carried through finger nails. He said it was important that staff wore gloves and protective head gear.
The common symptoms of food poisoning are vomiting and diarrhoea which leads to dehydration which can cause serious illness and even death.
---
It's a tough job
Dr.Pradeep Kariyawasam, the Chief Medical Officer of the Colombo Municipal Council and a band of 40 Public Health Inspectors (PHIs) have an uphill task. They have to monitor over 750 eating houses/restaurants from the ordinary "bath kade" to the "five star" hotels.
At a time when food prices have soared and hoteliers are trying to cover up losses, Dr.Kariyawasam and his men have a daunting task.
Experts from an interview that Dr.Kariyawasam gave the Sunday Times:-
Common problems:
The storage of food is very poor. Cooked and uncooked foods are stored together in freezers in uncovered containers thus leaving room for contamination. Freezers are also not cleaned regularly and there is fungus built up. The floor of one hotel was muddy and the cooked food was placed on the floor in big containers with no cover. We also found a gunny bag of rotten onions. There was also no washing soap in many of the kitchens we checked.
Water:
We took samples of drinking water from all the hotels we checked and found most of it to be of satisfactory condition. However the swimming pool water in some were contaminated. The main reason for this was that many of the hotels did not have proper chemical feeders to chlorinate the pools. What they do is take a bucket of chlorine and throw it into the pool and the effect of this wears off soon.
Constraints:
The checks are time consuming. There are only 40 PHI's and around 750 eating houses. We need to spend at least an hour in each place to check them thoroughly and take samples for lab tests. We are trying to get some of our staff trained abroad so we will have better expertise to deal with the situation.
Punishment to offenders:
We can prosecute those found guilty under the Food Act. The punishments include fines ranging from Rs.1,000 to Rs. 5,000 and in certain cases terms of imprisonment ranging from six months upto three years. From January to October 2000, we filed 220 cases under the Food Act. These included cases of adulteration of food, unlicensed food establishments and labelling violations.
Prospects for future:
Our aim is not to find fault with the hotels. We want to help them improve their standards and serve their customers better .We are planning to help train their staff so that they can help minimize contamination of food.
---
Kitchen rules
Irrespective of the star classification given to the hotels, all hotels under the Tourist Board are required to maintain high standards of cleanliness.
The Ceylon Tourist Board has laid down criteria for hotels beginning from one star to five stars in respect of kitchen and pantry. These are among the regulations gazetted in March 1999 under the Tourist Development Act No. 14 of 1968.
Kitchen and wash ups and pantry
* Should be clean and well equipped and well ventilated
* Kitchen floors should be of impervious materials conducive to easy cleaning
*Kitchen area should be free of insects and rodents. There should be fly screens for all kitchen doors and windows where necessary.
*Table tops and shelf's should be stainless steel marble and other impervious material and in good condition.
*Separate sinks with running hot and cold water for washing crockery and cutlery and for washing pots & pans.
*Sufficient number of waste bins with covers which should be clean and in good condition.
*Kitchen staff should be in clean attire and wear protective clothing
*All drains in and around kitchen should be covered and clean.
---
Wedding feast turns sour
When Udeni Samarakkody and her parents planned a wedding reception for her sister at a hotel in Colombo, little were they prepared for the disaster and embarrassment they would have to face after this auspicious occasion.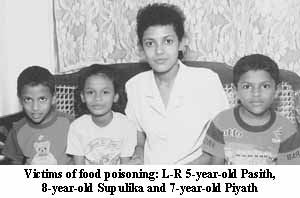 Six months ahead of the planned wedding date ( January 29, this year) they had visited the hotel in question to select the menu and make the necessary arrangements. The menu selected by them costs Rs. 750/- ahead, which was a typical Sri Lankan meal consisting of fried and plain rice, chicken, mutton and fish curries, cadju and green peas curry, potatoes, chutney and papadam and several desserts including caramel, marshmallow pudding, and watalappam.
The Samarakkody's had invited more than 200 guests only to be informed later that night that most of them had been affected by food poisoning.
While three of those aged 13, 20 and 22 years living in the Samarakkody's residence had to be rushed to the Sri Jayawardenapura Hospital and be warded for three days. Three others aged eight, seven, and five were suffering from severe diarrhoea and vomiting. The bride too was an unfortunate victim. Even those travelling from far off as Anuradhapura and who had returned to their homes on that very day had to be rushed to hospital. .
Udeni said that they have been receiving many calls from the guests who feeling embarrassed to admit they had suffered food poisoning, pretend they are checking on their well being. She also said that her sister was now feeling shy and embarrassed to face her office staff, as the department she works in had been closed on that day due to all of them falling prey to the food poisoning.
"The whole situation has caused us a great deal of embarrassment. We expected a high standard from this hotel but we were let down badly," the bride's mother lamented.
They said that they had informed the hotel concerned but the hotel refuses to take responsibility for this catastrophe, blaming it on the gram which had been served as bites, which the hotel was not responsible for. She however said that little children who had not had any of the bites too had fallen ill .
Meanwhile, the hotel on that particular day had six other weddings and Udeni claimed she had met people who had attended one of the other weddings, and had complained of food poisoning. The family is hoping to seek a refund of the money they spent on the wedding reception.
When the hotel concerned was contacted they said they were unable to comment as they have had no written complaint with regard to this incident.