Inspired to inspire
The beauty in white light lies in the combination of the different rainbow colours it reflects. Similarly the '8 students at work' can be likened to those different rainbow colours. A hair-stylist, maths teacher, dress designer, student, writer, computer programmer, foreign officer and artist, all contrasting in personality and interest, blend together, promising 'sheer' brilliance.
'Falcon's head' by Fatema Moosajee
Baddrika Mendis, Christopher Fernando, Dilani Wijesekere, Fifi Sharplin, Fatema Moosajee, Premala de Mel, Romesh Kulatunga and Suranji Jayawardene are the '8 students at work' linked together by their love of art. Painting under the watchful eye and guiding hand of famous artist Royden O. Gibbs, they are preparing for their first exhibition together. For a group so divergent, their similarities are surprisingly frequent. Almost all of them like working with watercolours, a self-confessed "difficult medium".
"A lot of people tend to be thick in their application which is not meant to be," says Premala, while Romesh adds, "It is the transparency which is difficult to achieve."
Nevertheless, the mere challenge of trying to achieve and master that technique had some of them moving away from oil paints. Although they do dabble in pastels, poster colours and pen and ink from time to time, watercolour paintings as Premala puts it "are something one can really reflect on. Hang in one's home and not tire of it".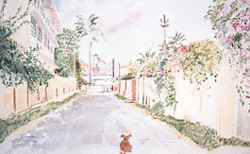 'The street where I live' by Premala de Mel
Scenery is a favoured subject for their drawings. A neighbouring house, a quiet lane, landscapes, flowers are deftly captured on canvass with steady hands and fine strokes. "The ladies often plan painting trips. We go wherever their fancy catches, like the seaside, upcountry...It's important to go out. The change of scenery inspires them," Royden explained. They are nature lovers. Last year Baddrika was on safari in Uganda where she found subjects to capture on canvas. Young Romesh is fascinated by elephants. A frequent visitor to Yala (almost every school vacation) he is exceptionally proud of the painting he has done of an elephant charging. Premala, though burdened with the duties of running an estate, finds the time to bird-watch. "I drew a Ceylon fly-catcher which I once spotted." And Fatema's painting of a falcon's head is awesome, to say the least.
Art gives them much. It is a form of relaxation and meditation, a wonderful deviation from the rigours of life, for some. For others, it's an extension of their chosen fields as designers or stylists. But most of all it's a manifestation of the beauty their eyes behold.
The exhibition of Royden O. Gibbs and 8 students at work will be held on February 17 and 18 at the Lionel Wendt, from 10 a.m. to 7.30 p.m
- Laila

---
First female Legal Draftsperson
Legal lady
By Laila Nasry
Files are stacked high in every available space. The in-tray is overflowing. Lying on the table are lots of paper awaiting her immediate attention. And sitting amidst it all, she smiles cheerfully. A little notice put up in her office on '12 ways of keeping your outlook positive' speaks much about her.

Therese Perera, has recently been appointed Legal Draftsman or to be more precise Legal Drafts person _ the first lady to hold such office in Sri Lanka, and creating as everyone keeps telling her, "another one for the women". Entering the field at just 22 as an Assistant Legal Draftsman, her decision was not a popular one. Though it was one of the most well-paid jobs at the time, in contrast to favoured active practice, it was considered mundane and boring. "I did practise law for a short time but I didn't like going to lower courts. Having to see clients and them coming home somehow didn't appeal to me. This suited me better," she says.

The Legal Draftsman's Department deals with the drawing up of laws passed in Parliament. Often referred to in jest as the "scissor and paste" job in the past, it entailed cutting a section that was common to most laws and pasting it, then adding the relevant subject matter to it. The subject matter of the law depends on the ministry concerned, for it is their ideas and policies that are transformed into law.

The drafting process can be tedious for it is done in all three languages and could create a number of problems. "While in English there is a word for every situation it's not the case when it comes to Sinhala where a phrase takes the place of a precise word. Sometimes when the old Sinhala word does not meet the situation, a new word is coined," she explained. However the laws in Sinhala take precedence over their English and Tamil counterparts when it comes to the clarification of a mistake. "We have to be extra careful and precise when we draft laws in Sinhala."

Much research goes into the drafting of laws, as it involves working with various subjects with a limited knowledge. As Mrs. Perera says, "When it comes to some subjects, we haven't the vaguest idea and coming up with words and phrases is not easy." However, the subjects are hardly rotated among the draftsmen, resulting in a particular officer specialising in their allocated subject.

One of the biggest challenges in her job, is the unlimited legislation that is passed through Parliament. "As and when the Cabinet decides, laws are drafted, suiting the agenda of the ministers," she says. At times her department would draft nearly 70 bills a year. Working against a deadline and drafting a large number of bills could sometimes lead to an unconscious drop in quality. "There are no controls like in England where there is a legislative programme for the year and the number of legislation is decided upon and stuck to."

Sometimes working under pressure, with a lack of experienced officers, there's no time to look for the best possible word. However, wrong usage is not spared in Parliament. "The worst nightmare is when they dissect a bill in Parliament and pounce on the mistakes. A finger is inevitably pointed in our direction," she says.

Of course, there have been instances where the policy has not been all that correct. "We refer it to the Attorney General for approval if the minister insists on going ahead with it."

Meanwhile, dealing with the 'government department attitude' within her office can be trying, Mrs. Perera admits. She stresses that it's not about when you do the work or how, but completing the work at the time it's due. "I've told the others not to put me into situations where I have to fumble with excuses for incomplete work. Unless, of course, there's a valid reason for it."

Nevertheless, her work does have its plus points. "There are people who are thankful for the job that is being done, because they know that we try to accommodate them as much as possible."

Dominated by women, the department is hardly 'a man's world' with there being just four males among 22 women officers.

With the new post also comes more work, with the inclusion of administrative work to her general workload of drafting legislation. "Now I have to look into the work of so many others. There has to be accuracy, precision and consistency in all that we do." She hopes to streamline procedures enabling the efficient functioning of the department. Presently much of the record-keeping and cataloguing of library books are done manually, a time-consuming process she hopes to put right by introducing computers. "There's money coming in and we hope to make not only the jobs of the staff officers but also that of the clerical staff easy."

Juggling between the roles of top career woman and home-maker does not leave her hassled. "It's an obligation and being a woman adds a little extra burden. But there has never been a time where one was sacrificed for the other. Actually it has never posed a problem," Mrs. Perera explains.

Once her tenure as Legal Draftsman is over, entering active practice is farthest from her agenda. Attributing the lowering of standards in the legal profession, the lack of ethics and the general unhealthy practices as non-attractions, she says, "I don't think I can go back and compromise myself. I think I'll always look at it with suspicion."

So what next? "Next it's retirement, and sleep for the rest of my life."