A musical 'Revelation'
By Rochelle Jansen
What kind of music lover are you? One who enjoys chart toppers or one whose choice is more versatile. Versatile in being able to appreciate just about any kind of music. From classical to pop to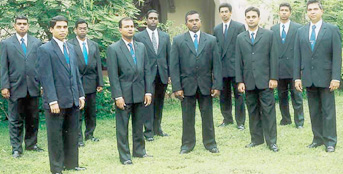 rock. If you are a person who is tuned in to only one kind - wake up! There's an amazing variety of music out there to appreciate and enjoy. Don't shy away from musical revelations.

"Revelations" certainly aren't afraid to experiment with, and appreciate a whole range of musical styles. From pop to classical, this all male group is an eclectic ensemble of some of the best male voices in Sri Lanka.

| | |
| --- | --- |
| "Being a part of Revelations is a rewarding experience. I have a great time for, everyone is so upbeat in their music" | "To be a part of Revelations is very uplifting" |
The idea of putting together a group first took root in the minds of two young men - Sanjeev Jayaratnam and Mahen Pieris. And in 1994, these aspirations gave birth to a fully-fledged group with a membership of 22. Their first concert "Kaleidoscope - Revelations in concert" was a mix of musical styles - their trademark.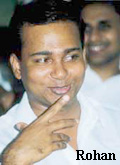 "It's an honour to be in a group where everyone can actually sign"

I remember that concert. 'Bohemian Rhapsody' one of the songs they sang that day will be perpetually etched in my mind. I can still picture the dimly-lit stage with blue light on the cyclorama making the smoke on stage appear suspended in air as the twenty-two men in hooded cloaks lifted their heads with one accord to sing in perfect harmony Freddy Mercury's "Mama………."
It still sends shivers up my spine.
After that first concert Revelations performed on a low key for a while. They sang at weddings or met up to just have fun singing. They were also back-up singers for Damien Wickremanayake of Purple Rain.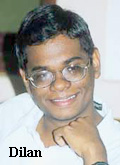 "I'm honoured yet humbled to be a part of such a great team"
Come 2000 and Revelations came up with " An evening with Revelations". It was a huge success.
By the time of this concert their number had reduced to eight. Currently, they have a membership of twelve and currently practising for their third major performance, which, unlike the other concerts where secular music was sung, will be an evening of sacred music coinciding with Easter. And the group have decided that all proceeds would go to charity.

Meet the guys
Their ages range from eighteen to the late thirties. And career-wise, it's an amazing mix of lawyers, bankers, students, accountants, doctors and travel agents.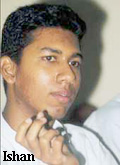 "It's wonderful to be with such talented people"
Sanjeev Jayaratam, Inakshe Fernando and Prasanna De Mel, have been a part of Revelations from its inception, while another founder member Mahen Pieris is currently taking a break from singing as is Dayan Fernando due to unavoidable circumstances. The others are Srimanthake Senanayake, Ishan De Lanerolle, Viran Corea, Rohan De Laneolle, Niraj Vethanayagam, Dilan Gnanadurai, Manoj Singanayagam and Nimantha De Alwis.
The majority of the group's members are old boys of S.Thomas' College, Mount Lavinia and they say they owe their grounding in singing to the training received there. The others hail from Wesley College and St. Peter's. Each of the singers has sung and still continues to sing with other professional groups as well. So there are no restrictions on the members. This adds to their ability to appreciate different styles and types of music. Music, to them is a part of their lives. It's "in their blood" as Sanjeev says. These guys are very serious about their music. Their concentration when singing is one hundred and one percent. Yet they know how to have fun as well. As soon as a song comes to an end these professionals become almost 'giddy'.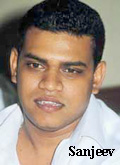 "It's fantastic to have group like this. Music is in our blood and if we don't sing and let people hear us what's the point?"
Listening to a few selections from their forthcoming concert, their music took me to another world. Revelations has the power to uplift a soul, fill it with music, soothe it and gently bring it back to reality. They also have the power to excite you and leave you longing for more.
And although these items have only been practised over a period of just under one month, and that too with just about two to three hours per week, they sounded as if they've been at it for months.

They're unique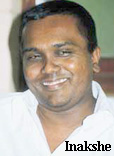 "I like to sing, so I'd like to hang out with my friends - until they throw me out"
To be extra-special a group's got to have an identity of its own, with its own unique features. Revelations have several factors that contribute towards giving it an unique identity.
For instance, they don't restrict themselves to one particular type of music. They select music which has a lot of harmony in it, for the blending in of parts, often four to five parts, is a major characheristic of theirs. Hence most of the time they sing a cappella ( music sung without instrumental accompaniment - for those of you a bit rusty in your musical terms).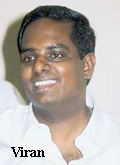 "To me it's a worthwhile experience"
This group also prefer to make their own arrangements. Sanjeev and Ishan are the maestros in this field. Ishan feels that even a 'chord' sung by the guys is 'so nice'. These unusual arrangements are aimed at presenting a well- known tune in a different way. At their previous concert they made their own arrangements for familiar songs such as "You'll never walk alone", "Love changes everything", "Peanut Vendor" and Elton John's "Circle of Life".
Neither are they afraid to extract from heavy operas like Wagner's Tan Hauser.
Sometimes they do opt for accompaniment. And then they secure the help of professional musicians.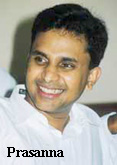 "Having sung together from school days, the thought of being together and singing together in the future is good"

Revelations also have a committee of their own and have their own little democracy where everyone is free to give his opinion.
Another unique feature of Revelations is that here, there are no passengers. Membership is by invitation. Each member is handpicked. Each has the gift of a good ear for music, perfect pitch and the ability to sight read - accurately.

Future plans
As for future plans, Revelations has a burning desire to participate in international festivals of music and eventually in - the 'Choir Olympics'. (The 'Choir Olympics' is to music what the 'Olympics' is to sports.)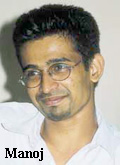 "I feel honoured to be part of such a great team"
They also hope to launch a CD in the near future.
And they don't have any inhibitions about having a joint performance with other groups. They hope to sing together for as long as they can.
The only drawback at the moment, is the lack of sponsors.
Who knows maybe Sri Lanka is on her way to receive another Olympic medal - 'Revelations' never cease.