Contents
---
Bishop's story of 125 years
A glittering dinner dance named '125@BC'. will be the grand finale of the 125th Anniversary celebrations of Bishop's College.
A series of 125th anniversary celebrations were held throughout last year. These included the Bishop's College Millennium Walk, thanksgiving services, an oration by Prof. Yasmin Gunaratne, the publication of a book outlining the history of the school and staging of three musicals, namely, the Wiz, Beauty and the Beast and Santa's Darlings.
The Past Pupils' Association of Bishop's College is making arrangements to present '125@ BC'. dance, which will be a fitting conclusion to the 125th Anniversary celebrations. The event is scheduled for Saturday, February 3 at the Serendib Ball Room of Colombo Hilton Hotel.
The organising committee for the dance is going all out to make this a truly unique and memorable event. An exciting line up of competitions, stunning decor, special lighting effects, revolving around the theme of the dance, Y2K, and many surprises will set the mood for the occasion. The menu features a gourmet dinner buffet, with breakfast to follow. Music for dancing all night will be provided by Pearl and Heat. Mohomad Adamally, will be the Master of Ceremonies.
According to a spokesperson for the Organising Committee, a grand array of prizes, including seven air tickets, numerous hotel vouchers and valuable electrical appliances are in store for the winners of the various draws and competitions. "Loyal past pupils from all over the world too are supporting us to ensure that this dance will be a truly memorable event and a fitting conclusion for the 125th Anniversary celebrations of Bishop's College", she maintained.
'125@BC'. dance indeed holds out the promise of a unique star spangled night.
---
'Nethra Mangallaya': another formula tale
"Nethra Mangallaya" is a story around a girl in a fatherless washer family struggling with her miserable fate. It is the latest teledrama every Sunday at 9 pm on Swarnavahini.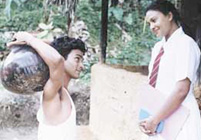 This 26 episode teledrama is directed by Sumith Kumara for the M. G. Presentation.
'Nethra Mangallaya' portrays a washer family with two school going children, Punyalatha and Amarapala entirely depends on mother's earnings got from washing clothes of the villagers.
Widowed 'Matara Mudalali' is the only one who helps the poor washer family. In fact it is in a part of his land that the poor family built their house.
'Weerabandara' who does almost all the work for Mudalali is indispensable for the household. He not only prepares food for the family but looks after the motherless child. In addition he looks after the property. He is an asset to the Mudalali.
"Vijaya", Mudalali's son is close to the washer family and even spends most of his leisure with the members in that household. This friendship fills the void created by the loss of his mother.
But as time passes this close friendship develops into a secret love affair with "Punyalatha" daughter of the washer family, . This was even a secret to her brother Amarapala.
"Sethun" who comes to help in the washing work had an idea about Punyalatha. The elders in the families were aware and gave there approval for it.
But as the story continues it turns tragic when the sole bread winner, mother of the family gets paralysed and loses her livelihood. Punyalatha and Amarapala drop out from a school as they have to make a choice between education and the struggle for a way of living.
Amarapala finds a job in the village cooperative shop while Punyalatha goes for rubber tapping in the morning and continues her mother's profession, washing the clothes in the evening.
Meanwhile one day Punyalatha meets with an unexpected experience when the secret love for Vijaya makes her to yield herself to him.
But the affair does not last long as Vijaya who stops his education and joins the Army. Mudalali who was unaware of the affair wants his only child to find a suitable wife.
Vijaya who obeys his father gets married to Kumari and it is Punyalatha who has to fulfil the custom of laying 'Pavada' for the couple.
But the newly wedded couple meets with unexpected troubles, Vijaya becomes a victim of a bomb blast at the front and returns home blind.
What would be the future of unmarried Punyalatha? Will she continue with her secret affair or will she get married to Sethun?
The cast of the drama comprise H.A. Perera, Jayasri Chandrajith, Priya Ranasinghe, Mahendra Perera, Senaka Wijesinghe, Semini Iddamalgoda and Rukmal Nirosh.
---
'Sanda Amawakai': Prasanna's latest tele venture for 2001
By Susitha R. Fernando
Award winning teledrama director Prasanna Jayakody has released his latest teledrama, "Sanda Amawakai". It is screened every Monday at 8.30 pm on Rupavahini.
Winning the best director in the Sumathi Tele Award Ceremony 1999 and 2000, Prasanna grabbed 11 awards for his "Nisala Vila" in 1999 and six awards in "Imadiya Mankada" in 2000.
Starting with teleserial "Sasara Boomika", the latest with 24 episodes is his fourth direction.
Speaking on the theme of the teledram a Prasanna said that it is a simple story focusing on the human relationships. "Today's society has rapidly changed with technological advancement and all the development taking place giving way to various social differences as modernization or urbanization. Despite all these changes there is a necessity for everyone. That is love and kindness that would make one feel important and he is different from others,".
"Even a gruesome murderer expects some kind of caring from his fellow human beings. This is a sensitive issue which goes beyond traditional love that we come across in today's society or we see on small screen or anywhere else,".
Questioned about the fall of quality in present teledramas, the award winning director said "compared to the beginning of the teledrama in Sri Lanka though there is a increase in quantity with more television channels there is a fall in quality,".
The medium of teledrama is commercialised today. It is made targeting a market more than being aware of the artistic quality.
It cost a lot and takes time and pain to make a good teledrama.
"There is hardly any control over the local teledrama today. There should be a some kind of censorship or control by teledrama directors or television channels. Except in National television we don't find this in other channels".
"Importation of foreign teledramas which cost less also worsens the problem of neglecting the artistic values in the local teledrama" he said on the present crisis in the teledrama.
Asked about the social role of the teledrama, Prasanna said "compared to cinema the medium of teledrama is less effective. This a phenomenon not only in local teledrama but even in other countries. Among the immediate plans Prasanna hopes to direct a film and also another teledrama.
Prasanna did not like to discuss the story of the teleplay as it would be too early and would disturb the viewers. He also was of the view that it is the viewer who is to praise or criticise his direction Anyhowhe revealed certain principal characters around whom the story is woven. "Sandamali" played by award winning Duleeka Marapana best actress at last year State Drama Festival is a Music teacher in wartorn village in Kebathigollewa. The story revolves around her as the central figure.
Talented Jayalath Manoratne who did not appear for a long period in the small screen plays the role as 'Peter', a traditional villager working as a driver. "Amali" played by Nayana Kumari plays the role of Sandamali's sister.
While experienced Suminda Sirisena plays a role of a principal, Mahendra Perera plays a shrewd businessman role (Shelton) who is ready to do anything to get the things done in his own way. Manipulating the political power cunningly he is responsible for many troubles created in the calm and peaceful village.
In addition Jayani Senanayake and Ajith Lokuge too have got major roles to play in Sanda Amawakai. To give an effect to this novel theme he has hired some young new faces for both the cast and the technical crew. Rukmal Nirosh has edited and Gayan Ganakadara directed the music.
Art director is Manjula Ayagama and make up is by Priyantha Sirikumara, Palitha Perera was behind the camera. Produced by Ananda Abeynayake 'Sanda Amawakai' is scripted and directed by Prasanna Jayakody.
---
Samitha walks through shrubs
Samitha Harischandra appeared a cultivated and quiet young man from the hill country. However, a few minutes later seated in front of me with a steady stream of conversation I realized that he had much more to him than his looks. He is 22 years but has the courage and the bravery to march forward overcoming the many obstacles he envisages from his parents, the death threats by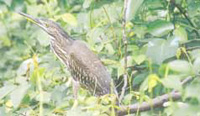 poachers and animals. Sixteen years ago he developed an interest in wild life. Ever since he has been working towards getting closer to his goal. Soon after his Advanced Level at St. Anthony's College he statred a course in Wildlife Conservation and Management at the Open University and almost lived in the thick jungles of Knuckles, Wilpattu, Giritale, Minneriya and Sinharaja to creatures of the wilderness.
"I camp for weeks and weeks in the forests for my research work. We live without all the facilities we are used to at home for hours and hours, sometimes 6-8 hours to click our cameras. Although we live on the food we cook, walking on foot for 12 kilomteres, away from home in the remotest of living conditions it is actually a nice feeling that you experience", he said.
Experiences that are crystal clear in the mind are many. His close encounter with death while in Nilgala inside the Galoya National Park is one such incident. A few inches away from a herd of elephants he was about to click his cameras when suddenly a bunch of hunters decided to shoot from the opposite direction. Throwing his camera away Samitha had to dive into a nearby river and swim far away to avoid being crushed to death by these elephants. "If not for the thunderflashers of a tracker I would be dead and gone" he now relates with much amusement. Later with research and opportunities to visit the jungles more often he adopted photography as his hobby. And then came those discoveries... Upto date he has discovered a unique species of owls namely the "Oriental bay owl". a species that had been recorded just three times in Sri Lanka. After dissecting the specimen of this owl he found in Alawathugoda in Matale that there were more of them and are usually found in the month of April. In the meantime he is in the process of doing research on an extraordinary fish and two rare amphibians he has discovered recently.
Before flying overseas for a degree in Wildlife and environmental management he will hold his first exhibition titled "WILD SHADOWS THROUGH THE THORNY SHRUBS" on 16, 17, and 18 of January at the Lionel Wendt Art Gallery and on the 26, 27 and 28 at the D S Senanayake Library hall in Kandy.
---
'Nissabdha Venu': An adaptation
"Nissabdha Venu" the latest stage drama will be staged on January 19 at Lumbini Theatre: at 6.30 p.m.
The drama is directed by Sunil Chandrasiri, who directed several award winning stage dramas like Ginni Dandu Sevana, Heema Bhoomi.
The drama is a translation of 'Reflection' - a Marati language drama, directed by Indian director Mahesh Elkunchchar.
Stars of the drama are H.A. Perera, Manike Attanayake, Srinath Maddumage and Anoma Janadaree.
Music for 'Nssabdha Vennu' is by Sena Weerasekera.
---
Windsurfing: leisure cum sport
Wind surfing has become a fast growing leisure time for many Sri Lankans.
Wind surfing at Bolgoda lake is the latest attraction and many are keen on learning the art of wind surfing.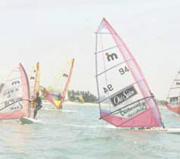 The Windsurfing school at the Aqua Pearl Villa by the beautiful Bolgoda lake attracts lots of young enthusiasts.
'The proper guidance is a must for these young surfers and keeping that in mind, we have designed a training course for beginners' said Shehan Aponso, the director of the Windsurfing school.
New Windsurf Training course for beginners will commence on January 14, 2001 consisting of 6 lessons, which will be held every Sunday from 10.00 - 12.00 and 3.00 - 5.00 p.m. Students can choose between either the morning or afternoon session.
Bolgoda Windsurf School, which has trained over 100 wind surfers guarantees that beginners will be able to windsurf successfully after the course.
'Apart from the training on water, training videos will be available to beginners to further simplify the training. Life jackets will be provided to all beginners and safety is guaranteed' he said.
The course will be conducted at school premises at Aqua Pearl Villa, Bolgoda.
Registration can be done through their Website- www.bolgoda windsurf .8m.com
ends