An old soldier who loves the arts
By Alfreda de Silva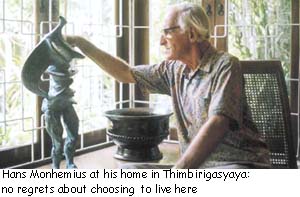 On many occasions at outstanding per formances of music by local or interna tional musicians, one hears a deep lone voice start the intoning of 'encore, encore' in the darkened auditorium.

One sees this personality at cultural events at the Alliance Francaise, the British Council, The Russian Centre and the Goethe Institute. There are regular soirees organized by him at his home in aid of local charities.

He is none other than Hans Monhemius, resident guest and patron of the arts, whose attachment to this country started in 1945. He tells us of the battered Dutch troop ship, which brought him, a 24-year-old soldier among more than 2000 others to Colombo. That was his first 'taste' of Ceylon, tinged with memories of the brutal tropical heat.

As he ruefully recounts, the 'War of all Wars', meaning the Second World War, had been over about six months earlier. But not everywhere, not for the Netherlands Indies, one of Holland's Colonies. Thousands of Dutch settlers were there in concentration camps, under the most appalling conditions, after the Japanese invasion of 1942.

However, much as they longed to 'liberate' their countrymen, the soldiers on the Dutch troop ship had to honour a United Nations edict, that they could not be allowed to land there.

So they had a brief sojourn in Ceylon at that time. Hans remembers a colourful Pettah, with lots of fresh vegetables and fruit, for which some of the troops shopped.

He describes the roads as being full of rickshaws, carriages, buggies and bullock carts. He found the people delightful, with their varying skin tones ranging from light to very dark, which guided the traveller to hazard a guess at their origins. He was also fascinated by the mixture of religions here.

The troops moved on for a short stay in Trincomalee, whose glorious beaches revived their spirits, and were, on hind-sight, a recompense for the catastrophic events that awaited them. The training camps they sailed into after leaving Ceylon, were incredibly rough and their conditions horrendous. To add to these disasters, malaria became a scourge.

Hans lived and worked in Indonesia for eight years in the tropical wood business after the war was over, and visited S.E. Asia many times. He was also in several parts of Africa.

His fascination for the beauty and fine grain of hard woods from the tropics, is apparent in the way he has used them artistically and creatively in his home.

Hans pays a tribute to his mother for motivating him to love the arts, particularly music and painting. He has given unstinted patronage to them in this country.

He takes a delight in classical music and the grand piano in his home, which he enjoys playing, has been at the disposal of local and visiting musicians, when they perform in his home.

Hans is on the Governing Board of the Symphony Orchestra of Sri Lanka, and is a member of the George Keyt Foundation.

Among this country's well-known musicians who have played at the charity soirees which he so graciously hosts at his residence are Ananda Dabare, Rohan de Silva, Lalanath de Silva, Sujeeva Hapugalle, Eshantha Peiris, Ramya de Livera Perera and Sonia Wickremasinghe.

Some of the charities for which these performances have been held are the Friend-in-Need Society, the Jaipur Foot Fund, the Sunethra Bandaranaike Trust, and the support of disabled ex-servicemen. Many genres of painting by local and other artists adorn his home. They include landscapes, portraits, stylized paintings, religious art, cubism, fine line drawings and highly original experiments with colour and theme in contemporary art.

Among the local painters represented are names like George Beven, Marie Alles Fernando, Richard Gabriel, George Keyt, Stanley Kirinde, Harry Pieris, Segar and Semage.

An arresting work of craftsmanship in ceramic and glass, of the French Chartres Cathedral by Nalini Jayasuriya, glows against the wall.

Who am I? asks Hans, who settled down in Sri Lanka in the nineteen seventies. He answers his question describing himself as the old soldier who is at the nation's cenotaph for fallen heroes on November 11, every year and at the Dutch monument at Torrington. He is concerned about the conflict here, which he refers to as our 'troubles'. He tells us that he is a simple Dutchman who decided this island was where he wanted to live his later life. Not once has he changed his mind about that momentous decision.