Shaggy!
By Ruhanie Perera and Uthpala Gunethilake
The concert
The Sugathadasa Stadium was packed. Except for the solitary spotlight, it was dark. The air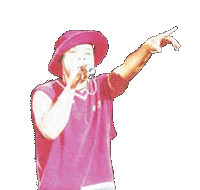 throbbed with excitement. The few restless whistles had died down and everyone was waiting. The day was January 5, the time 8.50 p.m. and what was promised to be the most 'boombastic' concert of the millennium was about to begin.

Out came vocalists Ray Von, Tony and Bryan. The tense silence was shattered. They rocked the house, giving the audience a taste of what was to come and setting the mood for the 'storm'.

Then, just when you thought the frenzied screaming couldn't possibly get any louder, in walked Mr. Lover followed by Rik Rok. And in one voice, the audience chanted 'Shaggy, Shaggy', for the man they had waited so long for.

Shaggy, who will always be remembered as the first chart-topping contemporary superstar to visit Sri Lanka, ensured in no uncertain terms that the audience got their money's worth. He had the crowd on their feet reminding them in rather colourful language that this was a reggae concert, not an opera. And as he moved into his first song for the evening, the extremely catchy 'Sexy Body Girl', the audience actually felt glad to be on their feet.

Going straight into the popular hit 'Hope' he then changed the mood with the 'hip swinging', 'hands up in the air' Sri Lankan favourites like 'Oh Carolina', 'Mr. Boombastic' and 'In the Summertime'. They got the crowd going, for it took many back in time to the beginning of their 'Shaggy-mania'. During his famed 'Mr. Boombastic' he was at his best, flashing his incorrigible grin, doing a lot more than just swaying his hips and tantalising the audience by unbuttoning his shirt.

Well aware of the number of women in audience, in true 'Mr. Lover' style Shaggy serenaded them with 'Angel'. He also called a young lady up on stage and serenaded her as the representative of the women of Sri Lanka. But, it may have been more spontaneous if a member of the audience had been chosen, instead of one from the organising crew standing by.

Shaggy also introduced his band giving each member the spotlight to perform individually. Rik Rok's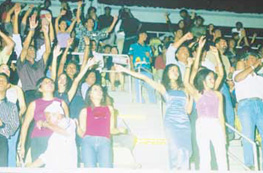 'It Wasn't Me' was definitely another 'high' in the show.
Natural entertainer that he was, Shaggy had the house fully involved with the 'Shaggy test' splitting the crowd in half to come up with the cheer 'Woh, yeah' and the Mexican wave which rippled through the audience. At one point nearly 4000 pairs of hands seemed to wave in unison almost as if it had been practised.
Shaggy, who made his entrance with an exuberant "Are you ready to have fun, Sri Lanka?", promised to "rock the house", make them "party" and "go wild". At the end of his two and a half hour stint the audience had danced till their feet ached, screamed till their throats were hoarse and walked out with music still throbbing in their ears. The 'storm' hit Colombo as predicted, wreaked havoc and passed on leaving everyone slightly dazed but with a memory that will be talked about for a lifetime.

The Entertainers
The audience enjoyed themselves, but did the entertainers have as much fun? Although they looked rather tired, the big smiles on the faces of vocalists Tony and Rik Rok spoke for themselves.

Tony:
"The show was great. Our act went down well with the Sri Lankans. After the 'high' we experienced in Kenya, it was difficult to imagine anything coming close to it so soon. But this show maintained that 'high' feeling. This tour has been memorable, the best part being the food - especially the mullet."

Rik Rok:
"We expected a good audience, judging by our reception. We also do a bit of research before we tour a country, to find out what that particular audience likes and what songs made it big there. So we give them what they want. The only problem was that the people should have been closer, since what we do is for crowd participation. But that was practically impossible here and anyway had no great bearing on the show.

This is a very special tour for me - touring just after my first big song ('Wasn't me'). Our best memories of Sri Lanka would be the food. No, it's all the beautiful women, but the food comes a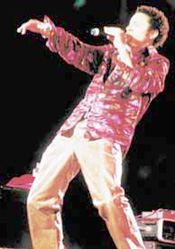 close second."
Shaggy's Manager
Who better to judge whether the show was a success or not than Robert Livingston, manager of Shaggy's entourage. He is first, a part of the group, well tuned to their impressions about the night, secondly an expert regarding organisation of shows such as this, thirdly a member of the audience. So what did he think?
"It was very good. I enjoyed the show very much. The crowd was very responsive and the best part was that they knew the songs. The promoters aren't experienced in this kind of thing. But they made a commitment, put their heart and soul into it which made all the difference. We worked well with them all along, even helping out in putting up the stage.
We weren't worried about the security situation of the country. We have performed in countries that other people avoid, such as Russia. We are from Jamaica and we know quite a lot about 'security problems'. But the promoters didn't want us to be uncomfortable and that is the main reason for two of the postponements. Anyway, due to the postponements, a kind of momentum built up, which was good."

The fans
In Sri Lanka he had to deal with many disappointed fans, skeptics and cynics. But the Shaggy charisma soon banished all signs of gloom and doubt, putting a smile on everyone's face.
And here's what some of the ecstatic fans had to say:
Thanuja:
Going for the concert was a last minute decision. I was sick of the postponements and decided against it. Then I saw his interview where he sang just a bit of the song 'Angel' and I decided to go. I wasn't expecting much, because of the earlier disappoinments. But he got the whole crowd going. I was singing, clapping and dancing; sitting down never crossed my mind. I wasn't a big Shaggy fan. Before but that changed after the concert.
Elle (name changed):
I'm a BIG Shaggy fan! I love his music and his style; he gets you all 'jiggy'. I just couldn't believe that he was finally here. I was disappointed when he didn't come the first time and was convinced that it was a hoax. But Shaggy was so apologetic about the postponements and I thought that was very sweet.

I think it's high time that stars like Shaggy were brought down, because it's a really great experience. It was a great chance to chill out and it didn't matter whether you could sing or not, you could join in.

What was great about the show for me was the fact that it was Shaggy - and that it was reggae. I got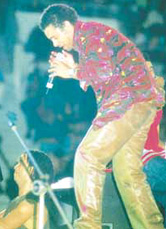 my money's worth and it was worth the wait. As a fan of Shaggy, I never thought I'd get this opportunity ...and I hope I get it again.
Mrs. Y. Zarook
Everyone including my daughter was talking about Shaggy. So I went to see him for myself, especially after he sang during his interview.

The part I liked best about the whole concert was when each member did an individual act. The musicians and the vocalists were all very good. He even got everyone - the young, old and even the sophisticated ones - involved. He came across as a very 'soft' kind of person.

I think we need moregreat-entertainers like that coming in. I really enjoyed myself just by watching others having fun. I think I will appreciate his music more because I have a memory to think of.
Backstage
So Shaggy made Jan. 5th a night worth talking about. But beyond the stage were many hundreds of people who made the concert run smoothly, and who were closer to him during those few days than the audience . Among them,
Security
Everyone who saw Shaggy anywhere would have definitely noticed the 'men in white' who hovered around him everywhere he went. From Shaggy's arrival at the airport, throughout the concert and till he left the country these men in VIP garb quietly encircled him, keeping a keen eye on what was happening around them.

"We are from Shield Bug, a private security services firm and we are all ex-servicemen," explained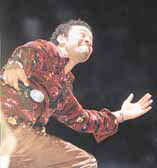 Sampath Kumara, Operations Manager of the firm, himself from the Vijayaba Infantry Regiment.
"We have been preparing for this for over eight months, and we operated together with the police. Our task was to ensure the safety of Shaggy. Ten of us were always with him, 24 hours a day. Even at the hotel we were in a room immediately next to his. When travelling, two of our vehicles would go in front of and behind his vehicle.
"During the show, around 40 security personnel were inside the Sugathadasa Stadium, including four women officers. The problems we anticipated were mainly that Shaggy may be harassed by the crowds. He was concerned about this, especially since in Kenya fans had plucked out strands of his hair as souvenirs. He wasn't worried about anything else.
"We are satisfied with security during the show, but since there was no collaboration with the security services of the Stadium, a few problems cropped up at the entrance.
"Shaggy was friendly with us but he was uneasy about mixing with crowds. When he visited shopping malls, he didn't linger, and averted his face from the crowds while walking. But he did pose for pictures with us."
Hotel Staff
Shaggy arrived in Sri Lanka eager to have a taste of the Lankan food he had heard so much about. That made Ananda Warakawa (Director of food and beverages at the Galadari Hotel), one of the most important men around.

"Though he didn't stay in the hotel much because of his packed itinerary, Shaggy made it for a meal one night. He really enjoyed the food and wasn't fussy at all. 'Chillie Crab' was his favourite dish. While we were at the Coffee Shop he suddenly jumped up and started singing. It was unexpected but enjoyable. He was a great guest to have because of his easy-going nature."