Branded for life
Did you know that the uniquely curvaceous shape of the original Coca-Cola bottle was designed to be recognisable even in the dark? Or that the famous red tab on Levi jeans was introduced in 1936 to help salesmen identify their jeans at rodeos? Or that when American Express decided to launch its new Centurion card in 1999 as "the world's most exclusive charge card", it chose to produce it in

black because, in marketing terms, the colour is said to evoke authority, luxury and sophistication?

Now the mysterious art of branding is on display and available for dissection in a new exhibition at London's Victoria and Albert Museum. Indeed, Brand.New leads visitors on a veritable safari through consumer culture, from the 19th century origins of brands, through to today's sophisticated world of corporate missions a la Nike, Starbucks, Microsoft or Gap.

What are brands? How do they promote themselves, how do we as consumers respond to their messages, and why do we buy one brand rather than another?

At its most simple level, a brand is simply a logo, a visual stamp by which consumers recognise packaging and the goods it contains as distinct from rival products. It has its roots in the industrial revolution and the development of mass production when manufacturers discovered they were churning out more than consumers were demanding. So, to maintain profits, they had to create new markets and find ways of expanding existing ones.

By the 19th century, manufacturers had become aware that branding could be used to do much, much more than distinguish their good from rival products. They realised that strategy, colour, images and design, could be manipulated to communicate everything from youth and vitality, warmth and environmental awareness, to authority and sophistication, comfort and security.

During the Boer War, for instance, Bovril not only supplied grocers with display boards headed "Bovril War Cables" on which messages to the front line could be despatched, but it kitted out British soldiers with cans of the meat extract. Both tactics raised the profile of the Bovril brand, basting it with patriotism and creating a caring corporate identity more than a century before the likes of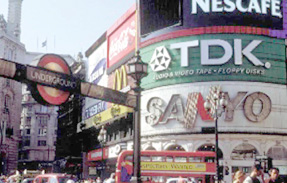 Microsoft and Nike.
And in the 1920s and 30s, when the confectionary market was saturated with new products from Cadbury's, Mackintosh and Rowntree, sweet-makers were forced to divide up their existing brands to make them more desirable. Indeed, in 1933 Rowntree launched its Black Magic chocolate box – Britain's earliest mass produced luxury black-pack.
Manufacturers also quickly realised that one way of making their products desirable was by playing on consumer fears. A 1920 ad for Listerine used the slogan "always the bridesmaid, never the bride," while a 1955 ad typically warned female readers "You can lose him quick when your charm starts slipping" – charm being the opposite of bad breath.
In this sense brands have become emblems of desire, constructing both rational and emotive reasons for buying (in the case of Listerine, to freshen the breath and win a lover), and promising a whole new identity and lifestyle to consumers.
Today the trend is such that manufacturers have taken branding off the shelves and into the wider culture, sponsoring events, music festivals, concerts, and even films. Levi's Regent Street store in London screens short films, while its parent company in the United States donates millions of dollars every year to charities involved in causes such as anti-discrimination and HIV education. The Orange mobile phone company runs a short film competition, and Nike gives out sports grants.
In this way the brand – like Bovril way back in the late 19th century – is seen as more than just the symbol of a product. Instead it becomes an intangible package of qualities and emotions to which the consumer both aspires and feels a loyalty.
With its "Just Do It" campaign, for instance, Nike plays on the sporting ambitions of young men and women. It provides kids with hope that they can be the next Serena or Venus Williams or Tiger Woods or Michael Jordon.
"It's this quality, elusive but hallucinatory, that distinguishes valuable brands in the global super league, says British critic Peter York. "The measure of a resonant modern brand is the ability to stretch – to add its magic to all kinds of products and services not just one little category."
Curated by Jane Pavitt and Gareth Williams, Brand.New explores the image and identity of brands from their logos, slogans, and advertising, to their reputation and history. It also examines the tactics that brands use to distinguish themselves from their rivals. Gap – with its dance-themed ads ranging from swing to 60s Wild Thing – uses nostalgia; Levi Strauss promotes itself as "authentic"; "luxury" brands Gucci, Louis Vuitton and Christian Dior all use monograms; and clothes manufacturers such as Diesel and French Connection use a post-modern "irreverence" in their campaigns.
In another section of the exhibition, videos are broadcast of people who feel particularly strongly about brands, revealing the way in which many of us inadvertently brand ourselves. One man refuses to shop anywhere but Marks and Spencer, while a little girl discusses her devotion to the Barbie doll.
Finally, the exhibition looks at the way brands can be faked, subverted and transformed by consumers. American designer Tommy Hilfiger may have aimed his preppy, collegiate look at the same white middle-class consumers as Ralph Lauren and Calvin Klein, but his clothes have been co-opted and adapted by working-class African Americans.
If nothing else, Brand.New is a timely and entertaining reminder of just how ingrained with consumerism our culture has become. Indeed, in another galaxy, the exhibition could well have been called Brand.Human.

---
Cothes line
Itching to say something but no one wants to listen to you? Something which annoyed the life out of you or which restored your faith in humanity? Comment, criticism, praise or food for thought - here's an invitation to hang the laundry of your thoughts on 'The Clothes Line'. Write to us and tell the world what's on your mind, in not more than 350 words.
Send in your entries to
Clothes Line
Mirror Magazine
C/o The Sunday Times
No.8 Hunupitiya Cross Road
Colombo 2
Email: clothesline_lk@yahoo.com

I'm not oppressed
Generally people think that Muslims are forced to cover themselves.But I would like to say that they are wrong. Here's a poem which shows the feelings of a Muslim woman who wears the Hijab.

You look at me and call me opressed,
Simply because of the way I'm dressed,
You know me not for what is inside,
You judge the clothing I wear with pride,
My body is not for your eyes to hold,
You must speak to my mind, not my feminine mould,
I'm an individual. I'm no man's slave,
It's Allah's pleasure that I only crave,
I have a voice so I will be heard,
For in my heart I carry His word,
"O ye women, wrap close your cloak,
So you won't be bothered by ignorant folk".
Man doesn't tell me to dress this way,
It's law from God that I obey,
oppressed is something I'm truly not,
For liberation is what I've got,
It was given to me many years ago,
With the right to prosper, the right to grow,
I can climb mountains or cross the seas,
Expand my mind in all degrees,
For God Himself gave us liberty,
When He sent Islam, to you and me !

A Muslim
Don't victimise our women
I presently live in Canada, but I am a Sri Lankan, and proud to be one. When I see what's happening to the women in Sri Lanka, I can't help but wonder what the future has in store for them.

I'm addressing the fact that women in Sri Lanka are treated like objects that are to be used by men. Wake up into the 21 century Sri Lanka, we are not your squeeze toys!!! We have feelings, ambitions, dreams, and hopes, and we aren't living in this earth just for your pleasure and multiplication.

I'm sure that this isn't for all the men in Sri Lanka that I'm writing this to, but for the few who take advantage of innocent people and who need a big whack on the head to wake them up from their century's old dreamland.

Recently I saw in The Sunday Times that a nine-year-old girl was allegedly raped continuously throughout the school year by her principal. Please, when you see a pretty girl walking down the street, refrain from stalking her or doing anything damaging to her.

Respect her, for who she is because everyone deserves respect, and block out those evil thoughts that might cross your mind. Please, I ask this from my fellow men.

It'll help our little paradise be a little more like paradise for the people already living in it.

From Independent Gurrl