---
Slater completes the Caribbean slaughter
Slater, who threw away a certain century in the first innings when he lashed out and was caught for 96, dictated the scoring and partnered Steve Waugh to a decisive 102-run fourth wicket partnership in 101 minutes to take control. Man-of-the-match Slater faced 129 balls in 189 minutes and hit 11 boundaries.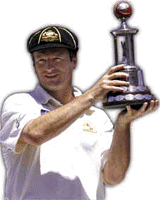 Ricky Ponting hit the winning boundary off Marlon Samuels to remain 14 not out in Australia's 174 for four. Australia won the first Test by an innings and 126 runs, the second Test by an innings and 27 runs, the third Test by five wickets and the fourth Test by 352 runs. It was the West Indies' 18th defeat in their last 20 Tests away from the Caribbean. Glenn McGrath, who took 21 wickets in the series, was named player-of-the-series. The West Indies' 38-year-old world record wicket-taker Courtney Walsh was feted for playing his final Test in Australia and was given a standing ovation by the crowd. The Australians recovered from the loss of Mark Waugh's wicket in the second over through Slater and Steve Waugh's century stand. At lunch, Australia were just 19 runs from victory on 154 for four with Slater in full flow. Skipper Steve Waugh, a first innings centurion, was out just before lunch ending another determined knock when judged lbw to Marlon Samuels for 38. On Waugh's departure, Australia needed just 25 runs to win with six wickets intact.
Mark Waugh was out on the 10th ball of the morning when he hung his bat at a Nixon McLean delivery outside the off-stump and looped a catch to Jimmy Adams in the gully on his overnight score of three.

---
Scoreboard
West Indies 1st innings 272 (S.L. Campbell 79, W.W. Hinds 70; S.C.G. MacGill 7-104) Australia 1st innings 452 (S.R. Waugh 103, M.J. Slater 96, A.C. Gilchrist 87; M.V. Nagamootoo 3-119, C.E.L. Stuart 2-81) West Indies 2nd innings 352 (M.V. Nagamootoo 68, R.D. Jacobs 62, S.L. Campbell 54; C.R. Miller 4-102, McGrath 3-80) Australia 2nd innings (44 for 2 overnight) M.J. Slater not out 86 M.L. Hayden lbw b Stuart 5 J.L. Langer lbw b Walsh 10 M.E. Waugh c Adams b McLean 3 S.R. Waugh lbw b Samuels 38 R.T. Ponting not out 14 Extras (b3, lb7, w1, nb7) 18 Total (4 wkts, 44.5 overs) 174 Fall of wkts: 1-5, 2-38, 3-46, 4-148 Bowling: Walsh 15-5-35-1 (3nb), Stuart 7-0-40-1 (1w), McLean 8-1-35-1 (4nb), Nagamootoo 9-1-28-0, Samuels 5.5-0-26-1 Australia won by 6 wickets Australia won series 5-0 Man-of-the-match: Michael Slater (Aus) Player-of-the-series: Glenn McGrath (Aus)
---
Letter to Sports Editor
Hanging on to Schools Cricket positions
At an Executive Committee meeting of the Sri Lanka Schools Cricket Association held this year the President of the Association informed the members that there are four foreign tours this year and to give an opportunity to every member and that he had decided not to send members who have already gone abroad with school teams. All the members welcomed this decision. But what a disappointment was it when the officers were named for the four tours.

Mr. M. T. Rauf of D.S. Senanayake College was selected for the Pakistan tour. He is a newcomer to the Association and went to Hong Kong with the SLSCA team last year. He has also gone to India. Mr. Kulasiri Soysa of Ananda College was selected to go to Malaysia and England. He had gone to India several times with the SLSCA teams and went for the Under 15 World Cup in England in 1996. He was given two out of four tours. Mr. Damunupola also from Ananda College was selected to go to England. He was given a chance because they say he is retiring.

We send officers abroad to gain experience and pass that knowledge to the other members. How could he do it if he is retiring? A principal always had gone as a Manager and this is the first time a principal of a leading college has gone as just a member.

The Ex-Co of the SLSCA is really disgusted over the recent happenings but are helpless as when it comes to an AGM the same set of office bearers manipulate and with the help of the Vice Presidents they get elected over and over again. They have been hanging on to these posts for years for monetary gains and other benefits.

The President has been holding the post for over five years, the General Secretary for over 15 years (This was highlighted in The Sunday Times of December 24), the Treasurer for over 5 years and the other Tournament Secretaries for over 10 years. This year some newcomers' names were proposed as office bearers but were turned down. The present set of office bearers has been in office for such a long period that the SLSCA has become a monopoly of theirs.

What we don't understand is why the Sports Ministry or the Education Ministry cannot step in and give a ruling that a person can hold office only for 2 years. When this applies even to the BCCSL and other Associations why only the SLSCA is not adopting this rule.
Disgusted SLSCA Members
---
Briefly
Police sweep the board
Police swept through the board winning five titles at the Government Services Volleyball championships conducted by the Government Services Volleyball Committee concluded at the Prisons Grounds, Borella.

Police won the men's A,B,C,D and E division with Western Zone, Sports Ministry, Treasury, Customs, D & E runners-up respectively.

In the men's over 40 Sports Ministry and Prisons finished as joint champs while in the over 60, Sports Ministry emerged champs with Government Services Bingiriya as runners-up.

Overall Police were declared champs.

Sports Development were declared overall women's champions with them winning the A&B titles too with Police runners-up.
Sarath wins President's Cup
Two weeks after undergoing knee surgery, Sarath Wickremaratne, came back to his own at the RCGC greens to win the much looked forward to Presidnet's Cup Year 2000 defeating Mohan Alles by three strokes recently. Sarath in the two rounds had scores of 68 and 74 to total 142.

A versatile sportsman to hail from Wesley, today he is one of the front-line golfers in the country. He has done well in the greens winning many a title. To add to it, he did well to win the President's Cup, one of the oldest and most prestigious events in the golf calendar.

Sarath is better known as a cricketer and a hockey player where he performed well in both disciplines for Colts CC and for the University. He also represented the Colombo HA at the hockey nationals.

His performances on and off the field at the University is commendable. He won the All Varsity colours at cricket, hockey, athletics and rugby. He has professional experience and has the ability to serve in any controlling body. A live wire of the OWSC and contributing much for his alma mater on and off the field.

(B.W.)
Bloomfield to honour Shelley
Shelley Wickremasinghe, the patron saint of Bloomfield C and AC who served the club for 25 years retired last year. The one-time Park Club perched on four wheels at Campbell Park, is on a firm footing thanks to Shelley.

It was a trying time for the club for its very survival when they were pushed around form pillar to post. It was during this period that Wickremasinghe, a diehard cricket promoter, who used his charisma to find a permanent abode at Reid Avenue for the century-old club. In appreciation, the new president of the club, Upali Dharmadasa and his committee has decided as a token of gratitude to honour him with a felicitation ceremony on Jan. 12, 2001 at the clubhouse.

According to its social secretary Hirantha Perera, a sculptured bust of Wickremasinghe will be placed as an everlasting monument to be remembered for all-time for his contributions to uplift the club's image. Shelley served as vice-president of the Cricket Board under late Robert Senanayake.

An old Peterite and has assisted his alma mater in their hour of need.

Quite a number of needy youth cricketers be it from Kalutara - (his hometown) or otherwise have benefited much from his helping hand. (B.W.)

---
Gwen Herat has her way at IWCC confab
If cricket is grit and de termination, Gwen Herat had it all and she proved her mettle at the International Women's Cricket Council Conference held on 15-17 December at The Grand Chacellor Hotel in Christchurch, New Zealand.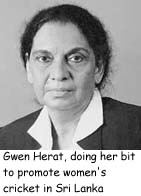 What she wanted to achieve, she did. Once and for all she put aside a problem that had plagued the Women's Cricket Association of Sri Lanka and her quest towards the development of women's cricket both at home and abroad. Herat remitted a constitutional amendment to the IWCC Constitution, seconded by Pakistan. It was approved and adopted unanimously by all member countries of the IWCC. This was the only remit adopted at the 2000 Executive. India suggested that the Executive of the IWCC should take on a new face and proposed to have the president, one vice president and three executives to the Board of Management. This was seconded by Sri Lanka and duly adopted. Gralier constitution had two vice presidents for the North and South hemispheres.
A proposal made by Gwen Herat at the'97 Executive meeting to hold the Asia Cup was put on hold when India informed that it was difficult to play because of the sanctions against India playing Pakistan and that applied to women's cricket too. However, India was allowed to participate at the World Cup 2000 because of prior commitments.
The international schedules of the IWCC for the years 2001-2002 gave Sri Lanka three tours.
(a) Sri Lanka, India and New Zealand early 2001 in India. Herat requested the series to be played in Tamil Nadu (South India) and was agreed upon.
(b) Sri Lanka, Pakistan and Netherlands in Pakistan later 2001.
(c) World XI vs India (venue to be confirmed). All matches ODIs.
Herat also had a meeting with Tim Murdoch, Administrative Director, New Zealand cricket and discussed sending two girls for training and playing for two NZ clubs if found good enough at the end of their training. The girls will also do a stint at the prestigious Cricket Academy, Christchurch that produce most of NZ's top cricketers. South Africa said she would not take part in any foreign tours because they will be busy preparing for the 2004 World Cup. At the beginning of the IWCC Executive meeting, silence was observed for the soul of Sir Conrad Hunte who was the South African coach in the world tour in India.
In conclusion on the last day, India paid a glowing tribute to Herat for all her endeavours and dedication that saw the Sri Lanka team qualifying to play in three World Cups in a row. This was in such a short time and a feat not easy to achieve with Sri Lanka being the youngest member of the IWCC. It was accepted by the Chair amidst much appreciation.
World Cup 2000
Herat knew all the time that Sri Lanka would qualify for the World Cup 2004 to be played in South Africa but expressed her disappointment in not making it to the semis. They almost gave away the win to South Africa, a match Sri Lanka could have won. Lack of concentration, bad fielding and not holding on to those vital catches were the reasons she identified. The top order failed miserably which led to the collapse. Eleven girls in the 14-team were playing under stress as revealed later.

A confident Herat confessed that she would go all out to restructure the game of women's cricket and concentrate more on domestic cricket with a view to finding new blood and talent. She would get into gear to organise the World Tour with immediate effect and not stay till the last moment to raise funds.

Single-handed, Herat raised almost 15 lakhs (in kind too) for the tours and expresses her profound thanks for all those wonderful sponsors who rallied around her to make this trip to New Zealand, especially Lanka Tiles, the chief sponsor. She also takes the opportunity to thank Thilanga Sumathipala, president BCCSL for initial guidance and the former Minister of Sports S.B. Dissanayake who never obstructed or used political influence to harass her but 'allowed' the right person to carry on the development of women's cricket in the country.

Herat will be meeting the new Minister of Sports, Lakshman Kirielle when and if the occasion arise. She declared that he was the right choice to foster sports in the country, especially cricket and pull it out of the mess in which it is because he is a cricketer and knows the subject in and out.

---
It's time for a Sri Lankan satellite TV Channel!
Watching TV has become a part of every families' daily activities and a main source of catching some news, information, entertainment, discussion and humour too.

Being keen viewers of television from the early 80's, we were provided with the opportunity of watching many historic events as they unfolded at home and around the world from time to time. During this period we were also able to enjoy many sports events including the SAARC Games, the Olympics, our glorious win of the Cricket World Cup in 1996 and the very recent historic achievement of a bronze medal at the Sydney Olympics.

We as Sri Lankans are very proud of the hard work that our TV channels have put in to bring these programmes to us over the last 20 odd years. We also admire the many developments that have taken place since the initial transmission started way back in the late 70's and are happy to say that the quality of our programmes, the presenters and services provided have improved to an international standard and could be one of the best in Asia.

But, where do we go from here onwards? We do have about 9 to 10 channels and a few which telecast 24 hrs. a day. But all of these transmissions are only limited to our shores and do not go far beyond.

Sri Lanka has a growing percentage of its population working in other countries as expatriate workers. Many of these workers are based in the Middle East or around this area. They are hungry for information about what's happening back home, what's the new music sensation, what are people talking about in day-to-day discussions, what are the politicos up to or up not to, etc. etc. and what's happening with the game all Sri Lankan's love, Cricket.

There is a very large potential audience but no media to provide, to fulfill this hunger for information and entertainment from Sri Lanka. Yes, there is the BBC, and also the other Sri Lankan radio stations that now transmit over the web to the rest of the world, but everyone does not have the time to tune into the BBC at the specified time and neither is everyone connected to the internet to listen to our radio stations.

So the requirement and the need of the moment is a Sri Lankan TV channel transmitting via satellite to a broader audience beyond our shores. An audience made up of locals living and working in other countries as expatriates and other nationals who would enjoy a view of our beautiful Island. Our neighbors, India, Pakistan, Bangladesh, Thailand etc. etc. do already have many or at least one TV channel each transmitting to other regions of Asia including the Middle East via satellite Analog or Digital transmissions. Many of the South Asian channels that are viewable in the Middle East are the Indian channels with the most famous being the Sony and Z TV channels including the Doordarshan Channels.

Many Sri Lankans in the Middle East were very happy a couple of years back, when the Sony channel purchased the rights to transmit live telecasts of cricket matches that were played in Sri Lanka to the rest of the world. But, sadly this did not last long and Sony switched its live telecast from its free channel to a special pay TV channel and by this deprived many Sri Lankans the opportunity of watching our team play. Many expatriate workers in the Middle East pool together to purchase a Satellite Receiver and a Satellite dish that cost around Rs.20,000/- to 25,000/- . This gives them the ability to receive Satellite TV Channels that are free of charge. The most famous of these being BBC World Service, CNN, the Sony & Z TV channels. The other channels are only receivable on a payment of a subscription fee, which starts from around US$50 (Rs.4,000/-) per month, and is beyond the means of many. By telecasting a Sri Lankan match via these pay TV chanmels it took the match away from the audience that it was aimed to reach and deprived our Sri Lankans a chance of watching some great cricket.

Now our Cricket team is on tour again and Sri Lankans all over the world are keen to see how our players fair against the South Africans and the New Zealanders in the first matches we play in the 2000/2001 season. But we have heard that an agreement has been signed between the Board of Control for Cricket in Sri Lanka and the World Sport Group to telecast live transmissions of the games to the rest of the world. It is noted that the World Sports Group had paid a good price for the TV rights and that these funds would enable many under-developed schools and clubs develop their talented players. BCCSL is congratulated for its efforts to help up-coming cricketers.

But, once again these matches would be telecast via pay TV channels and would be out of reach to many Sri Lankans either in the Middle East or in places like Italy and Cyprus too. So again it would not be reaching the targeted audience and would be out of reach to many fans of our team.

However, if we had our own TV channel transmitting via satellite to Asia snd the Middle East including Southern Europe, it would be catering to a wide audience of Sri Lankan nationals living in these countries and would help narrowing the distance that one feels from home. Not only the aspect of Cricket or sport would be addressed, but also news, information, current affairs, entertainment etc. etc. would be reachmg the 1/2 million or so Sri Lankans who work overseas. Also the ability to transmit via satellite would grant us the opportunity to provide the outside viewer with actual facts and information and help the world see a better picture of Sri Lanka. The potential for manufacturers & advertisers to get their message across to a greater percentage of the population who increasingly bring in a larger portion of foreign earnings will be immense. The ability to get news and information from home would help many and might contribute even in a small way to reducing the number of people who return home without fulfilling their overseas contracts due to feelings of loneliness, homesickness and depression.

I hope that this little article would reach some of the great minds in the field of television in our country, provokmg thoughts to flow, so that the day Sri Lanka enters the Satellite TV arena would not be too far in the future.

Johann Schokman