Recently used as a set in 'Anna and the King', the Moorish mansion in Malaysia is a symbol of the colonial dream
Kellie's Castle: Fantasy or folly?
By Roger Thiedeman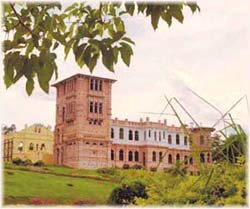 A setting for a romantic movie. The unfulfilled dream of a Scottish planter. A 'Moorish' mansion perched on a hill surrounded by a rubber estate. Tales of ambition, fantasy, love, charity and devotion. These are just a few elements behind the remarkable story of Kellie's Castle near Ipoh in Perak State, Malaysia (formerly Malaya).

It began in Scotland on March 1, 1870 when William Kellie Smith was born to the wife of a farmer. Kellie was his mother's maiden name, and he adopted it as his own given name. Aged only 20, Kellie Smith left Scotland to seek his fortune in Malaya (then a British colony). There he worked for an estate-owner named Alma Baker, supervising construction of public roads in the state of Perak.

Smith must have prospered, because he soon earned enough to buy 1,000 acres of jungle in the Kinta District, some 30 kilometres south of the town of Ipoh. He cleared it and planted rubber trees where jungle had once been. Smith named the estate Kinta Kellas, after his home farm in Scotland: Easter Kellas.

By 1914, Smith was a successful rubber planter. He had, by now, taken a wife, whose name is variously recorded as Agnes and Anna. When their first child was born-a son they called Anthony-an overjoyed Kellie Smith decided to commemorate the occasion in the grandest way he knew. He laid the foundation stone for what he envisioned as a magnificent colonial mansion.

But foundations alone are not enough. For his dream home to become reality, manpower was required. And skilled manpower, at that. So Kellie Smith looked far afield, beyond the shores of Malaya. To the south of India, in fact. There, he hired some seventy artisans and building labourers, and brought them to his rubber estate.

Soon, work began on construction of Kellie's 'castle'. As the edifice took shape, it was obvious that this would be no ordinary mansion. When finished, it would feature a six-storey tower, wine cellar, stately columns, Moorish-style arches and windows, walls decorated with Greco-Roman designs, and even an elevator (lift), a novelty in those days.

Then, tragedy struck Kellie's Castle for the first time. A mysterious flu-like illness swept through the area, killing many of Smith's Indian workers. The survivors told Kellie Smith that a temple must be built immediately to placate the gods. If not, more deaths would result, decimating their numbers.

Sympathetic to their fears, Smith halted work on the mansion, and diverted the healthier labourers to construction of a Hindu Kovil nearby. With the erection of the temple, the mystery epidemic miraculously disappeared. In gratitude to their white master, the devoted labourers placed an effigy of Kellie Smith on the roof of the temple, alongside those of deities from the Hindu pantheon. This rather incongruous figure may be seen even now: a moustachioed, obviously European man clad in brown jodhpurs, pale green jacket, a solar topee (pith helmet) on his head, and some sort of weapon or staff clasped in his right hand.

With gods appeased and workers happy again, work resumed on the mansion. Slowly, more of its planned features appeared. For example, flying buttresses on the outside of the building, each adorned with images of Kellie Smith, his wife, son Anthony and the latest addition to the family: daughter Helen.

One assumes that Kellie Smith was pleased with progress on the building, and that his confidence in his Indian labourers was high. Which is probably why he decided to take time off for a visit to Scotland. But that's when fatal blows felled both Kellie Smith and the future of his 'castle'. In 1926, while passing through Lisbon, Portugal on his journey home, Smith took ill and died. Some say it was malaria, others pneumonia.

Back in Malaya, his distraught wife and children were determined to complete the mansion. But the task was beyond them. Running a huge rubber plantation unaided was difficult enough; but overseeing construction of this exotic building too, simply impossible.

So, Mrs. Smith sold Kinta Kellas estate, and the land on which the unfinished manor house stood, to Harrison & Crosfield, the large British trading firm with links in Sri Lanka even today. Over the next few years, the incomplete 'castle', sometimes referred to as Kellie's Folly, remained neglected. In time-and with the end of colonial rule in Malaya-the jungle took over, all but swallowing the site and any sign of its existence.

Fortunately, more recently, some enlightened Malaysians saw the tourism potential of this unusual building and its intriguing story. They cleared the jungle, and began restoring Kellie's Castle to at least something of its earlier, albeit unfinished, glory.

Now, despite the ravages of time, it stands as a symbol of the early colonialists and their pioneering spirit, with all the romanticism of an era lost in the mists of time.

Many modern-day visitors to Ipoh make a point of including a trip to Kellie's Castle. And they are never disappointed. From the first time it comes into view, set on high ground beside a small, muddy river, the castle inspires emotions of wonder and amazement.

The naked brickwork of the main building and four-storey tower (they never quite made it to six storeys!) contrasts sharply with the apricot-hued plasterwork on the crumbling roofless structure behind.

Moorish arches conjure up images of exotic distant lands, while the exposed, never-used lift shaft could bring unwary explorers 'down to earth' in the worst possible way! Moving from room to incomplete room, it is not hard to imagine the rich furnishings and draperies decorating these spaces, had Kellie's fantasy turned to reality. A rooftop courtyard only hints at the scale of entertaining Smith's future guests might have enjoyed. But, alas, it was not to be.

Despite its signs of decay, this 'unfinished symphony' of a mansion still conveys an aura of dignity, grandeur and mystery that other, completed, stately structures would find difficult to match.

Perhaps the ultimate accolade accorded to Kellie's Castle was its choice as a setting for one of the more dramatic scenes in the 1999 movie Anna and the King, starring Jodie Foster and Chow Yun-Fat. What better location for a romantic tale than a 'castle' with a romantic, fantasy story of its own?

---
Nari Bena in London
The Past Pupils' Association of Visakha Vidyalaya (UK) staged Dayananda Gunawardena's 'Nari Bena' and 'Kamare Poray' in London recently.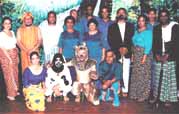 A Visakhian myself, on a brief visit to London with Hela Puwatha of 1998, yet fresh in my mind, I was delighted to be once again among those who gathered to support and encourage, yet another ambitious effort of the PPA, Visakha (UK). When I left the venue, the Green Ford Town Hall that evening I felt inspired and proud. Both "Kamare Poray" and "Nari Bena" have charmed audiences for almost 40 years. "Kamare Poray", a one-act play, with its story unfolding through dialogue, calls for superb acting and unfaltering momentum. Ari Dissanayake interpreting the boarding mistress - Mrs. Silva's - character as shrewd, designing and crafty, and Pubudu Chandrasiri and Nilanka Jayasuriya as the two naive and impetuous lodgers - Mr. Perera and Mr. Kurera made a sparkling trio raising spontaneous laughter and rapturous applause from the audience. They seem to have taken to acting like ducks to water!
"Nari Bena", a very popular stylized folk drama with its poetic dialogue, song, music and rhythmic movements coupled with a subtle didactic yet witty sense of humour, calls for a versatile cast, a melodious chorus and a talented artistic director. Its central character, the fox, progresses from a lonely bachelor to a triumphant suitor and tender lover, who is finally avenged for overstepping his parameters. Damitha Ratnasingha stirred the audience with his portrayal of 'Nari Bena'. Shama Perera as the Gama Duwa was a delight with her youthful grace of movement.
Wijaya Polpitiya, Sheila Madawela, Pandula Ranatunga, Athula Abeysekara and Priyantha Perera as the Kapu Rala, the Gama Mahage, the Gama Rala, the Ralahamy and Puraka were very convincing in their respective roles. Ranjini Amarasekara identified herself well with Ran Ethena. Sonia Vitharana in her role as the imperious and uppish Hamine was amusing.
Ranjani De Zoysa