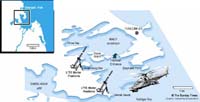 A question that has kept the security establishment in suspense since the Parliamentary elections on October 10 – Who will be the Deputy Minister of Defence – seems to have been answered this week.

Last Thursday morning, Minister of Power and Energy, Anuruddha Ratwatte, received a telephone call from an official at "Temple Trees," inviting him for a top level security conference. He was surprised and asked how he could take part when he was no longer the Deputy Minister of Defence.

Moments later, an invitation was to arrive from President Chandrika Bandara-naike Kumaratunga, Commander-in-Chief. As Minister Ratwatte rushed to "Janadipathi Mandiraya," later that morning, his aides who learnt of the good news were elated. At least one of them spread the word around that his Minister was going to "Janadhipathi Mandiraya" and was being sworn in ahead of others as Deputy Minister of Defence. It was thereafter, the aide thought, that the Minister would attend a special meeting of the National Security Council.
Soon, the news was the hot topic in news rooms of some print and electronic media. By Friday, they reported that Minister Ratwatte had taken his oaths as Deputy Minister of Defence. If that embarrassed the former Deputy Minister of Defence, a remark attributed to him appears to have placed him in an awkward position. He was quoted as having said "after assuming office" that "operations would continue and there will be no ceasefire."
With no formal appointment or a swearing in ceremony, Minister Ratwatte obviously felt the media reportage gave the impression that he had leaked the story. It could be construed as a move to embarrass President Kumaratunga. Yet worse, a stream of telephone calls were arriving, both at Minister Ratwatte's office and residence. They were from well wishers wanting to congratulate him on his reported re-appointment as Deputy Minister of Defence.
Minister Ratwatte directed that the news reports be contradicted immediately. His officials contacted the Director of Information, the genial Ariya Rubesinghe. The news release circulated on Friday morning said:
"Minister of Power and Energy General Anuruddha Ratwatte denies the news reports published in some newspapers today and broadcast over some electronic media that he was sworn in as the deputy minister of defence on Oct. 26. (SIC)
"General Ratwatte also totally denies that he had spoken to any media on this matter."
That set out the factual position in as far as the swearing in of a Deputy Minister of Defence and about remarks attributed to Minister Ratwatte. In this instance, the reports of a swearing in had emanated from his own aides. That too after he was summoned for the meeting at "Janadhipathi Mandiraya." That, however is not to say Minister Ratwatte is being dropped from the Deputy Ministerial portfolio he has held for six years.
As reported in these columns on October 15, Minister Ratwatte, is to remain as Deputy Defence Minister. That is not withstanding the stepped up campaign not to appoint him, particularly after the disclosure in Situation Report that he would continue in the post.
At President Kumara-tunga's invitation, he took part in a crucial, nearly seven hour long special meeting of the National Security Council on Thursday. For obvious reasons, one cannot divulge the issues discussed but the meeting went on without a lunch break, with attention being focused on some very important aspects of the ongoing separatist war in the north.
Chairing the meeting was President Kumaratunga. Also on hand was Prime Minister, Ratnasiri Wickremanayake, a new entrant to NSC meetings. Like Minister Ratwatte, he also raised a string of queries from the security forces top brass who were explaining matters. Defence Secretary, Chandrananda de Silva, was also present.
Army Commander, Lt. Gen. Lionel Balagalle, Navy Commander, Vice Admiral Cecil Tissera and Air Force Commander, Air Marshal Jayalath Weerakoddy were in attendance. Assisting them were the Security Forces Commander, North, Major General Anton Wijendra and Major General Sivali Wanigasekera, General Officer Commanding (GOC) the Army's 53 Division.
Unexpected delays in swearing in Deputy Ministers for the 44 Cabinet portfolios, highly placed Government sources said, prompted President Kumaratunga to invite Minister Ratwatte to last Thursday's National Security Council meeting. Until he is formally appointed Deputy Minister and sworn in, she felt it was important for Minister Ratwatte to be privy to what was discussed at this crucial non stop session for nearly seven hours. Decisions on the subjects discussed impact on the conduct of the war in the coming many months.
The move made it clear to the defence establishment and the security forces top brass that Minister Ratwatte would continue to retain the portfolio of the Deputy Minister of Defence. Some of the questions minister Ratwatte raised during the meeting itself confirm the move further.
Deputy Ministers were due to be sworn in this week but have been further delayed due to pressures from different quarters on President Kumaratunga to appoint various individuals. None other than Prime Minister, Ratnasiri Wickremanayake, himself declared publicly during a radio interview that the Eelam People's Democratic Party (EPDP) joined the People's Alliance without any conditions but the National Unity Alliance was now insisting on five Deputy Minister appointments. Contrary to reports that she had flown to United Kingdom, President Kumaratunga, was busy even yesterday trying to finalise the list of Deputy Ministers.
The crucial National Security Council meeting on Thursday came as mounting evidence emerged of LTTE plans to step up attacks in the operational areas as well as outside, particularly in the City.
At dawn on Monday, Tiger suicide cadres successfully breached high security at the Dockyard, home for the Sri Lanka Navy's Eastern Naval Command. At the crack of dawn, when security at the mouth of the harbour was relaxed, "MV Mercs Hendala," a cargo vessel entered. It was heading for the Mitsui Jetty to load cement to be transported to Point Pedro.
Right behind, an explosive laden Tiger guerrilla boat with suicide cadres on board, followed right into the Inner Harbour area, a high security zone. The boat which came near A 541 (Lanka Rani) passenger craft exploded. The vessel obtained by the Navy from Ceylon Shipping Corporation for transport of civilians was in a Boat Pen with a Gun Boat alongside. Both were damaged.
Navy officials said three other explosive laden boats accompanied the one that entered the Inner Harbour. Two were destroyed by Navy patrol craft and a third, which was hit, had moved towards Mutur. They said the Tiger guerrilla boats entered the Inner Harbour whilst mortar fire was directed on that location and adjoining areas including Eastern Naval Area headquarters. The mortar fire came from Clappenburg, barely half a kilometre away from positions held by the Army and from Marble beach, on the slope of Diamond Hill, an area that juts into sea ahead of the harbour mouth.
Army launched an operation in these two areas whilst two Sri Lanka Air Force Mi- 24 helicopters provided air cover. Above them, an SLAF Beechcraft hovered – all three helping to co-ordinate the ground operation. One of the Mi-24 helicopters which veered out was hit by a Tiger guerrilla Surface to Air Missile and plunged into the sea. That killed four SLAF personnel including the Commanding Officer of the Mi-24 Squadron, Group Captain Jagath Rodrigo, an experienced pilot with a high rating. Their bodies and the wrecked helicopter were recovered on Tuesday. The second helicopter too had come under Surface to Air Missile fire but the Pilot had activated the counter missile system in time and was able to avoid being hit.
This was the second SLAF Mi-24 helicopter to be hit by Tiger guerrillas attack in just five days. On October 19 fire from a hitherto unidentified heavy calibre gun brought down an Mi-24 Gunship near the Army defence lines at Nager Kovil. A three member crew on board survived but the helcopter was damaged beyond repair.
Another development which has forced the Ministry of Defence to take immediate measures came after Wednesday's mob attack on the Government run Detention and Rehabilitation camp at Bindunuwewa in Bandarawela. Villagers estimated to be around a 1,000 brutally murdered 26 of the 40 inmates at the camp, all surrendees who were LTTE suspects, at the centre. Some were bludgeoned whilst others were burnt or stabbed to death in a gory massacre which has caused outrage in some world capitals and among international organisations.
This includes the International Committee of the Red Cross (ICRC) which is to raise issue with the Government. It is on the grounds that according to the Geneva Convention, the responsibility of protecting detainees, under any circumstances, is the responsibility of the Government. The ICRC had conveyed to the next of kin the news of the deaths of detainess. They also arranged for the transfer of their bodies.
In a statement issued on Wednesday, the Government has accused "provocation from external forces" had led to the situation. However, it has not identified the "external force." Defence sources say it is a veiled reference to the LTTE though no substantial evidence of their involvement in the incident has surfaced. Sections of the Opposition viewed the Government accusation as a move to "deflect criticism" levelled at the Government for its failure to ensure adequate protection to the detainees.
One move by the MOD is to ensure heightened security to prevent possible reprisal attacks by the LTTE, particularly on civilian targets Another is to take steps to ensure there are no excesses on the part of members of the security forces in the light of the massacre at Bindunuwewa.
With the LTTE stepping up its campaign of violence, weeks ahead of its "Martyr's Day," security forces, now locked in a defensive position, will undoubtedly face new challenges.