Glitter and glamour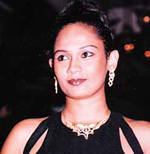 Young talented amateurs and professionals were provided an opportunity to enter the international jewellery market through the Sri Lanka Jewellery Design Awards 2000 held on August 25 at the Hotel Ceylon Intercontinetal.

The event was organised by the Export Development Board and sponsored by Swarna Mahal Jewellers (Pvt) Ltd. The chief guest was Trade and Commerce Minister Kingsley T. Wickremaratne.

"The objective was to give an opportunity to professionals and amateurs to design and enter the international market. At present, many export companies cater to the international market as per designs supplied by the buyers and wholesalers. If we develop our own designs, with our quality gemstones and manufacturing skills, we will be able to obtain a better market," said EDB Deputy Director, Product Development, Indira Malwatte.

Six lovely ladies modelled the traditional Kandyan, peacock and bridal collection of the main sponsor, Swarna Mahal along with its latest collection of diamond and stone jewellery.