---
Just a little caring
This is something I saw one morning a few months ago near the Wellawatte police station, while the bus I was in stopped at the redlight. There was a young couple standing on the pavement, and the way they stood suggested that they were waiting for someone or something. The morning sun was quite sharp and there was no proper shade nearby. What caught my eye and held it was that the girl was standing slightly behind the boy, in his shadow. In height they were two extremes, and his shadow was lengthy enough to keep her out of the sun. Hardcore feminists would scream at any woman who stood in a man's shadow, and the phrase does sound suspicious. But here he was not over-shadowing her; he was just standing in the sun lending her his shadow, and the girl looked quite happy to be where she was. It was just a little gesture of caring and protection, but enough to make my day. Maybe women empowering themselves doesn't necessarily mean shunning the protection of a man ?
Anonymous
---
Showers of blessingng
Have you ever noticed the beauty of the rain? Have you ever seen the power and the freedom it revels in? Can you understand it? Many feel that rain is highly troublesome. Not only is it inconvenient, but it means that influenza is the order of the day. Call me crazy, call me weird but it is this rain that brings the best of emotions in me. I love the feel of rain on my face. I love it when the wind beats against windows and makes those tall strong trees bend and sway. That sense of power is immense. Think about it; and maybe you would see rain as I see it. A phenomena of nature which man has no control over. So, please excuse me. The rain is beckoning me, I need to walk in the rain. Suramya Hettiarachchi It's never too late When my friend was fighting for his life in hospital I regretted not telling him that I appreciated his friendship and company. We did not do the same subject combination and the only time we ever met was at the canteen during lunch. He would appear out of no where just as I opened my lunch packet. He was the only person who actually seemed to actually enjoy his vegetables. That day he had fever and complained to me of his ailment until I finally told him to put a lid on it. The next day he was in hospital with collapsed lungs and an irregular heart beat and I was eaten up with guilt. I visited him the next day with a couple of my friends and he was far too sick to speak. The nurse chased us out in the end. I regretted not telling him that I really enjoyed his company and the small jokes he made. I regretted not listening to him the otherday and I missed him at lunch. In a canteen filled to the brim with over a hundred people I missed his familiar presence. And I realised how much I had taken him for granted. He recovered in a couple of days and was put on solid food a month later. He didn't die as most people feared and I still haven't gotten round to telling him that he is a very good friend of mine. But if...something had happened to him and he hadn't pulled through I would have felt guilt for a long, long time - so may be I will tell him, sometime soon. I have found out the hard way that things left undone, words left untold, and everything else left unappreciated until too late -are left undone for just too long.
Inosha Wickrama
---
The time for dreams
This is especially for people who've just finished their A/L's. Last week on my way home from work, a friend of mine said something that's been troubling me since. He wanted to leave home. Nothing spectacular: "just be by myself for a couple of days, maybe a week or so - totally alone. Just to see what it's like". I didn't ask why: in my mind it was suddenly one year ago, and I was cramming like hell with my exams around the corner and longing - I remember- angrily longing to be free. Longing to be by myself and do something that wouldn't be written down somewhere or certified by someone but would matter to me far more than anything that was. And I swore all along that once the papers were over and done with, I'd just go off. And be by myself.Lots of things happened after my A/L's and somehow I never got down to doing very much of that. I left school, started working, and finally found myself sitting in a bus listening to someone voice those thoughts, exactly one year later. I think I felt very sorry for myself, because with one thing and another I knew that now I'd probably never get down to freeing myself the way I wanted. So few of us actually do a fraction of what we really want to with our lives; we just float, alter our goals and pick up our causes and cast them off as we go along and refuse to call any of it mere existence. We finish up with personalities that reflect nothing more than a stock total of everything that we've done, because we have so little time to be ourselves, for ourselves. And that's my story. It's not a tragic one, so I'd rather not end it with counsel, or even with one of those catchy phrases that you're supposed to reflect on and smile about, but with something I read by a man who did live his life in a way that I longed to start mine. "Youth," he said, "Is the time for dreams. The trick is not to forget them as you grow up." His name was James Ramsay Ullman.
Thra, Kandy.
---
The Toad's in town
A Toad with a craze for cars, a Rat who loves writing poetry, a Mole who digs his way into a wonderful adventure and a Badger who can't get enough of pork pies! These four friends are the unusual yet lovable heroes of 'Wind in the Willows' - a play based on the story written by Kenneth Grahame.
Join the students of the Wendy Whatmore Academy at the Lionel Wendt Theatre from August 25th - 29th as they perform this adventure with a difference. 'Wind in the Willows' is full of song and dance and laughter, and is all about the animal world. There are rabbits, squirrels, hedgehogs, ducks and a bunch of cunning weasels (the 'baddies' in the play!) - and if you ever wondered what it would be like if animals could talk, then this is one production you shouldn't miss! The cast is made up of 50 of the Academy's students ranging between the ages of three and 20. The main characters are Toad (Ishraq Wahab), Rat (Hashintha Jayasinghe), Badger (Rekha de Silva) and Mole (Sean Jesudasan).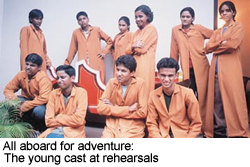 Says Tracy Holsinger, one of Wendy Whatmore's grand daughters, who will direct the play: " I read 'Wind in the Willows' when I was very young and was absolutely thrilled by it! The characters were really amusing and they had amazing adventures. They also talked, and that's something that really appealed to my imagination. The story is about more than just adventures and having fun. It's about growing up and learning to be responsible for what you do, and I think it's easier to understand when seen through the eyes of innocent animals. And of course I've always wanted to see this on stage, so when my mother (Wendy Holsinger - Principal of the Academy) asked me to direct this play I was very happy to do so."
The Wendy Whatmore Academy marks their 60th Anniversary this year. Students at the Academy learn all about Speech and Drama through plays like 'Wind in the Willows', and they also get the chance to learn to sing and dance under great entertainers like Maryanne David and Shohan Chandiram. The very talented Kamalini Samarakoon has composed all the songs in this play, and the cast will be accompanied live by a band of very experienced musicians including Christopher Prins. Miriam Gunaratne has designed the costumes, the set is designed by Akhry Ameer, lighting by Michael Holsinger, sound by Tareeq Musafer and make-up by Buddhi Galapatti.
The young cast have been working very hard. They've learned about acting and teamwork and have had lots of fun along the way, so make sure you don't miss the excitement of 'Wind in the Willows'. Tickets are now available at the Lionel Wendt Theatre.
---
On the Campus
Room for improvement
Thanks to the unit system, there was hardly any time for post-exam celebrations. After a meagre two-week respite it was back to work, work, and more work. For the eager beavers, however, university life is anything but boring.
There are opportunities galore for fagged-out souls to let off a little steam. Rarely a week passes without this club or that society coming up with something to break the routine. Movies by far are the biggest hit with everyone. One can watch anything from Hollywood blockbusters to Bollywood box-office duds. On one condition, of course. No complaints. Well, what do you expect for a nominal fee?
For the tough kids who want to flex their sporting muscles, there's always the gym. The girls, however, have to put up with overwhelming male dominance. "Ladies first" does not apply in there. At least not when it comes to playing badminton. Equal opportunity? My foot. The hard-core feminists sure have a hard time sharing the courts with that bunch of egotistical, macho, chauvinistic...uh oh, here I go again!
My idea of taking up badminton was met with precious little enthusiasm by my mother. While I could give her one good reason why I should, she would give me five better reasons why I shouldn't. Coming home late would be a definite no-no. But that would hardly be a problem, I could always leave a bit early, I persisted.
"OK then, suit yourself, just make sure you play by the rules."
Agreed, ma'am.
Alas, there was trouble from day one. Caught up in a nasty train delay, I went home way past my curfew. I was half expecting to see my mother's I-told-you-so look followed by quite an earful. Anything would be better than her quiet but ominous "Game's up, dear. You broke the rules. Again." To my infinite surprise, it was an utterly shaken mother that greeted me. (Don't we always take our parents for granted?) In any case, I was too tired to give explanations.
The following morning things were back to normal. No lifetime ban on sports. Absolutely no hangover whatsoever. Surprise? You bet!
Meanwhile, the feedback on this column, especially on the one about the Freshers' Night, does not bode well for its future. The organizing committee was, to put it mildly, furious about my allegedly "ungracious" remarks. The person who broke the news to me, himself a sophomore, certainly did little to hide the anger in his voice although he did force something like a smile. (Talk about harbouring grudges!)
I was accused of blowing things far out of proportion and of underestimating a job well done. For one thing, I had no idea I had such a fan club. God knows I did everything possible to keep my identity a secret. I tried telling him that it was all in jest. He just wouldn't budge. Bruised little egos? Well, what can I say except that I'm a journalist and it is my job to tell the truth? On second thoughts, let me rectify the situation. They by all means tried their best and full marks for a well-disciplined party, but still there was room for improvement.
I guess I have as much a chance of patching things up now as Bill Clinton had of rebuilding his image after the Lewinsky scandal. If I don't survive to write the next column, you know what to think.
Love is in the year for Janet & her Q-Tip!
Now 'EAR THIS! Janet Jackson has a new love - a rap star named Q-Tip!
The pop songbird, 34, has bounced back from the collapse of her secret marriage with a new movie, a new album- and a new man!
"Janet is so happy nowadays that you'd never know not too long ago she was served with divorce papers and crying her eyes out," said an insider. "She's been busy co-starring with Eddie Murphy in the 'Nutty Professor' sequel and recording more music.
"But she's most excited about her new romance with Q-Tip."
They met while filming the movie 'Poetic Justice' in 1993 and became good friends. No sparks flew then because Janet was married to Rene Elizondo.
"Janet and Q-Tip got closer over the years. When everything fell apart for her, he was there to pick up the pieces."
Unfortunately, one big storm cloud is hanging over their romance- a fellow rapper has threatened to kill Q-Tip!
Rapper Kenrick Miranda had his jaw broken during a brawl with 29-year-old Q-Tip in March.
Now Miranda has written a song called 'Matter of Time' directed at Q-Tip that says he's "gonna blow your brains out."
The CD cover also shows Miranda holding Q-Tip's severed head.
"Janet is very worried not only for Q-Tip, but herself too!" said the insider.
"How do you handle a situation like that? The man you love could be a shot down on the street and what if you're with him?"
"Janet really likes Q-Tip. But she's already been married twice and she's going to take this relationship nice and slow."