By Bernie Wijesekera
Nayantha Weeraman an outstanding all rounder from St. Aloysius College, Galle, who now turns out for the Tamil Union in the Premier Tournament will play district cricket, in Melbourne, Australia, in the coming season.
Weeraman, who was coached by Dharmasiri whilst turning out for St. Aloysius, as a junior and ended up as vice-captain in his last year 1997. Besides his batting he is wily off-spinner who had a rich haul of 142 wickets in his school career. Later played for Galle CC.
But it was at Tamil Union that he showed his mettle as an allrounder. Weeraman was interviewed by The Sunday Times.
Who really helped you to come to Colombo to further your skills? It was S.Skandakumar, President of the T.U. He gave me all the encouragement and support. It didn't stop there.
But also found me gainful employment to work and play for a better future. Presently I am working at Geo Steuart Travels. Bernard Wijetunga, John Rudra and Channa Wijemanne helped me in a big way.
Any noteworthy performances in competitive cricket? I have been a consistent run-getter in competitive circket scoring four 50s last season. In the under-23 final against SSC I scored 103 which helped Tamil Union to win the match at the SSC grounds and was adjudged Man-of-the-Match.
In the end it was a just reward for my consistency by getting this opportunity of playing district cricket in Victoria turning out for Monbulk Cricket Club.
This was made possible thanks to David Cruse, who is a trustee in the Sri Lanka Cricket Foundation in Victoria and to Roshan Mahanama. They were instrumental for getting this break.
From this end John Rudra was on the ball to make it a reality. David Cruse was here to watch the Sri Lanka - S. Africa series. In the past Kosala Kuruppuarachchi, T.L Fernando and Roshan Mahanama played for Monbulk CC. District cricket standard is quite high with some state players too playing for their respective Clubs, Cruse added.
Former Sri Lanka all rounder Ruwan Kalpage, is also lined up to play for a Club in Victoria. Of course he has played district cricket in the past too. The SLFCV, is committed in helping deserving young prospects to go places, whilst playing district cricket in Australia. Aravinda de Silva was one of them, who later went on to thrill fans at home and abroad with his prowess.
Weeraman will leave for Australia later this month. Kalpage will follow. He too has got the nod from his employers.
---
Goldi Sands wins title
Goldi Sands Hotel bagged the Negombo Hoteliers six-a-side cricket title when they beat Club Palm Bay by 4 wickets.
On their way in winning the title Goldi Sands beat Royal Oceanic by 4 wickets and Dolphin Hotel by 4 wickets.
Royal Oceanic scored 43 with Asanga top scoring for them with an unbeaten 24 and Donald Maximus capturing 2 for 5 and in reply scored the required runs for victory with Jude scoring an unbeaten 23.
Dolphin totalled 47 all out and Goldi Sands replied with 51 for 1 with Donald Maximus unbeaten on 35.
In the semi-finals Goldi Sands beat Blue Oceanic by 1 wicket, with Blue Oceanic scoring 70 for 4 with Nishantha staying unbeaten on 30 and reply Goldi Sands scored 72 for 4.
In the final Goldi Sands beat Club Palm Bay by 4 wickets.
Club Pam Bay totalled 67 for 3 with Kalum unbeaten on 26 and Donald Maximus claiming 2 for 6 and reply Donald scored an unbeaten 35.
Donald Maximus won two awards the Man of the Match and Man of the Tournament.
Ladies bridge
The Annual Ladies Bridge Championships sponsored by Mrs. Karmini de Silva will be held on Wednesday August 23 at the Women's International Club from 9 a.m. to 5.30 p.m.
The open pairs event sponsored by Thomas Cooke Travellers Cheques Limited, played for the Three No Trumps Trophy organised by the Ja-Ela Bridge Circle will be held at Hotel Sirimedura, Seeduwa on Sunday August 20 from 9.30 a.m. to 3 p.m.
Weerasuriya wins title
H.A. Weerasuriya won the Individual bridge event for the ranks of Life Masters and above sponsored by Dilanjan Soysa held at the Bridge Fedearation Headquarters at the Race Course.
Bernard Silva finished as first runner-up followed by M. Chelliah, Asoka Warnasuriya and Nihal Silva.
In all 12 participated in this championships.
The Individual event for ranks below Life Masters sponsored by Hatton National Bank was won by Wasantha Senanayake.
Nanda Kurukulasuriya finished as first runner-up followed by S. Thillainadarajah, Cecil Perera, M. Ganesan, Ms. Lilamini Weeraratne and Asanka Amerasinghe tied for the sixth place.
Fourteen players participated.
Invitation basketball
The Old Mazedonians Invitation Basketball Tournament for men will be played from August 12 to 14 in Ragama, Wattala and Kandana.
This tournament is jointly organised by the Gampaha District Basketball Association and Old Mazedonians Basketball Club and the Sri Lanka Amateur Basket-ball Federation.
This contest will be played on a semi league basis for the late. E.A.P. Edirisinghe Memorial Trophy with the participation of twelve teams.
The teams participating are: Wattala BC, Moratuwa BC, Air Force, Police, Army, SriLankan Airlines, Lassalian BC, Old Bens BC, Hatton National Bank, Old Peterites, David Pieris Motor Company and National Youth Services Council.
The champions will be awarded Rs. 7,500/= while the first, second and third runners up will be awarded Rs. 5,000/-, 3,000/- and Rs. 2,000/- each.
Five-a-side cager
Lasallian Ranaviru Memorial five-a-side invitation basketball tournament for men and women (Schools & Clubs) will be conducted on August 26 and 27 at De La Salle Mutwal Courts.
This tournament is played to commemorate Old Lasallians who sacrificed their lives for the motherland.
Entries will close on August 15 and the draw will be held on August 16 at 10 a.m. at De La Salle College Mutwal.
Women's tennis
The Women's International Club will hold its 15th Annual Junior Ranking Tennis Tournament from August 15 to 22 at its club courts. Entries close on the August 14. The tournament dates have been brought forward by a couple of days to accommodate some of the top junior players who will be participating in two tournaments in India.
This is a "B" Grade Ranking Tournament and most of the top junior players are expected to participate, said Jagath Welikala, Tournament Secretary. The tournament will cater to children as young as 8 years to older boys and girls upto 18 years. There will also be a doubles event for each category, he added.
Last year's tournament attracted a record 150 players, with Mahesha Seneviratne taking honours winning three titles. Among the top players expected to participate at this tournament are Dinuka Ranaweera, Eran Weerakoon and Mahesha Seneviratne.
---
A blazing 122 by wicket keeper-batsman Sean McKay and a fiery spell of medium pace bowling by opening bowler Rangana Prasad who captured 6 for 14 in 6 overs sent SK & B reeling to enable Thorn Group to register their 4th successive victory in the MCA - F division cricket match played over the weekend.
Thorn Group : 233 for 5 in 29 overs. (S. McKay 122, A. Ranmadu 49; I. Shabdeen 3 for 30.)
SK & B : 48 all out in 18.1 overs (I. Shabdeen 14, S. Lakruwan 11; R. Prasad 6 for 15, C. Bandarathilake 2 for 4).
---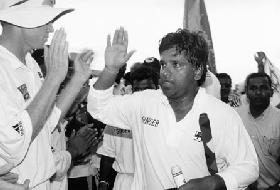 Since we heard the proclamation
From cricket you wished to retire
We all have been steeped in emotion
As you've been the team's live wire
So for you we shed these tears
Do you think the decision's right?
For in these eighteen wonderful years
You have been in the lime-light
When you retire from the game
And your place you abdicate
Cricket will never be the same
Of that we comtemplate.
Your place in cricket is unique
From the first to the hundredth test
You put to shame every critic
To the game you gave the best
Remembering the bash you had with Ross
The dubious Aussie umpire
Defending Murali, you acted boss
Of that scene we'll never tire.
The country needs you longer son
More cricket is left in you
As in all that you have done
You'll do in the future too.
But politics is a dirty game
Be wary of that, my son
Decide aright, you'll rise to fame
In the Island in the sun.
Whatever you decide to do
Let's wish you all the best
The sincere wishes come to you
From me and all the rest.

Ninelte Fernando,
Moratuwa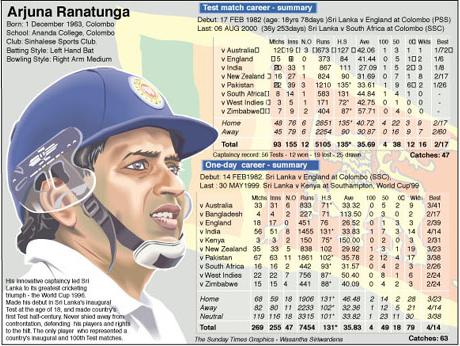 ---
By Bryan Baptist
Army Vs Airforce - Army won by 63-14 - Prop Udayakumara scores 5 tries! - A one-sided game. According to Referee Mahinda Jayawardene, outstanding in this game was the Army Prop forward who was always up with play and was rewarded with scoring 5 tries. This is a rare feat. The Army are getting into their rhythm and fluency. They come up against an improving Navy side today. Possession in the loose will be important for both sides. The Army contest lineouts. The Navy must therefore ensure that there is a clear passage in the lineouts between the two teams so that they can win their own ball well, instead of being hasseled when jumping. The Army now seem to take control of games which is a good sign.
Kandy VS CH&FC - 3 All Draw - What a result! On paper, two of the strongest teams in the Tournament and yet neither were able to score a try! Although Nalaka Weerakkody missed 3 penalties, he was able to successfully relieve pressure with hls booming kicks which frustrated the CH, in the 1st half. The CH&FC were unable to penetrate the Kandy defence. Kandy, on the other hand missed many chances of scoring due to poor ball handling by the three quarters. CH too failed to score through their three quarters. Many basic mistakes. Maybe the tension was high amongst players - a crucial game. I am sure selectors might be concerned by such play. Food for thought for the future where consistency of players must be taken into account. Rugby is a running game and more variety is needed - coaches take note. The last Australia/New Zealand game is worth watching, particularly the All Blacks on how they effectively ran the ball. A game-plan must also take into account specific situations in a game which demand minimum delay to implement.
Observation: When a team's three quarter line is unable to get over the gain line due to effective tackling by the opposition three quarters, it is important for Referees to OFTEN look back and see whether the opposition three quarters are in fact off-side!
HAVELOCKS VS CR & FC - Havelocks won bv 26pts to 17 pts
- What a game this was! Open rugby by both sides. BUT it was a mistake by Skipper Savantha de Saram that probably cost the CR the game. Being offered penalties in close proximity of the posts, he opted to set up mauls or kick to touch and work with the forwards. This did not work. Why? Ana Saranapala had done his homework. CR, who are adept in the rolling maul, suddenly found it difficult to gain ground and set up a good 2nd phase platform from which to attack. The Havelocks were able to very effectively counter this - I will not discuss how, but they were able to stall the CR. Havies flier Sanjeewa Jayasinghe was one of the most dangerous players that day with his superb runs. Whenever he received the ball something was going to happen and he dazzled through for a fine try. As I said in my preview in the Daily Mirror, it will be a close 1st half...and it was. The CR led 12-10. CR three quarters must take the blame for being selfish and not opening out the game. Havelocks Coach Ana Saranapala made decisive replacements when he brought in Sudath Sampath into the three quarter line and replaced a tired Siva Wanasinghe one of the outstanding flankers in Sri Lanka, towards the end of the game. He had completed his task - in my preview I stated that replacements would be vital for the Havelocks. I feel that this flanker should be included in the Sri Lanka pool, having watched him in previous games too. On the other hand, CR should have kept playing their flanker Shammi Nawaz who was having a great game. Savantha de Saram came out during the 2nd half due to injury which may have some effect on the CR. Apart from this, I commend both teams for playing such an exciting game of good rugby.Well done, Referee Jamaldeen - a well controlled and fair game.
Navy VS Police - Navy won by 19 pts to 10 pts - As I forecast, 'Either side can win". Yes. the Navy are improving with every game. According to a newspaper report, Referee S.W Chang handled the whistle excellently. What a relief to both teams and the spectators who would have enjoyed a fine game. I said that the Navy should run their threes more often. This they tried to do and failed! I meant "in good weather". On that day there was a steady drizzie during the game. In such circumstances kick ahead tactics should be adopted with the intention of regaining possession on these kicks. The Police did not give up.
---
A fourth wicket partnership of 90 runs by the two Thilinis - Kumarasinghe and Dissanayake - enabled Ananda to beat Royal by five wickets in the Under15 Division One limited overs final played at Wesley College Grounds at Campbell Park yesterday.
Kumarasinghe scored 58 with eight fours while Dissanayake remained unbeaten on 46 with seven fours.
Royal batting first were bowled out for 172.
On their way to winning the title, Ananda beat D.S. Senanayake, St. Joseph's, Lumbini, Basilica Ragama, Maris Stella, Sri Summangala, Moratu Vidyalaya and were held to a 'no-decision' by Isipatana in their first round games.
In the second round they overcame St. Thomas' Matara and S. Thomas' Mt. Lavinia.
In the semi-finals Ananda beat St. Peter's.
Royal - 172 all out in 48.4 overs (S. Dinishan 53, J. Jayawardena 21, D. Jayasundare 26, D. Seram 20; T. Nirmal 3 for 13, S. Rajakaruna 2 for 27)
Ananda - 175 for 5 in 45.1 overs (T. Kumarasinghe 58, Thilini Dissanayake 46 n.o, D. Thillakaratne 19, T. Nirmal 24 n.o; D. Wijeratne 2 for 19, S. Dinushan 2 for 38)
---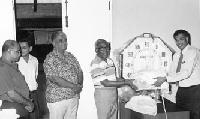 Michael de Zoysa, former Chairman of the Sports and Facilities Committee of the 1997/98 and 1999/2000 EXCO of S. Thomas' College Mount Lavinia Old Boys' Association gifted swimming and water polo equipment worth more than rupees one hundred thousand to acting warden, consisting a 31-inch pace clock, four Mikasa water polo balls, world championship water polo caps, referee flag and other associated equipment.
Additionally de Zoysa presented a back-up battery for the VHS Cine camera his committee had partially financed with S. Thomas' and a swimming pool operating handbook. He said that these items of equipment were imported by his then committee to enhance college swimming and water polo, two sports that college exceedingly doing well.
Michael de Zoysa also stated that though he is not holding any position in the OBA, plans to give more equipment to college pool to make it the most equipped swimming pool among the school parting in aquatic sports. These would include diving flash cards, stop watches, and water polo timing devices.
De Zoysa took the presentation ceremony to gift there water polo balls to Lalith Amerasekera, President of the Old Thomians' Swimming Club. OTSC Secretary Mahendra Perera who were present. Those present at this ceremony were Merrill Aluwihare, Secretary to the Board of Governors of STC Mount Lavinia, Mahinda Halan-goda also served with de Zoysa in his committee.
---
Taking revenge
A top sprinter in contention of representing the country at the Olympics after the Asian Championships is to be chopped, Rover learns. The reason being that this sprinter was featured in a Radio interview with a big mouth coach with plenty of political clout. A question was posed to this coach why different privileges to his commands and different to others,. which saw him turning red.
How come?
Rover is made to understand that four athletic coaches are going to the Sydney Olympics. Why this preferential treatment to athletics only? What about the other sports? Is it because the big mouth does things to his liking. What a waste of funds! Why a women's 4x100 metres relay team without Susanthika? Is it because his commands are rewarded with jolly rides.
What a shame
It was mentioned by Rover that Sunil Gunawardena did not break Duncan White's 200 yards record. Rover stands by it and goes onto describe the event. Where he states that W. Wimaladasa was the first to break Duncan White's record which was later broken by D.K. Podimahathaya and thereafter only by Sunil Gunawardena. It was not Sunil Gunawardena who broke Duncan White's record.
Prema dropped
Rover on investigation came to know the way he was chopped by the Minister.
A tale of lies had been related to the Minister that earlier too 5,000 US$ was given by the IOC to the President and Secretary of the NOC. Rover learns that it was done for the first time. But the tale of lies had been conveyed to the Minister that Prema also received same, but it was not so. So lame an excuses was made to drop Prema as Manager stating that he has gone to three Olympics. Mr. Minister what about the others who have gone the same number of times, why not drop them also, in fairness to all.
Umpires at loggerheads
Rover learns that a high official of the Circket Board with an idea of getting his favourites to a top position on some lame excuses are trying to break their unity by appointing a deputy who is rather older than an umpire who is much younger who doesn't want to be a pawn, but looks after the unity of the umpires.
ABC Youth Championship - Malaysia
Why did the selectors from Sri Lanka Basketball Federation select the team just two days before departure? Can the coach produce results by practising as a team for two days? Was this done to humiliate the coach who produced best school team in recent years? Why was the best team and/or players not selected for this tour? Who allowed the four boys taken by the Vice President with dual citizenship to wear blazers with Sri Lanka colours?
Accounts
Why was the collection and contribution of the above tour not deposited to the Sri Lanka Basketball Federation's Account? Why receipts not issued for the money received? Who is responsible to answer the Executive Committee for this unaccounted money? Who paid for the four boys taken by the Vice President of the SLBF with dual citizenship?
Girls' Championship
Girls from all schools in Sri Lanka reported for trials at St. Joseph's Convent Nugegoda for selection of the team for the above tournament. But there were no coach and/or seletors to guide the players who had reported for practices sacrificing their studies. Why are the officials of the Sri Lanka Basketball Federation hiding from the players? Has the selectors already selected the team with the girls from Nugegoda and Kegalle, where a selector and the Vice President with dual citizenship is coaching girls schools? Are the girls who gave Rs. 10,000/- each from Nugegoda, to the coach included in the team?
Minister Selector
The Minister of Youth Affairs and Sports has approved himself as a selector of the National Amateur Sports Union. Well done Minister why not you call for the resignation of the selectors plus the President NAASU and also the secretary NOC who was promoting his son's classmate.
Foreign Tours
Rover reliably understands that Sri Lanka Basketball Federation has planned to go on five foreign trips in spite of our standard of playing has gone to the lowest level in Asia. This was proved at the recently concluded ABC Youth Championship. Are these foreign tours organized for the benefit of the office bearers of the SLBF?
Local Tournaments
Except Sri Lanka Schools and Mercantile Services nor other Association affiliated to Sri Lanka Basketball Federation have conducted any tournament for promotion, development and popularizing Basketball in their districts in spite of the financial assistance given by Ministry of Sports for coaching, promotion and development. Into whose pocket has the monies given by the Ministry of Sports for development gone? How many office bearers and officials are sharing the money?
---
What was billed to be an exciting and absorbing finish to two months of solid cricket, fizzled out tamely as the wet weather dominated the final Test between Sri Lanka and South Africa. Try as the ground staff at the S.S.C did, torrential downpours out did their efforts and too much time was lost and so the result was a draw.
Although Sri Lanka won the first Test very comfortably by an innings, the South Africans fought back well to achieve splendid results in the second and third Tests. Full marks to them for working out methods and techniques to counter the conditions and the other advantages that the home team had.
In the batting area they worked out that it was a must to tackle the Sri Lankan spinners. Of course a brunt of that was copying with vicious turn, bounce and accuracy of Muttiah Muralitharan.
One of the strange factors that came to light was that the left hand batsmen consistently played the off spinner well in the last four innings. Gary Kirsten, Lance Klusener, Nicky Boje seemed more comfortable than most of the right hand batsmen. With Klusener sticking it out to play two immensely valuable innings with the middle and lower middle order, the visitors reached formidable scores in those two test matches. Perhaps, Muralitharan was attempting to control his spin, so as not to beat the outside edge by too much. In turn the trio swept whatever they could, pounced on the shortly delivery whenever it appeared, stepped out and drove when they spotted the flight, nudged the singles when they were upto the pitch of the ball and all of this brought about successful results. Certainly, as the series progressed the South African batsmen kept handling the off spinner better.
The performances of the other Sri Lankan bowlers is a matter of concern. Left arm spinner Herath had lost his line, length and variations that made him quite a success against the Australians. Upul Chandana certainly bowled with more confidence in the two games that he played. His bowling lacked consistency. There were many occasions where he bowled rank loose deliveries which at this level gets dispatched to the boundary. Kumar Dharmasena on his comeback was adequate in helpful conditions. However, he and the others (barring Muralitharan) will be tested only when they deliver on non-assisting pitches.
Of the quicker bowlers tried, Chaminda Vaas picked up four wickets in the first innings of the final Test. There was some pace and reasonable bounce on that day and Vaas was effective. After a long lay off due to injury, Ruchira Perera came back into the game and bowled with fire to pick up two wickets. It was the first and only occasion that the local quicker bowlers had work to do. Big boy Nuwan Soysa had to quit again due to injury. But when he played he was kept in cold storage.
Shaun Pollock, now rated as one of the best bowlers in the world kept up to his rating. In all three matches he gave a classic example on how to bowl on slow, spinning pitches. He kept it simple bowling a good line and length, varying with whatever movement he could gain. Then time and again he displayed aggression, throwing in the bouncer, glaring at the batter and exchanging a few words too.
Sanath Jayasuriya won the toss on all three occasions. Twice he decided to put the opposition into bat. It was obviously because he and the team suspected that there would be some early life on the pitch that would help the South African pacemen.
On both occasions his decision was justified as the opposition lost half their side cheaply but, then made sufficient recoveries. It may not be easy to decide on what to do after winning the toss, but to bat fourth when the pitch is taking spin is putting your batsmen under pressure. This was evident in the second test. It may be a better option to go out with confidence and take on the opposition attack and get the runs on the board. After all the pitches prepared are nowhere as quick as those in South Africa or Australia.
There was a number of players on both teams who are still in the early stages or half way through their careers. There is no doubt all three games would have benefited them and been a great learning experience. Had the weather not interfered a fitting finish too could have been witnessed.
---
The South-West Monsoon Golf Competition at the Ridgeways of the Royal Colombo Golf Club over 2 weekends was quite successful and full of life with Honda supporting with lively sponsorship. Nimal Weeraratne the Chief Executive of Honda was extremely lavish.
Playing conditions were certainly not comfortable with the fairways quite patchy and the greens running riot. All this is understandable with the massive restructuring of the course taking place.
Ismail versatile
Dr. I.A. Ismail as reported earlier was outstanding with a excellent victory over Chamath Kulasinghe by a slender margin of a better back nine. Both played calculating golf to eventually settle on net 68. Ismail got the medal and Kulasinghe an excellent round of applause at the Award Ceremony.
Pathirana excels
The Victoria Cup played over 2 rounds went to Ranil Pathirana who is becoming quite an exciting player. He goes for his shots fearlessly and if he can only curb recklessness we will see more of him in the limelight. The well preserved senior Doc. C. Thurairaja came behind one stroke short.
GYI strikes gold
303 strokes over 4 rounds is nothing to talk about as 19 over par is not good enough to deserve gold. Alain Gyi beat Rusi Captain 303 to 307 and picked the gold medal.
Perera impressive
Nimal Perera has been knocking at the door of success and recognition.
His first achievement was to get his handicap down to 14 which he did with a sparkle in his eyes. Next he annexed the Squadron Cup striking 288 nett over 4 rounds. To average 72 is creditable considering that Perera is no spring chicken. He is delightful personality at the 19th even though he thrives on fresh orange. That young man Ranil Pathirana surfaced again but sadly beaten by Nimal Perera who had a better rear nine. Pathirana's nett 288 was quite impressive.
Honda events
In the 'A' Division classic Alain Gyi got the better of Rusi Captain and collected an attractive award from Nimal Weeraratne who heads Stafford Motors.
Anel smiles
Anel de Silva is consistently good playing competitive golf. He is a strong striker of the ball and is relentless when he gets ahead. He came off with another excellent round when he carried away a trophy in the ' B' Class Event at the award ceremony from attractive Honda Chairperson Kumudhini Abeysiriwardena, Mohan Alles who carried another qualification of being Lionel Almeida's brother-in-law was shooting excellent pars and brightening up prospects of victory when through absolute lack of concentration carelessness filtered into approach shots and paid the penalty of getting behind de Silva in the final reckoning.
Sunrise
Koichi Cho from the land of the rising sun was hitting turf and raising hell a year ago and was almost penalized for course damage. Absolute tenacity and with a will to win he stayed by the netts and today he hits excellent strokes. His handicap has come down to 18 and studded with spells of good fortune he cracked an unbelievable nett 64 and won the 'C' Division from P.R. Balaratnarajah who brought in a praiseworthy nett 66. Bala is keen, methodical and tenacious and his reward will be a massive cut to his handicap. Willie Barsenbach won the Seniors Division with an embarrassing 92.