Contents
---
'Hansa Vilapaya' : A tragic story
The film "Hansa Vilapaya" to be shown from August 5 is a story woven around the tragic end of a woman who suffered from social evils.

Maureen with a mysterious and silent character is the elder sister of a family of four. Younger sister in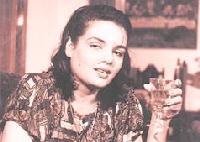 the family who wants to live in a dream world has a completely different character from her sister.
The mother of the family who also gives priority to power, prestige and money finds a wealthy husband to marry her elder daughter. But as soon as she gives birth to her first child the husband, Gerry leaves her alone. When Maureen's brother, Cyril plans to take revenge from his sister's ex-husband, and gerry is killed.
Later another proposal is brought by a family friend for Maureen. Though she refuses first she happens to marry him despite her objection.
The whole family breaks down and Maureen's younger sister also becomes a victim of this new husband.
The story ends tragically when Maureen loses her memory and life too.
The cast includes Maureen Charuni, Luxman Arachchige, Suvinitha Weerasinghe, Anjela Seneviratne, and Srimathi Priyadari. There are a number of new faces.
"Hansa Vilapaya" was edited by Elmo Halliday and music direction was by Sarath Dasanayake.

---
"Waterworld"
In the future, the polar ice-caps have melted and the earth lies covered in water. The inhabitants of this once flourishing planet have adapted to life in a new world and dream of a mythical place called Dryland. Civilization as we know no longer exists. The great flood has left humanity adrift on strangely configured man-made islands called "atolls" which are constantly threatened by Smokers-bands of marauding pirates who roam the featureless surface of Waterworld.

For the Atollers, outnumhered and outgunned, one hope remains: a solitary hero known only as the Mariner. Battling the Smokers and their ruthless leader, the Deacon the Mariner sets out with a beautiful woman and a mysterious little girl on a search for a new beginning.

This is the intriguing premise behind "Waterworld", the most anticipated movie of the year. An epic action adventure pitting good against evil in an exotic setting, "Waterworld" stars Kevin Costner, Dennis Hopper, Jeanne Tripplehorn and Tina Majoriono.

Directed by Kevin Reynolds from a screenplay by Peter Radar and David Twohy, "Waterworld" is one of the most ambitious productions in the history of cinema. It is the first major motion picture to be filmed almost entirely on water, never before have such innovative sets been engineered to withstand filming on open seas. In an era when computers can create everything from starships to dinosaurs, "Waterworld" is an unprecedented physical production combining the best of Hollywood movie-making and modern technology.

'Water world' will be on Friday, August 11 at 9.30 pm on MTV

---
Gastronomical delights on Bonsoir
Tonight on Bonsoir we bring things that make you go yum, yum. French delicacies which are exclusively vegetarian, made with ingredients such as flowers, mushrooms and seaweeds.

A look at how the famous French bread, cheese and chocolates are being made. And for some mouth-watering, easy to make recipes take you to Le Palace. Bonsoir 7 August at 8 p.m.

---
'Stripped To Kill'
Stripped To Kill, is the latest film to be released by New Imperial Talkies. Key Lenz and Grey Evigam star in this detective film. When Detective CODY SHEEHAN (Kay Lenz) discovers the body of a stripper from the Rock Bottom dance club, she wants the case. Her partner, Detective HEINEMAN (Greg Evigan) is equally anxious to make the jump to the prestigious homicide division. But the only way CODY can get the assignment is to go undercover — and uncovered — at the club.

Posing as an amateur dancer, CODY is hired by Rock Bottom owner RAY (Norman Fell). She gets to know the girls who work at the club and becomes suspicious of some of the club patrons, as well as of one mysteriously beautiful dancer. Concurrently, she discovers, a sensous, physical side of her personality that she didn't know existed.

Her relationship with Heinanman turns tumultuous and culminates in a passionate affair. In the suspense-filled conclusion, CODY cracks the case, and risks her life, by learning the shocking truth of one stripper's identity.

'White Jazz' at Delifrance

"White Jazz" a four-hour jazz promotion for Sri Lanka's first Wheat Beer "3 Coins White" will swing into action at the Delifrance at Crescat Boulevard on Sunday, August 6.

Billed to perform at this exciting event are star entertainers - Mignonne, Alston Joachim, Revel Crake, Rodney & Jenne Van Heer, Lucky Manicavasagar, Kumar de Silva, Rasmar Lye, Dilukshi, Jude and Suzanne Wallace.

The promotion from 6 to 10 pm, is intended to launch '3 Coins White' a speciality European summer beer that is considered one of the most refreshing of all beers.

A special menu to complement the wheat beer, will be served at Delifrance. The menu includes veal and chicken sausages, cheese platter, and mashed potato.

As a special promotional offer, Delifrance will serve a free glass of 3 Coins White for purchases over Rs. 200. Purchases of over Rs. 600 will entitle guests to a free pitcher of wheat beer.

---
Parsi food fest at Taj
The Parsi food promotion is on at the Navaratne Restaurant, Hotel Taj Samudra. Master Chef Suppriyo Dutta and his talented team have mastered the intricate details of Parsi cuisine and give you the authentic flavours of this interesting culinary spread. The fest will be on till August 9. Although the Parsi community in Sri Lanka is quite small, Parsi food has carved a niche amongst food connoisseurs all over the world.

The history of the Parsi community goes back to the dawn of civilisation. The followers of Zarathushtra, they claim Aryas vaegah (the cradle of the aryans) as their first primitive home.

Fire, their sacred symbol, was discovered by one of their earliest known kings, Haoshyangha of the Pishdadian period.

During 1300 years that the Parsis have lived in India they have assimilated the various influences with which they have come into contact to develop their own distinctive cuisine. Parsi curry is a typical example of the combination of influences of Iran (nuts) and Gujarat and Maharashtra (coconut and spices). Trade ties with British introduced them to Western cuisine from which they have adopted many dishes and made them typically their own.

Coconut, fish, rice are as symbols of plenty are taken from India and no Parsi feast is complete without these items. Parsis are basically meat eaters and no meal is complete without meat, fish, or chicken.

The Iranian influence is seen in the meat and chicken dishes cooked with vegetables okra, spinach, peas, nuts, rose water etc. Dhansak, the best known Parsi dish is cooked with lentil, meat, and vegetables. It is a one course meal eaten with caramalised rice with accompaniment of kavas just like koftas. Other popular Parsi dishes are Patra ni machi, Sali jardaloo murgi, Patia etc.

---
'Music Box' at Viharamahadevi theatre
'Music Box' - A musical show presented by E.A.P. Entertainment (Pvt) Limited together with Swarnawahini and Shree FM will be held at the Viharamahadevi outdoor theatre on August 11.

Annesley Malewana, Anil Bhareti, Karunaratne Divulgane, Chandani Hettiarachchi, Nirosha Virajini, Jolly Seeya and several other popular artistes will be on stage at this 'music' box. Nalin Perera and the Marians will provide the music for the artistes.

---
Jason does it in Bond style

DJ Jason Bond is another popular radio DJ attached to the Sun FM.
Jason joined Sun Fm after about two months of its inception, which celebrated its second birthday recently.
Jason handles the popular programme ' Morning Show (B'fast Drive') daily from Monday to Friday at 6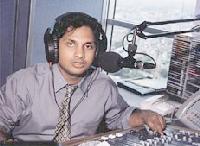 a.m. to 9 a.m.
On Saturday it is 'Sun FM' Hot 40 Count Down for Jason at 10.00 am to 2.00 p.m.
"This is one of the most popular programmes on air. We cater to every walk of life, young ones, young at heart, teenagers and even old talks," he said.
This programme feature Rock, R & B, Hip Hop; latest Pop music and even commercial songs.
'I have to present some of the songs, I really do not like. But I can't leave it aside. Because my listeners are after these songs. I have to cater to the choice of the fans," he explained.
DJ Jason is known for his variety in presenting the programmes he handles.
Not only playing good music but educate the listeners with up date in music scene, current affairs, general knowledge, humour and sport hints are some of the attractions of DJ Jason Bond's style in presentation.