A change of heart and a new beginning
By Ruhanie Perera and Laila Nasry
Mr. L.M. Nandana and little miss Vindya Sandamali Soysa (who was just 10-years-old), walked around the room hand in hand, sharing a special secret. She was radiant and energetic, willing him to keep up with her. Infused by her exuberence he followed her. While Mr. H.N. Dabare watched with an affectionate smile on his face, Mr. L.M. Nandana stopped to tease the vibrant little girl by his side, not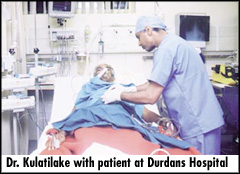 to be outdone she stuck out her tongue at him with an impish grin.

Obviously there was a disparity in their ages. either of the two men could have easily passed off as the girl's father, and she could just as easily have fitted beautifully into the role of the naughty daughter. Their's was a special bond, a close friendship...they were linked at the heart.

Miss Vindya Sandamali Soysa, Mr. L.M. Nandana and Mr. H.N. Dabare were the first three 'heart' patients at the recently opened Heart Surgical Centre at Durden's hospital. All three operations being different in nature and conducted on humanitarian grounds, were successful.

Vindya Sandamali was just 11 months old when she was daignosed with Atrial Septal Defect, otherwise known as 'hole in the heart'. Frantic with worry her parents rushed her to the National Hospital, where she was given medicine to prevent her from catching coughs and colds which could cause further complications. However, over the years the hole became enlarged, resulting in the need for immediate surgery. "We needed two lakhs for the operation and there was no way in which we could get it. In desperation we spoke to a priest and a mutual friend and made an appeal in the newspapers," said the girl's mother Dammika Soysa.

Fortunately, fate had a plan to 'save the day'. Miles away Dr. Nihal Kulatilake, reading the newspapers on the internet spotted the appeal and contacted Durdans hospital. The hopital staff then contacted the girl's parents. "Having read about Dr. Kulatilake in the papers, we were thrilled to hear that he would be conducting the operation," said the beaming parents.

On June 2, the day Vindya Sandamali was admitted to hospital her parent's were filled with mixed feelings. They were apprehensive about sending their darling to hospital, but at the same time they knew that it was something that had to be done before it was too late. " She cried at first out of fear. But Dr. Anil assured her that he was going to make just a 'tiny wound' and there was nothing to be scared of."

Almost a month later, although still very delicate, Vindya Sandamali flits around like a butterfly with new wings. Revelling in the new lease of life that was given to her.

Mr. Nandana and Mr. Dabare were diagnosed with Coronary Artery Acclusive Disease. They needed bypass surgery. The offer made by Durden's to perform bypass surgery on both of them, free of charge, was like a godsend. Dr. Kulatilaka met with the patients prior to the operation and put their fears and doubts at bay.

"I was taken to the operating theatre and shown the equipment. The doctor explained in great detail what he hoped to do during the operation. That really put me at ease," said Mr. Nandana. "I had heard of the many success stories of Dr. Kulatilake and that was reassuring," Mr. Dabare added, affirming the expertise of the hospital staff.

All three patients put down their speedy recovery to the superb care and support they received from the staff at the heart care centre. We were witnesses to this when Sr. Maya, the expatriate theatre sister, walked in. She went from patient to patient, cupping their faces in her hands and inquiring after their health with concern. "The fact that I was there free of charge didn't make a difference. The staff was always there by my side. Helping me and frequenlty checking on me," said Mr. Nandana, Mr. Dabare nodded in agreement. The little girl was not forgotten. In fact, being the youngest there she was the pet at the centre. "Sr. Maya would even bring art books to cheer her up," Sandamalee's mother said.

Sitting in the waiting room of the Heart Centre they all look a picture of happiness. Now on the road to recovery they are fast getting back to normal life, doing things they for one horrifying moment thought they never would again. Sandamali will start preparing for her Year five scholarship exam and someday in the near future she will run to join her friends who are going out to play. Mr. Nandana eased of tightness in the chest will now go back to his mechanical work, a cured man. Retirement will be sweet for Mr. Dabare who has had extra years added to his life.

It's a 'heartening' story with a happy ending.

---
The 'art' of heart
"A cardiac unit in a hospital is like the cherry a-top an iced cake," says Dr. Nihal Kulatilake (a consultant cardiac surgeon of the University Hospital, Wales Cardiff) who was responsible for the three successful operations conducted at the Durdens Heart Surgical Centre.

As there is an increase in the number of cases detected which cannot wait too long for operations, we see a greater need for cardiac centres in Sri Lanka today.

"Heart failure has become more a lifestyle disease common among the upperclass," Dr. Kulatilake pointed out. The reason being that more people are prone to drinking and smoking. The lack of adequate excercise is another contributory factor. Thus the heart centre at Durdens has come at a timely moment, when most people in need of heart surgery, are either subjected to long waiting lists at the National Hospital or have to go abroad to seek treatment.

"The patients put all their faith in the doctor. I can't let them down, so I can't afford to get anything wrong, further,cardiac surgery is not a one-man show," says Dr. Kulatilake to whom is available a centre of excellence with state-of-the-art equipment. He is ably supported by a team of well trained staff.

Durdens Hospital strives to give people that 'extra' choice with regard to heart care. The Centre has the capacity of accomplishing operations in coronary artery bypass surgery, valve replacement and repair, congenital defects rectification, interventional cardiology, Patent Ductus Arterosus (PDA) and Shunt or shunting procedure.