Blinks at ink
Elections Commissioner Dayananda Dissanayake admitted to having used a low quality ink for applying on the thumbs of voters during the Presidential election.
The Commissioner disclosed this at last week's meeting with a group of UNP parliamentarians.
The MPs met the Commissioner in a bid to bring in new regulations to the elections laws.
Mr. Dissanayake has stated that the reason for the Department to use the low quality ink was that they had adequate stocks and it was not possible to dispose of it otherwise. It is learnt that the expiry date of the ink had lapsed.

---
Omissions of terror by error
Sri Lankan association calls for action from Canadian government against LTTE fund-raising
By Shelani de Silva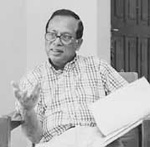 With tens of thousands of mafia type Sri Lankan Tamil groups being involved in a Canadian connection to the ethnic crisis here, a Sri Lankan association has appealed to the Ottawa government to take tough legal action against the growing menace of terrorism there.
Mahinda Gunasekera, president Sri Lanka United National Association of Canada, told The Sunday Times he believed the Canadian government was not in a position to mediate in the conflict in Sri Lanka because Canada was more a part of the problem than the solution. Mr. Gunasekera who is in Colombo said he had vital information about the huge network of LTTE terror gangs in Canada and he would like to make it available to President Kumaratunga if she wished to meet him. Excerpts:
Q: What is the extent of the LTTE propaganda in Canada?
A: We estimate there are about 200,000 Sri Lankan Tamils living in Canada. Around 160,000 live in and around Toronto.
Funds are collected in many ways. They keep tills in shops. They also have a group of people who pledge a certain amount of money monthly to the LTTE. When they don't receive that sum, they send people to threaten them or even intimidate them by threatening to harass their relatives in Sri Lanka.
People do take such threats seriously because there have been several drive-by shootings. So the fund raising is not restricted to voluntary contributions — some are forced to give. We have estimated that they collect about 36 million dollars a year.
They control the trade. There are many Tamil stores. They allow anyone to import but the importer is not allowed to deliver the products directly to the distributor. They have to channel it through their agent, the LTTE agent. The shopkeeper orders through the agent.
Movies are screened and the proceeds go to the LTTE. One film was the attack on the Mullaitivu Army camp. In addition to the ticket money they send a till round during the screening. They have a lot of cultural events, like the Maha Veerar day where the officials themselves part with their jewellery and put them in barrels kept for the purpose. This is then followed by the participants.
Q: Is the Canadian Government doing anything about these fund raising campaigns?
A: These groups have presented themselves as social and cultural organisations. Many of the Tamils came as refugees and many of them were on the dole. They were provided with everything and they had plenty of time on their hands. With all their free time they have been able to volunteer their services to Canadian politicians during election time. They volunteer to hand out leaflets. They would organise a dinner and collect ten dollars each and donate the money to the candidate.
In this manner they have influenced many politicians. Sometimes they have been able to get nomination for a Canadian politician. Membership is just ten dollars so a whole lot of them will obtain membership and go to nomination meetings and vote their man in and then work out their deal with him.
I am aware of such a candidate who was elected to the Ontario legislature and he got nomination with Tamil votes. This same politician was appointed chairman of the Ontario Crime Division and he appointed as his personal assistant a man who was in jail for criminal activities in Sri Lanka and later broke jail in Batticaloa.
Q: Is money channelled directly to Sri Lanka?
A: Not directly. They channel it through other sources. For instance, we have information that money for explosives was sent through Singapore to an account held by a Canadian Tamil, and even the documents were forged. They have a directory where even international organisations are listed. It is an organised network, when it comes to channelling the funds.
There is also the drug trafficking in addition to the extortion of contributions. They also collect money to print their books. They publish a directory.
Q: Are the organisations registered and if so what is the procedure?
A: The LTTE front organisations have been established even prior to 1983. Initially they had a few, such as the Tamil Eelam Society of Canada. They were the propaganda arms of the LTTE. Today they have over 100 organisations which have been registered. They more or less control the activities of the Tamil community living in Canada.
Registration is given to organisations which serve the community residing there. They cannot be political, but should be social or cultural.
They allow organisations which provide humanitarian services. Such relief can be given to people outside the country. But I don't think they can give money, but there is one organisation called the Tamil Relief Organisation, which is registered as an international charity. The Eelam Society has registered with the Ministry of Rehabilitation to provide settlement for the new emigrants. The Government often prefers to hand over such work to an organisation of that community.
Q: How strong is the Sri Lankan United National Association?
A: Unfortunately we are not as strong as we should be. The non-Tamil Sri Lankans have been put off by the violence of the gangs. There are shootings and massive demonstrations. Most of them have migrated to Canada 20 years ago and they feel that it is a Sri Lankan problem, which is very unfortunate. They fear getting involved with a terrorist group. We have received threatening phone calls but if we give in they have succeeded. We have not backed off. We have gone to some of their meetings and challenged what they say.
Q: So are you fighting a losing battle?
A: No. We have been very effective, although small in numbers. We have committed members. We are getting our message across.
Q: Have you taken any legal action against the LTTE?
A: That is a matter for the State. We can take action only if they do something against us. But we send our bulletins and other material to MPs to keep them informed.
Q: What kind of support do you get from the Sri Lankan Government?
A: Getting information is not easy. But we don't want to depend on the government as we would be branded as political stooges. We want to be independent. We want to be able to criticise the Government whenever we want to.
Q: Do you think that Canada could mediate?
A: This was brought up at a conference which was attended by the Tamil organisations and humanitarian groups. Several issues were discussed. The LTTE representatives wanted Canada to mediate. But Canada's stand is that if the Sri Lankan Government and the LTTE make a request it would get involved. But we said no. Canada cannot mediate because Canada is part of the problem. But the representatives wanted the Government to speak to the LTTE.
Q: Are you planning any anti-LTTE demonstration in Canada?
A: We organised a demonstration recently in Ottawa. The protest was to show the Canadian connection. We urged the Government to take legal and procedural measures to put a stop to the fund raising under cover of social and cultural organisations.
Q: Are you planning to meet any Government officials or even President Kumaratunga to brief her on the LTTE campaign in Canada ?
A: I have asked for an appointment with the President. If I get an appointment I would express the view conveyed by the Canadian Foreign Minister where he defined Canada's policy on terrorism. I would also hand over a book which contains vital information regarding the LTTE fund raising in Canada.

---
Tamil parties urge India to help resolve ethnic conflict
By Roshan Peiris
Tamil political parties which met the Indian External Affairs Minister, Jaswant Singh early, have urged India to step in to resolve the ethnic conflict.
Representatives of political parties said that following the meeting they were optimistic that some form of understanding will be worked out in respect of the 20 year old ethnic problem.
Leader of the TULF in Parliament and MP for Batticaloa Joseph Pararajasingham, said, "We are happy that we were able to put across the immediate need for the cessation of hostilities. We hope the talks will be an incentive to bring about a conducive climate for talks with the LTTE. This is imperative for a permanent and decisive resolution of the Tamil question.
We do not want an escalation of the conflict and Mr. Singh agreed that it will only result in more deaths, injuries and the large scale destruction of property. The discussions with the Indian Foreign Minister were fruitful and gives hope for a speedy solution to the ethnic problem ."
CWC MP R.Yogarajan said, "We were very happy to meet Mr. Singh for he has given us an assurance that there won't be Indian military intervention. At the same time he said that India will play a positive role in bringing about a peace process. We in the CWC welcome it. It was a fruitful meeting."
Central Committee member of the EPRLF T.Wilson spoke on behalf of the Secretary General Suresh Premachandran who is away.
"We asked the Indian Foreign Minister to use India's good offices for a healthy dialogue with the LTTE. We are lucky that Mr. Singh too has similar views and would consider our request with sympathy and understanding."
Leader of the EPDP Douglas Devananda said. "Our talks with Mr. Singh were very fruitful. First of all, we met him together with TELO."
"Later the EPDP met him alone and he assured us the purpose of his visit was to solve our ethnic problem politically, within a united Sri Lanka."
"The EPDP pointed out that India will have to help the government to urge the Sinhala parties of the south to come to an amicable agreement for a permanent solution."
"We are really very satisfied with the talks and now it is a question of wait and see." said spokesman S.Devarajah. Secretary of the ACTC Mr Kumaraguruparam was disgruntled.
"We were not invited for talks with Mr. Singh. It is a bad oversight since we are one of the oldest registered political parties. EPRLF though not in the Parliament, were invited. We have taken up the matter with the Counsellor for Political Affairs at the Indian High Commission here.
He said he would bring it to the notice of the High Commissioner. But so far there has been no response."
"We stressed that immediate action must be taken since Hindu temples are being bombed. The ethnic problem must be solved. It is imperative" he said.

---
Fisticuffs in flight from Dubai
By Tania Fernando
A dispute between a passenger travelling on a leading airline from Dubai and the crew members ended up in fisticuffs with the passenger being handed over to the police.
The passenger arriving in Colombo on Thursday for three days to purchase some items needed for his pregnant wife in Dubai was allegedly assaulted by the crew when he had tried to get his bags from the overhead compartment, when the plane had come to a standstill.
The crew in a statement to the police had, however, said the passenger had been consuming liquor and harassing the passengers and when they attempted to calm him he had reportedly hit three of their crew members.
However, according to an officer of the Katunayake police station, the man was not overly under the influence of liquor, but he said they were unsure as to the actual happenings in the plane and no one was sure about who had started the fight. He further said that only one member of the crew was injured and according to him it was nothing serious. A family member questions the right of the airline staff to assault a passenger who had paid Rs. 40,000 to travel on the airline. "Assuming he did assault a member of the crew, there should be a better way of trying to calm the passenger and not assault him", he said.
He added that the crew had supposedly told the management that if it did not ensure that action was taken against the passenger, they would go on strike.
The passenger is in remand at present and a court hearing is being set for tomorrow (19).