Who will win the race?
Walsh has some hungry bowlers chasing him
By Ramesh Joseph
One race is over and another has begun. Courtney Walsh is now at the acme among wicket-takers in Test cricket and he already has some hungry bowlers chasing him.

The big question obviously is how much the Jamaican pace ace would end up with when he finishes his glittering career, and will he get close to the magical mark of 500?

Walsh has not indicated any immediate plans to retire from Tests, and his ultimate tally would depend on his motivational levels. A realistic guess? Somewhere in the region of 460.

The likely threat could be from Wasim Akram, who has 385 'scalps' from 92 Tests. But the 33-year-old left-arm paceman has a long history of fitness problems and needs a couple of injury-free years to get anywhere close to Walsh's mark.

Wasim, no stranger to controversies, will also have to be careful to avoid the consequences of internal politics in Pakistan Cricket. But he is passionate about his cricket and has already spoken about his dream of becoming the highest wicket-taker in Test cricket. He might have lost a bit of pace, but Akram, a rhythm bowler with a quick bowling arm, is still a very deceptive customer.

The most versatile among the pacemen in contemporary cricket, Akram has managed to keep that fire burning, despite all the hurdles along the way.

His pace partner Waqar Younis, who has 292 wickets in 61 Tests has come back strongly, but considering long years at international cricket and the toll it would have taken on his body, he has a mountain to climb.

Coming back to Akram, there are rumours about his more than causal interest in tele-commentary and how that could cut into his cricket.

There were speculations too about Shane Warne's career being cut short due to a shoulder injury, but the Australian leg-spinner has picked wickets at a steady rate after his comeback.

At 30, he is not too old for a spinner, and with 366 wickets in 84 Tests, he does have a fair chance. Warne's greatest strength is his perseverance, a quality that should serve him well during the chase.

Warne has picked up around 50 wickets in 17 Tests after his return from surgery and though this represents a decrease from his earlier strike rate, he has done well under considerable pressure he was in, to stay in the hunt.

He is a different bowler these days, depending more on his legbreaks and cutting down on his flippers, that has fetched so many wickets for him earlier on. Like Akram, he has to stay clear of injuries. The threat to Warne continuing in the Australian team could come from fellow leg-spinner Stuart MacGill, who is actually pretty unlucky not to figure in the scheme of things.

It was MacGill who was the reason for Warne being dropped for the final Test of the 1999 series in the Caribbean. The Aussie think-tank then did not want to field two leg spinners and MacGill was the in-form bowler.

MacGill did play his part as Australia levelled the series, but since then has not turned out in a single Test. Warne's triumphant return to wicket-taking ways in the climactic stages of the World Cup was the major cause.

Warne may also have to shed some weight keeping the long term objectives in mind. The Australian has shown himself to be a fighter in his career and it would take a bold man to bet against him reaching Walsh's mark.

With 288 Test wickets in 62 Tests, Glenn McGrath, often Warne's strike partner, is sure to give it a go. He is a proud cricketer and would love to possess the ultimate bowling record to cap his glorious career.

McGrath's asset is his consistency. Along with Curtly Ambrose, he's the meanest when it comes to bowling bad balls. And like Ambrose he can strike viciously.

A persistent off stump line at a lively pace, steepling bounce coupled with away movement, an extremely well-directed short ball, and above all, a willingness to work hard, have seen him become one of the premier strike bowlers in world cricket.

The arrival of pace sensation Brett Lee has actually taken some pressure off McGrath, who with around 270 wickets in the last five years, has been the most successful bowler for Australia.

From pace to spin. It would appear that Sri Lanka's unique off-spinner Muttiah Muralitharan with 253 wickets in 51 Tests, still has a long way to go, but his exceptional strike rate and his relatively young age, 27 are huge assets.

Muralitharan, who can turn the ball on any surface, has been in sizzling form this season as Sri Lanka registered Test series wins over Australia (home), Zimbabwe (away) and Pakistan (away).

In the past two seasons, his has been the best strike rate for any bowler with six wickets per match, his best moment coming at the Oval '98, when he scalped 16 Englishmen.

And he bears the responsibility of being Lanka's principal bowler lightly on his shoulders, something that has made him immune to the kind of pressures others succumb to. Muralitharan's heroic performance against Pakistan, where he bemused batsmen who play this kind of bowling well with his mixture of vicious off-spin, legbreaks, and top-spinners is a case in point.

He's mentally strong, that can be seen in the manner he has bounced back after the chucking controversy and is extremely fit.

India's Anil Kumble with 276 wickets in 61 Tests might be the dark horse. The Indian spinner proved he's still a force in home conditions. Once he gets into a groove, the habit of coming with unexpectedly huge hauls like his 10 out of 10 against the Pakistanis in 1999.

Kumble has been steady away from home, but his inability to don the mantle of a match-winner on foreign soil has seen him come under fire from the media.

The series against Australia, a country where he was looking forward to bowling, considering the bounce he can on occasions, got off the track must have come as a crushing blow, but Kumble is a resolute man.

Among the younger bowlers, South African paceman Shaun Pollock, 175 Test victims in 42 Tests, and the Kiwi left arm spinner Daniel Vittori, one of the quickest to reach the 100 wicket mark, are good long term bets, if they can maintain their current rate.

Finally to one golden great in the striking range who will never get past Walsh. Curtly Ambrose, Walsh's strike partner has 377 wickets in 90 tests, but since the Antiguan too is in the evening of a remarkable career, he would probably call it a day after 400 test scalps.

---
Syd Barnes' greatest feat
(Contd. from last week)
Syd Barnes' greatest bowling feat in a Test was at Melbourne in 1911. It was the 30th of December. The morning was dull and around 11 o'clock slight rain began to fall. It looked very much as if a thunderstorm would break out at any moment. But Clem Hill who won the toss feared neither the light, nor the moisture-laden atmosphere, which would obviously lend swing to the new ball.
When Clem Hill won the toss, he told Johnny Douglas, 'Bad luck Johnny, we'll bat.' There a slight mist as the umpires - Crockett and Elder walked out. Bardsley had been put through a very rigorous test before he was passed fit for this Test. After the battering he got from Foster in Sydney, he was well strapped up as he walked out with Kelleway. Kelleway was very jittery as he played the first over from Foster. Then Barnes came on at the other end to bowl to Bardsley. Barnes, in collaboration with Douglas, took a long time to set his field. This was done no doubt to play on Bardsley's nerves. The first ball was pitched on a perfect length and Bardsley shaped at it very cautiously. He was beaten, and it hit him on the leg and then crashed into his stumps. Hill, another left-hander was next and he got off the mark with a single off the next delivery. Barnes' next over was again to Hill, and in that over Barnes turned Hill inside out. But Hill somehow managed to hang on by the skin of his teeth. Kelleway now was on strike to Barnes. He was beaten by an in-swinger that straightened up and was l.b.w. Both openers gone and Australia 2 down for 5.
Armstrong was next man in, and what he saw Barnes doing to Hill certainly did not give himself much confidence. Barnes was now bowling to Hill and he gave him one that was an off-break to him. This was followed by an in-swinger. The next one was left alone, and then came a peach of a delivery. It pitched on Hill's leg stump, Hill groped for it and it hit the top of the off stump. Australia 3 for 8. Hill had put Trumper lower on the batting list, so that he could come in when the shine was off. But Trumper was next in and the ball still new. Meanwhile, spectators were recalling an earlier Test against England when Australia batted first at Sydney on a perfect pitch under a thundery sky and lost Hill, Trumper and Duff for only 12 runs. But this time when Trumper walked out a great cheer went up. They thought that Trumper would succeed where the others had flopped. Then Armstrong drove Foster for 3 and then had to face Barnes. Immediate exit! He got an outside edge and Smith caught it. That made it 4 for 12! Out of that 12 runs only one run had been scored off Barnes! Vernon Ransford now joined Trumper and brought a relieved cheer as he brilliantly square cut Foster. Rain now began to fall and play was stopped for 45 minutes. 15 minutes later play resumed and Barnes bowled a maiden to Ransford, and then Trumper made two delicious late cuts for four. It had been exactly one hour since the last and only run had been scored off Barnes.
- Bruce Maurice

---
Mercantile tennis a success
The first Mercantile Tennis Tournament conducted by the Sri Lanka Tennis Association was a tremendous success in many ways, said Suresh Subramaniam, Chairman, Tournament and Matches. "Considering the fact that 18 firms participated in our first attempt is very encouraging. A number of firms have indicated their interest in sponsoring future tournaments and it is our expectation that tennis players will be considered more favourably for employment by the Mercantile Sector," he said.

The Mercantile tournament attracted over 100 entries with many of the best players in the country participating amongst whom were Arjun Fernando, Asiri Iddamalgoda, Arjan Perera, Sanjaya Wijemanne, Ganendran Subramaniarm and Ravi Subramaniam. Many of the players were of the view that they will be prepared better next year. We were not familiar with the points system and therefore did not maximise our overall points. So next year NDB the winners and Hong Kong Bank the runners-up will face stiff opposition.

National Development Bank won the team event obtaining 105 points, Hong Kong Bank won the runners-up trophy with 75 points, Aitken Spence with 70 points came third and Sri Lankan Airlines fourth with 60 points, NDB thus won the team event with a comfortable margin.

As an SLTA official commented, NDB's team consists of Asiri lddamalgoda, a present Davis Cup player and Arjan Perera a former Davis Cup player, while Hong Kong Bank's team includes Arjun Fernando and Sanjaya Wijemanne both former Davis Cup players. So naturally, they are at a tremendous advantage. However, credit goes to Sri Lankan Airlines as they obtained 60 points without any top players on their side. We hope to see many more teams like this next year.

Asiri Iddamalgoda of National Development Bank contributed substancially to NDB's tally when he won the Men's Singles title. Kieshini Subramaniam of Union Bank won the Women's Singles defeating Shehani Polonowita also of Union Bank 6/2, 6/3. Arjun Fernando and Sanjaya Wijemanne of Hong Kong Bank won the doubles title defeating R. Subramaniam and Aruna Seneviratne of Aitken Spence 6/4, 7/6. Wijemanne looks set to be the only player to take a double crown when he teamed up with Shehani Polonowita to take the first set 7/5 against Arjan Perera and Anjum Cader of NDB in the Mixed Doubles final.

Mano Tittawela, Director General, PERC was the chief guest and ditributed the awards.

---
Countdown to the Olympics 109 days 10 - Part 2
How to beat a drug test?
By Annesley Ferreira
'As drug testing gets more sophisticated, so does cheating. In fact, scientists fear they may one day have to test not only blood and urine, but also genes.

As genetic research and manipulation become more commonplace, athletes may find ways to reprogram their genetic codes to become stronger and faster.

For now, cheats have to settle for less futuristic methods that simply keep them one step ahead of the latest drug testing technology.

"The sophisticated do-per," can get away with it," said Donald Catlin, Head of the IOC Olympic drug-testing lab at UCLA. "We have to concede that."

How to fail a drug test without even trying?

"You don't have to take steroids to fail a drug test. Some of the stimulants prohibited by the IOC can be found in over-the- counter medicines. In fact most products labelled 'decongestant' contain banned substances."

Truth often doesn't lie in results - Sri Lanka case of drug abuse in sports.

In the past ten or so years, the abuse and use of performance- enhancing drugs has not only proliferated in Sri Lanka but in recent years taken with impunity by athletes in their quest to make the mark - be it at sub-regional, regional, Asian, Commonwealth, World or the Olympic Games.

Disappointingly, the Susanthika Jayasinghe case of having taken performance- enhancing substance was so poorly handled, the insensitive stand taken by those in authority hampered her performance at international levlel and were out to destroy her athletic career. Susanthika's case was never satisfactorily proved or concluded and she is still struggling to make a come-back to international level of competition which she hopes to do in the next few months.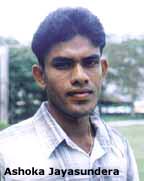 However, this is not possible with the local authorities but with the help of the gods. More recently, yet another athlete, Ashoka Jayasundera was tested positive for drug abuse at the South Asian Federation Games held at Kathmandu. Even at appeal the athlete was found guilty of the offence.
While powerful and advanced countries are combating to minimise the use of performance-enhancing drugs the response of sports officials has been on the increase on the frequency of drug testing.
FINA, considered one of the most committed in the anti-drug fight, recently said in a newsletter that it increased its out-of-competition tests from a total of 7 in 1993 to 802 in 1998.
When athletes are found guilty of drug abuse, officials associated with their respective athletes are also accused for their complicity and one that ought to know best is the athlete's coach.
Again and again it has been found that the coach was fully aware or would look the other way when the athlete takes these performance-enhancing drugs in order to gain a top billing for him/herself and for the coach. International authorities have taken the role of the coach very seriously and would impose harsh punishment including banning the coach, if the athlete is found guilty, from coaching for a number of years, depending on the level of the incident of drug abuse.
Can strong punishment be inposed in Sri Lanka? The firt test on this account would be the Jayasundera case. Harsh punishment is the only way to bring some control to the menacing drug abuse in Sri Lanka.
[In association with C. Vijitha Fernando, Duncan White Sports Foundation]
Over the counter medicines that contains steroids
Ephedrine - bronkaid, herbal teas containing ma huang. Pseudoephedrine - Actified, Co-tylenol, Sudafed, Drixoral.

"In addition to the over-the-counter medications some common prescription drugs are also prohibited." Amphetamine - Benzadrine, Obetrol. Ephedrine - Bronkotabs, Primatene,Bromantan-Bromantan, Methylphenidate, Hcl - Ritalin Salbutamol- Albuterol, Bentolin, Proventil. Terbutaline - Brethaire.

Because so many prohibited substances can be found in so many commonly prescribed drugs, athletes carry a wallet-sized card distributed by the USOC [available to other NOCs] that alerts physicians and hospital personnel to the types of drugs they shouldn't be given.